We've carefully evaluated over 3,600 service providers worldwide to bring you the best of PPC agencies.
Our meticulous assessment includes client feedback, pricing, digital marketing services, portfolios, and industry reputation, resulting in handpicked PPC companies that stand out. In the next section, we'll highlight each agency's unique qualities and provide a detailed explanation of our ranking criteria.
The Number 1 PPC Agency as Selected by DesignRush Is:
Best for: Overall
Average Hourly Rate: $100
Minimum Budget: $1,000 - $10,000
Founded: 2015
Location: California
Notable Clients: AirBnb, Bloomberg, Stanford University, SAP, Lenovo, and more
KlientBoost is a highly focused group of 80+ PPC and digital performance marketing professionals based all over the U.S. Experiencing growth of over 100% year after year, the agency's success stems from creating valuable content and applying its teachings to boost the ROI of more than 250 clients.
Whether in lead generation, SaaS, or eCommerce, KlientBoost offers expertise in elevating PPC, Google Ads, Facebook Ads, SEO, and Email Marketing while enhancing conversion rates. Clients can obtain a complimentary marketing plan, receiving a custom game plan to achieve their goals.
In less than 3 months, KlientBoost helped Airbnb, the global community accommodation leader, achieve its target goals through strategic PPC experiments. With a team of dedicated PPC staff, data scientists, and engineers, KlientBoost successfully reduced average CPC by 25% and increased click-through rates by 22% across a wide range of campaign tests, while the outcome was a remarkable 7% decrease in Cost per Conversion.
KlientBoost's approach included employing Single Keyword Ad Groups, Keyword Specific Ad Testing, Global Campaign Refinement, and Negative Keyword Groupings.
Check KlientBoost Agency Profile
Best for: Google Ads Accounts
Average Hourly Rate: Inquire
Minimum Budget: $1,000 - $10,000
Founded: 2012
Location: Maryland
Notable Clients: Microscope Central, Optex, Valet Living, Next Day Floors, and more
Black Propeller's PPC advertising solutions enable businesses to dominate their markets and achieve great results. Established in 2012, they now manage an annual ad spend of over $100,000,000 across various paid search and paid social channels.
Microscope Central, a prominent online retailer of high-end microscopes and accessories, has over eight decades of experience in the educational, clinical, and industrial microscope markets. The agency optimized the account and search campaigns by using valuable product keywords and a Single Keyword Ad Group (SKAG) structure for precise ad group themes.
In just one month, the agency completely reconstructed the Google Ads account, leading to a significant performance boost. Within 60 days, the Return on Ad Spend (ROAS) surged by nearly 100%, and within 90 days, it reached an impressive 140%. After just four months, overall sales volume increased by an outstanding 45%, with promising potential for further growth.
Check Black Propeller Agency Profile
Best for: Personalized & Automated Email Marketing
Average Hourly Rate: Inquire
Minimum Budget: $10,000 - $25,000
Founded: 2012
Location: Utah
Notable Clients: Nesse's Dresses, Adobe, Scotts, Guitar Center, KPMG, BPI Sports, and more
Disruptive Advertising, a top-rated PPC and digital marketing agency, is dedicated to driving results. With over 1,000 positive reviews, they manage large digital advertising budgets and hold over 50 local and national awards. With premier agency partnerships on essential platforms, they focus on delivering exceptional outcomes for your business.
Nesse's Dresses faced challenges in promoting their new arrivals, leading to low engagement metrics. Disruptive Advertising's lifecycle marketing team introduced a fully automated email system that personalized content based on subscribers' preferences and online activity.
The results were fantastic: a +118% YoY increase in total revenue in the first month, generating $395,000 in additional revenue over 12 months. Open rates increased by +222%, CTR by +151%, and the unsubscribe rate decreased by 60%, showcasing the power of personalized and automated email marketing for driving engagement and revenue growth.
Check Disruptive Advertising Agency Profile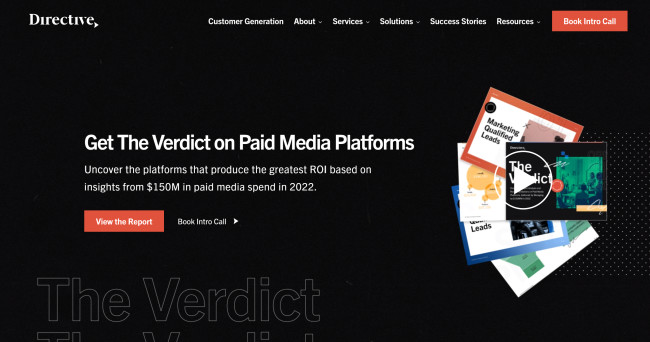 Best for: Paid Media Strategies
Average Hourly Rate: Inquire
Minimum Budget: Inquire
Founded: 2014
Location: California
Notable Clients: Swoogo, Gong, Uber Freight, Snap Inc., Sumo Logic, Amazon, and more
Directive Consulting is a great choice for leading tech brands globally, with their expert global team transforming performance marketing campaigns into successes by deploying robust PPC strategies. Using its Customer Generation methodology, Directive consistently achieves desired results, generating over $1 billion in client revenue in the past decade. Its approach integrates best-in-class campaigns in Paid Media, SEO, Design, Strategy, DevOps, and Video.
Directive Consulting gave Swoogo a fantastic head start, outpacing its competition. The paid media strategy led to impressive Lifetime Value to Customer Acquisition Cost (LTV: CAC) ratios, all exceeding 3, with an outstanding overall average of 4.08. This performance resulted in significant and consistent pipeline growth for Swoogo, setting the stage for promising future growth.
Check Directive Consulting Agency Profile
Best for: Managing Cost-Per-Click
Average Hourly Rate: Inquire
Minimum Budget: $1,000 - $10,000
Founded: 2013
Location: New York
Notable Clients: Pictureframes.com, AMC Networks, TURNPOINT, Forbes, Corning, and more
AdVenture Media Group, an award-winning PPC marketing agency, excels in crafting effective paid media strategies. Its passionate, creative, and intelligent team is dedicated to delivering results while upholding its core values of mutual respect and striving for greatness.
Pictureframes.com, the online entity of Graphik Dimensions Ltd.®, faced challenges due to multiple buyer personas, a shift to mobile, and increased competition. To address these issues, a well-rounded PPC strategy was executed. By using negative keyword lists, traffic was directed to relevant ads and landing pages, resulting in lower bounce rates and increased site engagement.
Managing cost-per-click led to reduced cost-per-conversion, enabling experimentation with new campaigns. Leveraging a 3rd party feed management platform optimized Google Shopping feeds, leading to a 67% increase in conversions. Additionally, advanced conditional logic in Google Analytics facilitated remarketing efforts, achieving a 113% increase in Mobile Return on Ad Spend and a 48% increase in Bing's Return on Ad Spend.
Check AdVenture Media Group Agency Profile
Best for: AdWords Accounts
Average Hourly Rate: $199
Minimum Budget: $1000 - $10000
Founded: 2014
Location: Illinois
Notable Clients: Lou Malnati's Pizzeria, Airoom Architects, Tastes of Chicago, and more
AgencyPPC is a global force in PPC and digital marketing services, helping businesses in the United States unlock substantial untapped potential, often reaching figures in the eight-digit range. Situated in Northbrook, IL, the agency offers additional comprehensive services, including SEO consulting, Conversion Rate Optimization strategies, and high-impact website designs, backed by a track record of achievements.
For a Gold and Jewelry buyer, AgencyPPC created an efficient AdWords account to reduce wasteful spending. The result was a robust and focused account that lowered overall costs while increasing sales and phone calls. The campaign achieved a remarkable 23% conversion rate, 20% new leads generated weekly, and a 4X increase in new leads within the first 30 days.
Check AgencyPPC Agency Profile
Best for: 90-Day Growth Sprints
Average Hourly Rate: Inquire
Minimum Budget: $1,000 - $10,000
Founded: 2016
Location: Indiana
Notable Clients: Juvenon, Dermavenue.com, and more
Grow My Ads, PPC-first agency, prioritizes fulfilling commitments and achieving tangible outcomes through their 90-Day Growth Sprints. Established in 2016, they have collaborated with over 225 diverse businesses, including online stores, B2B and B2C services, manufacturers, local enterprises, professional services, and SAAS companies.
For The Profit Advocate, Grow My Ads successfully increased ROI and achieved project goals. The owner praised the agency's accessibility and excellent communication throughout the collaboration.
Check Grow My Ads Agency Profile
Best for: Lead Generation
Average Hourly Rate: Inquire
Minimum Budget: $1,000 - $10,000
Founded: 2004
Location: Ohio
Notable Clients: 1 EDI Source, ABB, Matco Tools, Tronair, Oneida, A&C Plastics, and more
OuterBox forms enduring partnerships with clients, offering a comprehensive suite of services, including PPC, SEO, paid search marketing, Google Ads management, website design, eCommerce development, CRO (Conversion Rate Optimization), and email marketing. With a data-driven approach, the agency maximizes the impact of each channel, supported by its team of 125+ digital marketing experts since 2004.
Partnering with 1 EDI Source, OuterBox improved its lead generation program through PPC and SEO strategies. On-page optimizations, technical updates, and content improvements resulted in an immediate impact on traffic and leads. Within the first full month, 1 EDI Source experienced an impressive 57% increase in organic conversions year-over-year.
Check OuterBox Design Agency Profile
Best for: Dynamic PPC Campaigns
Average Hourly Rate: $125
Minimum Budget: $1,000 - $10,000
Founded: 2005
Location: Virginia
Notable Clients: Affiliated Bank, Hurom, Austin College, SP Air USA, and more
Thrive is a digital marketing agency with expertise in internet development, offering custom websites and SEO services. Their specialties include PPC management, helping clients achieve business objectives with precision.
Thrive partnered with an international photonic technology manufacturer to enhance their digital marketing strategy, focusing on PPC campaigns and SEO. The goal was to boost online visibility, lead generation, and organic keyword rankings. Thrive's agile SEO experts improved the website's search performance through link building and technical enhancements, while PPC management was revamped with dynamic campaigns.
The result: significant growth with increased traffic (+70.98%), new users (+81.16%), organic SEO traffic (+110.53%), and a higher conversion rate (+43.48%), ensuring long-term business success.
Best for: Facebook Ads
Average Hourly Rate: $150
Minimum Budget: $1000 - $10,000
Founded: 2013
Location: Utah
Notable Clients: Lizard Tail Belts, IHG, Sports Illustrated, Lime Ricki, Goal Zero, ErgoBaby, and more
Stryde focuses on serving eCommerce businesses, adopting a holistic approach to optimize their online success. Their fusion of compelling content and a well-tested digital marketing strategy harnesses PPC, social media, influencers, SEO, and email marketing to establish strong brand awareness and foster profitable customer acquisition. Specializing in eCommerce, Stryde delivers effective marketing solutions tailored to the unique needs of online retail businesses.
For Lizard Tail Belts, Stryde ran Facebook ads for Black Friday to increase web purchases. The ads incorporated brand awareness and high-converting ad copy and design. The collaboration resulted in 181 purchases during a four-day YoY increase. Additionally, the CTR increased by 71% and the engagement rate by 45%, YoY.
How We Picked the Best PPC Companies
In 2023, finding the top PPC companies was no ordinary task. We delved into client rosters, testimonials, and case studies. Scrutinizing industry reputation, team expertise, and executive management, we crafted a bespoke scoring system with precision metrics.
Our mission was clear: to curate a potent PPC services index. We combed through agency landing pages and scoured social platforms, seeking comprehensive coverage of PPC as their main service.
The proof was in the pudding, as we laid our hands on a high number of completed PPC projects, with scores of satisfied clients to vouch for their excellence.
Only the crème de la crème made the cut. We selected PPC agencies that boasted the highest ratings on the web, leaving no room for mediocrity.
The track record of these agencies spoke volumes, as they have undertaken projects for A-list clients and delivered exceptional results.
Their online reputation on DesignRush, Google, and beyond preceded them. These agencies had earned their stripes through relentless dedication and brilliance.
So, there you have it — our carefully curated selection of the best PPC agencies, ready to join forces with you on your upcoming project. 
Visit our agency selection criteria to learn more about how we picked the top PPC agencies.