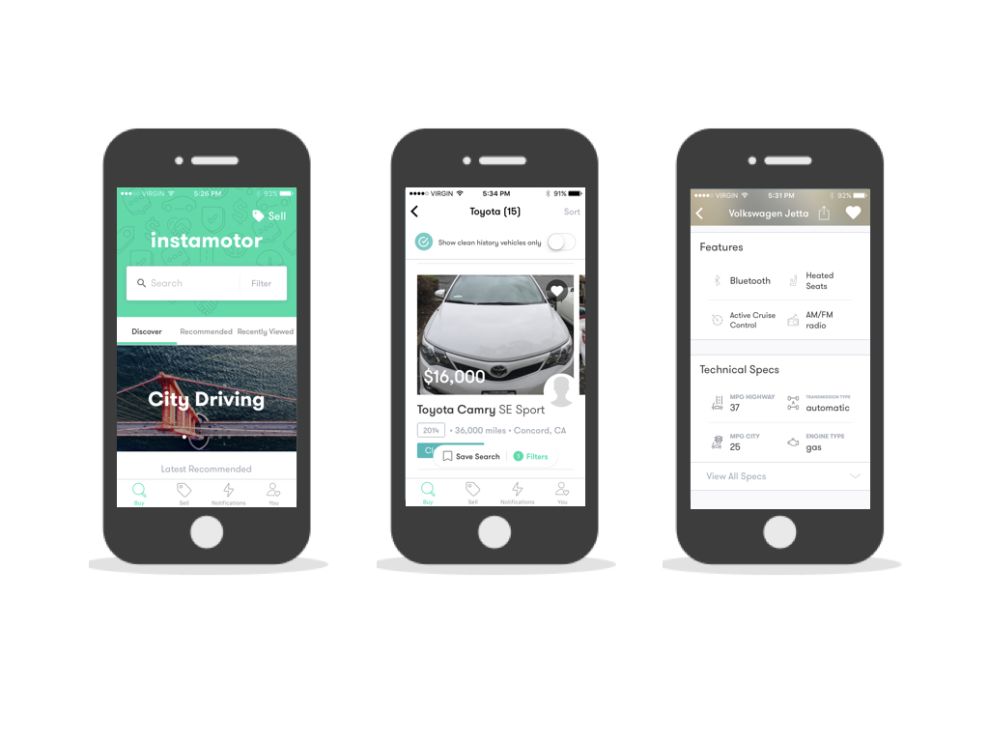 Instamotor is a platform dedicated to eliminating the middleman from the used car buying and selling process. Rather than buying a pre-owned car through a dealership, Instamotor seeks to connect buyers with sellers, enabling the parties to negotiate directly without losing out to a dealer in the middle. Instamotor screens every listing and flags potential issues, so buyers can feel confident they're making a worthwhile purchase.
The Instamotor app brings this entire peer-to-peer experience to mobile in a stylish and modern design. The app's home screen is focused on helping the user find what they're looking for as quickly as possible. A prominent search bar is located at the top of the screen and auto-suggests queries as the user types. For users who are more open to exploring, the app lays out tons of browsing options.
Search listings are robust and easily navigated. Each listing contains a hero image, price, year, mileage, location and designation of either "clean history" or of potential issues to be aware of (eg; theft history, commercial/fleet vehicle.)
Vehicle listing pages are clean and concise. Features and technical specifications are listed in an attractive grid so users can take in information at a glance. A large image carousel resides at the top of the screen alongside prominent calls-to-action to contact the owner or make an offer.
Instamotor has a unique value proposition -- connecting car buyers with private sellers, similar to the way Airbnb connects travelers with independent hosts. The presentation of the content is slick, and makes for a highly satisfactory user experience.
Instamotor is a clean app design in the Automotive industry.