BJS Storage and Distribution Logo
25 years. BJS Storage and Distribution have been in service for over 25 years and it began with one man and one truck. The company provides businesses with transport and storage regardless of size. Single pallets. Full loads. All of your requirements will be met and be met with vigor.
Moirae Creative received a mission from BJS: Update their current marketing materials and logo to enable BJS to launch a new fleet of vehicles and trailers so they can market themselves to potential clients worldwide.
The result was a stunning logo and brand materials that elevate the brand.
The word "BJS" is italic and in bold white letters. The italic feature gives the company name a dynamic feel, symbolizing the constant transport of freight and important product that BJS distributes for clients.
Next to it lay a directional symbol.
The symbol consists of two arrows pointing forward and three arrows that make up a partial rectangle, which resembles a pinpoint on a map.
Pointing forward signifies BJS's commitment to transporting client cargo while providing a peace of mind that they will be delivered to the destination and be safe. The cargo will arrive exactly as it should and without error.
This is distribution with precision.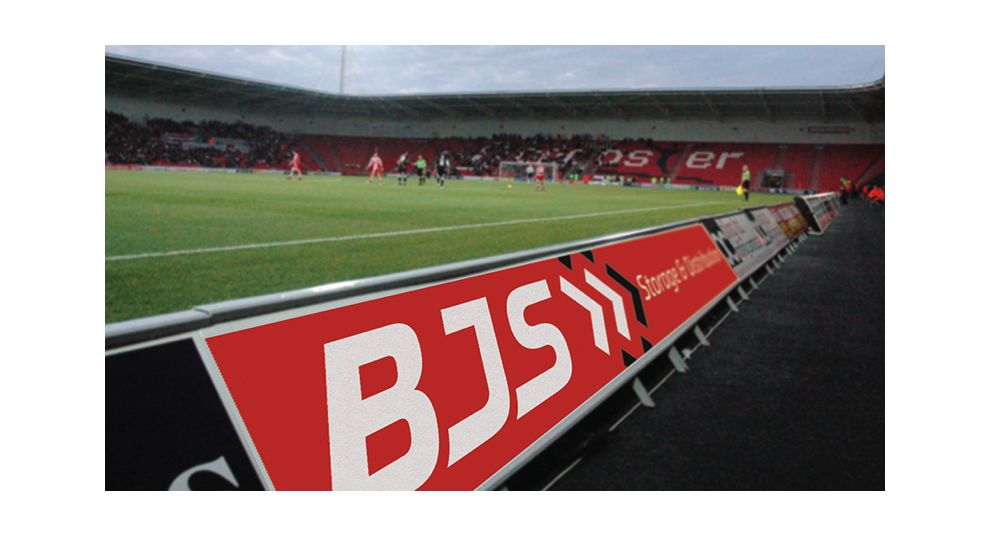 The logo transfers to a variety of mediums, including advertisement banners on soccer fields where the bold white logotype pops out from the background.
Moirae gave this logo a global presence. The bold white type and navigational arrows are instantly recognizable and symbolize the brand ideals.
Potential clients will recognize the brand as the leader that they are thanks to the creative and clever use of symbolism in best logo design practices.
BJS Storage and Distribution is a dynamic logo design in the Distribution industry.