Red is one of the primary colors that we often meet in top modern logo designs. It's an aggressive color tightly connected with passion, strength and action. From toy brands like Lego to giant SaaS companies like Youtube, businesses with red in their logo are in every industry. As such, red is a perfect color choice to help you draw attention to your brand.
This attention-demanding color is a call to action of its own. But the question is which shade to go with? A lighter shade can stand for joy and sensitivity; pink could represent feminine energy, encourage passivity and indicate friendship. Darker shades of the color, however, evoke power, willpower, and longing.
So, you should pick your shade according to your brand's mission and vision and leverage color psychology. But it can be tricky to keep your brand message intact while simulating the energy you want to convey with the logo. Take a look at a couple of magnificent examples of logo designs encapsulating the color's power to get inspired.
1. JavaMoose by OrangeSprocket
Standout features:
Coffee Beans symbolism
Cozy vibe
Energetic & playful
Java Moose Coffee is a brand that sells roasted coffee beans. The product is packaged at their facility and accessible online and in-store. They asked OrangeSprocket to help them revitalize their brand through a new, improved visual identity.
The design agency developed what appears to be a friendly mascot for the brain. The design features a black-and-white illustration of a reindeer with coffee beans as ears next to its antlers. The drawing is placed against a red rectangular background. The shade of red is mildly aggressive, and the illustration appears playful, energetic and friendly, so this combination gives the brand's logo a cozy, warm vibe.
The logotype is written in a cursive, frisky font. It's placed below the reindeer. Like the logo, it features the coffee beans in places of the letter "O."
2. Gab's by Penji
Standout Features:
Intrusive design
Slab font
Heavy typography
Gab's Basicmart is a store with a simple yet eye-catching logo design. The white minimalist logotype on a bright red background is a charm!
It's an intrusive design that makes it impossible to oversee the brand. The bold typography is decorated with white lines that depict sun rays or flower petals, highlighting the letter "G" of the company's name.
Penji relied on the best practices from the retailers' brand visual identity while developing a red-white design for Gab's. A slab font is generally used for displays and headlines, so it effectively draws attention. The combination of the tomato-red background and the slab font provides an inviting sensation, urging you to head into the shop.
Standout Features:
Aggressive masculine energy
All-capital logotype
Flame motif
Mad Meat Mates is about enjoying a sports game with some juicy barbeque with your friends. This food store needed a logo to translate that atmosphere into its visual identity. The male target audience demanded masculine symbolisms, and Predator Signs brought that to life in this logo design.
The logo depicts a bull painted in an aggressive shade of red with a black shadow. Accompanied by flames behind the bull, this design move is an intense way of showing a fiery image. Next to the bull is the bold white serif typeface written in capital letters. The flame motif extends above the text.
The logo conveys a quality "Friday night out with the boys" atmosphere and provokes the viewer to enjoy a burger.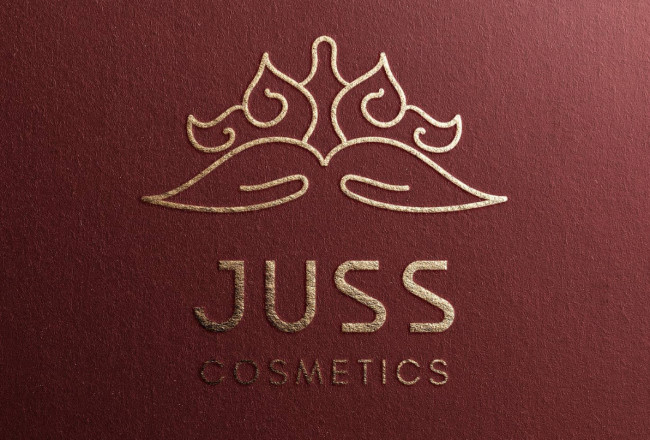 Standout Features:
Elegant sans-serif typography
Abstract emblem
Embossed
Beaty, cosmetics and fashion industry logos need that special touch and Harvinos Logos delivered! The agency followed the concurrent minimalist trends to a tee, but they infused an additional, almost intangible air of elegance into JUSS cosmetics.
Although light, this logo design looks best when applied on various marketing collateral including business cards, brochures and more. When combined with the embossed print, gold accents emphasize the classy sans-serif typeface making the brand shine with exclusivity and luxury.
3. Akeso by Checkpoint Creative
Standout Features:
Minimalistic logo design
Sharp edges in the middle
Motion-like emblem
Akeso sells socks with special features. Their customers enjoy antibacterial, anti-fungal and odor-resistant socks. On top of that, the socks are made from fire-resistant material, and they don't have to be washed!
How do you market all those essential features and help Akeso stand out?
Checkpoint Creative underwent deep market research to find a way to combine the aesthetics of the product but also highlight the performance benefits. The design had to be simple yet memorable. The primary target audience was active-life enthusiasts.
The solution: a minimalistic red logo design on a white background. The product's functional benefits found their way to the customers through this strong color contrast. Through an aggressive look, they ensured that the inner edges were sharp and the outer ones were rounded.
The logo resembles the letter "A," but it can also be perceived as two legs in motion. It was inspired by Greek alphabet symbols, such as Alpha, Gamma, Phi and Omega.
6. IndieGlo by Let Her Fly
Standout Features:
Mellow vibe
Feminine energy
Personal empowerment symbolism
IndieGlo is a brand that encompasses health coaching, yoga lessons and cooking. Let Her Fly had a difficult job of presenting all of these within a single brand design. The idea was to give IndieGlo an unconventional, fresh look and downplay the brand's uniqueness.
The logo design consists of a single-word logotype written in two styles. The "Indie" is written in cursive purple gradient, and the "glo" is written in a simple orange sans serif. This color palette gives off a mellow vibe with strong feminine energy. It seems nurturing but powerful and serious.
The color choice was based on beet and green. Together, these colors symbolize strength, warmth, action, balance and restoration. So, the gradient helps indicate the personal growth and stability that the brand stands behind. The orange part depicts the energy the change requires and the exotic, unknown part of the journey to change.
Standout features:
Maple leaf motif
Straightforward design
Expressive typography
Must Do Canada is an organization on a mission to help travelers worldwide make the most out of their visit to Canada. So, they hired Backcountry Branding to portray that message more vividly through a logo rebrand.
Canada is usually associated with the maple leaf. The design agency wanted to preserve the famous maple leaf as the vocal point of the logo but also make it different from other designs with the same feature.
That's why they went for a straightforward design. The brand typography is expressive and direct. The sharp edges of the white leaf on a bright red background presented in a minimalistic, geometrical way helped them stick out. The axil has its cursor-like outline, indicating a call to action and inviting the visitors to explore the majestic scenery with Must Do Canada.
8. Kibris Online by Rushmore Graphic Solutions
Standout features:
Chaotic lines
Abstract design
Tech-oriented
Kibris Online, a Cyprus internet provider, takes pride in its rich catalog. This tech company collaborated with Rushmore Graphic Solutions for a new logo design.
The designers created a modern logo based on the millions of chaotic red lines forming a circle. Some lines are spread out, stemming from the "O" formation, ending with black points resembling ethernet connectors at the end of cables.
The imagery is abstract, and the logo highlights three features that define Kibris Online and its brand: fast internet speed, cable, and modern technology.
Subscribe to Spotlight Newsletter
Subscribe to our newsletter to get the latest industry news