You might hear a lot of people saying that print is dead, but that's far from the truth. In fact, custom print designs are some of the best ways to advertise your brand because they give consumers a refreshing medium to absorb your information.
Everything is digital in this day and age, but that also means that digital content can get tiring. It's all we see and all we absorb, so jumping on the subway and seeing a print poster plastered n the walls is actually really appealing.
So print isn't dead, and it's time your brand jump back into the world of print advertising to stand out, make a statement and reach wider audiences.
Print designs have a way to captivate and engage on a highly personal and interactive level. Print designs are tangible. They are in your face and bold. Consumers can quite literally reach out and touch these designs. And that makes them powerful.
Brands have been utilizing print poster campaigns for decades but have recently turned to online banners and social media ads for most of their advertising efforts. That means that there's a chance that you can get a leg up on the competition by diving back into this almost retro form of marketing.
But you still have to have a creative eye, and you need to flex those innovate and abstract design muscles to do so.
Print ads of old are outdated and boring. That's why they went out of style in the first place. No, now your ads need to create an experience and set the mood. And these creative, custom print designs are the perfect inspiration for all of your campaign poster needs.
The 10 Best Custom Poster Designs To Elevate Your Next Ad Campaign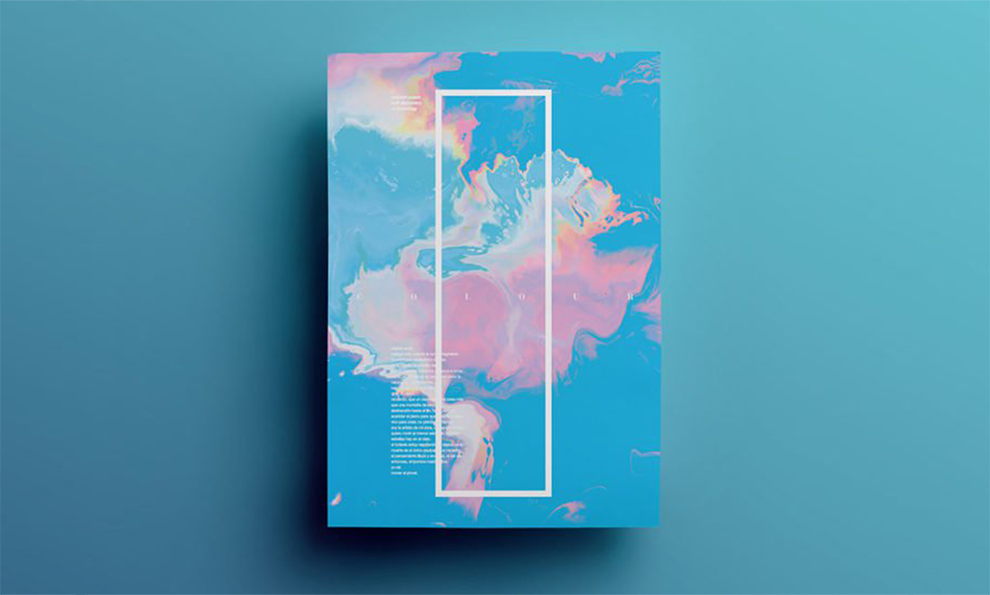 1. Cool Posters
Graphic designer Mane Tatoulian created a line of artistic, colorful and exciting promotion posters to showcase his talent and get people more intuned with their senses. And these designs certainly strike a chord.
This poster line utilizes many creative and stylistic design elements. Bright watercolors, smooth lines and dynamic typography stand out and grab attention almost immediately. And the vivid nature of these posters open up the senses upon impact.
There's a tie die nature to these designs, as well as an electric quality that shocks and stuns. Bold shapes matched with strong and simplistic fluidity make a statement — and there's a mystery surrounding them that pulls you in and encourages you to ask questions.
These designs are extremely disruptive and chaotic — but they're supposed to be, and that's the point. They make you think, ask questions and probe. They're psychedelic, putting you into a trance and altering your state of mind to truly absorb all that is happening within them.
These posters are meant to alarm and evoke emotion. They're meant to be different, dynamic and out of the box. That's how they make their mark. That's how they ensure that they're seen, heard and experienced.
Your brand could learn a lot from this kind of design technique — using color, illusion, mood and wonder to engage with audiences and leave them wanting more.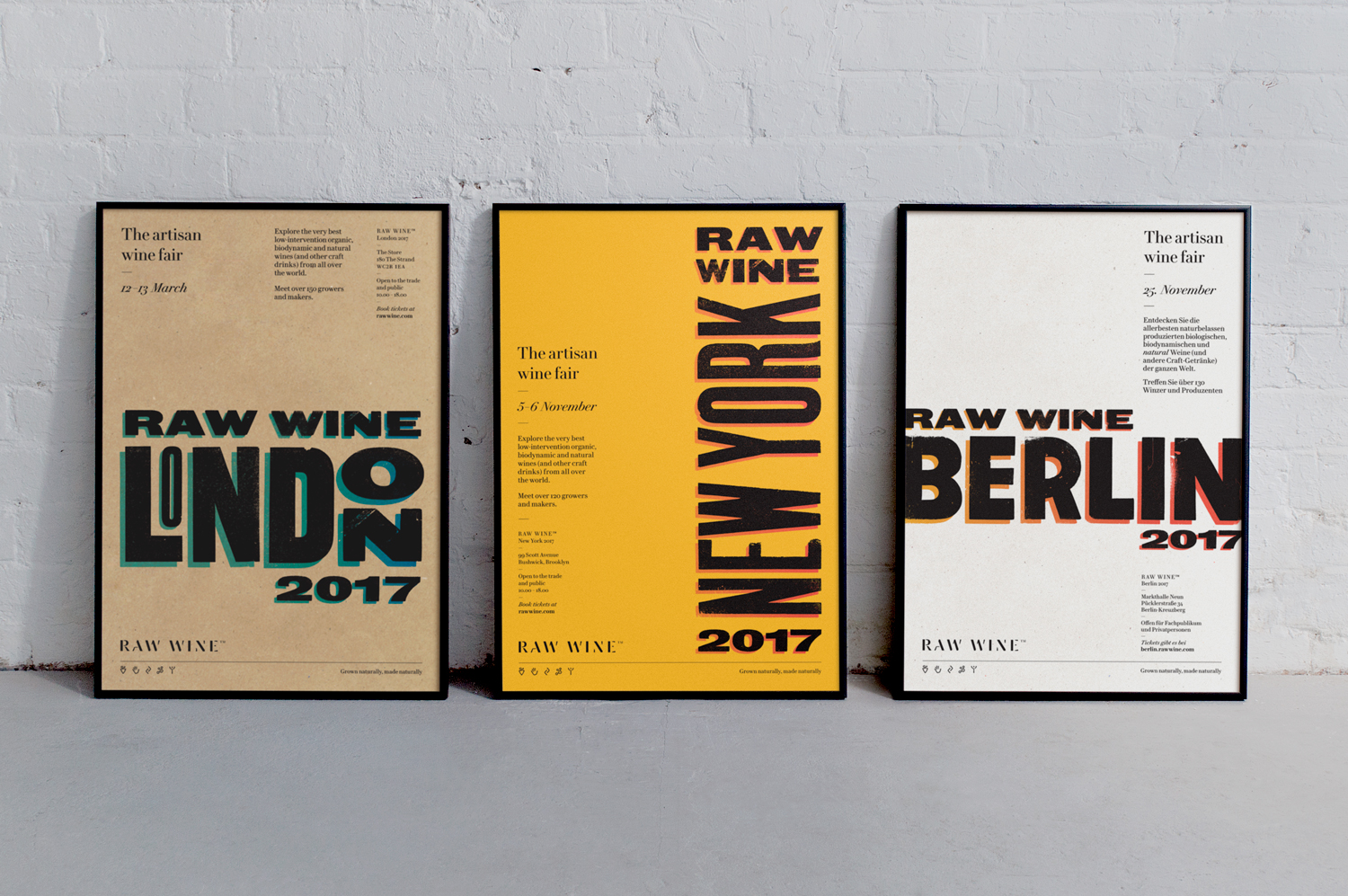 Raw Wine is an international wine festival held all over the world. And to promote their upcoming events, the brand enlisted the help of a designer to help promote the festival and encourage wine drinkers across the world to attend.
These posters are authentic, engaging and retro. There's an old-school vibe to the natural-looking backgrounds and the thick, regal font. There's a simplicity to this design — it's made up of bold colors and bold typography. And it's this typography that elevates this design in such a way that makes it impossible to ignore.
The large, black block letters take on a three-dimensional shape, popping from the page. They have a slight shadowing that gives them an edge that is almost futuristic and bold. There is no looking away from these strong and sleek letters.
There is additional copy scattered across this design, but it's the empty, negative space that really adds a modernity and a sophistication when paired with the big, black lettering.
This poster puts the festival center stage — highlighting the cities in which they will be running. That's the point of this design — to promote an event. And they make sure that all viewers know immediately that these posters are there to guide them.
Raw Wine is a brand that cares about all-natural wine and the authentic wine-making process. And these designs emulate that mission and ethos in their simplicity, organic vibes, and emphasis on creative artistry.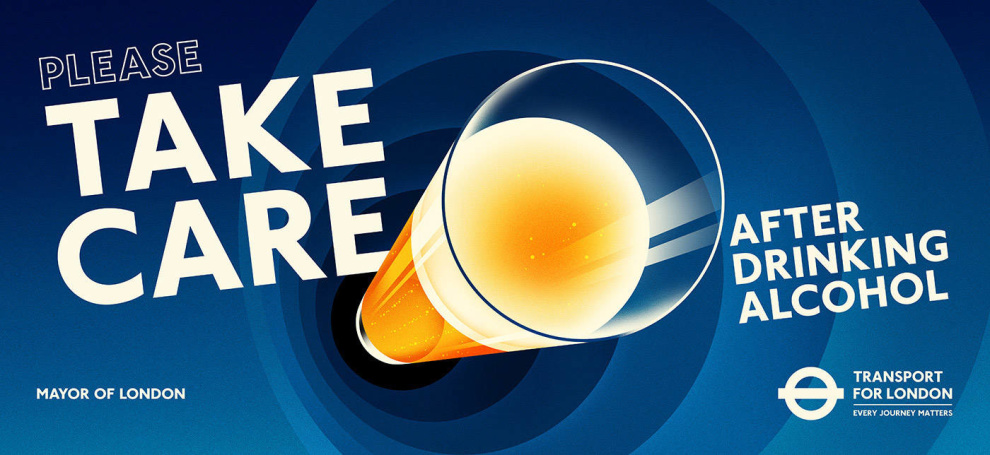 3. Transport For London
Transport For London is London's transportation service, and in their recent ad campaign, the brand knew that it needed to promote travel precaution and safety. And in order to do this, the transport authority turned to a widespread print campaign to grab attention and to enlighten.
To lessen the number of transportation-related accidents, Transport For London decided that it would line the walls of Underground stations and buses with bright, dynamic and creative posters that capture attention and inform users about the hard facts.
Using dynamic illustrations, smooth color gradients and popping typography, these poster designs hit the mark and demand to be seen. They are immediately engaging, with images that rise from the paper and call you to action.
The bright, vivid, uppercase copy is simple but strong and sleek. It encourages people to read and absorb. It promotes precaution and awareness. If they can take a few seconds to pay attention to this ad, they can take the time to be a little more cautious when it comes to using the tube, buses and commuter trains.
This is a playful and bombastic design — it takes a very serious subject and adds some fun to it that makes it more approachable and friendly — which means that people are more likely to interact with it.
And for this authority, that was vital. These custom poster designs are innately engaging and interactive, and there definitely hard to miss. They inform in a creative and cool way that people actually enjoy.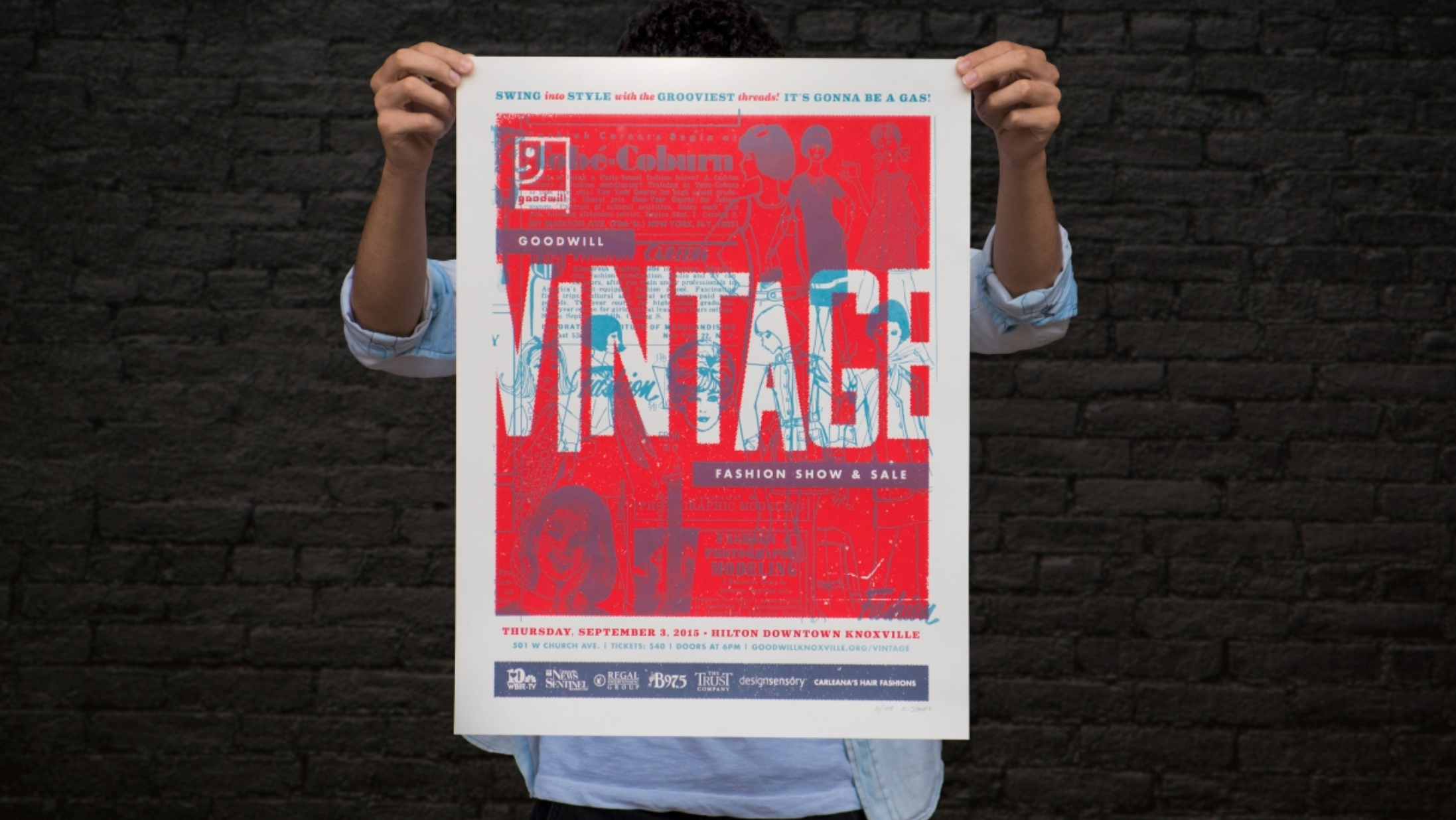 4. Goodwill Vintage How & Sale
The Goodwill Industries Vintage Fashion Show happens every year. It's an event that pulls people together for a charitable event where fashion and goodwill are put on display. And in 2015, the brand decided it wanted to bring the vintage theme full circle with a series of custom posters ads.
These print designs are gritty, vintage and creative. There's a mishmash of colors, lines, shapes and words that add an urban, almost dirty vibe that is instantly thought-provoking and engaging.
Iconic images, clever outlines and retro typography elevate this design, giving it the old-school and sophisticated edge the brand wanted to offer its upcoming fashion show.
This image makes use of design trends that are always coming back in style to replicate the fashion designs that it's promoting, which are also coming back in style. And this design certainly gives the Goodwill brand an edge that it didn't have before.
With the help of the posters, suddenly the brand is cool, modern and fresh. It knows what it's doing and knows how to interact with audiences in a playful and sophisticated way.
These posters show authenticity and authority. They show dedication and passion. And they show a touch of creativity that you never knew the brand had.
These designs are gritty and chic — there's an edge to the bold typography, retro illustrations and colorful contrasts. It looks like a poster you'd see in the 1960s, but there's an obvious modern twist that makes it even cooler.
Turning to vintage inspiration is a great way to engage with audiences, and print designs are the perfect medium to do so.
Are you looking for more print designs to fuel your marketing initiatives? Sign up for the DesighRush Daily Dose for more!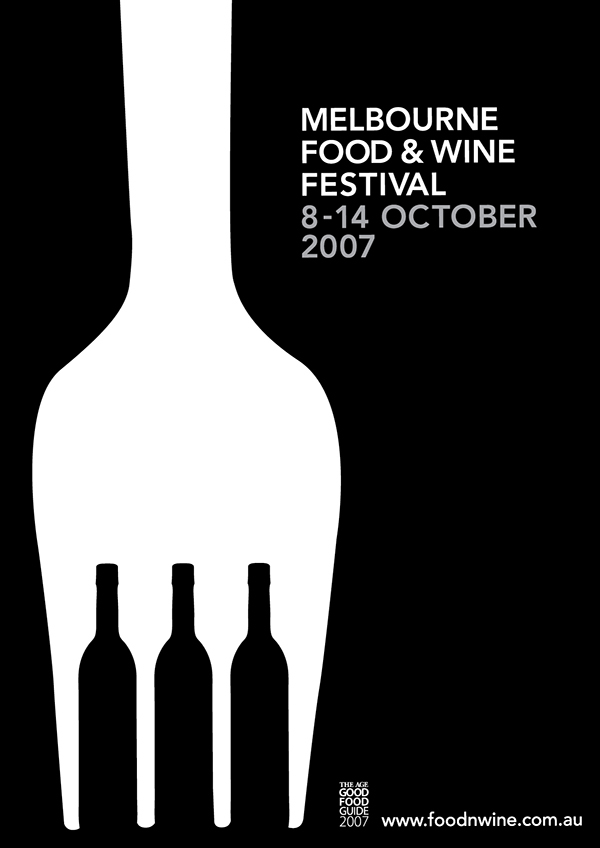 5. Melbourne Food And Wine Festival
Back in 2007, the Melbourne Food And Wine Festival went with a moody and modern print design to promote their event and align themselves as a cool brand worth getting to know. They went with a minimalist campaign that oozed sophistication and mystery — urging people to attend to find out more.
This poster design is simple in nature, and extremely moody in shape and color used. This design is made up of a sleek black background with white imagery that certainly pops from the page.
The image is that of a fork. It extends down the entire length of the poster — only in the spaces between the prongs, you see wine bottles. To the right is the event info in small, simple typography.
This minimalism is extremely captivating, pulling you in and keeping you engaged. It's extremely unique and creative, getting its point across with effortless design. This is a festival for food and wine, and those two images steal the show. And the way in which they fluidly combine is artistic genius.
Poster designs can be minimal too. They can raise eyebrows and let users come to their own conclusions. Minimalism is a popular, modern design trend — from print design to web design and beyond. So going with a minimal design is also a fantastic way to align your brand as one that's cool, modern and innovative.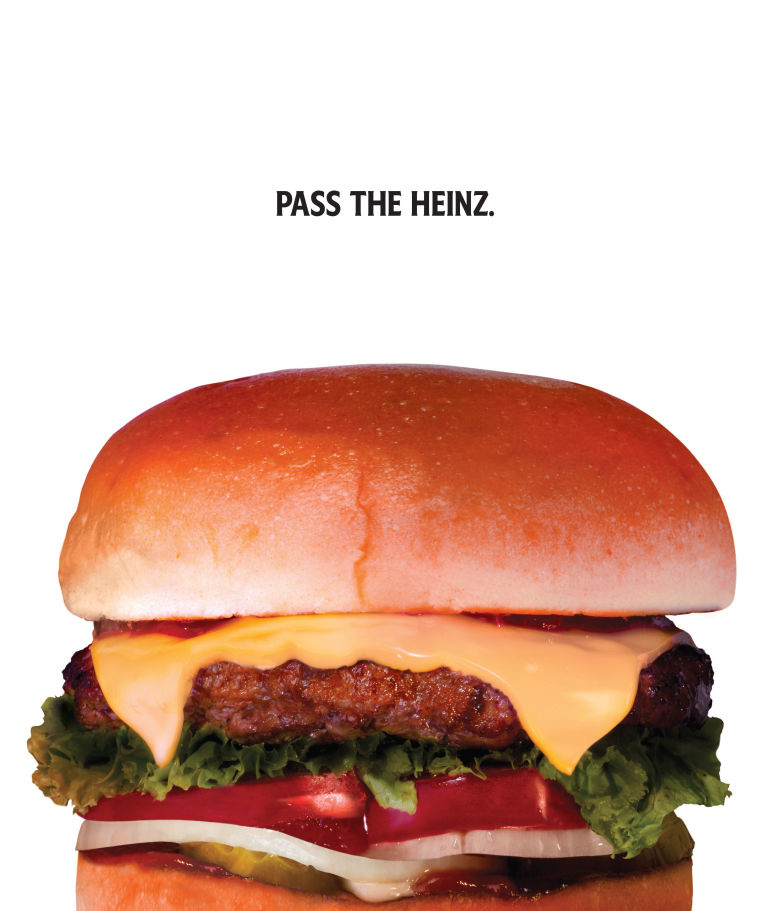 We all know Heinz as the popular ketchup and condiment brand. It's a brand known for its delicious sauces that we use to make our burgers, hot dogs and club sandwiches taste phenomenal. But instead of going with a dynamic and sensational design for their recent ad campaign, they went with a very simple, clean design that engages on a whole new level.
These print designs are promoting brand identity. They are promoting products in a simple, sophisticated and clear way.
These designs are made up of a simple image set against a white background. A simple line of text sits at the center — "Pass The Heinz."
It's extremely minimal and bare. And sometimes, this could bore and fall flat. But here, these designs really shine. The imagery of a burger is tantalizing and makes your mouth water. And the phrase adds context and clarity. You're compelled to agree. You'd say the same thing if confronted with a burger that looked that good.
And by focusing less on the product, and more on the context, this brand is creatively elevating its status as a leader in their niche.
These prints are meant to grab attention. They're meant to make you stop and stare. This isn't a long-standing print campaign. It's a publicity stunt. It's a campaign that makes you think and ask questions but ultimately nod your head in agreement.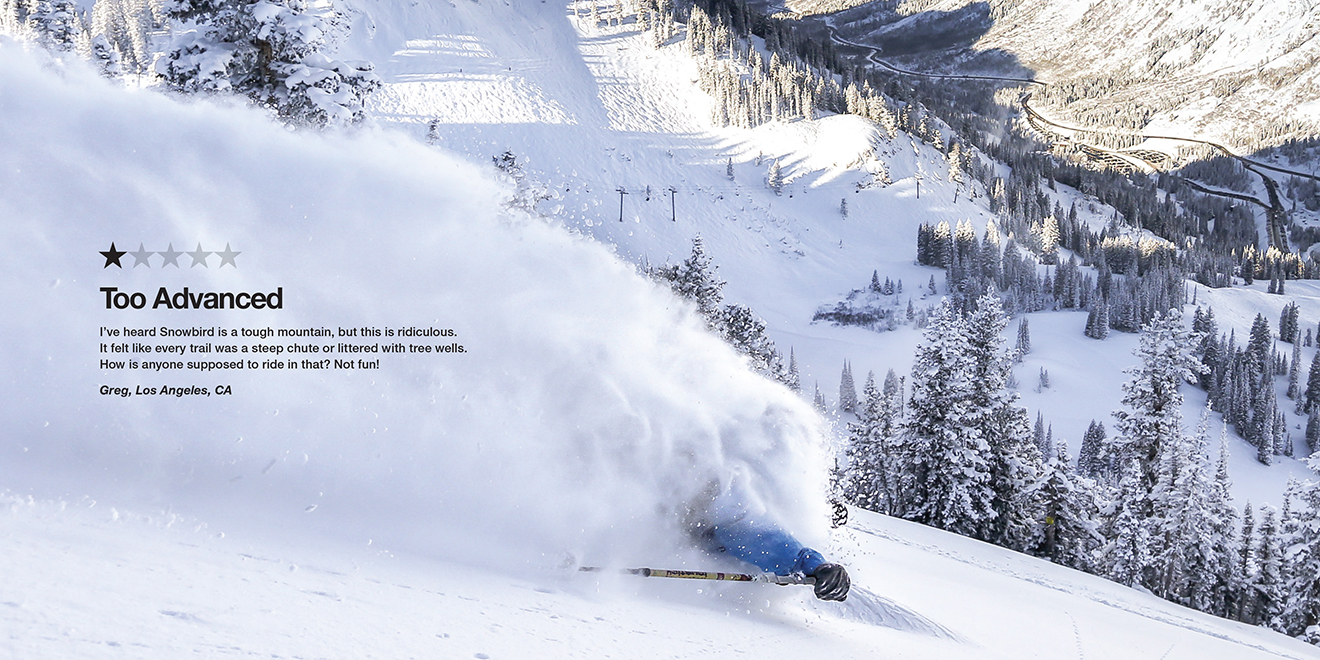 Snowbird Ski Resort went a very unconventional route with its poster ads — instead of promoting the brand in a positive way, or through illustrative design, the resort decided to promote its one-star reviews to grab attention.
But looking at these ads, it definitely works.
These one-star reviews are hilarious, captivating and engaging. From the first word to the last you're intimately interested, reading along regardless of how long it takes to read through.
At first glance, viewers are captivated by the stunning photography. These shots of the mountain, and of expert skiers navigating the slopes, are supremely intelligent, bright and eye-catching. They are beautiful, serene and inviting. These shots alone are enough to amaze and enlighten.
There is also little to now typography here save for the review. No brand name or moniker. These photographs stand alone, showing off the natural beautify of the resort all on its own.
Then there are the reviews. These reviews could shed a negative light on the resort, but instead, they add a playful edge and an energy to the brand that makes the viewer want to check it out for themselves.
These reviews add character and authenticity. They show that this brand isn't afraid to have some fun at its own expense. It's also a way to show that this brand is authentic and transparent. Not everyone has a good thing to say, but instead of hiding it they put it on full display.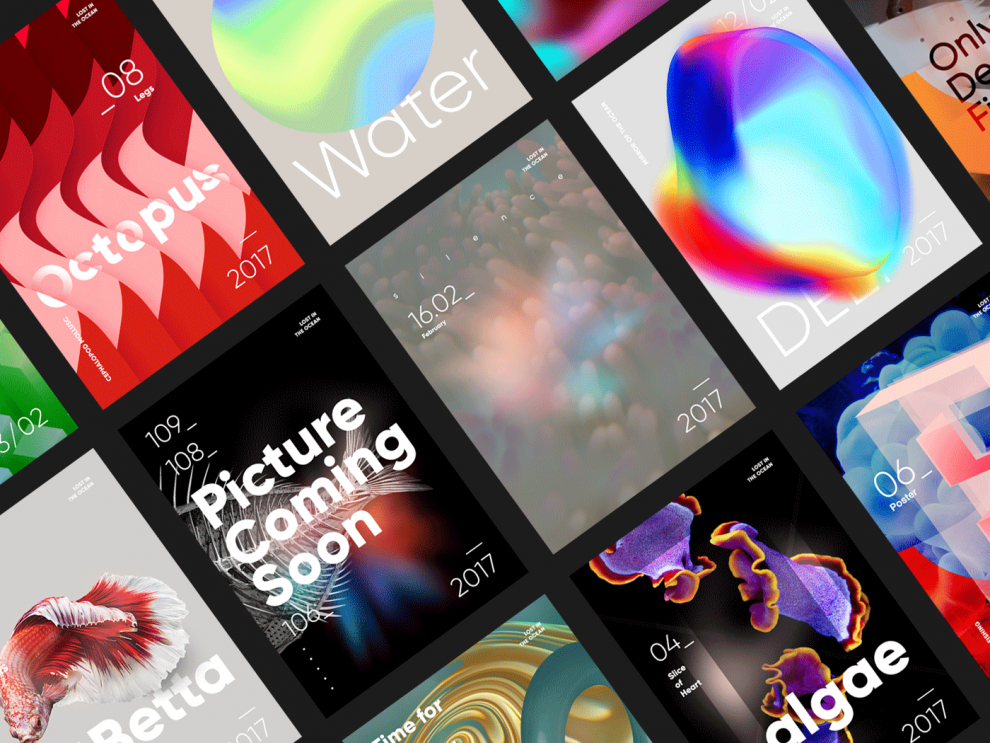 8. Lost In The Ocean
These print designs are a pet project for a Georgia-based graphic designer. They aim to enlighten and inspire — the ocean is a vast place, full of life and wonder. And we as people should take more time to understand and appreciate it.
And these designs have an innate aquatic vibe. The earth is 70 percent water, and the designs emulate that in their fluid and smooth nature. Bright colors and soothing hues lull you into the depths and keep you focused.
Strong contrasts, dynamic color mixes and a play on light and darkness make up these enigmatic and intriguing designs. They are immensely engaging and pull you in with their richness and stunning nature.
These posters inform and inspire thanks to soft and subtle design elements. There is no typography to lend context — it's all done with shape, hues and creative movement.
These abstract poster designs are the perfect inspiration for the brand that wants to flex its creative muscles and have some fun with its design.
Abstract creativity engages and captivates. And it gives viewers the ability to come to their own conclusions and come up with their own happy opinions. These posters are hard to miss, that's for sure.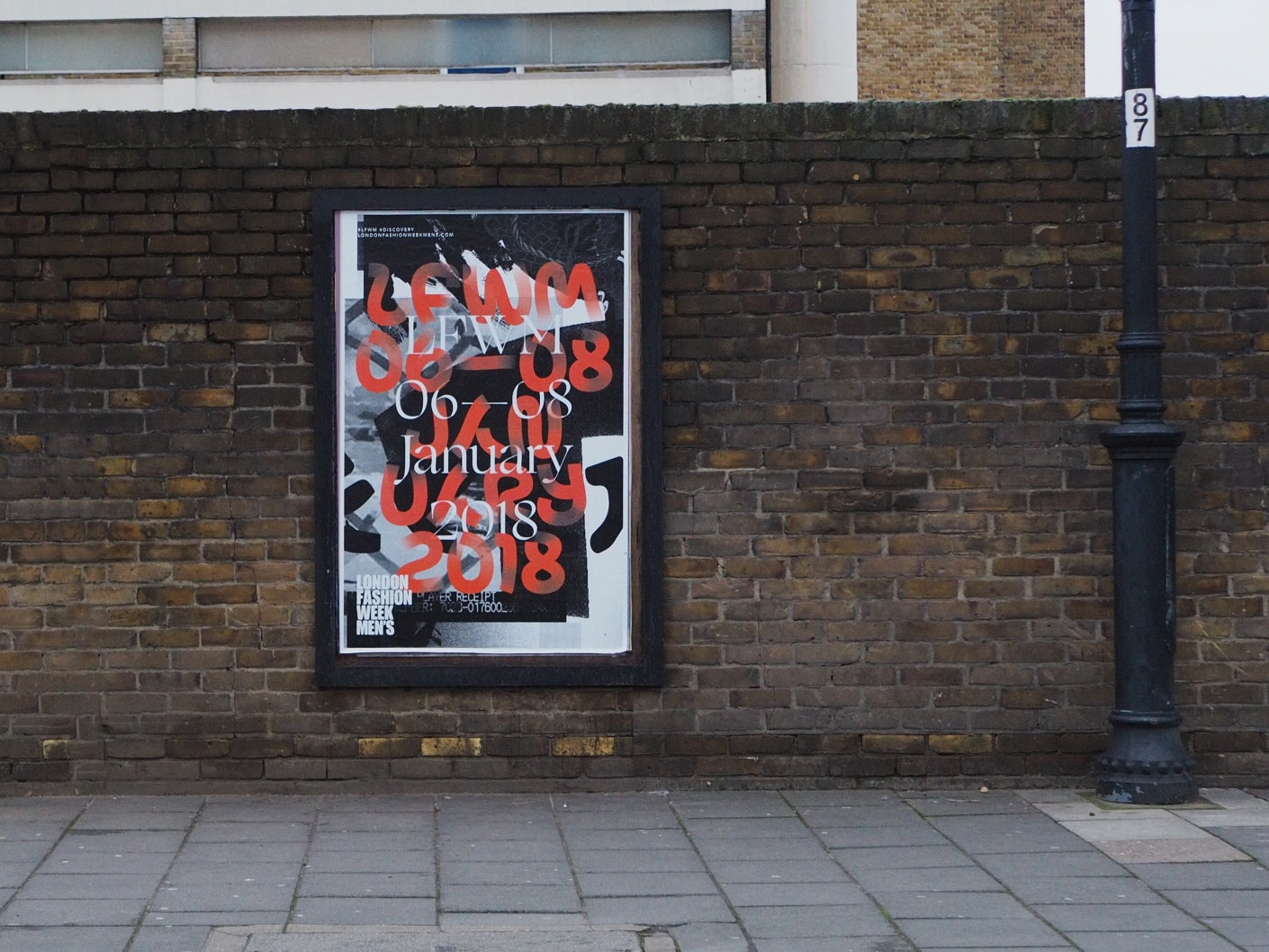 London Fashion Week is known for its stunning pieces, exciting celebrity interactions and in-depth dives into the latest trends. And for the men's line this past year, London Fashion Week went with a modern and edgy design that added an urban grunge to the event.
The modernity and edginess is apparent in the graffiti-like writings and dark, moody background. This contrasts beautifully with the light, bright and airy nature of the women's line. And it adds a strength and resilience that can't be ignored. These prints are powerful. They're modern. They're sophisticated.
They elevate the event and create an urgency in anyone who views them.
These abstract prints play with shape and typography in a refreshing way. There's a creative layering that instills a little bit of chaos, but it's decipherable if you try. And that's the point. These designs encourage interactivity. They encourage users to get up close and personal with them. They inspire an edgy leadership that others can look to.
These designs set the mood. They are deep, dark and depthful. They ooze sophistication and excellence. They prove that the event is one that you won't want to miss.
Playing with designs like this one is a creative and playful way to promote an event, and it will definitely give your audience something to talk about.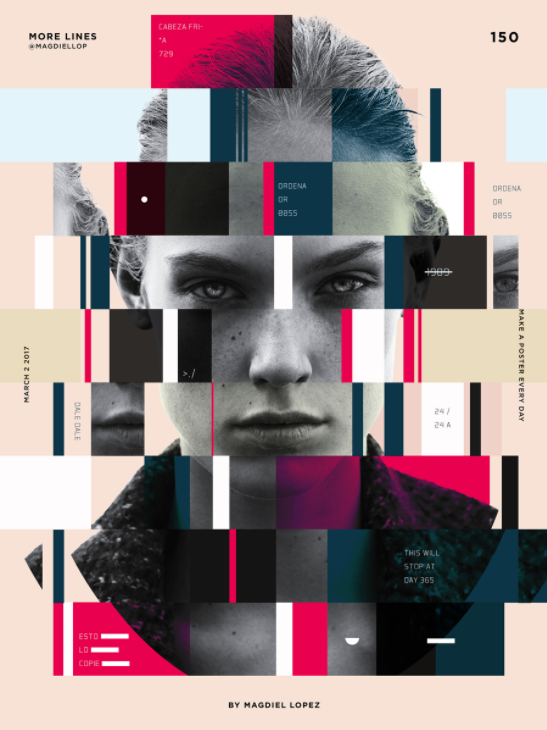 10. A Poster Every Day
Graphic designer Magdiel Lopez decided to challenge himself with a personal project — pushing himself to create one poster every day to see how his talent and creativity could be stretched, and to see how it could evolve.
The result was an array of fantastic, enlightening and inspiring print posters that steal the show and ill you with an innate sense of wonder and curiosity.
These artistic and colorful posters are embedded with meaning and passion. The colors are soft and inspiring, grabbing your attention in leading you through the design. The focal points are big and moody — taking up most of the design and giving off an enigmatic vibe.
These posters focus on the human image and pay special attention to specific features of the human body.
There's an air of self-expression to these designs. Human features are explored, but only in part. They are still shrouded in mystery to some extent. In other designs, shape and depth are explored more intricately.
This is a series of posters that amazes while simultaneously setting the scene and setting an obvious mood. They're dark and captivating, with minimal copy and a focus on color, imagery, shape and self-expression which adds depth.
Each poster is unique, but the overall moody and seductive theme is present throughout the collection. There's an obvious style that, while depicting in a slightly different way depending on the poster, brings with it a cohesive understanding. These designs are an example of how the theme can tie a campaign together and create a cohesive and consistent brand image.
Top Custom Poster Designs — How Print Ads Can Give Your Brand A Boost
Posters have the potential to engage an inspire right at the ground level. They offer your audience a tangible medium with which to interact and offer a way for consumers to get intimately involved.
Print designs can inspire and excite just as much as a good web or app design. Just because we've gone digital doesn't mean we should throw the rest by the wayside. Mastering effective poster print designs can take your brand to a whole new level, leaving your competition in the dust.
But you have to make sure you're creating the ads your audience wants to interact with, and that you're reaching the right audiences. You can create an attention-grabbing design, but if it doesn't offer the right information or the right vibe, your audience won't interact with it.
These previous poster designs are just a few of the exciting ways you can use print ads to your advantage to boost your next advertising campaign. They are bright, edgy and modern. And they're also smooth, fluid and sleek.
But most of all, these ads are targeted, focused and full of content that their audience will immediately interact with. Use this inspiration to fuel your next print design endeavor and get ready to be amazed.
Subscribe to Spotlight Newsletter
Subscribe to our newsletter to get the latest industry news