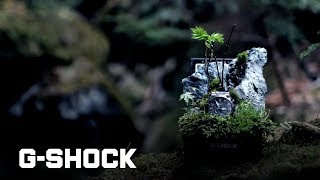 This video opens with a quote that says, "Destruction and creation. They are truths that govern the universe." It's a bold, powerful quote fit for a bold, powerful watch design.
The white text is clean on a flat black background. Then we see a quick reveal of a watch face which flashes almost immediately back to more white text. Just as quickly as the shot changed, it changed back to a rapid shot of a bonsai tree. Once again, the shot changes quickly. The fast movements and changes imply we are building up to something and the music also compliments that.
The video continues with a time lapse video of grass and flowers growing and blooming. The shots begin as ultra close ups. You can see drops of water drip off individual blades of grass. Eventually, the shot angles begin to widen and reveal a Casio G-Shock watch sitting amongst the foliage. The time lapse video continues as we watch weather patterns change, plants continue to grow, and the watch continues to reliably track the time. The music continues to build throughout until the final shot: a clean image of the G-Shock watch sitting in its box with a bonsai tree. It's a perfect completion of the video -- connecting the first shots of the video with the outdoor, nature shots.
There's no narration to walk you through this video. There's no one telling you what to think. All there is to see is watch that withstands the tests of time and nature. After all, that's what we really want in a timepiece, isn't it?
Casio G-Shock is a beautiful commercial video.