Coca-Cola Unsung Heroes of the Holidays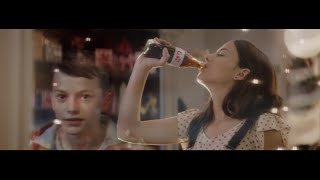 For the 2017 holiday season, Coca-Cola decided to celebrate the "unsung heroes" that illuminate our holidays with an extra effort that spreads the joy of holiday spirit and lights up our hearts.
The unsung-heroes campaign includes a Coca-Cola partnership with a group known as Children's Miracle Network Hospitals (CMN Hospitals) that gives funding and donations and community support to children's hospitals in North America.
Coca-Cola is donating $1 for every bottle sold through December 31st.
The holiday ad released by Coke—"A Coke For Christmas", shines the spotlight on special moments that only unsung-heroes can create.
The video opens with upbeat holiday music and the oh-so-familiar jingle bells that follow Santa's sleigh.
A snow covered scene shows a Dad decorating his home with Christmas lights, only to find an ice cold and refreshing Coca-Cola wrapped around the end as a boy watches with joy from a distance.
Next is a mother stirring cookie batter with rigor as the boy leaves her a Coca-Cola in the window.
The boy continues his journey when he brings his wagon to a store where a teen uses all her energy reserves to wrap Christmas presents for customers. The boy walks in and delivers her a refreshing Coke to recharge.
Last but not least, the boy realizes he only has one bottle left in his wagon. Who else better to gift this bottle then to the legend himself: Santa.
Santa grabs the bottle and takes a large sip of the drink as a reindeer watches from outside.
The video demonstrates the wonderful spirit during the holiday season. The teen who tirelessly wraps presents, the mom who delights taste buds with her cooking, or the determined Dad working to get those darned Christmas lights up and running.
The holidays are a season to celebrate. This is a video of the unsung heroes. The spirits who shine the bright and broad light of humanity to warm our souls.
With Coca-Cola supporting a great cause, there is more than enough reason to grab a Coke for Christmas.
A Coke for Christmas is a heartfelt commercial video.