Taking London's branding market by storm, Only Studio is an up-and-coming company that's been building itself over the last few years, and the results are impressive. They do not shy away from this fact as potential clients enter their website.
Users are greeted by an acknowledgment to some of the bigger projects that they have been working on, like creating a brand identity for London's largest cultural event space. The company employs dark photographs to lead potential clients across the page, and a faded overlay with words aligned to the left describe the project being depicted. A large sans serif font in white stands out vividly in the darkness.
Colorful. Deep. Powerful. All of these things describe the portfolio Only Studio has put together for potential clients. Each piece is comprised of vivid photographs and a detailed account of the project. Titles of pieces are presented in various fonts to match the thematic approach of the assignment, while the rest of the descriptions are displayed in a more simplified sans serif font. Potential clients have the ability to browse through the available photographs at will by using a slider presented at the bottom center of the page. Photographs are settled against a pale-gray negative space so as to make the portfolio piece pop.
The brilliant accord to accompany their portfolio? A testimony by each client they've worked with. Each client gives a glowing review of Only Studio, describing what it was like to work with them and how they felt about the end product. It speaks volumes for the company's work ethic.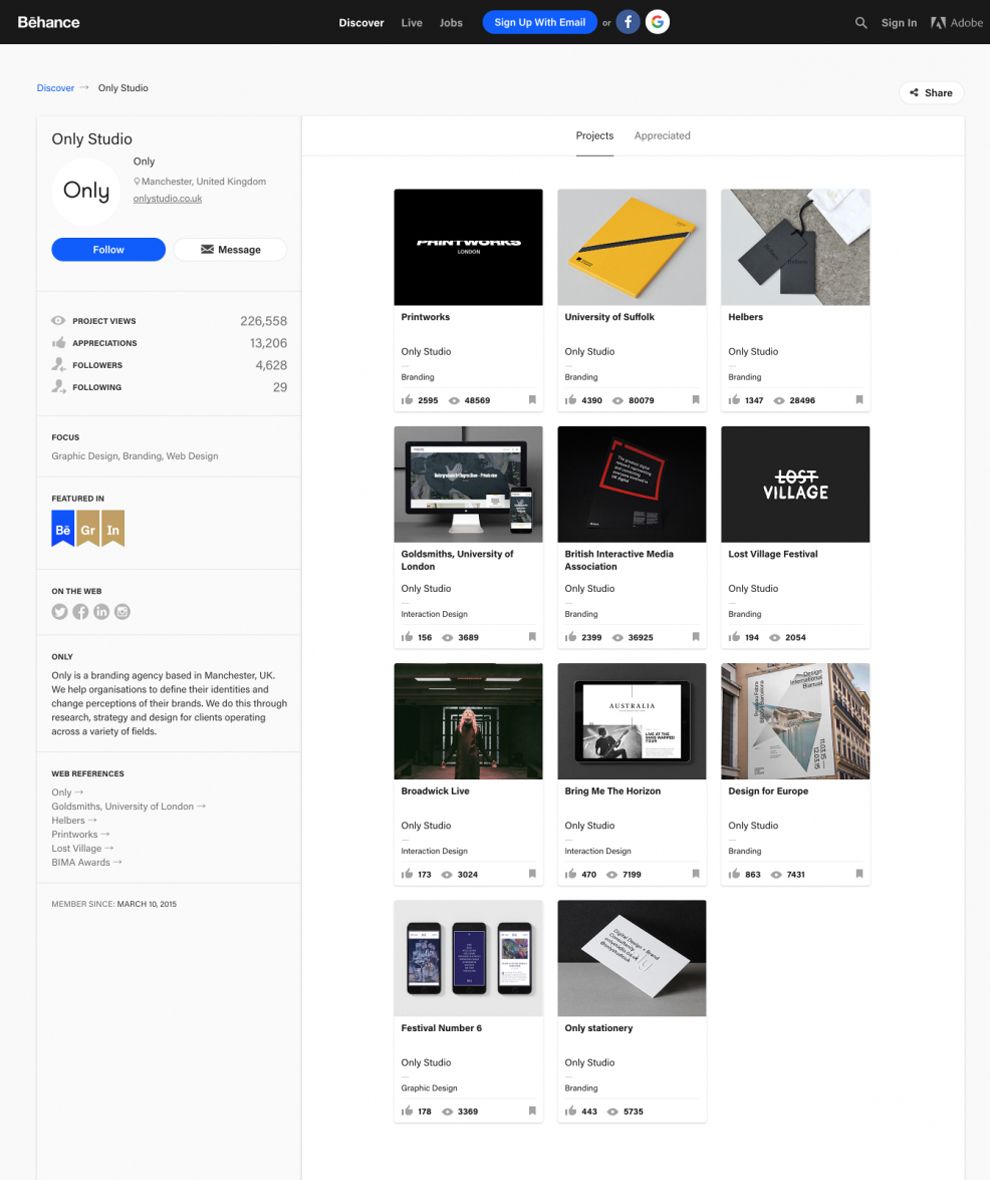 Utilizing the bottom of the page, potential clients are able to see all of the projects that Only Studio has created through a hyperlink to their Behance website. The platform is a great way for potential clients to interact with Only Studio by appreciating the projects they have created, following their Behance page to keep track of what they are doing, and even reaching out to the company directly through the website. Portfolio pieces are more simply presented with an even grid format of side by side pieces for easy navigation. By allowing users to view their portfolio through another option, Only Studio has enhanced the UX of their website, giving viewers the opportunity to customize their experience to fit their own desires.
Overall, Only Studio's website is enticing and exciting, providing a consistently organized theme and high-resolution imagery to sell their services to potential clients.
Only Studio is a clean website design in the Advertising and Professional Services industries.
More Best Fashion & Beauty Website Designs
More Best Professional Services Website Designs