The Yeti Cycles Platform Immerses Users Immediately & Leads Them On A Robust Buyer's Journey
The Yeti Cycles Homepage Combines Easy-To-Use Features, Brand-Building Content & An eCommerce Path
Yeti Cycles is a mountain bike brand that sells bikes, gear and more. It's even got its own racing team and a long history of spirit and strength.
Its website captures that essence beautifully.
The homepage in particular showcases Yeti Cycles' commitment to an overarching brand that invites consumers into a community. 
Upon first glance, the homepage cycles through stunning imagery with CTA buttons. Click on one, and a fast and seamless popup will cover the screen. 
This long-scrolling popup shows the story or event in full, complete with multimedia.
Exiting back to the homepage is easy. Just click on the large "X" box in the upper right-hand corner.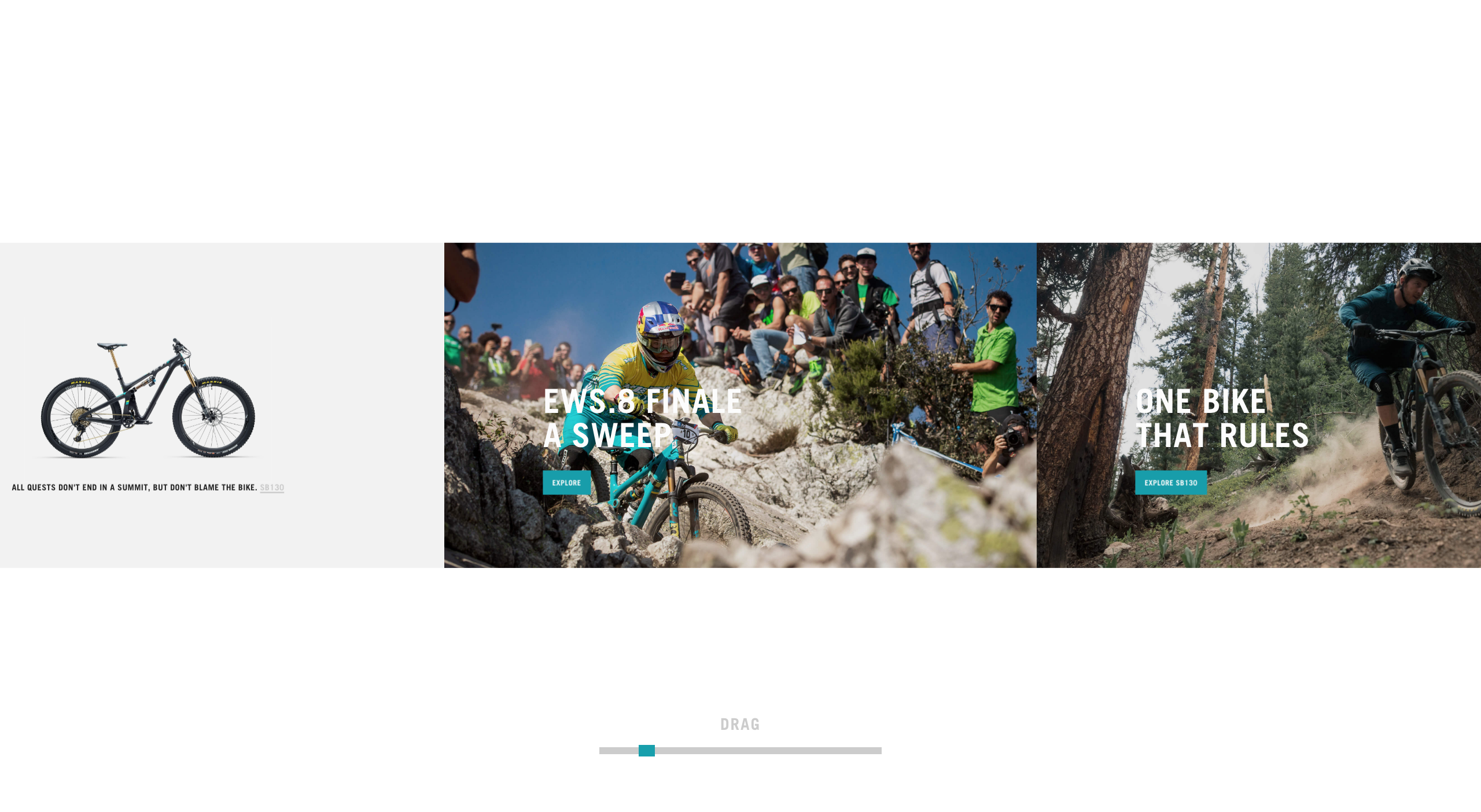 What's more, users can choose how they cycle through the homepage content. This gives visitors freedom, power and a more positive brand experience. 
Hover above the multitude of dots across the splash images on the homepage, and they will transform into a continuous bar with the words "Browse All" above them. 
Clicking puts each piece of content in a horizontal scroll from which users can choose. Tap "escape" on the keyboard to re-enter the original view. 
Captivating Photography Immerses Users Into The Yeti Cycles Experience
One of the first things you notice when you land on this website is the stunning photography that grabs your attention and pulls you in. It's bold and energetic, oftentimes taking up the whole screen and setting the scene.
You really get to see these bikes in action as a result. These photographs put the bikes, and the experiences they enable, in clear view.
That causes you to feel that same excitement and energy.
It immerses you into this digital experience and puts your mind right where these bikes are. You're biking down mountains and trudging through the mud and watching a glorious sunset.
Imagery is a great way to set the mood and engage with users. Images make more of an impact than text, after all.
Plus, the clever layout of overlapping and off-balance photos really pulls your gaze right where the brand wants you to look.
Clear Calls To Action & Navigation Tools Help Users Move Effortlessly Throughout The Site
Not only does this site make an impact as a result of its imagery, but its navigation system is equally compelling.
The calls to action (CTAs) are strong and bold. They immediately jump off the screen and almost hang on top of these images.
Each CTA leads you directly to corresponding areas of the site that inform and inspire.
Similarly, a newly-redesigned menu bar at the top of the screen streamlines the buyer's journey thanks to its simple, minimalist approach.
It's very straightforward and to the point, leading users intuitively to the areas of the site they want to look at without making it too stressful of a process.
Users know how to get to the page with the products, or they can learn more about the brand itself.
It's a very intuitive and engaging system that leads users on a very strategic path to the purchase page.
The typography really helps these words stand out. It adds a very edgy, rough and tumble vibe to the site as a whole that also matches its persona.
Receive proposals from top web design agencies. It's free.
GET PROPOSALS
The Yeti Cycles Brand Uses Powerful Storytelling To Engage Users 
Another engaging element of the Yeti Cycles site is its setup as a whole. This website reads and functions as a digital storybook.
Each section seems to get its own chapter. And each chapter comes with a comprehensive story.
The creatives behind this design really understand the value of a personalized approach.
They wanted to convey the passions of the brand's creators into this interface. Thus, Yeti Cycles creates an entire experience surrounding it.
As you scroll and click, each section of this website jumps out at you and details some experience, some journey or some event.
It's robust, powerful and engaging. The site shows users that this brand is created by real people with real passions and real hopes and dreams.
This makes the brand seem more real. It makes the brand approachable and friendly. Ultimately, the content marketing approach creates a brand that consumers actively want to engage with and buy from.
A Clean, Minimalist Web Design Creates A Sense Of Comfort Within The User Experience
Overall, this design is very simplistic and clean.
It is made up of bold photography, plenty of white space and simple text that makes for a serene and peaceful user experience.
Users aren't overwhelmed by too many buttons, CTAs or fancy graphics. It's a clean interface that leverages a minimalist approach to e-commerce web design.
The typography is bright and bold. But it's clean as well, ensuring that users can easily read the text and don't feel bombarded by its presence.
Similarly, this website makes great use of negative space to give users some breathing room. They aren't in a rush and they don't feel an anxious urgency.
Everything is calm, cool and collected. And that lets them really absorb the information that they're exploring.
This makes it easier for users to continue on their journey. And its a journey they get to create themselves.
This entire experience is one they get to create. The brand laid down the groundwork, but the user can make it what they want it to be.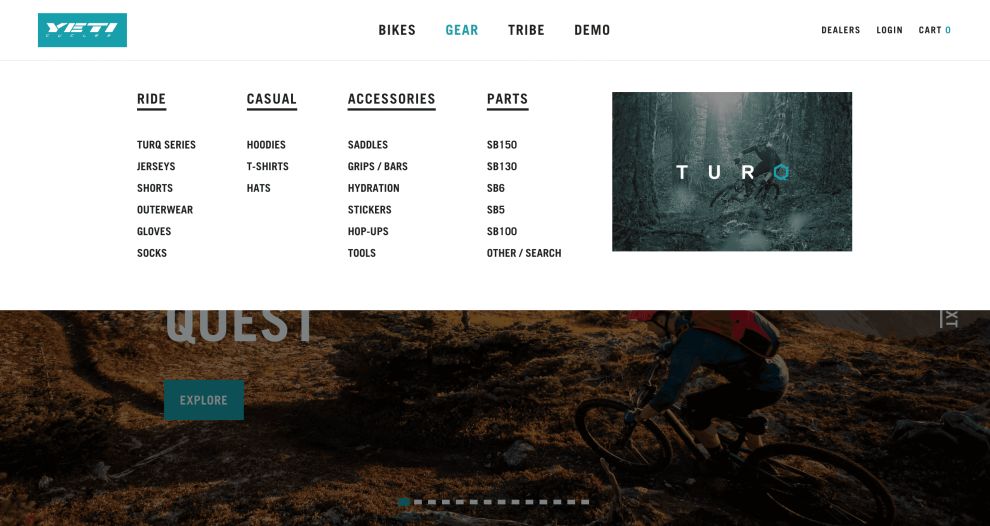 Yeti Cycles' eCommerce Web Design Incorporates Conversational Language & Copywriting That Fits The Branding 
Despite being an eCommerce website, Yeti Cycles maintains an air of effortlessness throughout the website. This is driven home through their copywriting. 
Instead of using formal wording and run-of-the-mill labels, the brand utilizes a more conversational tone. 
This casual copy is particularly noticeable in the Gear section of the navigational menu, where you'll see: 
Ride
Casual
Accessories
Parts
This improves the user experience by immediately fostering a calm and inviting experience. 
But perhaps most importantly, choosing to write more informally immediately helps the brand target the correct audience. 
Avid mountain bikers are cool and relaxed -- just like Yeti Cycles. 
Yeti Cycles' Website Has Intuitive Product Pages That Capture Specific Features And Streamline The Customer's Journey
The product pages embedded in the Yeti Cycles platform are equally as captivating as the rest of the site. And they are oriented in such a way that they don't look like traditional e-commerce product pages.
And that's a major plus here.
The website actually made use of 3D modelers and an animation team to really capture these bikes from every angle.
By clicking on the bike, you can get a closer, more thorough and detailed look which makes it easier to make an informed buyer's decision.
These custom assets really get into the nitty-gritty of what these bikes are all about. They show features, specs, materials and more.
All of this comprehensive information is vital for the buyer. It streamlines the process by putting them in direct contact with the information they need to buy.
We have ranked the best web design companies in New York.
Yeti Cycles Includes Videos To  Show These Bikes In Action And Compel Users To Make A Purchase
Another aspect of the product pages that really helps users make an informed decision are the videos included. These bold video designs show these bikes in action.
You can see how they handle and perform on the road, in the woods and beyond.
This creates a sense of urgency that compels users to buy. It gives them insights into how the bikes work and it lets them imagine themselves riding along as well.
43 percentof B2C marketers say video is the most important content marketing asset.
Here, it certainly makes an impact on its desired audience.
What Is Yeti Cycles?
Yeti Cycles is a mountain bike builder and distributor. It is also its own racing team that takes on challenges across the country.
The brand came into being in the 1980s and has a robust history of excitement, passion and dedication.
They've transferred that ambition into building their own mountain bikes and continuing this experience. It's a brand that wants others to feel the same way they do.
Each and every professional working for this brand has that same vivacious spirit and love for racing and adrenaline.
Here's a snippet from the brand itself:
Making bikes that ride this great takes time. Our design team debate concepts for months, sometimes even years, before we make our first prototype. These designs can be an evolution of an existing model or a totally new concept. The latter was the genesis for the Switch Infinity mechanism that revolutionized our bike lineup and leads the industry in suspension design today. Over the years through the various evolutions of Yeti Cycles, one thing remains constant — racing. And not just racing, but winning. Going faster is what drives us at Yeti. It is reflected in the bikes we make.
This powerful philosophy drives the brand. And that ferocity is evident in their digital platform.
The agency that created the Yeti Cycles website is none other than Legwork Studio.
The web design company worked collaboratively across many departments to create a well-branded user-friendly website that achieves Yeti Cycles' objectives.
And when they aren't shredding web design and code, many of the web developers and agency pros shred Yeti Cycles bikes, too. 
According to Legwork Studio Art Director Hannah Purmort: 
"We worked closely with every department at Yeti to craft a compelling story around their world class bikes and translate that to an engaging online experience. That narrative became our north star throughout the design process. The new Bikes section highlights everything from The engineering process to Yeti's history and company heritage. The immersive technology section is a great example of an idea that was born out of extensive discovery sessions with their Engineers. As a core differentiating factor of their brand, we wanted to highlight it in a way that would resonate with both the seasoned professional and the casual rider."
This website really does convey an experience. It gives off a very visceral heart, soul and passion -- and that's what makes it truly shine.
If you are looking to create an outstanding website, check these leading Los Angeles web design companies.
The Yeti Cycles Website Is A Robust Platform That Captures The Essence Of Biking And Encourages Users To Join
The Yeti Cycles website takes users on a journey. And it tells a compelling story that immediately immerses users into the experience.
This isn't your traditional e-commerce website. It isn't just trying to sell or promote a product. It's trying to set the mood. It's trying to change perceptions and engage.
Yeti Cycles achieves this with finesse and creativity — setting users up for a wild ride on and off these mountain bikes.
Each section of the website gets its own chapter like this is a digital book. Every web page is jam-packed with powerful imagery, captivating video and compelling text that really engages on a mental and emotional level.
It's so easy for users to go from one section to the next thanks to effortless CTAs and navigational tools in the form of a streamlined menu bar. This takes the guesswork out of navigation and creates a seamless purchase experience.
This website does so much more than encourage people to buy. It makes them feel something. It's a destination, and it takes users on a tangible journey that stays with them long after they've left the page.
You get an understanding of the culture surrounding mountain biking from this site. And that is the point.
Submit your best designs for a chance to be featured on DesignRush!
GET STARTED
More Best E-commerce & Retail Website Designs
More Best Sports & Leisure Website Designs