Best Package Design
Search Top Package Designs by Industries & Colors
Ooops!
Seems like we don't have results for that filtered search criteria.
The 5 Best Creative Package Designs
The 5 Best Package Design Features To Give Your Product An Edge
Have you ever bought a product solely because of its packaging? Because I have — more than I care to even admit in all honesty.
With package design, there is so much room to play! You can play with textures and shapes, you can play with color and copy, you can play with physical space itself! The opportunities are endless, and you can have so much fun when creating exciting package designs.
And that's key! You need to be creative. You need to stand out. Your products could line shelves alongside products in the same industry. You don't want to blend in. You want to be different, exciting and fresh.
You want your package designs to be cool, to have an edge, to create conversation.
Top package designs do all of this and more. They excite and inspire. They create urgency within consumers, forcing them to buy when they maybe hadn't planned on doing that before.
Package designs sell.
But it's important to understand what goes into creating a good package design. You have to know your brand as well as your audience. You need to have a sense of style and know how to use these elements to your advantage.
And these five features can help get you there.
The Functional Package Design: DOIY Branding
Good package designs are functional — plain and simple. If you've got a design that doesn't fit right on shelves or is practically impossible to open and decipher, it doesn't matter how cool or creative you were. You've got a design that just doesn't work.
And making the consumer work to understand your product? Not doing you any favors either.
The best package designs find a healthy balance between being unique, edgy and different and being practical. You can play with shape, size, and form as long as it doesn't detract from the overall experience of the design. And by all means — have some fun! Quirky designs and packaging are on point. Why use a cylinder when you could create an octagonal prism design instead?
I dug really deep into 10th-grade geometry for that one.
It's vital to take into account form and function when it comes to package designs. These are three-dimensional designs after all that, quite literally, need to have depth. You have the freedom and flexibility to flex your creative muscles in so many different ways when it comes to package designs — so do it.
Just don't forget function. Because again, no one wants to yell downstairs for help opening a package if they don't have to.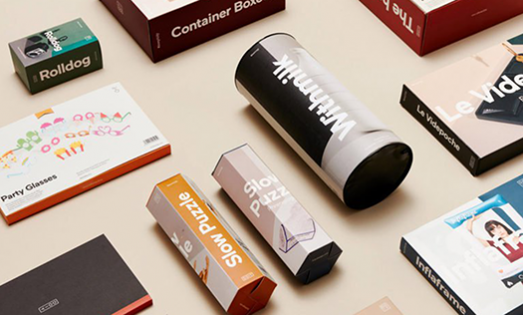 A brand that plays with shape, form and function is DOIY Branding. Their urban-chic packaging design is bold, bright and fun. They use package shapes in a playful way that really grabs attention and jumps of shelves. They understand their niche and use it to their advantage in a cool and creative way.
The Best Brand Identity Package Design: Black Box Wines
When you see a package design — especially if it's popular — you know exactly what brand it's from. That's because much like logos, package designs are often indicative of a brand itself.
So it's no surprise that for a package design to truly accomplish its goal, it must be immediately identifiable as affiliated with a specific brand. Top package design companies work hard to ensure the consumer can recognize and identify the product as belonging to a specific brand, even from a distance.
This might mean leaning towards a certain extreme to achieve immediate recognition — creating a package design that is eye-catching and bold, or creating one that is clean and minimalistic. Whatever way a brand decides to go, that usually becomes a staple until the next round of rebranding ensues.
Some companies believe it's possible to slap a logo on the side of a package and call it branded, but branding in packaging design is so much more than a logo. Branding should be woven through every element of the packaging — from its shape to its color palette, to the materials chosen for its construction.
Like I said, package designs sell. And that's because they are so specific, unique and representative of a brand itself. So it's important to know your brand, understand it and come up with a creative plan as to how to embody it in your package design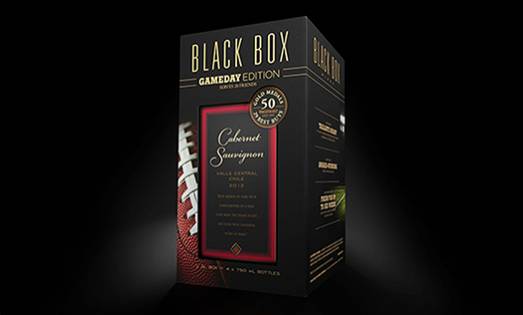 A brand that does this, and does this well, is Black Box Wines. Their strong and sturdy boxes are luxurious, regal and sophisticated. You get a feel for the elegance the wine itself is known for through the package design itself. It's simple and oozes old-world charm. Not only that, but this is an iconic package design that any wine drinker would instantly recognize.
The Creative Package Design: Sade Schnapps
What's the number one goal of package design? It's not a trick question, I promise.
The answer? To create a product that gets noticed.
No matter how good the product inside the package may be, consumers will never find out if they aren't enticed to pick the product up off the shelf. You could have the best coffee, the sweetest chocolate or the coolest gadgets, but if your package design doesn't bring people to your product, it'll flop.
In order to get noticed, packaging design must stand out from the hundreds of competing brands that are competing for market share and, more often than not, even competing for the same shelf space.
Being unique is the best way to stand out in a crowd, and the best package designs strive for this type of originality. They aren't afraid to make bold choices and break from the patterns and trends that have long existed in the marketplace. They embrace surprising color palettes, innovative shapes, and compelling textures to present objects in new and exciting formats.
They're creative and fun. They stand out. They dare to be different. Are you getting the theme here?
Of course, this could be done through splashes of color and enigmatic designs. It could be done using materials with a different texture and with a unique box or bottle shapes. It can be anything you and your designers want it to be. It just needs to hold its own against the competition.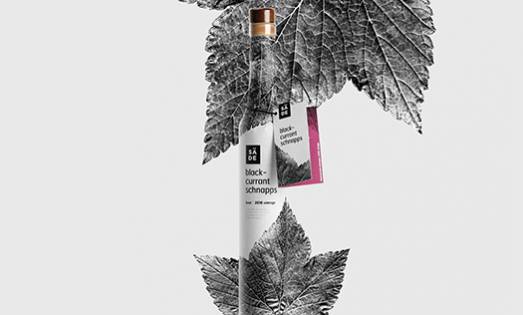 A brand that does this well is Sade Schnapps. This playful package design uses uniqueness and individuality. They know their industry and they know what it takes to be different. They don't use outrageous colors, clever copy and crazy designs. Instead, they embrace the all-natural and clean aspects of their brand and products and put them on full display. They use the natural and artisanal elements of the product to create a design that looks and feels like something fresh and new. I don't even like schnapps but if I saw these bottles I wouldn't be able to resist dropping one in my cart.
Top Audience-Minded Package Design: Public House
While it's important to know your brand and what you're trying to achieve, it's also important to know your audience.
Like in all fields of design, the best packaging designs speak directly to a specific audience rather than trying to be all things to all people. In these cases, the company has a clear idea of who their target audience is, and the packaging is tailored to appeal to members of that demographic.
If you're trying to reach millennials, your designs will reflect that. There will probably be a lot of minimalism and maybe a splash of Millennial Pink.
Taking a bold approach and designing packaging that has specificity, intention, and originality is more likely to captivate a target audience than erring on the side of caution and designing something too generic or familiar.
Compelling packaging begins with research into the target audience, assessing what's important to them in a product, determining what they like or dislike about current packaging models, and looking for ways to fulfill gaps in the market.
The needs of every demographic and audience are different. What appeals to a child will not be the same as what appeals to a teenager, will not be the same as what appeals to an adult. Packaging designs that succeed in appealing to its audiences are intensely in tune with the needs and desires of those consumers.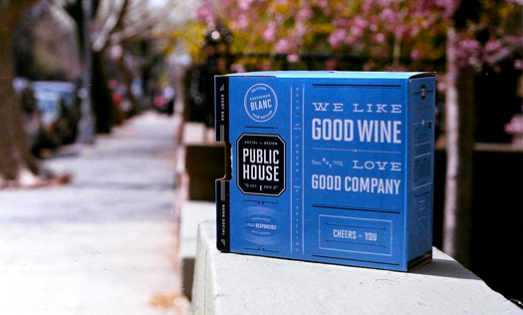 A good example? Public House — an approachable and fun collaboration of minds for wine drinkers. They know they are trying to reach an audience that is young, loves wine and isn't snobby about it. So their package design reflects that. It's bright. It's bold. It's in your face. But most importantly? It's fun — which is exactly what their fun-loving young wine-drinking audience wants.
The Honest Package Design: Jus Branding
When it comes to design and marketing, brands often like to stretch the truth. We as consumers know this. We expect this. But in order for a package design to work, it needs to walk that fine line between being honest to its product, its brand, and its audience and being a little hyperbolic.
Package copy is an essential component of overall package design and it ultimately helps shape the success of the design. The shape, the color, and the texture of the packaging will do much of the work in attracting the consumer's attention, but ultimately most shoppers will pick a product off the shelf and at least skim the package copy before committing to the purchase of an untested product. That's why the quality and layout of copy in packaging is so important.
Strong copywriting will present the product's benefits in a way that is easy for the consumer to understand. It will answer consumer questions before they even think to ask them. It will have a clear hierarchy that presents the most important information first.
It also gives them a feel for the brand voice, their intentions and whether or not this is a product the consumer should believe in.
Consumers aren't stupid. And they certainly won't take lightly to being lied to, so a brand's package design must be truthful, forthcoming and honest.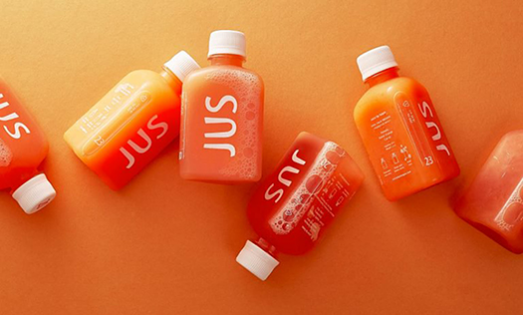 A brand that is simple, honest and effective with its package design is Jus' branding. This all-natural juice brand emulates the simplicity and naturalness of its ingredients in the package design itself, letting users see them for who they really are — an honest company.
Conclusion
Package designs drive sales and drive traffic. They work to build a brand and increase its brand awareness. And, honestly, package designs are a whole lot of fun to not only look at but to create as well.
They are quirky and cool, full of bright bursts of color, modern flair and futuristic shapes and patterns. Sometimes, they're even more interesting than the product itself! But in order to make consumers feel this way — in order to excite and inspire — you need to master these five features:
Form and function
Brand identity
Creativity
Audience awareness
Honesty
Easy enough, right? Know who you're creating these designs for on both ends. Be honest. Be practical. And have some fun! Follow these features and your next package design will be gold.