SEO Image Optimization From Alt Tags To Image File Size
In previous posts, we've written about SEO headlines, meta descriptions and title tags.
Now it is time to explore another important aspect of SEO – image optimization.
Images are a vital element of any webpage. They make your content more visual and help your website visitors better remember key information.
On top of that, if optimized correctly, they can help you with your SEO efforts.
In this article, we will:
Explain why images matter for SEO
Reveal the three best practices of image optimization
Give you five tips on preparing images for your website
Outline the five crucial steps to take when enriching your content with images
Suggest the best free tools for image optimization
Let's jump right in!
SEO Images: Why Are They Important For SEO?
27.4% of all Google search results are images.
They are as important in achieving a top-10 ranking on Google as keywords and backlinks.
The main reason for this is simple – images enhance your content and make it more valuable for your visitors.
When your visitors find your content valuable, they are more likely to return to your website and spend more time on it. This provides a steady flow of loyal traffic, making your website appear more valuable to Google and improving your rankings.
On top of that, optimizing images for SEO can help increase your traffic even further and tap into new markets.
For example, 62% of millennials and Gen Z consumers want the visual search to be a part of the digital shopping experience.
So by optimizing the images on your website for visual search, you're making your content, products or services more accessible to that audience.
Best Practices For SEO Image Optimization On Your Website
Before diving into a step-by-step process of optimizing your images for SEO, let us address the three key best practices of SEO image optimization.
Best Practice #1: Avoid Stock Images
Using images on your website is all about making your content more visual and accessible.
Frankly, stock images are hardly capable of that. They are rarely relevant to your content and will most likely appear out of place on your website, which will lead your readers to simply gloss over them.
The best practice here would be to put some effort into making custom images. Graphs, illustrations, screenshots or GIFs are more attention-grabbing and can be tailored to your content.
Best Practice #2: Don't Forget About The Copyright
If you decide to go with third-party images, make sure to comply with the copyright laws.
Not doing so will not only appear poor taste but can also tangibly damage your business.
In 2018, the U.S. Postal Service was involved in a $3.5 million copyright infringement lawsuit after using a copyrighted image of Lady Liberty in stamp design.
To avoid such situations, make sure to only use third-party images that are public domain or bear an appropriate Creative Commons license.
Best Practice #3: Make Sure The Images Add Value
Before selecting an image for your new blog post, ask yourself:
What value will this image bring to my readers?
Images should not only make your content more visually appealing – they should also add value to it.
You can use images to highlight a stat that would otherwise get lost in the copy or to summarize complicated content in a table.
The general rule of thumb in determining whether an image brings value to your content is simple. Imagine your article or blog post with the image you want to add, and then imagine it without that image.
If the post seems incomplete or some crucial information is missing without the image, that means it's valuable.
5 Things To Consider When Preparing Images For Your Website
Moving onto more practical, actionable tips – here are five things to consider when preparing SEO images for your website.
#1: Choose High-Quality Images
By "high-quality" we mean both the quality of the content within the image, as well as its visual quality.
For instance, if you're creating a custom table illustration, the text within that table should be easy to read and understand.
Or if you wish to highlight a stat with an image, make sure that the stat is relevant and authentic.
Above all, make sure that your images look great – which includes ensuring that they are properly sized.
#2: Pick The Right Format
Images come in different file formats, but only a few of them are suitable for SEO optimization.
Each one of them has its own advantages and use cases:
PNG offers higher quality and features such as background transparency. Use it for smaller graphic elements or screenshots.
JPEG can be compressed to a relatively small size without compromising the quality too much. It works best for illustrations and bigger images.
SVG is a vector-based format that you should use for logos and icons. It's lightweight and can be manipulated without quality loss.
GIF is the standard format for animated images. They can be really striking but at the expense of the large file size.
WebP, JPEG XR and JPEG 2000 are the so-called next-gen image formats. You can compress them to even smaller sizes without sacrificing quality. However, they are not universally accepted and supported yet.
#3: Optimize The File Size
40% of users will leave your website if takes three or more seconds to load. The heavier the page, the longer it takes to load – and images make up to 30.2% of total page weight.
That's why compressing your images to the lowest size possible is an crucial step in SEO image optimization.
Ideally, all of your SEO images should be less than 100 kB.
For that purpose, JPEG is the most appropriate file format. Depending on the compression tool, you can reduce the size of a JPEG image by as much as 69% without a significant quality drop.
#4: Name Images For SEO
While it may seem like an insignificant detail, the names of your image files also have an impact on overall SEO.
Google analyzes the names of your image files to understand the context of your images and of your entire content.
Naming images for SEO is simple. Make sure that the name of the image file accurately describes the content of the image and don't forget to include a keyword you're ranking for.
#5: Create Responsive Images
51.53% of global web traffic comes from mobile devices.
Because of that, responsiveness has become an important trend in website design.
One of the key elements of responsive web design are responsive images.
As such, a key step of SEO image optimization is ensuring that the images on your website display correctly on different devices and resize according to screen size.
5 Steps To Take When Adding Images To Your Website
Congratulations, you've prepared all the images for your new article!
But the SEO image optimization process isn't over yet.
To optimize the images you've added to your website, be sure to take the following steps:
Step #1: Optimize The Alt Tags
The alt tags or alt text of your images is what a web browser will display if it can't load the images or the visitor cannot see them.
Google bots also crawl over the alt text of your images to get an understanding of your content. This is why alt text is another important element of SEO image optimization.
Alt text should be unique and descriptive, explaining the contents of an image in a straightforward manner
Step #2: Include Your Primary Keyword
Try to include your primary keyword in all meta elements of an image – the alt text, the title tag and the description.
However, don't go overboard. Including the focus keyword where it belongs naturally will help your SEO.
Anything more than that could be considered as keyword stuffing by Google and will hurt your rankings.
Step #3: Add Appropriate Captions
Image captions get up to 300% more attention than the body copy of your webpage.
That's why you shouldn't let them go to waste. Unless you're using the caption space to cite the source of an image, be sure to include some valuable information there.
Via a caption, you can expand further on the contents of an image or highlight a compelling fact. Either way, your users will notice it.
Step #4: Optimize Images For Social Media
The logic here is simple – content that gets shared on social media will always get more attention and traffic.
However, simply sharing it isn't enough. Your images should be compelling and attention-grabbing. And the image preview is an important element of that.
For instance, if you want for your content piece to get some attention on Facebook, make sure to update the Open Graph image meta tag accordingly.
Step #5: Create An Image Sitemap
Last but not least, to make sure that the Google bots crawl all of the images on your website, create an image sitemap.
Having an image sitemap will increase the chances of your SEO images appearing in Google search results.
That, in turn, will help drive more traffic to your site.
Best Free Tools For SEO Image Optimization
Not sure which tools to use to optimize your SEO images?
Here are three free examples to help you get started:
Free Tool #1: Google PageSpeed Insights
Google's own PageSpeed Insights tool is a great option for analyzing issues with your page loading speed.
For SEO image optimization purposes, it can help you identify the uncompressed images on your website that are affecting your loading speed.
Free Tool #2: iLoveIMG
Once you identify the images that are damaging your loading speed, you need to compress and resize them.
A great tool to do that is iLoveIMG.
It's a free website that allows you to take bulk actions – instead of compressing your images one by one, you can upload them all at once.
This tool also gives you several percentage options of compression, so you can strike a perfect balance between file size and quality.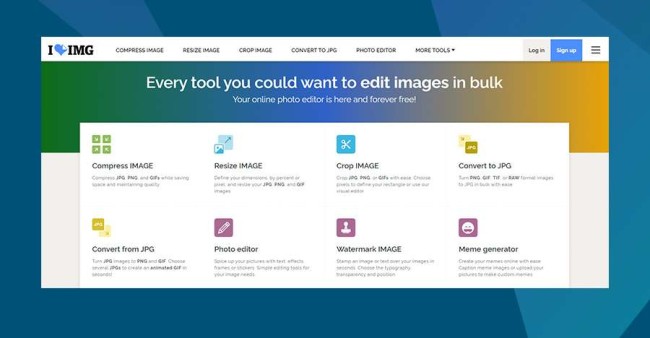 Free Tool #3: YoastSEO
If your website runs on WordPress, YoastSEO is a must-have tool for SEO image optimization.
It's a powerful plugin with extensive SEO-related functionality that can help you with anything from getting your meta titles right to optimizing your SEO images.
YoastSEO will also remind you to add the alt tags to your images and check whether the featured image you've chosen will display correctly on Facebook and Twitter.
Takeaways On SEO Image Optimization
SEO image optimization is an important aspect of SEO that you shouldn't overlook.
As digital experiences are becoming more visual, the impact your images have on your website content is increasing.
Thoughtful use of images will enrich your content, as long as you:
Avoid stock images
Comply with the copyright laws
Ensure that the images add value to your reader
When preparing images for your website, make sure to:
Use high-quality images
Pick the format that suits the image
Compress the files
Name your images accurately
Optimize your images for responsiveness
To make sure that your SEO images are optimized as you're uploading them onto your website, follow these steps:
Fill in the alt text for each image
Include your primary keyword in the image's meta properties
Caption your images appropriately
Optimize the images for social media previews
Create an image sitemap on your website
By following this guide to image optimization, you will ensure that the images on your website boost your SEO efforts, driving more traffic, conversions and revenue.