Web Development Marketplace
Get Connected With The Right Web Development Agency
Receive proposals from selected verified US and Global agencies
Tell Us About Your Project

We'll Find The Best Web Development Agencies For You
3 Simple
Steps
Specify your budget, timeline and project requirements
Our experts curate a list of up to 5 most qualified candidate agencies
We connect you with them so you can choose the most suitable partner
Most Popular Agency Services
Web Development

Drupal

Ruby on Rails

Shopify
Sitecore

WordPress Development

Magento

User Experience
Shopify

User Experience

eCommerce Development
Our Verified Agencies are
Trusted by Top Brands
"DesignRush put us in contact with
4 extremely reputable
agencies."
"
The quality of developers
that were recommended by them [was] by far the best ones."
"All agencies contacted me
within 24 hours
, great results."
How Does The Web Development Marketplace
Actually Work?
You share the project details in a brief
Tell us what we need to know about your upcoming web development project, including the timeline and the budget at hand.
We sift through our 20,000-strong agency directory
Once you submit your project details, your DesignRush advisor looks for the web development providers that can meet your project requirements and budget.
We review the shortlisted agencies
Your advisor gets in touch with the shortlisted candidates whose resources, abilities and skillset are the best match for your web development project.
We recommend up to 5 most suitable web development agencies
After researching the most appropriate candidates for your project, we select up to 5 most qualified agencies and present them to you via email. From this step onward, you begin communicating with these agencies to pick the partner that best fits your requirements.
What
Services

Do These Web Development Agencies Provide?
Web development companies provide a wide range of specialized services, such as:
These specialists are in charge of the website's:
Website development
Website design
Front-end development
Back-end development
eCommerce design and development
App development
Software development
Platform-focused development (WordPress, Shopify, WooCommerce, Magento, Drupal, etc.)
Platform-agnostic development
Technical SEO optimization
Website maintenance and support
And more
As a result, web developers can create various digital products, including:
Custom and/or template websites:

Business
Corporate
Informational
Landing pages
Portfolio
Media
Non-profit
Blog
Brochure
Crowdfunding
And more

eCommerce stores
Mobile applications
Bespoke software
The top-of-the-line web development agencies that you get in touch with via the Marketplace can develop high performing websites that have:
Easy navigation
Interactive elements
Technical and on-page SEO
Optimized conversion funnel
Enticing messaging
Quality content
Actionable CTAs
And more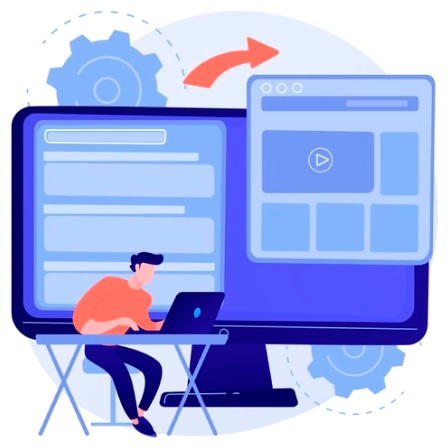 A professional web development agency can create a visually attractive and high-performing website that provides a good user experience and entices your target audience.
After all, you have merely a few seconds to impress your audience and make a positive first impression. Make it count!
What Makes The Web Development Marketplace On DesignRush
Unique?
Unlike the Agency Directory, brands looking for the best web developers can easily share their projects on the Web Development Marketplace and get the most qualified agencies at no extra cost.
We will filter through our catalog of over 20,000 agencies and recommend two to five candidates that could be an excellent fit for your project.
Finding the ideal collaborator for your web development project can be a demanding and time-consuming enterprise.
This is why DesignRush has created the Web Development Marketplace - to make your selection less challenging while saving time in the process.
Why Should You
Share Your Project

On The Web Development Marketplace?

Time-Saving

Submitting your project on the Marketplace allows a team of professionals with extensive agency expertise to take charge of the entire selection process.

Competitive Proposals

Our vast experience working with brands and agencies allows us to properly evaluate the web development agencies and decide which ones best suit your upcoming project.

Therefore, you will only receive the most competitive proposals that could lead to a successful project.

Best Equipped Agencies

The Marketplace gives you the chance to connect with industry leaders and the most competent web development agencies for your project.

Your advisor evaluates these agencies comprehensively to ensure the ones that make the cut can meet your specific demands. Additionally, you can find their agency profiles in our directory to gain more information about their services, expertise, teams, project and more.

The best part? Sharing your web development project on the DesignRush Marketplace is FREE.
How Does DesignRush Experts Select The Web Developers For
Recommendation?
Analyzing portfolios and best-case studies
Analyzing portfolios and best-case studies
Your advisor explores the agencies' past projects and best-case studies to ensure that prospective partners have the industry knowledge, resources and skills to deliver the desired results for your project.
Evaluating reputation and thought leadership
Evaluating reputation and thought leadership
DesignRush also looks into these agencies' online presence, reviewing their social media presence, awards, press mentions and more to make sure they have the right credentials to handle your project from start to finish.
Researching team expertise
Researching team expertise
We also explore the potential candidates' team size, executive leadership, their level of experience, etc. This enables us to recommend the web development agencies that have access to the talent and expertise needed for your project.
Checking reviews
Checking reviews
Of course, we read all these agencies' reviews to find out whether they are reliable, transparent, flexible and can provide quality work as expected.
How Much Do Web
Development Agencies
Charge
For Their Services?
Most web development companies in the U.S charge between $100 and $175 per hour for their services. Outside of the States, you can find website developers with rates as low as $55 to $75 per hour.
Meanwhile, the cost per project typically ranges between $10,000 and $50,000+ and depends on a few factors such as:
Website type
Project scope
Project complexity
Page count
And more
10 Questions
To Ask Selected Web Development Agencies
Have you developed products for similar businesses before?
Do you provide end-to-end web development? What does your service package include?
How will you take a personalized approach to our project and develop a strategy based on our unique goals?
Will you create our website from scratch or will you use a template?
Will we own the code after the website goes live?
Do you provide maintenance and support and is this service included in the total cost?
Who will take the lead on this project and what is their industry knowledge?
How will we communicate and how frequently will we receive updates?
How much will the entire project cost?
How does your team stay abreast of the latest trends in the web design and development industry?
Frequently Asked Questions
Who is eligible to apply for DesignRush Marketplace?
Are there any hidden costs I should be aware of?
Am I obliged to work with any of the selected agencies?
I had an exploratory call with one of the selected agencies and LOVED them. Do I still need to contact the rest even if I am no longer interested in their services?
When can I expect to be introduced to the relevant agencies?
I would like to use your services, but my project is anonymous. Is there a way to go around it?
Most Popular Marketplace Services