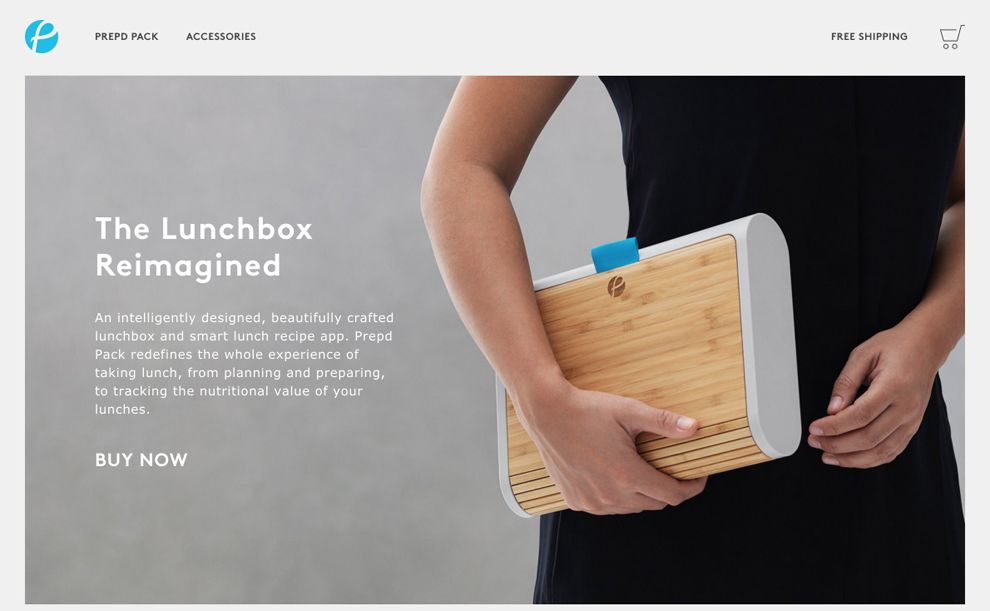 Prepd is an e-commence website, which sells intelligently designed, beautifully crafted lunchboxes and smart lunch recipe app. Prepd Pack redefines the whole experience of taking lunch, from planning and preparing to tracking the nutritional value of the lunches.
This website is definitely the poster child for extreme minimalism. The minimal design concept not only matches the simplicity of the brand's products, but also fits their philosophy of making healthy living simple and easy.
The hierarchy of the information on the homepage is well-planned and user-centered. To begin with, the homepage banner offers directly access to make the purchase. If you are new to the products, the followed auto-rotating quote from press give the first greeting from the mass media.
Next up is the four banner-like approach. Each has precise messaging, paired with a purposely planned criss-crossing image in wide-screen format. This presentation successfully introduces the product. Users are drawn to the short looping video for packs, which demos the possibilities of the products. The copy enties users to complete a purchase, but moreover, the "#GetPrepd" section has the very positive effect -- the lifestyle photos with the products shared by social medium are contagious. At the end of the page, the bottom echoes the top, offers the call-to-action to encourage the purchase.
The product detail page is followed the similiar design concept as the homepage. The treatment is cohesive. The items included are broken down and addressed in a criss-crossing presentation beneath the whole pack.
The bottom "You might also like" section is shown in elegant grid structure, which creates the incentive for further purchase.
The standalone subpage "Community" serves the same purpose as "#GetPrepd" section on the homepage. Visitors could see people's creativity, their healthy lives, stylish ways of lunching, and how their personal quality of life could be improved by the products. After all, word of mouth is one of the best marketing tools.
Prepd is an awesome website design in the E-commerce & Retail, Food & Beverage and Technology industries.