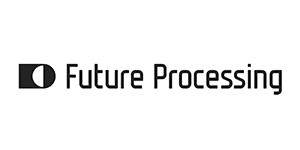 Bojkowska 37A, Gliwice, 44-100, Poland
Future Processing Overview
Number of Employees
500 - 999
Minimal Budget
$25,000 - $50,000
Average Hourly Rate
$50/hr
We are a technology consultancy and software delivery partner. Founded in 2000 in Poland as a software development company, we are an over 1000-people strong team who deliver end-to-end services, from vision to reality, to clients globally. We listen, advise, design and deliver world-class, user
Using our own proven frameworks, we have worked on hundreds of software products for both SMEs and market-leading brands, including Fortune 500 companies. 
We support clients through our services covering:  CONSULTING 
Product Strategy
Engineering
Audits 
DIGITAL PRODUCT
Digital Product Discovery
Experience Design 
SOFTWARE DEVELOPMENT  
Dedicated Teams
Custom Software Development
Solution Architecture Design & Development
DevOps
Support & Maintenance 
CLOUD  
Cloud Consulting
Cloud Migration & Modernisation
Cloud Operations 
DATA SOLUTIONS  
Data Solutions Consulting
Data Migration & Modernisation
Blockchain 
ML/AI  
AI & ML Consulting
AI & ML PoC Development
AI & ML Solution Delivery 
CYBERSECURITY  
Cybersecurity Consulting
Security Development Lifecycle
Pentesting 
We believe 'putting people first' is the key to client success. Many of our clients and employees appreciate our can-do attitude and partnership approach. We know that by measuring and monitoring both client and employee satisfaction levels and are proud to have them as our main business KPIs.
Our unique way of working with clients, helps us build long-lasting partnerships and create amazing software solutions that satisfy business and users needs. 
Heres what our clients say:  
I have worked with many technology partners before, and I must say Future Processing has been above expectations. 
Future Processing has been a valuable partner to our in-house technology team. 
Working with the Future Processing team has been a great experience. 
Future Processing Services
Future Processing Portfolio
Software Development

CREDIT AGRICOLE

Software Development

KMD

Software Development

VALEO

Software Development

ALLOCATE

Software Development

MARSTON

Software Development

EUROMONEY INSTITUTIONAL INVESTOR PLC

Software Development

NEYBER

Software Development

DYNAMA

Software Development

TENNECO

Software Development

SMART VALOR

Software Development

FEEDBACK MEDICAL LTD

Software Development

ZEST

Software Development

HAS TECHNOLOGY GROUP

Software Development

THE LINDE GROUP

Software Development

UK POWER

Software Development

ISITE

Software Development

ISTA

Software Development

TECHSOUP

Software Development

STEAMSHIP MUTUAL

Software Development

FLOWBIRD
Future Processing Clients