Design Rush experts reviewed nearly 4,500 software development companies analyzing their expertise, past projects, client ratings, and other factors to help you find the perfect match for your needs.
Explore our handpicked list of service providers capable of offering exceptional software solutions tailored to your project requirements. 
The Number 1 Software Development Company as Selected by DesignRush Is:
Best for: Overall
Average Hourly Rate: $40
Minimum Budget: $10,000 - $25,000
Founded: 2000
Location: Potomac, Maryland
Notable Clients: Lition, Swiss Red Cross, SAP, Fujitsu, Burda Digital, and more
Instinctools has been a prominent software development company for over 20 years, consistently delivering innovative and cost-effective solutions. Their expertise, reflected in over 1000 successful projects, encompasses custom software development, mobile and web solutions, legacy software modernization, business intelligence, data visualization, cloud and DevOps, and crypto exchange development.
When Lition needed a solution for energy exchanges, they turned to Instinctools. Their goal: ease barriers for green producers and provide cheaper green electricity to consumers. Instinctools used 10 JavaScript frameworks to create a powerful web platform.
Today, the platform built by the agency serves 41 million German households, allowing users in 30+ cities to save up to 20% on energy bills. Meanwhile, producers see up to a 30% profit increase, promoting both economic and environmental benefits.
Check Instinctools Agency Profile
Best for: Zoom API App Development
Average Hourly Rate: $40
Minimum Budget: $50,000 & Up
Founded: 1998
Location: Lakewood, Colorado
Notable Clients: AstraZeneca, PayPal, Adidas, Expedia, eBay, Philips, PepsiCo, Xerox, and more
A software development leader founded in 1998, Itransition has been a trusted partner for businesses ranging from startups to large enterprises. They cover a broad range of services, from ECM, EDM, ERP and CRM to custom-designed applications. Recognized for their skill in creating unified digital systems, they focus on clear communication, teamwork, and operational efficiency.
A mobile and healthcare technology expert, the company assisted a US research center with medical screenings for sexual assault victims in underserved areas. They developed an app enabling local nurses to consult experienced doctors, securely storing consultations and details on a website. The solution incorporated SSO user authentication, end-to-end encryption, and streamlined app performance, ensuring smooth operation and HIPAA compliance.
Result: In under six months, they had everything up and running. The new system allowed nurses to set up cases 3x quicker, take clearer photos and videos, and safely manage all information.
Check Itransition Agency Profile
Best for: Customized Software Solutions
Average Hourly Rate: $50
Minimum Budget: $50,000 & Up
Founded: 1993
Location: Boston, Massachusetts
Notable Clients: CBRE, College Interactive, Havas Media, OneSky, Lionbridge, and more
Kanda Software, with 20+ years of experience, excels in software development, quality assurance, and compliance. They provide customized solutions, prioritize data security, adhere to benchmarks like HIPAA and PCI, and execute projects diligently with strong client communication.
In an era when traditional communication channels are becoming outdated, College Interactive faced the challenge of directly connecting college and university admissions departments with prospective students. Thanks to the agency's innovative approach, College Interactive transformed the admissions marketing and recruitment process.
With Kanda Software's expertise, College Interactive launched the Ci Web Platform and mobile apps, giving students access to over 5,000 institutions while providing colleges with a direct contact channel for admissions details, requirements, and payment options.
Check Kanda Software Agency Profile
Best for: Modern Software Solutions
Average Hourly Rate: $40
Minimum Budget: $10,000 - $25,000
Founded: 2015
Location: New York City, NY
Notable Clients: Orange, Discovery, Vodafone, Kaltura, and more
Oxagile, established in 2005, is a US leader in cutting-edge software solutions, specializing in video and machine learning integration. The agency creates top-tier applications for live streaming, VoD, real-time chats, VR, and 360-degree video on various platforms, leveraging AI for task automation. Clients like Orange, Discovery, and Vodafone have benefited from their commitment to research and development.
A leading German IT solutions provider for public transport, serving nearly a third of Germany's market, sought Oxagile's assistance in modernizing its legacy ticketing system. Their solution catered to 43 public transport companies and needed to enhance the experience for over 700,000 end-users across various platforms.
With Oxagile's expertise, the ticketing platform transformed, resulting in a twofold boost in database performance and an impressive 107% increase in transaction capacity, managing over 40,000 ticket transactions daily. The improved system also ensured client setups became 15 times faster, reinforcing the company's strong market standing.
Best for: AI/ML Integrated Applications
Average Hourly Rate: $50
Minimum Budget: $50,000 & Up
Founded: 2007
Location: New York City, NY
Notable Clients: BNP Paribas, Globe Payroll, Samsung, Marvel, Media Markt, and more
A top custom software development firm with 15+ years of experience and 11 global offices, Andersen specializes in FinTech, eLearning, and Healthcare. They've delivered 1000+ projects with a team of 3000+ IT experts and excel in comprehensive testing using technologies like JavaScript, .Net, Python, and Swift.
BNP Paribas, the world's eighth-largest banking group, sought to monitor legislative changes across diverse regions effectively. Andersen provided a sophisticated solution with an AI and ML-integrated application, an ETL module, and a dedicated computational platform.
The system reduced operational times significantly, processing a 500-page document in two minutes instead of a week, resulting in a 7.3% decrease in toxic assets and an estimated project ROI of 124%.
Best for: AWS Cloud Technology
Average Hourly Rate: $40
Minimum Budget: $1,000 - $10,000
Founded: 2002
Location: Lviv, Ukraine
Notable Clients: AOL, Knorr-Bremse, AstraZeneca, Volvo Penta, SAS, Fortum, and more
Sigma Software is a global software development firm with 20+ years of experience, 2000+ IT professionals across 12 countries, and expertise in automotive, healthcare, telecom, eCommerce, cloud computing, game development, and AR/VR/MR. They offer top-tier solutions and are recognized among the top 100 outsourcing companies worldwide. Certified in ISO 9001:2015 and ISO 27001, Sigma is a Microsoft Gold Certified Partner and AWS Consulting Partner.
AOL, a leading advertising media conglomerate, acquired a video ad platform and sought to integrate it into their vast ecosystem. Sigma Software stepped in to enhance the platform using AWS Cloud technology. Their solution processes 26TB of data daily, handles over 2.5 million events per second, and is now used by 30,000 global companies.
It enables swift report generation in just 1.5 minutes and accommodates versatile ad campaigns, addressing AOL's immediate needs and establishing them as prominent figure in the ad tech landscape.
Check Sigma Software Agency Profile
Best for: IoT Solutions
Average Hourly Rate: $80
Minimum Budget: $50,000 & Up
Founded: 1997
Location: Houston, Texas
Notable Clients: Lenovo, Epson, Microsoft, WTA, NVIDIA, Verizon, G.J.Gardner, Walt Disney Parks and Resorts, and more
Softeq specializes in digital transformation using cutting-edge technologies like IoT, AI, ML, industrial automation, robotics, blockchain, and AR/VR. They design high-performance, secure IT systems and connected devices, holding certifications in ISO 27001, ISO 9001, and ISO 13485. With an NPS of 50 and four consecutive years as an Inc. 5000 business, their growth and client satisfaction speaks for itself.
A client sought Softeq's help to develop an IoT solution for monitoring HVAC equipment wear and tear and detecting failures. Softeq responded with Sub-1 GHz transceivers for long-distance data transmission and a customized communication protocol for reliable data relay.
The P2P setup, using customized IEEE 802.15.4 protocols, provided consistent data transfer up to 300 meters while a mesh network alternative catered to future expansion needs. The results were impressive, demonstrating Softeq's expertise in IoT implementation.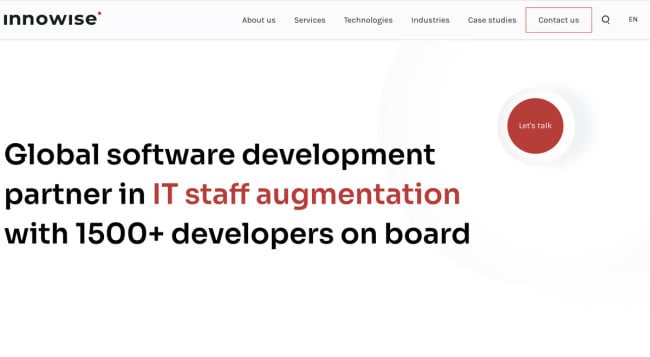 Best for: All-Inclusive Management Tools
Average Hourly Rate: $50
Minimum Budget: $25,000 - $50,000
Founded: 2007
Location: St. Petersburg, Florida
Notable Clients: OneStop Pro, N:aip, NFT Pro, IMT, CoreLedger, and more
Innowise Group, with 16+ years in software development, has a team of 1500+ IT experts across 40+ domains, delivering 850+ projects with a 93% recurring customer rate. Their customer-centric approach has earned them a global reputation, serving 200+ clients from 30+ countries.
When a client sought a streamlined solution for a new hotel management project, they turned to Innowise Group. The customized hospitality software resulted in a 43% revenue increase within three months, improved operational efficiency by 31%, and led to significant time and cost savings.
The all-inclusive management tool also contributed to the hotel's top-ranking position on TripAdvisor, confirming its enhanced guest service and overall excellence.
Best for: Automated Systems
Average Hourly Rate: $50
Minimum Budget: Inquire
Founded: 2009
Location: San Francisco, California
Notable Clients: Google, Salesforce, IBM, Autodesk, Rolls-Royce, Motorola, Burger King, and more
BairesDev is a leading nearshore software development agency with a team of 4,000+ bilingual professionals spanning the Americas and the Caribbean. They specialize in tailored solutions, delivering 1,200+ projects with a 91.2% customer satisfaction rate and 70.3% NPS.
Partnering with Google, BairesDev handled QA for Android TV launch, ensuring a consistent user experience across platforms. They also facilitated a seamless transition from manual to automated testing for Google's software updates on Android and iOS, ensuring uniformity and scalability.
Check BairesDev Agency Profile
Best for: Optimizing Delivery Procedures
Average Hourly Rate: $45
Minimum Budget: $25,000 - $50,000
Founded: 1991
Location: Chicago, Illinois
Notable Clients: Aramex, TAIT, Acino, GRTgaz, Autodesk, Blackboard, Havas, and more
ELEKS is a software engineering powerhouse established in 1991, combining quality, transparency, and innovation. With 2,000+ experts across Europe, the US, and Canada, they've delivered 700+ projects and hold an impressive Net Promoter Score of 65.
Aramex, a logistics leader, sought a technology partner to optimize its delivery procedures. ELEKS, known for mobile UX, data science, and R&D, became the chosen partner. They launched 17 projects in nine months, reducing warehouse operation costs by 5x and increasing mobile user retention by 230%.
The partnership proved highly beneficial for Aramex, showcasing ELEKS' efficiency and effectiveness.
How We Picked the Best Software Development Firms
To curate our premier software development firms list for 2023, our specialized team used a robust scoring system, evaluating each service provider based on the following criteria:
Relevant software development services
Project portfolios and collaboration with prominent clients
Industry reputation and client reviews
A thorough evaluation of their technical expertise and executive leadership
Software development topics covered
Digital reputation on DesignRush, Google, and other similar platforms
Visit our agency selection criteria page for more insights into our rigorous selection process.