The best print designs feature awe striking photography. In 2017, if your print design does not feature this incredible imagery of some sort, then it will not be able to compete.
Pedro Veneziano created this print design for YouTube Brazil as part of their study based on the most influential users. In the process, they gained a heaping load of insights for brands to learn new ways to reach their users.
Pedro's task was to create a branding solution that embodied the explosion of creativity and ideas, and the way YouTube is impacting and shaking the market.
YouTube has given anyone with a camera the ability to be heard by millions of people and even make a living at it. YouTubers are disrupting radio, gaming, television, journalism, and music.
You do not need to pay anything to sign up for YouTube. It is free. Someone with zero financial advantage from the poorest of circumstances can express themselves in ways they couldn't before.
There were gate keepers in media that one had to get through to be a journalist. There were gatekeepers in radio, in music, and in gaming. Now, the gates are opened. It is you, your camera, and your content. And if it is good, you will develop a fanbase with consistency and effort.
Now, Pedro encapsulated this idea with remarkable imagery.
On a side note, if you are looking to grow your online presence, check these leading Atlanta digital agencies.
Here we have a gaming black gaming controller on a green background. The controller is shattered by disruption. This is the physical manifestation of the metaphor that YouTube is disrupting markets. It is genius.
A booklet design with YouTube insight study data features a textured white cover and pink gradient color fill. This looks amazing and very unique. As if the book contains (which it does) the valuable insights companies yearn for.
The microphone. Representing the music industry. Shattered. Anyone with YouTube can start gaining an audience and place their music on it. With enough views, they can join the YouTube partnership program and monetize their content and make more money than they could possibly fathom.
This is the physical representation of shattering the shackling that has held back creatives from reaching a wide audience for decades.  You no longer need an agent. You no longer need a record deal. You can be your own boss. You can decide when you post. You can decide what to post and for how long. YouTube is creative freedom and the old systems have come crumbling down before our very feet.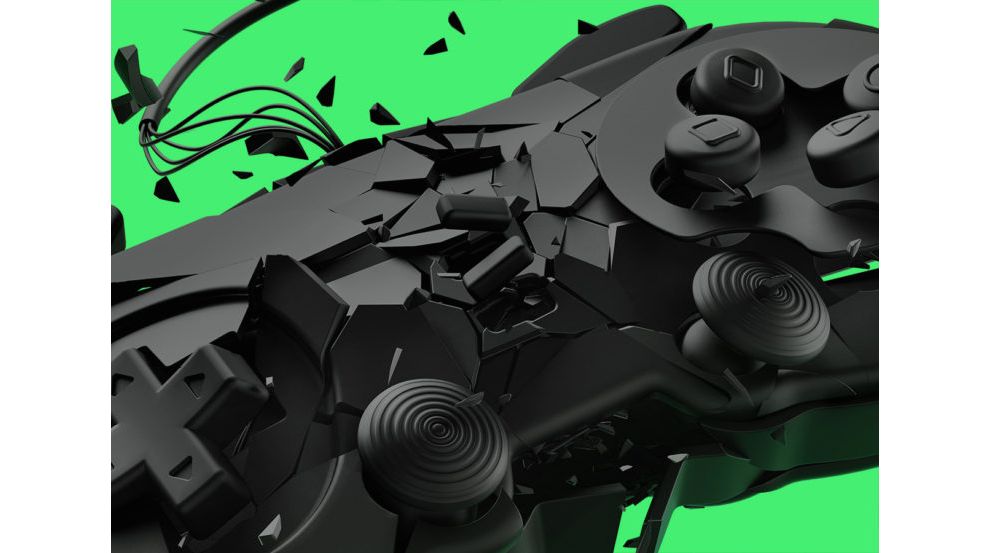 A close-up view of the shattered gaming controller. Notice the high resolution of this photograph as it captures the buttons being tossed mid-obliteration.
This is an impact that the controller or the mic cannot recover from. They have to restructure and get recycled. They are no longer usable. Much like the old industries before YouTube, the old playbook is out the window. Gone.
The new playbook is here -- and it is sticking a finger in the face of every arrogant gate keeper that made the entry bar so costly, so tiresome, and so unfair, for millions of creative and brilliant minds.
Pedro has immortalized this idea via disruptive imagery that looks as beautiful as the concept of anyone with a dream being able to achieve it with YouTube.
Are you one of those dreamers? Don't forget to check out our Trends and Insights, where we have content on design careers and interviews with top designers to knock your socks off.
YouTube Insights is a striking print design in the Entertainment industry.
Sign up for our newsletter for more design insights.
Click here!