Dedicated teams that build complex software systems
388 Market Street, Suite 1300, San Francisco, California 94111, United States
SiliconMint Overview
Number of Employees
50 - 99
Minimal Budget
$25,000 - $50,000
Average Hourly Rate
$55/hr
SiliconMint's engineers have robust industry experience in complex software systems including compilers, trading platforms, real-time engines for IoT, packet-switched software, distributed systems, and many other high-load, complex software.

SiliconMint's clients span many industries including fintech, e-commerce, healthcare, and telecom.

The company has extensive experience in:
∙ Custom software development (Java, .NET C#, C++, Python, Go, React, Angular)
∙ Software project rescue
∙ Embedded Systems & IoT (in C / MIPS and other various ARM CPUs' assembly)
∙ Science-intensive software development including computer vision software for self-driving vehicles
∙ Machine learning and AI development, including Cognitive Computing
∙ Migrating enterprise legacy systems to a modern technology stack & cloud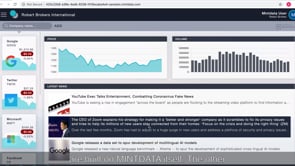 Headquarters
388 Market Street, Suite 1300, San Francisco, California 94111, United States
Areas of Expertise
AI Expertise

Custom Frameworks

Custom Languages

Cybersecurity Expertise

IT Services Expertise
SiliconMint Portfolio
Software Development

Residential IoT Platform

Software Development

AI-powered Ad Approvals

Software Development

Real-time Lending Platform

Software Development

Cloud Storage Backend

Software Development

Motif Investing

Software Development

Tender Management & Process Control

Software Development

Tournament Management for World of Tanks
ThingSpace IoT Platform

Project Type:

Software Development

Review Date: 9 March, 2021

Using SiliconMint's AI engine and their engineering team was a great decision for us. They built the core foundation of our ThingSpace IoT platform on time and within budget, helping us serve millions of customers across the country. I would highly recommend the SiliconMint team for their drive and dedication to the art of software architecture and development.

Work Quality:
Timely Delivery:
Responsiveness:
Overall Costs:
Your Satisfaction:
Willing To Refer:

Using SiliconMint's AI engine and their engineering team was a great decision for us. They built the core foundation of our ThingSpace IoT platform on time and within budget, helping us serve millions of customers across the country. I would highly recommend the SiliconMint team for their drive and dedication to the art of software architecture and development.

Data Science for Boston Consulting Group (BCG)

Project Type:

Software Development

Review Date: 4 March, 2021

I'm always impressed by the technical depth & breadth of SiliconMint's engineering team and the passion they bring to our projects. We've worked with them on distributed systems, data science projects, and a predictive maintenance system for the oil and gas sector. Every time, they blew me away with their experience, passion, energy, and the overall dedication for how they approach software engineering and delivery.

Work Quality:
Timely Delivery:
Responsiveness:
Overall Costs:
Your Satisfaction:
Willing To Refer:

I'm always impressed by the technical depth & breadth of SiliconMint's engineering team and the passion they bring to our projects. We've worked with them on distributed systems, data science projects, and a predictive maintenance system for the oil and gas sector. Every time, they blew me away with their experience, passion, energy, and the overall dedication for how they approach software engineering and delivery.

Real-Time Fraud Detection System

Project Type:

Cybersecurity

Review Date: 1 March, 2021

SiliconMint built a real-time fraud detection system for us in a record period of time, with precision and recall that rivals the best in the industry. I was pleasantly impressed by their passion, dedication, and attention to detail in how they approached software development, driving excellence and speed within our organisation.

Work Quality:
Timely Delivery:
Responsiveness:
Overall Costs:
Your Satisfaction:
Willing To Refer:

SiliconMint built a real-time fraud detection system for us in a record period of time, with precision and recall that rivals the best in the industry. I was pleasantly impressed by their passion, dedication, and attention to detail in how they approached software development, driving excellence and speed within our organisation.

Motif Investing Trading Platform

Project Type:

Software Development

Review Date: 26 February, 2021

When I first met SiliconMint, my words to them were "our experience with outsourcing has been terrible." Over the course of a year and ten SiliconMint engineers later, I was pleasantly surprised. They delivered core parts of our real-time trading platform, including a big data system that analyses over a million stock market messages per second and a complex, real-time AI engine that performs balanced portfolio management and alerting. I would highly recommend SiliconMint!

Work Quality:
Timely Delivery:
Responsiveness:
Overall Costs:
Your Satisfaction:
Willing To Refer:

When I first met SiliconMint, my words to them were "our experience with outsourcing has been terrible." Over the course of a year and ten SiliconMint engineers later, I was pleasantly surprised. They delivered core parts of our real-time trading platform, including a big data system that analyses over a million stock market messages per second and a complex, real-time AI engine that performs balanced portfolio management and alerting. I would highly recommend SiliconMint!

WhiteHat Security Static Code Analyzer

Project Type:

Software Development

Review Date: 26 February, 2021

We tasked SiliconMint with an insurmountable challenge - build a static code analyser to detect vulnerabilities for the dynamic language of JavaScript (ES3, ES5). I was pleasantly surprised when they performed not only groundbreaking research but also delivered a working system in just over a year. I would highly recommend the SiliconMint team -- they are one of a kind, given their deep technical knowledge, super high energy, and love of computer science.

Work Quality:
Timely Delivery:
Responsiveness:
Overall Costs:
Your Satisfaction:
Willing To Refer:

We tasked SiliconMint with an insurmountable challenge - build a static code analyser to detect vulnerabilities for the dynamic language of JavaScript (ES3, ES5). I was pleasantly surprised when they performed not only groundbreaking research but also delivered a working system in just over a year. I would highly recommend the SiliconMint team -- they are one of a kind, given their deep technical knowledge, super high energy, and love of computer science.

Hightail Distributed File System Cloud and Core User Experience

Project Type:

User Experience

Review Date: 1 February, 2021

We were impressed by SiliconMint's engineering prowess in building our distributed file system cloud and core user experience, which now powers collaboration and file sharing for our customers around the globe. SiliconMint was one of the few vendors in my memory who stood out for their speed, reliability and passion for how they approach their work.

Work Quality:
Timely Delivery:
Responsiveness:
Overall Costs:
Your Satisfaction:
Willing To Refer:

We were impressed by SiliconMint's engineering prowess in building our distributed file system cloud and core user experience, which now powers collaboration and file sharing for our customers around the globe. SiliconMint was one of the few vendors in my memory who stood out for their speed, reliability and passion for how they approach their work.

Point One Navigation 3D Mapping

Project Type:

Software Development

Review Date: 1 February, 2021

SiliconMint helped us make the impossible possible - writing a computer vision system that identifies geometry in 3D space from a single video camera feed. I was astounded by their technical knowledge and how it's coupled with an unbridled passion for moving quickly, yet with precision. I would highly recommend SiliconMint to anyone looking for an engineering team to work on ambitious projects and/or very short deadlines.

Work Quality:
Timely Delivery:
Responsiveness:
Overall Costs:
Your Satisfaction:
Willing To Refer:

SiliconMint helped us make the impossible possible - writing a computer vision system that identifies geometry in 3D space from a single video camera feed. I was astounded by their technical knowledge and how it's coupled with an unbridled passion for moving quickly, yet with precision. I would highly recommend SiliconMint to anyone looking for an engineering team to work on ambitious projects and/or very short deadlines.

Mobile VPN Product

Project Type:

App Development

Review Date: 29 January, 2021

The SiliconMint team blew me away - they ended up building the first version of our MobileVPN product, both the cloud and mobile device portions. Today, it's one of the top 3 MobileVPN systems used worldwide, and I'm incredibly proud of having worked with SiliconMint. I would recommend them to anyone who's looking for a dedicated, passionate team who gets things done, and has a great time doing it.

Work Quality:
Timely Delivery:
Responsiveness:
Overall Costs:
Your Satisfaction:
Willing To Refer:

The SiliconMint team blew me away - they ended up building the first version of our MobileVPN product, both the cloud and mobile device portions. Today, it's one of the top 3 MobileVPN systems used worldwide, and I'm incredibly proud of having worked with SiliconMint. I would recommend them to anyone who's looking for a dedicated, passionate team who gets things done, and has a great time doing it.
SiliconMint Team Bios
Denis Kulgavin

Chief Executive Officer

Mr. Kulgavin focuses on the overall product and service strategy, including customer satisfaction and growth of the in-house no-code platform. Passionate about programming, in the late 1990s, Mr. Kulgavin pioneered a visual platform to simplify the creation of control automation systems.

Ilya Kozik

Chief Technology Officer

Mr. Kozik is responsible for the overall technology strategy and execution at SiliconMint, including product development and IT advisory services. Mr. Kozik brings over a decade of experience in the IT sector, including roles in software engineering, professional services, and technical leadership.

Max Razumenko

VP Software Engineering

Mr. Razumenko is responsible for the technical roadmap and software delivery at SiliconMint, with direct responsibility for the direction, strategy, and execution of all product development. Mr. Razumenko has over 20 years' experience delivering complex systems to customers around the globe.

Alex Stepanov

VP Design

Mr. Stepanov leads the product definition and design teams, with a focus on streamlined user experience across the verticals served by the in-house no code platform. Mr. Stepanov has led digital experience efforts at a number of global brands including Expedia, Wargaming, and WorkFusion.

Andrew Romanyuk

VP Business Development

Mr. Romanyuk takes care of all aspects of the growth strategy at SiliconMint. With close to two decades of experience in a diverse range of private and public sector roles, Mr. Romanyuk brings substantial experience in how to grow a services organization without losing sight of what's important.

Kate Scherbakova

VP Talent

Kate Scherbakova is responsible for the growth engine of SiliconMint — our people. Nearly a decade of experience uncovering the world's top engineering talent enables Ms. Scherbakova to drive the outreach, promotion, and brand ambassador activities for the talent search function at SiliconMint.