DesignRush experts looked into 5,000 app development companies, meticulously evaluating their portfolios, industry reputation, client reviews, and more, to select the best of the best in the app development game.
Whether you're looking to increase accessibility and convenience or boost company revenue, you can browse through our well-curated list to find the right agency for your business needs.
The Number 1 Mobile App Development Company as Selected by DesignRush Is: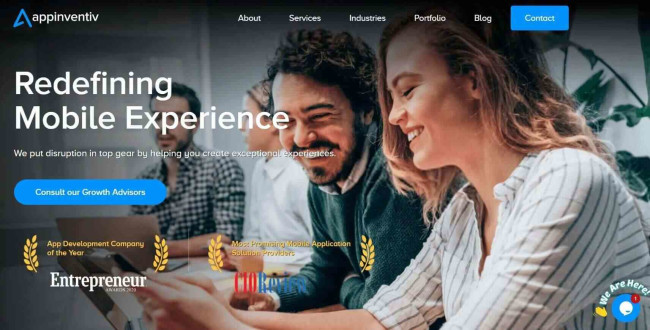 Best for: Overall
Average Hourly Rate: $25
Minimum Budget: $25,000 - $50,000
Founded: 2015
Location: Noida, India
Notable Clients: KFC, IKEA, Domino's, Pizza Hut, Adidas, KPMG, and more
Appinventiv comprises 800 tech professionals that cater to a diverse clientele across North America, Europe, and the Middle East. With their expertise in mobile app and software development, they have transformed the digital experience for more than 1,000 enterprises, including Fortune 500 companies like KFC, Pizza Hut, Adidas, IKEA, and more.
Appinventiv partnered with KFC in the Middle East to expand its digital presence and reduce dependency on food delivery aggregators. They have successfully developed and launched seven KFC food delivery apps across various Middle Eastern countries.
The results of this collaboration were impressive, with the mobile applications witnessing a 1.22% increase in conversion rate and maintaining an average rating of 4.5 stars on both the Play Store and App Store.
Over 50% of total orders received were through the mobile app, leading to a substantial reduction in costs. Additionally, there was a remarkable 60% increase in repeat purchases across channels. Customers displayed higher loyalty, which resulted in the highest Customer Lifetime Value (CLTV) compared to other order modes.
Check Appinventiv Agency Profile
Best for: Google API Integration
Average Hourly Rate: $50
Minimum Budget: Inquire
Founded: 2011
Location: New York, NY
Notable Clients: Papa John's, MLM List Pro, Snap & Sell, Baby Bod, Dogster, On Call MD, and more
Founded in 2011, Hyperlink InfoSystem was started by a visionary, Harnil Oza. From a three-man business, their team has grown in 2022 to the tune of 1,000 dedicated professionals. Supporting the holistic development of their workforce, they augmented their space with nine additional offices totaling 40,000 square feet.
Hyperlink InfoSystem assisted Papa John's, a New York-based franchise group, in expanding its digital presence with an on-demand pizza delivery app for drivers. The app allowed drivers to register, accept or reject ride requests, and view participating stores on a map. Hyperlink InfoSystem created a comprehensive admin panel that enables moderators to view and manage orders, track drivers, and send push notifications.
The agency encountered challenges with displaying multiple orders on a map, which was resolved with Google API integration. The successful collaboration gave birth to an efficient mobile app that empowers drivers to earn additional income and provides a more effective food delivery system for Papa John's franchises.
Check Hyperlink InfoSystem Agency Profile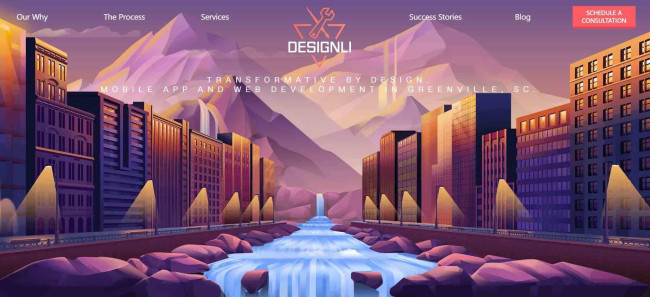 Best for: UX/UI
Average Hourly Rate: $100
Minimum Budget: Inquire
Founded: 2013
Location: Greenville, SC
Notable Clients: Thingealogy, Earth Technology Integration, National Trench Safety, Secur.Space, Paidback, and more
Designli redefines success in mobile and web application development. They offer a consultative journey from conception to post-launch iteration. Their SolutionLab feature is perfect for judicious planning, as it ensures a streamlined approach to meet your users' needs.
Designli was vital in realizing Thingealogy using SolutionLab to prioritize user experience. Guided by this innovative idea, their adept UX and UI teams created a striking interface that offers a 'grid view' and 'spreadsheet view' to ensure an interactive visualization of stored data.
Developed with AngularJS, NodeJS, and Loopback, Designli meticulously managed the project, maintaining budget control with real-time updates on progress and expenditure. After rigorous Beta Testing, Thingealogy was successfully launched with zero downtime for existing users, marking a seamless transition with continuous feature enhancement.
Best for: Multi-Platform Apps
Average Hourly Rate: $50
Minimum Budget: $10,000 - $25,000
Founded: 1999
Location: Palm City, FL
Notable Clients: Fitbit, Sony, Mercedes-Benz, HSBC Global Technology, Burger King, Cisco, and more
With its proficiency in digital transformation, Mercury Development caters to diverse entities — from budding startups to Fortune 100 companies. Their team of over 400 skilled professionals and more than 20 years of experience allows them to shorten development time.
Perhaps one of Mercury Development's exceptional success stories is its collaboration with Fitbit. Starting in 2011, Mercury pioneered the first multi-platform app for Fitbit. Navigating challenges with early Android devices, the agency successfully decoded proprietary technology to establish Fitbit and Samsung device connectivity.
Their collaboration with HTC led to innovative firmware integration of a step counter. Advancements continued with the Xbox version of the Fitbit Coach app and the integration of the Fitbit app on Windows 8. From a step counter to the number one fitness tracker that's currently used by over 50 million people, Fitbit's journey showcases Mercury Development's global recognition.
Check Mercury Development Agency Profile
Best for: Educational Apps
Average Hourly Rate: $99
Minimum Budget: $1,000 - $10,000
Founded: 2015
Location: Los Angeles, CA
Notable Clients: NASA, Walgreens, Stamps.com, iHerb, Civic, and more
Serving entities from startups to large-scale tech ventures, the dynamic team at Wonderment Apps boasts a decade-long legacy, punctuated by successful collaborations with prestigious organizations like NASA, Walgreens, Stamps.com, Warner Media, and iHerb.
Wonderment Apps collaborated with NASA's Earth Sciences Division to create an engaging educational app: the NASA Earth Science Vision 2030. They started by comprehending NASA's audience engagement goals, leading to the development of wireframes as app prototypes. After multiple feedback iterations, a final user experience flow was agreed upon.
Subsequently, development on iOS and Android followed, wherein Wonderment Apps crafted an interface and an image recognition tool prototype to launch a video. The seamless integration of these elements resulted in a single app that underwent meticulous testing before release. The outcome was an interactive platform educating audiences about NASA's exciting future projects.
Check Wonderment Apps Agency Profile
Best for: Banking Apps
Average Hourly Rate: $12
Minimum Budget: Inquire
Founded: 2014
Location: Dover, DE
Notable Clients: Contis, Dimendscaasi, Honeywell, Alo Yoga, Contis, Zemaas, and more
WebClues Infotech is a CMMI Level 5 certified company founded in 2014. The agency caters to startups, businesses, and enterprises by tailoring offerings to align with their unique needs.
WebClues Infotech successfully developed a secure and efficient platform for Contis, Europe's leading banking-as-a-service platform. Features like checking account balances, viewing transaction history, and conducting payments or transfers were seamlessly incorporated. A robust, cutting-edge fraud detection system was also implemented.
The result is a user-friendly, safe, and reliable digital financial solutions portal where customers can navigate their financial needs with ease and assurance. This success story testifies to WebClues Infotech's expertise in creating robust digital solutions.
Check WebClues Infotech Agency Profile
Best for: Comprehensive Apps
Average Hourly Rate: Inquire
Minimum Budget: $50,000 & Up
Founded: 2018
Location: Irvine, CA
Notable Clients: CarBlip, Google, Verizon, Universal Studios, Snapchat, Vizio, and more
A strong force in the app development industry, Naked Development has proudly launched 327 apps, amassing a remarkable 3.7 million downloads. Naked combines aesthetics with functionality to build loyalty among consumers. Their coding wizards are fluent in multiple programming languages to engineer your ideas into reality.
CarBlip collaborated with Naked to revolutionize the car-buying experience using a comprehensive app. Removing the burden of trawling through countless auto websites, the platform presents a vast selection of car brands and custom features under one digital umbrella.
Customers can arrange for home delivery of their dream car by selecting their preferred vehicle and desired add-ons. The whole process, from navigation to final choice, makes the car-buying experience effortless and highly personalized. The app is available for both Android and iPhone users, thereby showing Naked's commitment to accessibility.
Check Naked Development Agency Profile
Best for: eCommerce Apps
Average Hourly Rate: $25
Minimum Budget: $10,000 - $25,000
Founded: 2013
Location: Austin, TX
Notable Clients: Namshi, Droob, Dine In, Vrbo, McDonald's, and more
Apptunix is an award-winning app development agency that stands tall in the digital realms of the USA, UK, UAE, and India.
One of Apptunixs' success stories includes the collaboration with Namshi, a Middle Eastern online shopping platform. They created a detailed product list to ensure that customers could easily view all product details and available sizes. The ordering process was simplified with numerous payment options, pre-filled details, and personalized product recommendations.
By placing a significant priority on superior UI/UX design, Apptunix was able to come up with interfaces that are captivating yet functional. These improvements resulted in significant growth for Namshi: a 56% increase in non-branded CTR, a 54% revenue hike, a 36% uptick in app downloads, a 27% sales rise, and an influx of 7,000 new users per day.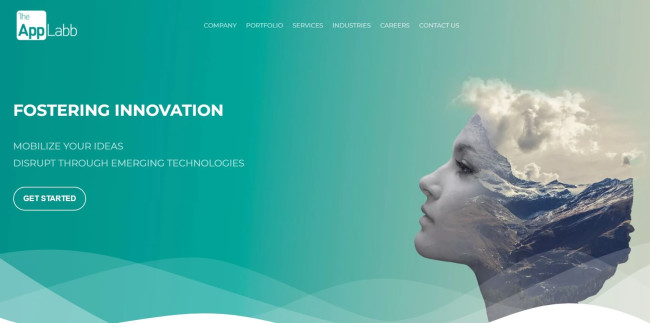 Best for: Product Catalog
Average Hourly Rate: $149
Minimum Budget: $50,000 & Up
Founded: 2007
Location: Toronto, Canada
Notable Clients: Wild Work Foods, Peach Financial, Dial-A-Bottle, Park N Fly, Frigidaire, and more
Founded in 2007, TheAppLabb has emerged as a leading product innovation company. Guided by ever-evolving technology, they focus on crafting apps that fuel business growth, improve user engagement, and boost profitability. The agency acknowledges the perpetual need for user-friendly interfaces across multiple platforms, not just smartphones.
Tasked with expanding Wild Fork Foods into the US market, TheAppLabb created a versatile mobile app that fused the personal touch of a local butcher shop with the convenience of eCommerce. The app includes an extensive product catalog, QR code functionality for in-store product information, tailored recipe recommendations, and location-based push notifications. Same-day delivery is also integrated to create an unmatched shopping experience.
This solution not only increased basket size but also visit frequency. In just 15 weeks from its launch, the app garnered 5,000 organic downloads, surpassing the retention rate of its preceding mobile web app by tenfold.
Check TheAppLabb Agency Profile
Best for: Multilingual Apps
Average Hourly Rate: $25
Minimum Budget: $10,000 - $25,000
Founded: 2012
Location: Plymouth, MN
Notable Clients: Fibre2Fashion, Buddhi Baby, Trikke, Victoire, and more
Founded in 2012, Echoinnovate IT is an app development company recognized for its custom solutions. With headquarters in both India and the US, their proficient team of full-stack engineers are innovators and problem-solvers. They have served over 100 content clients from VC-backed startups to rapidly expanding tech companies and SaaS firms.
Echoinnovate IT helped Fibre2Fashion, a B2B company in the textile and fashion sector, gain a competitive edge by developing a comprehensive platform to stay abreast of industry trends and make data-driven decisions.
The multilingual feature catered to a global clientele and opened more channels of communication. The core function was data analysis, which helped scrutinize key metrics like sales, inventory, production efficiency, and consumer behavior to optimize decision-making.
Check Echoinnovate IT Agency Profile
How We Picked the Best Mobile App Developers
To select the best mobile app developers in 2023, we looked into various factors, including client roster, portfolio, case studies, reputation, focus service, ratings, and expertise.
DesignRush agency experts curated a scoring system to gauge their performance based on metrics like:
Focus on mobile app development services
Ability to work with big reputable brands
The number of app development projects delivered
The results brands get from their app development service
DesignRush and Google ratings
Check out our agency selection criteria page to get a full view of how we picked the agencies listed above.