The Bureau Of Small Projects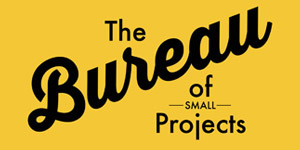 Big Brand Experience Put to Work for Small Business, Startups and Nonprofits
609 Deep Valley Drive, Suite 200, Los Angeles, California 90274, United States
The Bureau Of Small Projects Overview
Number of Employees
50 - 99
Minimal Budget
$10,000 - $25,000
Average Hourly Rate
$150/hr
Big Brand and Fortune 500 experience put to work for Small Businesses, Startups and Nonprofits.

The Smartest People In The World Work With The Bureau Of Small Projects.

Literally rocket scientists and brain surgeons: Bill Nye, The Science Guy (CEO of the Planetary Society), Stanford University, Blackrock Neurotech (who have implanted 28 brain computer interfaces in humans Elon Musk is still doing monkeys), Switzerland (yes, the actual country), AmyriAD (who is bringing a revolutionary Alzheimers treatment to market) and many, many more.

Everyone on our team is a specialist. We leverage their branding, web development and marketing experience – with Fortune 500 Companies and Iconic Brands – to help Small to Midsized Businesses, Nonprofits and Startups stand out, look better and exponentially increase revenue.

---

A little back story. We used to work exclusively with Big Brands and Fortune 500 companies. A few years back, we produced a documentary called "Kindness Is Contagious." A film all about being nice and the benefits of being nice. While filming, we worked with a lot of startups, health care organizations and nonprofits. People who made money making the world a better place. And we got jealous. We wanted to make money making the world a better place, too. So we decided to take the principles that made those big companies so successful and adapt them to small business, startups and nonprofits.

The challenge was to massively simplify the marketing process, not only because these organizations could not afford the endless revisions, countless studies and infinite strategy sessions, but it also made it better.

---

Lastly, David Gaz, the founder of the Bureau of Small Projects, writes about Branding for Forbes Magazine, Newsweek, Fast Company and has spoken at Stanford University, The Centre Georges Pompidou in Paris and at events all across the country.
The Bureau Of Small Projects Services
Areas of Expertise
Digital Marketing Expertise

Branding Expertise

Web Design Expertise
Digital Marketing Expertise
Digital Marketing Expertise
Integrated Marketing
Marketing Analytics
Digital Advertising
Growth Marketing
Branding Expertise
Naming
Brand Strategy
Product Marketing
Brand Messaging
Brand Design
Industries
Luxury
Dental
Automotive
Nonprofit
Boutique
Fashion
Food and Beverage
Beer
Legal
Real Estate
Retail
Government
Health Care
Finance
Restaurants
Construction
Music
Hospitality
Sports
Entertainment
Higher Education
Travel
Beauty
Crypto
eCommerce
Gaming
Clients
Startups
Small Businesses
Enterprise / Corporate
The Bureau Of Small Projects Portfolio
Digital Marketing

Stanford University

Digital Marketing

Everyone Matters

Brand Strategy

Switzerland (Yes the country)

Digital Marketing

The Planetary Society With Bill Nye

Web Development

McHale Design

Web Design

Upright Citizens Brigade

Business Consulting

AmyriAD Therapeutics

Digital Marketing

Happy Monkey

Web Design

Fascination Lab

Web Design

Sheep Inc.

Digital Marketing

Lytehouse

Web Design

Alcoholics Anonymous

Web Design

BlackRock Micro

Digital Marketing

Dr. Pimple Popper

Digital Marketing

The Dodgers

Brand Strategy

Gluten Fakery

Web Design

Project XAV / New Wave Entertainment

Event Marketing

Big

Digital Marketing

Duffs Cakemix

Web Design

Sensei Biotech

Digital Marketing

The Ranch at Laguna Beach

Digital Marketing

Luminous Minds

Digital Marketing

Pocari Sweat
Dr. Pimple Popper Website Refresh

Project Type:

eCommerce Development

Review Date: 11 April, 2023

The client couldn't praise enough David and the entire Bureau of Small Projects team. From start to finish, the team made each detail of the website perfect and entirely to its liking. Team members were patient and efficient, respecting client's needs and schedules. The complete look and feel of the website were transformed. The company got further advice on improving the overall site experience. It would recommend the Bureau for all projects, from small website refreshes to complete rebranding.

Work Quality:
Timely Delivery:
Responsiveness:
Overall Costs:
Your Satisfaction:
Willing To Refer:

The client couldn't praise enough David and the entire Bureau of Small Projects team. From start to finish, the team made each detail of the website perfect and entirely to its liking. Team members were patient and efficient, respecting client's needs and schedules. The complete look and feel of the website were transformed. The company got further advice on improving the overall site experience. It would recommend the Bureau for all projects, from small website refreshes to complete rebranding.

Website Design and Development

Review Date: 23 September, 2022

We loved working with The Bureau of Small Projects. They took the time to truly analyze our business and figure out who we are and where we want to go with our business before diving into web design. We learned so much from their team. They were honest and gave us guidance on many aspects of our business that went way beyond designing a new site for us. The team was a joy to work with, and thanks to them, we have an amazing new website and [a] fresh image. We are excited about the future!

Work Quality:
Timely Delivery:
Responsiveness:
Overall Costs:
Your Satisfaction:
Willing To Refer:

We loved working with The Bureau of Small Projects. They took the time to truly analyze our business and figure out who we are and where we want to go with our business before diving into web design. We learned so much from their team. They were honest and gave us guidance on many aspects of our business that went way beyond designing a new site for us. The team was a joy to work with, and thanks to them, we have an amazing new website and [a] fresh image. We are excited about the future!

Review Date: 24 April, 2022

We partnered with The Bureau of Small Projects on a homepage refresh project. We had incredibly tight deadlines to work against. The bureau did a great job of providing us with six options. We chose the best of what we liked from each. Then, they worked with our joint creative and technical teams to update our homepage on budget and on time. This is the fourth time I have hired the bureau, each at different companies. They have a proven track record of doing outstanding work.

Work Quality:
Timely Delivery:
Responsiveness:
Overall Costs:
Your Satisfaction:
Willing To Refer:

We partnered with The Bureau of Small Projects on a homepage refresh project. We had incredibly tight deadlines to work against. The bureau did a great job of providing us with six options. We chose the best of what we liked from each. Then, they worked with our joint creative and technical teams to update our homepage on budget and on time. This is the fourth time I have hired the bureau, each at different companies. They have a proven track record of doing outstanding work.

Review Date: 21 April, 2022

Becka and her team were great to work with! Everyone was extremely responsive and really took the time to understand our foundation and its mission. They quickly developed a value prop that resonated strongly with us, and we quickly moved through the various processes to develop the items we needed. The team was well-chosen, and I would highly recommend working with this group to anyone in need of assistance with branding. (Verified via email)

Work Quality:
Timely Delivery:
Responsiveness:
Overall Costs:
Your Satisfaction:
Willing To Refer:

Becka and her team were great to work with! Everyone was extremely responsive and really took the time to understand our foundation and its mission. They quickly developed a value prop that resonated strongly with us, and we quickly moved through the various processes to develop the items we needed. The team was well-chosen, and I would highly recommend working with this group to anyone in need of assistance with branding. (Verified via email)

Naming & mission statement

Review Date: 19 April, 2022

Outstanding service, value, and communication. We loved working with them and are thrilled with our end result.

Work Quality:
Timely Delivery:
Responsiveness:
Overall Costs:
Your Satisfaction:
Willing To Refer:

Outstanding service, value, and communication. We loved working with them and are thrilled with our end result.

Website Build

Project Type:

Website Development

Review Date: 7 April, 2022

We started as an entrepreneurial dream. Starting a new business has an endless supply of tasks, so building a brand new website was something we neededsomething simple to start. After reaching out to a few companies and being turned down for being too small in size and in finances, we found The Bureau of Small Projects. Rebecca from the Bureau was welcoming, listened, and truly wanted to help. Each step was communicated and broken down, so as we grow, we can grow our site. Rebecca is amazing.

Work Quality:
Timely Delivery:
Responsiveness:
Overall Costs:
Your Satisfaction:
Willing To Refer:

We started as an entrepreneurial dream. Starting a new business has an endless supply of tasks, so building a brand new website was something we neededsomething simple to start. After reaching out to a few companies and being turned down for being too small in size and in finances, we found The Bureau of Small Projects. Rebecca from the Bureau was welcoming, listened, and truly wanted to help. Each step was communicated and broken down, so as we grow, we can grow our site. Rebecca is amazing.

Review Date: 13 October, 2021

I love the company and how helpful they are. My website is beautiful, and I got a lof of positive comments. (Verified via email)

Work Quality:
Timely Delivery:
Responsiveness:
Overall Costs:
Your Satisfaction:
Willing To Refer:

I love the company and how helpful they are. My website is beautiful, and I got a lof of positive comments. (Verified via email)

Review Date: 12 March, 2021

The client collaborated with Josh Woods at The Bureau of Small Projects to create a new website for its jewelry store. The website looks incredible! Despite some communication challenges and delays brought about by virtual correspondence via email and Zoom, all training sessions were recorded, saved, and shared with the client. This gave the client something to refer back to when making changes. Josh was very friendly and approachable. (Verified via email)

Work Quality:
Timely Delivery:
Responsiveness:
Overall Costs:
Your Satisfaction:
Willing To Refer:

The client collaborated with Josh Woods at The Bureau of Small Projects to create a new website for its jewelry store. The website looks incredible! Despite some communication challenges and delays brought about by virtual correspondence via email and Zoom, all training sessions were recorded, saved, and shared with the client. This gave the client something to refer back to when making changes. Josh was very friendly and approachable. (Verified via email)

Review Date: 26 February, 2021

BSP is helping a number of our local businesses in Kansas with building a website, SEO, and social media marketing, and as the Chamber of Commerce President, I have heard great feedback on their working relationship, expertise, and timeliness. (Verified via email)

Work Quality:
Timely Delivery:
Responsiveness:
Overall Costs:
Your Satisfaction:
Willing To Refer:

BSP is helping a number of our local businesses in Kansas with building a website, SEO, and social media marketing, and as the Chamber of Commerce President, I have heard great feedback on their working relationship, expertise, and timeliness. (Verified via email)

Website Building and Marketing Grant

Project Type:

Website Development

Review Date: 22 February, 2021

The client recommends The Bureau of Small Projects as a professional and great company. It enjoyed working with Bureau's team and the websites created completely align with its ideas and requirements. (Verified via email)

Work Quality:
Timely Delivery:
Responsiveness:
Overall Costs:
Your Satisfaction:
Willing To Refer:

The client recommends The Bureau of Small Projects as a professional and great company. It enjoyed working with Bureau's team and the websites created completely align with its ideas and requirements. (Verified via email)

Webdesign of our gettrx.com website

Review Date: 2 February, 2021

The company helped us clarify our mission and value proposition and align our brand with them. We fully redesigned our website to align it to what differentiate[s] us from the competition. They offered highly skilled professionals in many areas: copywriting, web design, communication strategy, etc., which were key for the high quality of [the] end result. The project was managed really well, and we were able to finish on budget and on time. Now, we are much better positioned to compete.

Work Quality:
Timely Delivery:
Responsiveness:
Overall Costs:
Your Satisfaction:
Willing To Refer:

The company helped us clarify our mission and value proposition and align our brand with them. We fully redesigned our website to align it to what differentiate[s] us from the competition. They offered highly skilled professionals in many areas: copywriting, web design, communication strategy, etc., which were key for the high quality of [the] end result. The project was managed really well, and we were able to finish on budget and on time. Now, we are much better positioned to compete.

Transformingcommunity.com

Review Date: 11 January, 2021

I am happy to recommend the Bureau of Small Projects. Their sincerity and commitment to excellence mean that they fulfill their promises regardless of the obstacles that may come up. I am very happy to have this agency on our side.

Work Quality:
Timely Delivery:
Responsiveness:
Overall Costs:
Your Satisfaction:
Willing To Refer:

I am happy to recommend the Bureau of Small Projects. Their sincerity and commitment to excellence mean that they fulfill their promises regardless of the obstacles that may come up. I am very happy to have this agency on our side.

Website development for small CPA firm

Project Type:

Website Development

Review Date: 6 January, 2021

Great value for small businesses; amazing project manager who coordinated all steps for my website development. Highly recommend them! (Verified via email)

Work Quality:
Timely Delivery:
Responsiveness:
Overall Costs:
Your Satisfaction:
Willing To Refer:

Great value for small businesses; amazing project manager who coordinated all steps for my website development. Highly recommend them! (Verified via email)

New website for AmCham China

Review Date: 29 December, 2020

From being sold on David's vision at the start of the project to Konan's expertise in getting this over the line during a challenging year, it has been a pleasure to work with the BSP team - and, best of all, we're left with a beautiful new website!

Work Quality:
Timely Delivery:
Responsiveness:
Overall Costs:
Your Satisfaction:
Willing To Refer:

From being sold on David's vision at the start of the project to Konan's expertise in getting this over the line during a challenging year, it has been a pleasure to work with the BSP team - and, best of all, we're left with a beautiful new website!

Review Date: 17 December, 2020

I could not be happier with the process and finished product!

Work Quality:
Timely Delivery:
Responsiveness:
Overall Costs:
Your Satisfaction:
Willing To Refer:

I could not be happier with the process and finished product!

Review Date: 9 December, 2020

We hired BSP for a marketing and web design project. Quite frankly, we are pretty tough customers. But, BSP was able to handle our day-to-day communications and project style and help us achieve our goals. Konan was our point person at BSP. And without him, we would not have been able to achieve our goals in a timely and effective way. Thank you to the whole BSP team and Konan! We cannot recommend them highly enough. (Verified via email)

Work Quality:
Timely Delivery:
Responsiveness:
Overall Costs:
Your Satisfaction:
Willing To Refer:

We hired BSP for a marketing and web design project. Quite frankly, we are pretty tough customers. But, BSP was able to handle our day-to-day communications and project style and help us achieve our goals. Konan was our point person at BSP. And without him, we would not have been able to achieve our goals in a timely and effective way. Thank you to the whole BSP team and Konan! We cannot recommend them highly enough. (Verified via email)

Review Date: 5 November, 2020

The Bureau of Small Projects was a company that I cold-emailed when auditing possible solutions to our website needs. They responded quickly, and within 24 hours, I was on [a] call with their creative lead, discussing our unique issues. They had done their research and were already laying out possible plans of action. Throughout the process, they were patient, professional, and did amazing work for us. We now have a website that we can scale our business. We definitely recommend them!

Work Quality:
Timely Delivery:
Responsiveness:
Overall Costs:
Your Satisfaction:
Willing To Refer:

The Bureau of Small Projects was a company that I cold-emailed when auditing possible solutions to our website needs. They responded quickly, and within 24 hours, I was on [a] call with their creative lead, discussing our unique issues. They had done their research and were already laying out possible plans of action. Throughout the process, they were patient, professional, and did amazing work for us. We now have a website that we can scale our business. We definitely recommend them!

Brand Refresh & New Website for Architecture Firm

Review Date: 4 November, 2020

We used BOSP for a brand refresh (logo, messaging, etc.) and [a] new website for our firm, a residential architecture studio with a 25+ year history. We are thrilled with the final product and feel like every piece of BOSP's work truly represents us! (Verified via email)

Work Quality:
Timely Delivery:
Responsiveness:
Overall Costs:
Your Satisfaction:
Willing To Refer:

We used BOSP for a brand refresh (logo, messaging, etc.) and [a] new website for our firm, a residential architecture studio with a 25+ year history. We are thrilled with the final product and feel like every piece of BOSP's work truly represents us! (Verified via email)

Website Design For Biotech

Project Type:

Website Development

Review Date: 7 October, 2020

David and his team were very enjoyable to work with. We had complex content, but BOSP helped us distill the external messaging incredibly well. Konan kept us on track and was amazingly responsive! We love the new website. Highly recommend working with this company. (Verified via email)

Work Quality:
Timely Delivery:
Responsiveness:
Overall Costs:
Your Satisfaction:
Willing To Refer:

David and his team were very enjoyable to work with. We had complex content, but BOSP helped us distill the external messaging incredibly well. Konan kept us on track and was amazingly responsive! We love the new website. Highly recommend working with this company. (Verified via email)

Marketing strategy and Web development

Review Date: 11 December, 2019

I have worked with TBOSP since June 2019. I have founded several companies, and over those processes, I have worked with several providers, from big firms to freelancers. Working with TBOSP, however, was a different kind of experience. You can expect to have the personalized experience that you have with smaller firms, but the results and level of services/products that you have with the bigger firms at a fraction of the cost. (Verified via email)

Work Quality:
Timely Delivery:
Responsiveness:
Overall Costs:
Your Satisfaction:
Willing To Refer:

I have worked with TBOSP since June 2019. I have founded several companies, and over those processes, I have worked with several providers, from big firms to freelancers. Working with TBOSP, however, was a different kind of experience. You can expect to have the personalized experience that you have with smaller firms, but the results and level of services/products that you have with the bigger firms at a fraction of the cost. (Verified via email)

Sahara Atlas Tours new website

Review Date: 10 December, 2019

Sahara Atlas Tours, a small company offering high-class guided Moroccan tours, saw fantastic results with The Bureau of Small Projects. Its new website, designed by the agency, generates so many inquiries that it hardly copes with all the work, prompting it to expand its business. BOSP was supportive and it guided Sahara Atlas Tours in managing the website independently, bringing professionalism and expertise to the project. (Verified via email)

Work Quality:
Timely Delivery:
Responsiveness:
Overall Costs:
Your Satisfaction:
Willing To Refer:

Sahara Atlas Tours, a small company offering high-class guided Moroccan tours, saw fantastic results with The Bureau of Small Projects. Its new website, designed by the agency, generates so many inquiries that it hardly copes with all the work, prompting it to expand its business. BOSP was supportive and it guided Sahara Atlas Tours in managing the website independently, bringing professionalism and expertise to the project. (Verified via email)

Website Design for small non-profit

Review Date: 18 May, 2019

David and his team at the Bureau of Small Projects really took the time to get to know who we are at Sacred Wisdom Circles. As a small non-profit, they really invested the time into determining what we needed and produced a beautiful website that was also functional. Simple, clean, beautiful design. They really came through for us. (Verified via email)

Work Quality:
Timely Delivery:
Responsiveness:
Overall Costs:
Your Satisfaction:
Willing To Refer:

David and his team at the Bureau of Small Projects really took the time to get to know who we are at Sacred Wisdom Circles. As a small non-profit, they really invested the time into determining what we needed and produced a beautiful website that was also functional. Simple, clean, beautiful design. They really came through for us. (Verified via email)

Complete Branding Development

Review Date: 16 May, 2019

The Bureau of Small Projects team consists of amazing individuals. Not only is it proficient in various tasks, but working with it is also enjoyable. It has boundless creativity and contagious enthusiasm. Naxio engaged it for rebranding: from company naming and logo design to web development. The agency also helped in refining the value proposition, delivering incredible value proposition. Naxio wouldn't hesitate to work with it again. (Verified via email)

Work Quality:
Timely Delivery:
Responsiveness:
Overall Costs:
Your Satisfaction:
Willing To Refer:

The Bureau of Small Projects team consists of amazing individuals. Not only is it proficient in various tasks, but working with it is also enjoyable. It has boundless creativity and contagious enthusiasm. Naxio engaged it for rebranding: from company naming and logo design to web development. The agency also helped in refining the value proposition, delivering incredible value proposition. Naxio wouldn't hesitate to work with it again. (Verified via email)

Review Date: 14 May, 2019

They made a great job redesigning our websites. Also, enjoy the maintenance service they provide.

Work Quality:
Timely Delivery:
Responsiveness:
Overall Costs:
Your Satisfaction:
Willing To Refer:

They made a great job redesigning our websites. Also, enjoy the maintenance service they provide.

Website design and SEO

Project Type:

Website Development

Review Date: 13 May, 2019

Widely receiving positive feedback, the new site is easy to use, engaging, and helpful to the user, including embedded videos and interesting graphics. The team was able to meet the tight deadline for the launch and communicated well throughout the project.

Work Quality:
Timely Delivery:
Responsiveness:
Overall Costs:
Your Satisfaction:
Willing To Refer:

Widely receiving positive feedback, the new site is easy to use, engaging, and helpful to the user, including embedded videos and interesting graphics. The team was able to meet the tight deadline for the launch and communicated well throughout the project.

Numerous Projects - Mainly Web Development & Design

Project Type:

Website Development

Review Date: 10 May, 2019

Quady Winery has collaborated with The Bureau of Small Projects for several years and consistently had a beautiful experience. The agency is professional, knowledgeable, and attentive. The client's point person at the agency treats it as if it were part of its own family, always ensuring its needs are addressed. (Verified via email)

Work Quality:
Timely Delivery:
Responsiveness:
Overall Costs:
Your Satisfaction:
Willing To Refer:

Quady Winery has collaborated with The Bureau of Small Projects for several years and consistently had a beautiful experience. The agency is professional, knowledgeable, and attentive. The client's point person at the agency treats it as if it were part of its own family, always ensuring its needs are addressed. (Verified via email)
The Bureau Of Small Projects Clients