A web design company is an agency that specializes in creating and maintaining professional websites to help brands reach their audiences and accelerate online growth.
They engage in different processes, visualize, plan and create a collection of electronic files that control all the visual elements on your site to provide your visitors with an engaging user experience.
In other words, web design companies are in charge of the aesthetics of:
Layout
Graphics
Images
Structure
Colors
Text styles
Content
Their job is to make your website fully functional by ensuring it is interactive, easy to navigate and compatible with different devices.
There are less than 2 billion active websites and the number is constantly increasing as businesses are discovering the benefits of professionally designed and developed websites.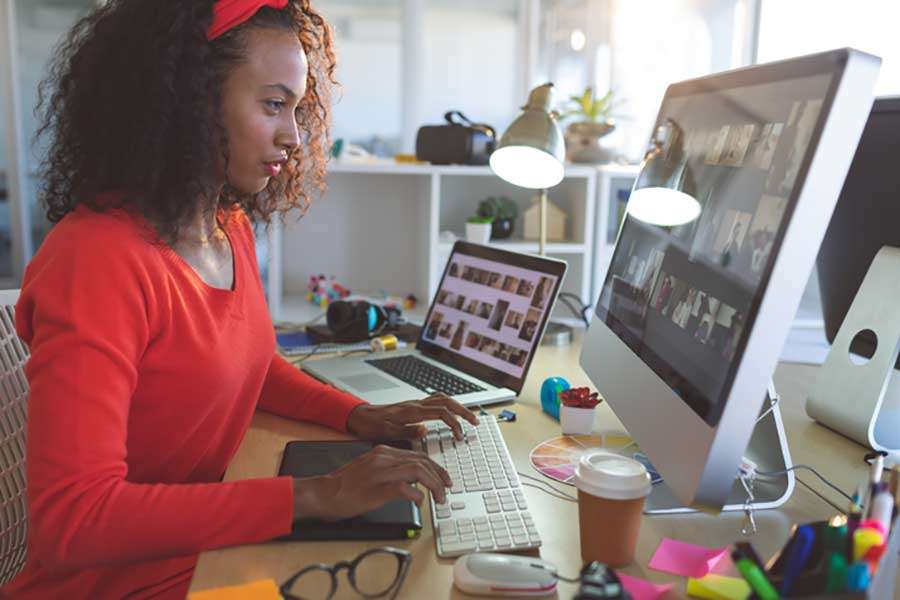 What Does a Web Design Company Do?
Website design agencies create the outward-facing interface of a website.
They first design the layout, format and structure, called the wireframe. Then, they take that wireframe and add colors, images and typography, typically in Photoshop.
Once completed, these companies will present their designs as static images to the clients. Once these are approved, they move into the web development phase.
Website design agencies are often confused for web development companies, the firms that write code and build the website.
However, a web design company is more like a graphic design agency rather than a software development company.
What Are the Different Types of Web Design Agencies?
We can divide web design service providers into several categories based on:
The services they offer: Some agencies offer full custom web design services whereas others choose to particularly specialize in:


Design: These experts are in charge of the graphics and the layout.
Development: They handle the programming of the website.
Marketing: They take care of analytics, search engine optimization and website content.
IT: They are responsible for the website's hosting.

The platforms they use: Website design agencies are qualified in designing websites with various platforms such as Shopify, WordPress or Drupal.
The type of businesses they work with: Various web design companies choose to focus on small business websites while others tend to provide services for large corporations.
The industries they serve: Different companies also choose to design websites within a specific niche whereas others have varied industry experiences.
How Much Do Web Design Agencies Charge for Their Services?
Top web design agencies typically charge:
An Hourly Fee
Charging employees by the hour is the most common form of invoicing.
If you're hiring a top web design agency in the US, that could cost you between $100-$175 per hour.
Overseas, those experts' fees tend to be lower and range between $55-$75 per hour.
A Fee Per Project
When it comes to the cost per project, website prices differ starting from $1,000 and going up to $100,000, sometimes even more.
A few factors that will influence this cost are:
The number of pages
The number of components and features you need
The complexity of the design
Per project invoicing is beneficial for brands that need a variety of separate website projects created.
A Results-Based Fee
For results-based billing, web design experts and clients will determine specific key performance indicators that need to be reached in order for payment to be issued.
These may include:
Higher search engine rankings
Increased website traffic
More conversions
A Flat Fee
Charging a monthly or yearly flat fee is common for brands that need a web design agency on a retainer. They are often used for periodic consulting or website management.
Flat fee-based agencies often help improve:
System updates
Integration management
SEO
And more
5 Reasons To Hire a Trusted Web Design Company
Here are the top five reasons to consider when partnering with a professional web designer:
Reason #1: Better First Impression
Businesses have as little as 7 seconds to make a first impression. (Forbes)
Your website is probably the first element that your audience will see when they search for your products or services online.
And, if they don't like what they find when they land on some of your pages, they won't even make the effort to read your content or consider making a purchase.
In today's world, your frontend design is your storefront. The way your website looks reflects your brand and your offering.
A professional website design company in the US will create a high-performance website that will impress your audience, make it engage and convert.
Reason #2: Increased Credibility
90% of users bounce from a website that is badly designed. (HubSpot)
People know how to make judgments and this number highlights that they don't trust sites that are poorly designed.
On the other hand, a website that is fully functional and has a compelling design entices visitors to stay longer, affecting your ranking in search and the influx of organic traffic.
Professional design also enhances your brand's credibility and builds trust among your prospects which creates an opportunity to capture these leads and convert them.
Web design agencies in the United States employ top-notch designers who understand what best practices work for specific businesses and industries. So, they can make all the difference, bringing your company the desired results. 
Reason #3: Enhanced Mobile Experience
Mobile devices generated 51.53% of the total website traffic in the second quarter of 2020. (Statista)
The number of users who access websites from their mobile devices is constantly increasing. This is why it is more important than ever to have a site that is mobile responsive.
Having a website that is not compatible with smartphones and tablets means a site that is not well functional. Its layout, images, fonts and other visual elements will not be displayed properly which will result in higher bounce rates.
A professional web design company offers professional services and builds websites that run smoothly on different devices. By providing you with a mobile-friendly website, they will help you to improve user experience and capture more conversions.
Reason #4: Improved Search Engine Rankings
SolarWinds conducted research to see if page speed really affects bounce rates. The results were quite interesting:
Pages that loaded within two seconds had a bounce rate of 9%
Pages that loaded within five seconds had a bounce rate of 38% 
As the page speed increased, the bounce rate soared and reached up to 73%.
Page loading time is one of the key ranking factors of search engines including Google.
Unlike websites that load slowly and make visitors bounce, a site that loads fast makes users stay and open more of its pages.
This decreases the bounce rates and increases the dwell time which is a sign of good user experience.
Google ranks those pages that load fast because it wants to provide searchers with user-friendly results.
A website designer will deliver you a website that runs fast and smoothly by:
Ensuring all the images have the right size
Eliminating unnecessary plugins
Minimizing HTTP requests
Reducing redirects
Improving server response time
And more
Reason #5: Outperforming Competition
The difference between building a website on your own by using free builders and considering professional custom web design services is in the competitive advantage you can take.
To get a step ahead of your competition you need to launch a website that is authentic and much more appealing than theirs.
Top web design companies not only have access to premium tools and technologies but they are always on top of the latest trends. So, they can build a cutting-edge site with which you will be able to challenge your competitors.
Top Signs That You Need To Hire a Website Design Agency
Having a website is no longer enough.
The competition is fierce, so the only way to stand out is to have a site that attracts attention and provides visitors with an intuitive user experience.
Here are the top signs that you definitely need to invest in custom web design services:
You have an outdated website design: Having an outdated site can hurt your search engine optimization and make it difficult for users to find it or use it. Professional United States web design companies are always on top of the latest trends and understand the best practices that can improve user experience. They can give your website a fresh look and maintain it properly.
You are far behind your competition: A web design company has access to premium and expensive tools that provide them meaningful data on your brand performance, audience and competition. So, based on these analytical reports they can create effective strategies and push you a step ahead of your competitors.
You are not hitting the expected sales: Web design companies have innovative skills, technical knowledge and they offer unique and proven areas of expertise in website building. So, they can bring you the desired results and meet your expectations.
How To Choose the Best Website Design Company
Here are a few steps to consider that will help you select the top website design company for your business:
Step #1: Determine The Type Of Website You Need
There are many types of websites, such as:
Informational
Social Media
Blog or magazine
And more
Determine which type of website you need and the objectives you'd like to reach through your site to find the best website designers that specialize in exactly what you need to succeed.
Step #2: Create A Budget And Understand Pricing
Before you start meeting with a prospective web design company, determine the amount that you are truly able to spend on your website.
Once you solidify your budget, search for the best web design companies that can:
Operate within your budget.
Provide a return on investment.
Step #3: Check Out A Web Designer's Portfolio & Case Studies
A website design agency's portfolio and case studies are clear indicators of their ability to build successful platforms and deliver results. Look for factors like:
Industry experience
Experience solving similar business problems
Incorporating innovations, trends and ideas
Pro Tip: The most important quality to look for in a website design agency's case studies is their experience solving similar business growth problems as yours, regardless of industry.
Step #4: Understand How A Web Design Agency Formulates Processes And Ensures Results
Take the time to understand how a web design agency creates an organized process and ensures you receive an ROI.
Make sure you learn:
Who will be working on your team, what their qualifications are and how much time will be dedicated to your project
Who your point of contact will be
What the key performance indicators will be and how often they will be tracked
How often you will have meetings, calls and receive reports
How long the best web design company will monitor your site's performance
10 Questions To Ask Web Design Companies Before Hiring One
The following questions will help you understand the top web design companies' offerings and help you decide if they are the right fit to grow your business online:
Who will be working on the project and what is their experience?
What web design, development or additional services do you offer?
How do you stay in-the-know about the latest trends?
Can you share some successful case studies and portfolio items? Why were they successful?
Do you have any experience in our industry, market or solving a similar business problem?
What is the organizational process of a website design project?
Do you incorporate search engine optimization in website projects? Do you have an in-house expert?
How often will you measure results and what metrics will you use?
How much do your services cost and should we expect any additional fees?
Do you offer long-term support and website maintenance post-launch?
Takeaways on Hiring a Reliable Web Design Company
The top website designing company in the USA offers high-quality services and it can provide you with a cutting-edge website that stands out and beats the competition.
These experts not only create fully functional but also appealing sites that can:
Retain your audience
Increase your brand's credibility
Enhance user experience
Improve your search engine rankings
To pick the right website design agencies, set a budget and think about your goals and requirements.
Then, visit the companies' websites and consider their reviews, portfolios and industry experience.
Finally, don't forget to ask the right questions since they may be of key importance in finding a partner that can meet your needs.
But before you return to the table, here are a few last tips to consider that will also make your search easier:
Warranty: Your website should come without any bugs, errors or code issues. So, ask website design agencies whether they can provide you with a contract that includes product quality clauses.
Post-launch services: Your website will also need updating and maintaining which is why you should ensure the web design company you pick will be there for support after the project ends.
Best of luck!
…