Your Path to B2B Advertising Success
651 Holiday Drive Plaza 5 Suite 400 #29, Pittsburgh, Pennsylvania 15220, United States
Ethic Advertising Overview
Number of Employees
Under 49
Minimal Budget
$25,000 - $50,000
Average Hourly Rate
$125/hr
Your success is our mission. Established in 2014, Ethic Digital Advertising Agency is a leading name in creative development for online marketing. We are dedicated to empowering our clients with innovative solutions that cultivate prosperous and long-lasting partnerships.

You can gain a competitive edge with our hyper-targeted digital advertising strategies. We will strategically position your brand in front of the right audience at the right time, as we combine cutting-edge technologies with captivating creativity. We will ensure your ad budget is wisely invested, delivering maximum returns.

We recognize the importance of both creative messaging and precise targeting. Unlike other digital advertising companies, we integrate high-quality creative solutions with technical strategies. Whether you need creative assets, advertising expertise, or a combination of both, trust us to deliver.

It's always about holistic marketing. While we excel in full-service digital advertising, we also embrace the future of digital programmatic advertising. Our work complements and enhances your overall campaigns, creating a cohesive brand experience across all channels.

We don't believe in a "set it and forget it" approach. As a hands-on agency, we constantly optimize your projects, making precise tweaks to guarantee optimal performance all throughout.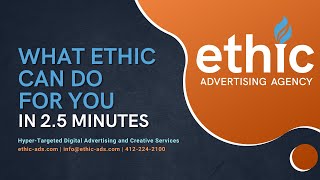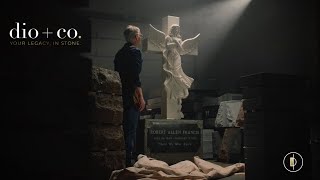 Headquarters
651 Holiday Drive Plaza 5 Suite 400 #29, Pittsburgh, Pennsylvania 15220, United States
Ethic Advertising Services
Areas of Expertise
Digital Marketing Expertise

Branding Expertise

Video Production Expertise

Advertising Expertise
Digital Marketing Expertise
Digital Marketing Expertise
Video Production Expertise
Video Production Expertise
Ethic Advertising Portfolio
Branding

Graphic Design Examples

Video Production

Video Examples

Web Design

Website Examples

Web Design

DePaul School for Hearing and Speech

Web Design

Dio+Co.
Ethic Advertising Team Bios
Jeff Swartz

CEO and Founder

Jeff founded Ethic Advertising Agency in 2014. His background is in both media and creative. Jeff spends most of his work day supporting the Ethic team to do the best work possible, and his free time with his wife and kids, educating, and volunteering for animal and children focused nonprofits.
Ethic Advertising Clients
Armstrong Comfort Solutions

Gerard Plumbing and Heating

Carnegie Museum of Natural History

DePaul School for Hearing and Speech

Advanced Basement Solutions
Ethic Advertising Awards
2022 People's Telly Award for Branded Content

2020 Silver Telly Award: Nonprofit Branded Video

Design Rush Top Ad Agency

Design Rush top Social Media Marketing Company

Design Rush Top Digital Marketing Company

UpCity B2b Service Prover of the Year: PA 2022

DailyAdBrief.com Marketing Champion for Excellence

2022 Silver Telly Award: Branded Content: General-

2022 Silver Telly Award: Branded Content: General-

2022 Silver Telly Award: Branded Content: Craft-Fu

2022 Silver Telly Award: Local TV: Not-For Profit

'22 Expertise's Best Ad Agencies: Pittsburgh List

2021 Ad World Masters Awards

2021 Media Innovator Awards

2019 Gold Hermes Creative Award: Audio Program

2018 DesignRush Best Ad Agency Award

2018 Gold Hermes Creative Award: Audio Creative

2018 Gold Hermes Creative Award: Logo Design

2017 Platinum Hermes Creative Award: Graphic Desig

2017 Bronze Telly Award: Television Commercial

2017 Gold Marcom Award: Graphic Design