Browse our curated list below to discover the most impressive service providers that can help bring qualified traffic to your website through targeted posts and ads on a variety of social media platforms. You can easily refine your search based on price, location, company size, and ratings to find the perfect fit.
The Number 1 Social Media Marketing Agency as Selected by DesignRush Is:
Best For: Overall
Average Hourly Rate: Inquire
Minimum Budget: $10,000
Founded: 2007
Location: North Carolina, United States
Notable Clients: Huggies, Chrysler, Bing, Windows Live, Staples, Kay Jewelers, Samsung, and more
Ignite Social Media has been the go-to agency for top brands since 2007, constantly innovating and leading the industry. As Social Media Agency of the Year in the 2016 Corporate Social Media Awards, they have been recognized for their expertise in every aspect of social media — from content creation and community management to influencer relations and data analytics.
When Chrysler approached Ignite to promote their 2015 Chrysler 200, the agency implemented a scavenger hunt sweepstakes involving influential bloggers to drive traffic to the microsite. It promoted influencer content on Chrysler's social channels, such as Facebook and Twitter, and promoted posts on various websites related to men's style, lifestyle, tech, sports, nutrition, fitness, and automotive. The six-week campaign outperformed all other Chrysler social programs combined. It generated over 17 million impressions and reached 10+ million people, resulting in 700,000 engagements and 40,000 advocacy actions.
Ignite's social media marketing also generated a staggering 43 million impressions, 15,000 leads, and $3.7 million in estimated lead value in just six months for Affordable Care Dentures & Implants, driving new leads and clients in existing and new markets.
Lastly, the agency is a certified Women's Business Enterprise committed to representing a diverse set of backgrounds and experiences that can help your digital marketing campaigns.
Check Ignite Social Media Agency Profile
Best For: Purpose-Driven Organizations
Average Hourly Rate: $99
Minimum Budget: $1,000
Founded: 2011
Location: Georgia, United States
Notable Clients: Christian Family Coalition Florida, Ellura, H-Massage, Indique Hair, CedarCraft, Skystone, and more
A full-service digital marketing company ranked on the Inc. 5000 list for two years in a row, LYFE Marketing provides a comprehensive approach to all your marketing needs. Their services include social media advertising and management, email marketing, PPC, SEO, graphic design, and more.
Christian Family Coalition Florida, a human rights organization, tasked LYFE Marketing with boosting their brand awareness and social media following to update current supporters and gain new ones. The agency's approach involved location-based (individuals in and around Florida) and interest-based targeting (those who share the values of the coalition.) With the creation and development of the client's Facebook page and ads, they achieved a total of 28,641 Facebook likes and 26,055 engagements.
Check LYFE Marketing Agency Profile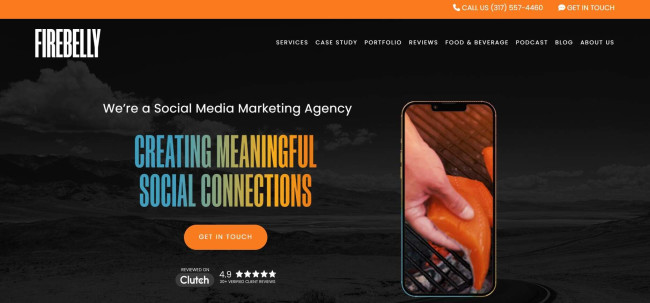 Best For: Non-Profits
Average Hourly Rate: $149
Minimum Budget: $1,000
Founded: 2007
Location: Indiana, United States
Notable Clients: SONY, Team USA, IAPF, United Way, V&V Supremo, Netflix, and more
Firebelly aims to forge meaningful connections across social media networks. Their suite of services includes everything from organic and paid campaigns to influencer partnerships and studio services, such as graphic design, video, and photography.
When Firebelly collaborated with the International Anti-Poaching Foundation (IAPF), a global non-profit organization empowering female rangers in the fight against poaching, the team focused on spreading awareness about the anti-poaching mission and the rangers' work in Zimbabwe.
The social storytelling approach featuring the bravery and dedication of the female rangers, has led to a 64.9% increase in social following, a 72.3% increase in engagements, and a 281.5% increase in impressions. Moreover, 42% of funding transactions now come in through the client's social media channels with a conversion rate of 6.85%. This project has been selected as a finalist for the Shorty Awards for its outstanding achievements in Multi-Platform Campaign on Social and Racial Justice focused on Animal Rights & Welfare.
Check Firebelly Marketing Agency Profile
Best For: Community Management
Average Hourly Rate: $125
Minimum Budget: $10,000
Founded: 2011
Location: Georgia, United States
Notable Clients: Mellow, Dicks Sporting Goods, Biena Snacks, Toyota Dealers, A3C Hip Hop Festival, and more
Sociallyin's objective is to foster long-term relationships with the audience by interacting with them on a personal level in the digital space. Their social media experts hailing from diverse backgrounds have assembled to ensure your organization stays ahead of the competition through bespoke social media tactics, tailored content, influencer marketing techniques, ROI analysis, and social media advertising management.
For Mellow, an innovative mindfulness app, the team developed a social media strategy to drive downloads and introduce customers to the calming and inspiring art on the platform. Through striking visuals and persuasive copy in targeted paid advertising, they exceeded the goal of 25,000 and reached 48,193 app downloads within nine months.
Check Sociallyin Agency Profile
Best for: Government Organizations
Average Hourly Rate: $100
Minimum Budget: $1,000
Founded: 2018
Location: Washington, United States
Notable Clients: U.S Air Force, A Helping Hand, Trupanion, ABI Insurance, Habitat for Humanity
Socialistics is a team of creative writers, brand-builders, and business-builders who are experts in organic and paid social media and passionate about crafting stories that resonate with your audience. They stay on-brand and use the perfect mix of language and imagery to drive engagement, while ensuring that your content is seen by the right people at the right time.
Their efforts have resulted in the delivery of over 10 million impressions. This includes their work for the US Air Force, which were impressive at 86,004 monthly impressions, 2,603 monthly engagements, and 23 monthly leads and applications.
Check Socialistics Agency Profile
Best for: FinTech
Average Hourly Rate: $25
Minimum Budget: $1,000
Founded: 2017
Location: New York, NY
Notable Clients: Intellectsoft, Debay, IQONIQ, Paypolitan, XENTRICS, and more
Established in 2017, NinjaPromo boasts of a strong clientele that has experienced the benefits of merging personal experiences with digital platforms. The agency's marketing experts specialize in B2B and cryptocurrency, NFT, and high-growth startup brands.
Paypolitan, a game-changer in mobile payment gateways, secures every transaction as a smart contract using blockchain. To increase brand awareness and attract new audiences, NinjaPromo developed a comprehensive social media promotion plan that included 150+ captivating videos, animated images, and static images to engage online users and spark their interest.
As a result, Paypolitan achieved an impressive 70,000+ monthly impressions and experienced a fivefold increase in their subscriber base at 9,500+ new users.
Check NinjaPromo Agency Profile
Best For: B2B Enterprises
Average Hourly Rate: $125
Minimum Budget: $10,000
Founded: 2012
Location: Iowa City, Iowa
Notable Clients: Livability, Pearson Learners, Collective Data, Bona Law PC, David's Famous, MetaCommunications, and more
Founded in 2012, Sculpt began as a social media management firm and grew into a global B2B marketing agency. Their strategy involves training your marketing team, empowering your sales team, and advising your leadership team with the Hustle and Heart philosophy. They aim for authentic connections with the audience , and puts value on customer-centric B2B marketing that combines strategy, creativity, and empathy. The agency focuses on amplifying your brand rather than reinventing it and refining your business goals rather than defining them.
Software solutions provider, Collective Data, enlisted the expertise of Sculpt to increase the number of qualified demos nationwide, particularly on law enforcement prospects. Sculpt then defined new buyer personas and customer value journeys, built a robust paid advertising campaign on Google Ads and LinkedIn to drive MQLs, and used Drift and HubSpot to convert leads into demos effectively.
The results showed an increase in conversion rates ranging from eight to 18% in lead conversion from online advertising. The strategies also successfully reduced the average cost-per-lead by 70% compared to the client's previous lead acquisition channel.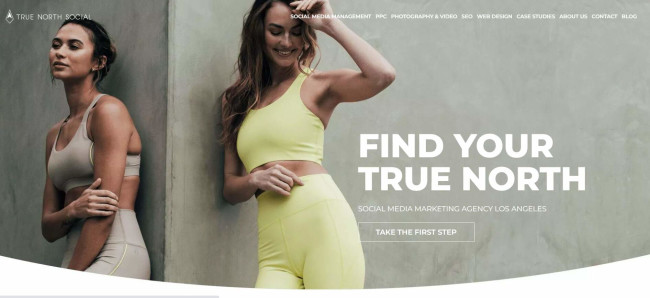 Best For: eCommerce and Retail
Average Hourly Rate: Inquire
Minimum Budget: Under $1,000
Founded: 2015
Location: Culver City, California
Notable Clients: Thrive Société, Shaun White, OYA Beauty, The Orlando Hotel, Kuju Coffee, and more
California-based boutique marketing agency, True North, creates captivating narratives about products, services, and brands by bridging the gap between expertise and the suitable format to reach the intended audience. Their authentic and cohesive strategy lets customers see how brands can elevate their identity, eventually converting them.
Thrive Société, a women's athletic wear line, understood the importance of photography in conveying their brand vision to new and existing customers. And so, they worked with True North to produce new creative assets that boosted their online marketing presence and attracted new users while keeping their current audience engaged.
In less than 12 months, the client gained 20,100 new followers on Instagram, saw a 2,100% increase in overall social media engagement, and started garnering an average of 340 likes per post. They also reached a 304% increase in sales and a 23% increase in average order value through Facebook Ads.
Check True North Social Agency Profile
Best For: Large-Scale Businesses
Average Hourly Rate: $150
Minimum Budget: $1,000
Founded: 2014
Location: Montreal, Canada
Notable Clients: Nissan, Arby's, LinguaLift, The Halal Guys, Two Bears Coffee, and more
Social Media 55 is a digital marketing and social media management agency that provides businesses with the most effective strategies to reach the most receptive audience. They excel in nano-targeting their digital marketing efforts to deliver results.
The agency offers comprehensive social media services and acts as an extension of your organization. They can manage content curation and all your advertising campaigns, covering various platforms, such as Facebook, Instagram, LinkedIn, Twitter, and Google My Business.
As a demonstration of their expertise, Social Media 55 helped LinguaLift preserve their brand identity while designing a new website and relocating the content. They also created social media marketing strategies that generated more than 1.5 million impressions from Facebook and Instagram ads, and over two million impressions on Adroll.
Check Social Media 55 Agency Profile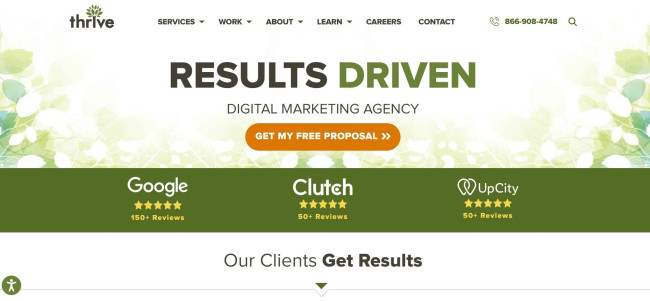 Best For: Brand Management
Average Hourly Rate: $125
Minimum Budget: $1,000
Founded: 2005
Location: Arlington, Virginia
Notable Clients: Geoforce, Applied Behavior Analysis (ABA) Therapy Center, DizzyStop, Nancy Anderson Fitness, SLD, Hunter Vision, and more
Thrive is a digital marketing agency specializing in data-driven web marketing services, including social media. The agency has over 220 employees across 34 states and 10 countries who work closely to ensure seamless campaign development and execution for global clients in Germany, Hong Kong, and the United States.
Geoforce, a leading developer of cloud-based asset-tracking platforms, has partnered with Thrive to enhance its social media and SEO performance. Since Thrive took charge of Geoforce's social media marketing campaign, the client experienced a remarkable 121.08% growth in Instagram followers, a 352.1% increase in Facebook impressions, and a 200% increase in LinkedIn followers.
Moreover, their Facebook content reached 1.2 million screens, engaged with 938,686 users and generated 8,799 clicks. Their top Facebook post garnered 14,817 impressions and received 791 clicks.
How We Picked the Best Social Media Marketing Companies
To ensure that our list includes only the best social media marketing agencies on the market, we examined their clientele, case studies, reviews, industry reputation, and executive leadership. We set up a qualitative process and quantitative scoring system to evaluate these agencies and pick the best of them all.
Criteria are the following:
The agency's overall relevance and focus on social media marketing services
The number of social media topics they cover on their official website and other channels
The number of social media marketing projects they delivered
Diversity of portfolio and case studies
Noteworthy clients and big brands
The agency's online reputation on DesignRush, Google, and similar platforms
To find out how we select the agencies listed below, visit our agency selection criteria page.