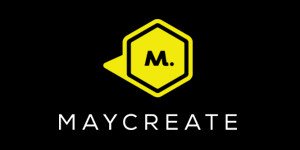 We make you ready to build a brand!
701 Broad Street, Suite 100, Chattanooga, Tennessee 37402, United States
Maycreate Overview
Number of Employees
Under 49
Minimal Budget
$10,000 - $25,000
Average Hourly Rate
$155/hr
Let's redefine entertainment marketing.

Thinking inside or outside the box is irrelevant. You're still tied to the box. That's why we burn it. We're free to explore, discover, change perceptions, influence decisions, impact sales, encourage contributions and the list goes on. Nice to be done with the box, isn't it?

The ideal relationship begins with trust. We always have our client's best interests at heart. We invest time, thinking, and purpose in understanding your brand and the project. We want to get to know you and we want you to get to know us. Then and only then can we produce our best work. Lasting client/agency relationships are fostered in an atmosphere of open dialogue and shared exchange. We may not always agree. We may not always come to the same conclusion. But we respect the differences and from those differences produce the greatest work possible.

Our combined experience totals 175 years. During those years, senior members of our team created recognized and effective work for a number of Fortune 500 companies and organizations, including AT&T, Ford, Sears, Johnson & Johnson, Volvo, Black & Decker, Dell, REI, Sprint, Hardee's, Kraft, and the United States Marine Corps. Each member of the team applies that invaluable experience to the work we produce for every client. We set the bar high and the end result has to pass our demanding standards before we share it with our clients. The work must also be on strategy and must establish a unique voice for the brand.

We know what you're thinking, why Chattanooga, Tennessee? Why not stay in NYC, Chicago or Atlanta where our careers started? The short answer, we wanted a change of pace, a pace outside of the office that encouraged an excitement about being creative and working with friends every day. With that, we like to say we've been unemployed for 15 years. Because when you're having as much fun as we are, it's not a job.
Areas of Expertise
Custom Frameworks

Digital Marketing Expertise

Graphic Design Expertise

Video Production Expertise

Web Design Expertise
Digital Marketing Expertise
Digital Marketing Expertise
Video Production Expertise
Video Production Expertise
Maycreate Portfolio
Digital Marketing

United Airlines / Chattanooga Airport

Digital Marketing

Mohawk - SolidTech

Digital Marketing

CapitalMark Bank and Trust
Maycreate Team Bios
Brian May

President, Sr. Creative Director

With 28+ years in the business, he's worked on many of the world's most recognized brands, like Caterpillar, Black & Decker, US Cellular, Sprint, Volvo, Mohawk Flooring and Hardee's. His work has been recognized: Addys, Graphis, Print, Communication Arts and GDUSA.

Monty Wyne

Sr. Creative Director

After 25+ years with J. Walter Thompson (JWT) creating work for some of America's greatest brands like Ford, Marine Corp, Kraft/Nabisco, Northern Trust, and Pillsbury to name a few effective creative solutions is second nature for Monty.

Rob Cherof

Sr. Account Planner/Strategist

He's held senior positions at BBDO, J. Walter Thompson and Saatchi. Led work on some of the world's largest, most recognized brands, including the US Marine Corps, AT&T, Dell, and Delta Airlines. He's intuitive, quick and cuts to the chase when it comes to identifying a brand's point of difference.

John Wagoner

Account Strategist & Business Development

John holds a degree in psychology from Arizona State University. In his 25+ professional years he's founded a successful ad agency, been a creative director, and VP of brand marketing. His client experience includes Hewlett Packard, Johnson & Johnson, Ethicon Global, and Stanford Children's Health.
Maycreate Clients
Chattanooga Metro Airport

Gordon Biersch Restaurants
Maycreate Awards
ADDYS, W3s, Tellys, Graphis, CA, GDUSA, Etc...