We handpicked the best web development companies after carefully analyzing over 9,000 service providers, their websites, range of web development services, portfolios and case studies, client feedback, pricing, and industry reputation. Below, you'll discover what distinguishes these agencies, as well as our ranking criteria.
The Number 1 Web Development Company as Selected by DesignRush Is:
Best for: Overall
Average hourly rate: $25
Minimum budget: $1,000 - $10,000
Founded: 2009
Location: New York City, NY
Notable clients: CISCO, Intel, Vodafone, Coca-Cola, Armada Web, and more
CSS Chopper provides agile web development services tailored to each project's size and scope. Its expertise covers backend technologies like PHP and Node.js, frontend frameworks like ReactJS and AngularJS, and CMS and eCommerce development with WordPress, Magento, and Shopify. With over 12 years of experience, many acclamations, and a team of over 200 professionals, it has successfully delivered 9,000+ projects, achieving a 97% client retention rate.
CSS Chopper showcases its web development expertise through ongoing client partnerships. One of them is with Armada Web, for whom CSS completed eight projects on various CMS platforms, including WordPress, Shopify, and Joomla. Its approach involved custom eCommerce solutions, feature-rich website designs, and dynamic user interfaces tailored to each project's specific requirements.
The ongoing collaboration with Armada Web on multiple projects demonstrates CSS Chopper's adaptability and expertise in delivering diverse web solutions. Its ability to continuously meet client expectations, adapt to different development environments, and ensure timely project completion supports its reputation as a premier web development agency.
Check CSS Chopper Agency Profile
Best for: Modern business website development
Average hourly rate: $40
Minimum budget: $1,000 - $10,000
Founded: 2013
Location: Cherkasy, Ukraine
Notable clients: Nevada Sunset Winery, Dniprovski Mrii, Israintelligence, PushX3, and more
F5 Studio is a full-service website development agency dedicated to crafting custom business websites that blend aesthetic appeal with functional design. Its expert team utilizes the latest front-end and back-end frameworks to build responsive and user-centric websites. The agency's commitment to excellence is evident in its meticulous planning, use of Agile Methodologies for resource allocation, and rigorous testing protocols to ensure the highest quality results.
PushX3 challenged F5 Studio to redesign the eCommerce site for its unique fitness device, aiming to increase sales and customer satisfaction.
F5 Studio refined the website's aesthetics and functionality with a clean, intuitive design. It maximized the eCommerce functionality by exploiting the flexibility of WordPress and the efficiency of the WooCommerce plugin, complimented with custom coding. As a result, user engagement and conversion rates increased dramatically, firmly establishing PushX3's online presence in the fitness sector.
Check F5 Studio Agency Profile
Best for: Custom web development solutions
Average hourly rate: $50
Minimum budget: $10,000 - $25,000
Founded: 2006
Location: Warsaw, Poland
Notable clients: BizzyOwl, GreenWay, Muse, Puccini, impak Finance, and more
Polcode leverages its extensive expertise in web development to provide businesses with custom, scalable, and innovative technology solutions. Its team is proficient in various programming languages and frameworks — this allows it to create sophisticated platforms tailored to meet the diverse needs of B2B and B2C clients.
Facing the challenge of digitizing its impact investment platform, impak Finance hired Polcode for its expertise in full-scale web development. Polcode enabled impak to forego an in-house IT team, providing a cost-effective, remote developer model that cut projected expenses by 50%.
It used a technology stack including React, Python, Django, WordPress, and PostgreSQL to build a sophisticated online presence. Polcode delivered a multifaceted solution encompassing front-end and back-end development, a content management system (CMS), and integration with Google Sheets. This enhanced back-office efficiency and propelled impak Finance's IS2 platform into the market in record time.
Best for: Agile web development
Average hourly rate: $25
Minimum budget: $1,000 - $10,000
Founded: 2014
Location: Boston, MA
Notable clients: Intel, Philips, Huawei, Motorola, Panther Design, and more
HTML Panda's developers and quality assurance experts create 100% hand-coded, pixel-perfect, secure, and cross-browser-compatible websites for large enterprises, startups, small businesses, and premium brands. The agency guarantees customer satisfaction with a 100% money-back policy, and its 99% client satisfaction score proves its dedication to providing the best services possible.
Panther Design challenged HTMLPanda to build an innovative WordPress website within a tight timeframe (May to June 2019) and budget (less than $10,000). Chosen for its outstanding portfolio, the agency created a user-friendly website that improved Panther Design's online presence. The client praised it for its ease of navigation and visual appeal.
HTMLPanda's agile and expert team, which included a developer, designer, quality engineer, and project manager, was crucial to the project's success. Its adaptable and forward-thinking development approach resulted in a custom website that precisely defined Panther Design's brand image, values, and ethos.
Check HTML Panda Agency Profile
Best for: WordPress web development
Average hourly rate: $75
Minimum budget: $10,000 - $25,000
Founded: 2015
Location: Nashville, TN
Notable clients: Samsung, Autotrip, TrueThemes, Lafarge, CTC, and more
UPQODE's web developers and consultants create custom WordPress-based websites that fairly represent businesses of all sizes and industries and help them grow. Its client-centered approach and commitment to excellence produce measurable results. Its web development projects boast fully responsive design, browser and device compatibility, thoughtful architecture, seamless integration, and impeccable user experience.
In a three-month timeframe, UPQODE expertly built an elegant and intuitive website for TrueThemes' "Kunst" project, tailoring it for the high-class real estate market. Its challenge was to showcase architectural elegance with easy navigation. It delivered a website with a unique browsing experience, using geometric animations to smoothly guide users through clickable content.
The website's asymmetrical design and interactive elements (e.g., hover effects) leveraged white space, resulting in a clean and modern aesthetic. UPQODE's web development work for "Kunst" effectively highlighted the client's architectural projects and demonstrated its ability to create visually appealing and user-friendly websites.
Best for: Conversion-focused web development
Average hourly rate: Inquire
Minimum budget: Inquire
Founded: 1998
Location: New York City, NY
Notable clients: Disney, Canon, NYU, Reuters, Phia, LLC, and more
Lounge Lizard transforms bold ideas into dynamic, responsive websites that engage and deliver results. With over 600 custom solutions across various sectors, including B2B, B2C, and non-profits, it specializes in full-stack development, including custom WordPress and advanced 3D configurators. Its technical prowess extends to creating user-friendly web apps and eCommerce sites, focusing on user experience and performance.
Phia, LLC entrusted Lounge Lizard to create a site to increase recruiting, highlight the "Phia Phamily" ethos., and represent its cyber-intelligence expertise. The strategic redesign had to be highly accessible, people and culture-oriented, and 508-compliant—non-negotiables for the federal contractor.
The Lounge Lizard disregarded standard cyber-imagery in favor of a design that emphasized Phia's team-oriented atmosphere. It created an accessible, entertaining site with complex SEO by combining WordPress, Slick JS, JQuery, and PHP.
The results were impressive: a 59.5% increase in informational search results, 108% more organic traffic, and a 17% rise in backlinks — demonstrating Lounge Lizard's expertise in web development and digital marketing.
Check Lounge Lizard Agency Profile
Best for: Website redesigns
Average hourly rate: $150
Minimum budget: Inquire
Founded: 2011
Location: Pittsburgh, PA
Notable clients: Revlon, Special Olympics, Stone Source, United Nations, Net2Phone, and more
As a trusted partner in web development, Huemor ensures that every site contributes to its clients' online growth. It excels in developing engaging websites that outperform competitors, with clients seeing an average increase of 83% in monthly visits, 94% in conversions, and 91% in generated leads post-redesign. It is known for fast, functional web solutions, achieving impressive 1.7-second load times.
Huemor was entrusted with improving the United Nations' HeForShe campaign to engage a global audience and significant stakeholders. The goal was to redesign the site to resonate with individuals, corporations, and governments. The site also had to be robust enough to manage high traffic levels without sacrificing user experience.
Huemor implemented a simple and flexible design, supporting different languages and incorporating geo-IP recognition for automatic regional adjustments. The redesigned website featured a video carousel to capture visitor attention, compelling statistics to build trust, and a dynamic champions page to profile supporters.
The redesign generated millions of commitments and a significant drop in bounce rates. This strategic approach accelerated the HeForShe campaign, increasing its global effect and reach.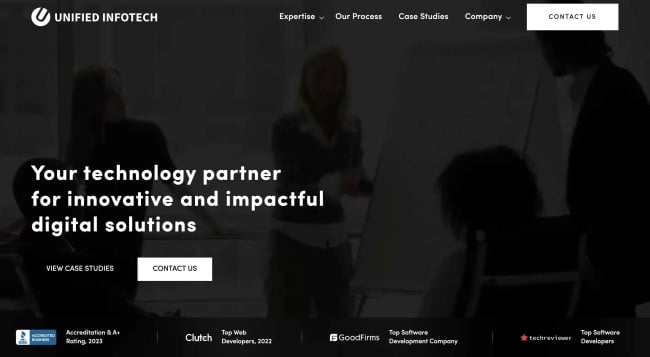 Best for: Scalable web development solutions
Average hourly rate: $50
Minimum budget: $10,000 - $25,000
Founded: 2010
Location: New York City, NY
Notable clients: Citibank, NBCUniversal, United Nations, McGraw Hill, Kidscitypass, and more
Unified Infotech, an award-winning agency, specializes in developing engaging, result-driven websites with a user-centered design. It blends advanced back-end and front-end development technologies, focusing on scalable and future-proof solutions. Its efficient development process, responsive designs, and strong security make it a reliable partner for businesses of all sizes.
Kidscitypass wanted to create a seamless digital experience for parents seeking kid-friendly activities in Atlanta. Unified Infotech crafted a website that simplifies the search process for busy parents and allows them to spend more quality time with their children.
The agency's web development efforts included an intuitive UI/UX and advanced Node.js backend, significantly streamlining the search process. The result? An impressive 80% increase in activity sign-ups, a 60% increase in web traffic, and a remarkable 95% rise in kids' involvement with the listed activities.
Kidscitypass achieved 90% of its anticipated revenue, underscoring Unified Infotech's expertise in delivering web development solutions that drive tangible business results.
Check Unified Infotech Agency Profile
Best for: Full-stack web development and eCommerce solutions
Average hourly rate: $50
Minimum budget: $1,000 - $10,000
Founded: 2010
Location: Chicago, IL
Notable clients: Nike USA, Conserva, Schneider Electric, Opel, Schwarzkopf, and more
PopArt Studio's skilled developers create web solutions that meet business needs and set industry standards. The agency offers various web development services — focusing on user engagement, strong security, and appealing design — to highlight your online presence.
PopArt Studio undertook a web design and development project for Corserva, a U.S.-based IT solutions provider. The challenge was to build an easy-to-navigate and engaging website that reflects the brand's identity, demonstrate the sophistication of its services, and features interactive animations.
Through a meticulous design process, the agency created a custom-built, animated website that performs reliably and meets Corserva's unique needs.
Check Popart Studio Agency Profile
Best for: Post-launch website maintenance and support
Average hourly rate: $190
Minimum budget: $10,000 - $25,000
Founded: 2016
Location: Washington DC
Notable clients: Examit, Lateenz, Summit Ridge Energy, JFL Consulting, Downtown DC, and more
Design in DC creates engaging, responsive, and mobile-optimized sites with custom features. With over 35 years of experience, it excels in customizable CMS and eCommerce development. Post-launch, Design in DC offers comprehensive maintenance, including updates, backups, and performance monitoring to ensure the full functionality of your website.
Design in DC took on the task of enhancing the online image of Downtown DC, the leading Business Improvement District (BID) in Washington, D.C. The BID wanted a website that reflects the district's contributions to city life and encourages user engagement.
The agency developed a user-centric, easy-to-navigate website for various user groups. It integrated an event calendar, which enabled easy browsing and registration for local events directly on the website. It also incorporated Downtown DC's new branding into the website's design, ensuring a consistent user experience. Design in DC built an elegant website, demonstrating its skills in creating engaging, functional, and user-friendly websites, while also supporting Downtown DC's goals.
Check Design in DC Agency Profile
How We Picked the Best Website Development Agencies
To identify the leading web development companies for 2023, we thoroughly reviewed each agency's client list, feedback, case studies, market standing, team capabilities, and leadership quality.
Our agency specialists rate their overall performance based on factors such as:
Range and relevance of web development services
Number of completed web development projects
Quality and range of web development portfolio
High-profile web development clients and recognizable partnerships
Industry awards and recognitions
Online reputation on platforms like DesignRush, Google, and others
This rigorous evaluation method lets us pinpoint the best web development companies suited for your next project. For a detailed understanding of our selection criteria, visit our DesignRush Agency Ranking Methodology page.