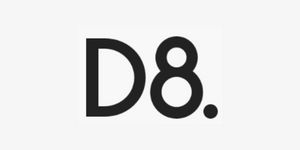 Your Partner in Creativity
York Street, Glasgow, G2 8JX, United Kingdom
D8 Overview
Number of Employees
100 - 249
Average Hourly Rate
Inquire
Welcome to D8, a dynamic creative agency with a remarkable journey since our establishment in Glasgow back in 1999. As an independent entity, we've cultivated a team of over 60 gifted creative professionals, strategically positioned in studios across the UK, Europe, and Asia.

Our approach is refreshingly different. We collaborate with visionary brands, bringing forth inventive solutions, free from the confines of conventional thinking and empty corporate jargon. Whether you find us in Glasgow, Amsterdam, or Hong Kong, we promise a direct, candid, and creatively invigorating partnership.

Our clientele spans the spectrum, from vibrant startups to esteemed global icons, and our track record speaks to our ability to nurture enduring and mutually beneficial associations across industries and continents.

Why Choose D8:

Global Reach: We operate across the globe.
Talented Team: Comprising 60+ creative specialists.
Diverse Clientele: Serving startups to global giants.
D8 Portfolio
Full-Service Digital

Pride Amsterdam - A matter of Pride

Full-Service Digital

On-hand help

Full-Service Digital

Spotify - Templates for success

Full-Service Digital

Nike - Always Fresh
Review Date: 2 November, 2023

I highly recommend D8 for its exceptional professionalism and creative work. D8's commitment to excellence goes above and beyond. I'm continuously impressed with its efforts and I genuinely wish there was an option to rate them beyond five stars. Best of luck to the team! (Source: 3rd Party Review Platform)

Work Quality:
Timely Delivery:
Responsiveness:
Overall Costs:
Your Satisfaction:
Willing To Refer:

I highly recommend D8 for its exceptional professionalism and creative work. D8's commitment to excellence goes above and beyond. I'm continuously impressed with its efforts and I genuinely wish there was an option to rate them beyond five stars. Best of luck to the team! (Source: 3rd Party Review Platform)