Businesses lose between 20% and 30% in revenue annually due to inefficient processes
Gallup's research finds that 85% of employees are actively disengaged at work while 67% of respondents in another study said they would be more productive if they replaced multiple apps with a single app that centralizes all the important information.
The common remedy for all of these ailments?
Business management software.
In this article, we look at what business management software (BMS) is, the most common types and how these tools help organizations align their business processes with best practices.
We will then list 20+ must-have business management platforms, their unique value differentiators and specific features that your team can put to its advantage.
What Is Business Management Software?
Business management software is a set of tools or apps that streamline and automate business processes.
These business management tools encompass platforms, methodologies and systems that businesses use to improve their performance and internal workflows.
Business management software plans and implements processes, procedures, guidelines and practices that companies use to deploy and execute business plans and strategies.
What Are The Types Of Business Management Software?
Business management software products automate day-to-day business operations and requirements, but these differ in purpose across various companies, industries and markets.
To adapt to these different business environments and provide optimal results to each, the tools vary in their types, features and capabilities as well.
It is important for the organization to choose the right type of software that aligns with their business requirements and objectives.
Below are all major types of business management tools with features that fit specific functions.
Accounting: This type of BMS has billing and invoicing reports, balance sheets and cash flow statements. With them, employees can manage financial data for ledger, bank reconciliation, payable and receivable accounts.
Workflow management

: With these platforms, organizations can establish, monitor and automate daily business workflows and processes. Standard features in these types of tools include task and time tracking, automatic notifications, role-based access and reporting.

Customer relationship management (CRM)

: Tools that contain features and functions such as customer service, support, help desk, client contact management and field service management. This type of business management software is used mostly in service and sales industries.

Scheduling

: This type of business management tool creates and maintains staff schedules, tracks attendance, assigns workers to specific shifts, dispatches schedules to field workers and manages service delivery. Some of its standard features are automatic reminders, calendar and time management.

Human resources (HR)

: Software that manages personnel tracking, payroll, benefits administration and has workforce management capacities such as employee time, attendance and scheduling. This type of tool may include performance review, learning and talent management and applicant tracking.

Reporting and analytics:

This type of business management process tool tracks key performance indicators and optimizes performance across all sectors. It provides actionable insight, flags issues and points to operations that can be improved. Dashboards, data visualization and report writers are some of the standard features found here.

Inventory management:

This type of software automates ordering, storing and inventory tracking processes. It monitors stocked items, on-hand inventory and materials and can feature product categorization, automatic ordering and purchase orders.

Content management: Organizations can upload, store, download and share business files and documents and manage client contact information, performance record and service orders.
Marketing and sales:

Capabilities include delivering promotional materials, nurturing leads through the sales funnel and attracting new prospects and visitors. Marketing automation, lead generation, email marketing, resource management and social media management are some of the standard features.
How Business Management Tools Streamline Processes And Increase Efficiency
Business management systems help companies define, implement and document best practices across all sectors.
These tools ensure businesses evolve through a shared understanding of all that company employees do on a daily basis, aimed towards achieving business objectives.

For instance, they can contain internal documents that outline work processes and the company's best practices to help employees follow procedures that give best results.
Business management tools instate a common system to deliver a consistent level of work quality within an organization.
For example, workflow or customer relationship management tools enable this consistency by enforcing day-to-day routine with time tracking and reporting, taking over customer tickets from a colleague in the previous shift and staying informed on the team members' progress on each task in the comments section.
BMS boosts teams' productivity and efficiency by:
Streamlining task management

: Project managers use project management tools to create and assign tasks to team members, monitor progress, track time and oversee utilization. This gives them a better overview of the team progress, insight into bottlenecks and a better grasp over the backlog.

Tracking business processes and progress

: Identifying what can be improved in the way of tracking progress and monitoring the business process helps boost company efficiency. With business management software, project managers can track each employee's task progress and make changes to the process where necessary by setting deadlines, uploading helpful material or delegating tasks to more team members.

Documenting business processes for better adaptability, productivity and work quality:

Business management tools have the means to analyze and optimize all business processes by documenting the details of each task and the way it should be performed. By knowing the requirements and dependencies of every part of any task, new hires can adapt to the environment and quickly grasp its intricacies. The existing employees can better understand and optimize their duties for higher productivity and work quality. For example, including a document with company's best practices, a set of instructions on performing certain tasks or attaching a file with standards for performing a task.

Cutting down expenditures:

The above makes way for identifying the omissions in processes that have previously led to waste in productivity and poor results. This saves the company money and cuts down costs made by poor planning and inefficient work.

Delivering quality to clients and customers:

Business management tools are systems that provide consistent work quality and delivery of high-quality products and services to your company's clients. Through their mechanisms that manage and improve processes, companies can achieve maximum customer satisfaction. Companies can achieve quality control with task reviewing tools, notes that team members that assess quality can leave for colleagues to revise work with and by keeping a streamlined work process through consistent communication channels.

Providing scalability:

As your company grows, the organization and its processes become more complex. It becomes increasingly difficult for everyone in the staff to know everything about how it operates. By using business management tools, growing companies have the means that will not only follow their growth but make it easier for teams to expand and change without sacrificing the workflow and productivity. With these programs, organizations can keep following, documenting and sharing their best practices with newcomers. They can educate new hires through internally stored webinars, white papers and other educational materials, all in one place.

Solidifying team collaboration:

Due to its nature of inviting all team members to work toward a single goal and appointing them to their separate tasks, business management software encourages and improves collaboration between employees. These platforms create a community of company workers that can create specialized chat channels and tasks for every new task or project and simplify collaboration processes such as file sharing.
We have created a list of 20+ affordable, up-and-coming business management software products that are must-haves for any organization that wants to make its workflow more productive.
Sales And Marketing Management Software
In this section, we list the best sales and marketing as well as CRM management software used by businesses everywhere.
1. Teleduce Integrated Sales And Marketing Tool Captures Leads And Runs Multichannel Campaigns
Corefactors' Teleduce provides an integrated sales and marketing platform as an upgraded iteration of CRM that lets businesses organize their sales and marketing teams.
Providing a holistic experience from marketing channels to customer retention, Teleduce has these five defining features:
Marketing Box

: Consisting of List Manager, Content Manager and Calendar, this feature lets you run multichannel campaigns integrated to the lead box and visualize ROI in a single dashboard.

Sales Box

: Makes capturing leads from various sources possible, as well as nurturing deals and closing them with automation. Users can monitor the performance and productivity of the team with lead and productivity dashboard.

Support Box

: Get email and calls support tickets and respond to customers' queries in an instant to improve customer trust and retention.

Success Box:

A feature that manages customers and engages with them through up-selling and cross-selling. Companies can get a full 360-degree overview of customers and provide them with exceptional customer experience.

Communication Box

: Using built-in cloud telephony, managers can monitor incoming and outgoing sales calls 24/7 and communicate with prospects more effectively.
List of integrations:
QuickBooks

Google Analytics

Freshdesk

Zoho CRM

Zapier
2. VipeCloud CRM Minimizes Manual Entry For Salespeople
All-in-one business management system that helps small businesses save money and simplify processes by reducing the number of sales and marketing apps.
Recognized as number one in usability and customer satisfaction by Software Advice, VipeCloud enables users to push their marketing and sales budget further through these features:
Marketing automation

: Automating workflows using series, launching custom workflows and email templates automatically and standardizing proven workflows are just some of this feature's capabilities.

Sales CRM

: By reducing administrative data entry, staying on top of your important tasks and measuring sales velocity, this feature helps find the right prospects with contact scoring, review what's working with reports and alleviates communication management.

Email marketing

: Using tools for engaging your audience and scoring their interest, VipeCloud email marketing tools increase lead generation with drip campaigns, expands audience through sign up forms, upsell and resell with email newsletters and advance brand awareness with social sharing.
List of integrations:
Trello

Dropbox Business

G Suite

DocuSign

Stripe

Square Payments

Calendly

JotForms

ClickFunnels
3. Capillary Retail CRM & eCommerce Platform Enables Seamless Consumer Experience
Capillary is an end-to-end retail, eCommerce and loyalty platform that helps businesses adapt to the fast-changing consumer and market environment and grow amidst changing customer expectations.
Capillary's definitive products and features are:
Insights+

: Provides business performance and consumer behavior insights.

Engage+

: Enables personalized consumer engagement across multiple channels.

Anywhere commerce+

: Uses multiple channels to deliver seamless buying experience across all of them.

Smart Store+

: Provides enhanced store experiences to boost conversions.

Loyalty+

: Retains the best consumers by rewarding them.
Capillary increases the effectiveness of business' marketing efforts by personally connecting with customers, based on gained insights about their behavior and preferences.

List of integrations:
4. Jobber Field Service CRM Enables Single-Click Email Marketing Campaigns
Award-winning job tracking and customer management platform for home service businesses keeps track of everything in one place and automated day-to-day operations, providing top-notch service to small businesses.
Some of Jobber's core functionalities and capacities include:
Client relationship manager

: Keep track of important client details and manage full client history, client search, notes and attachments and sales process

Scheduling and dispatching

: Create a job, choose a client and assign to your team, dispatch team efficiently using multiple drag and drop calendars in five different views, schedule while on-site and view team progress to know how much each team member has on their plate.

Invoicing and follow-ups

: Send professional invoices to clients using pre-made templates, use batch invoicing and create automatic invoicing.

Online booking

: Schedule on-site assessment of a client, attach notes and photos to work requests and get notifications when a customer books new work.

Client hub

: Offer 24/7 customer service with no extra phone calls or emails, send your clients a quote so they can approve, check appointment details and collect signatures.

Email and postcard marketing

: Sync contacts automatically in MailChimp, use professionally designed email campaigns or create email campaigns from custom templates.
List of integrations:
MailChimp

PayPal

QuickBooks

Stripe

Zapier

QuickBooks Online

Google Calendar

NiceJob

FundBox

BrainTree
5. The Wise Agent Real Estate CRM Creates High-Conversion Landing Pages
A powerful all-in-one real estate CRM platform combines contact management, lead automation, transaction management and real estate marketing software.
It helps realtors gain more efficiency by giving them an opportunity to save time and make more revenue.
Wise Agent's select features are:
Contact management

: Keep contacts organized and up-to-date, use referral trees and call lists and send VCards.

Lead automation

: Mange and convert more leads by using WordPress Lead Capture Forms and other methods.

Transaction management:

Manage due dates, documents, signatures and more with customized document storage, property list, lockbox list and commission reports.

Integrated marketing tools

: Send brand emails and newsletters, create drip campaigns, wise SMS texts, letters and wise printing all in one place.

Landing pages

: Create simple to set up landing pages made for high conversion rates that also integrate seamlessly into CRM.

Conversation tools

: Integrate email conversations from Gmail into your real estate CRM records.

Time management

: Keep your team on track with calendar, to-do lists, goal tracker and education tracking.

Software tools

: Integrate third-party tools and apps to get bonus calculators, report functionalities and more technologies that benefit realtors.
List of integrations:
Gmail

Google Calendar

Google Contacts

Twitter

Zapier
6. Kapture CRM Unifies Communications Channels According To Customer's Preferences
A SaaS-based service automation platform that lets businesses streamline their customer support by unifying the communication channels and bringing the conversation to one platform.
Kapture optimizes the support ticketing process and customer data management very efficiently and, through automation, it helps organizations systemize their contact center, service center and field force operations.
Other features include:
Contact center

: Let customers reach out through their preferred channels by bringing social media, mobile apps, chat, email and phone all together.

Service center:

Keep your customers updated on task progress, collect their feedback or create a service ticket.

Field force automation

: Assign tasks to your field reps, track their location, close tickets and complete reports quickly.

Self-service:

Boost customer and employee satisfaction with quick and easy solutions by letting your clients take action.

Knowledge base

: Provide a knowledge base for your employees that they can refer to at any point in their projects and tasks.

Order management

: Manage field agents, stock orders and distribution with a mobile-first cloud platform.

Customer profiling

: Reach, influence and build a customer base by detailing customers and develop the right understanding of your target audience.
List of integrations:
WordPress

Google Analytics

Shopify

Google Calendar

Twilio

Grow

SAP CRM

Plivo

Oracle Field Service Cloud
7. GreenRope CRM Automates Marketing Campaigns And Integrates Multiple Operations
Customer relationship management platform that redefines the way businesses use software to meet their customers' needs.
GreenRope provides a holistic approach to boost customer experience, attract, engage and convert clients. The system integrates sales, marketing, customer service and customer operations into one database.
GreenRope's products and features are:
Sales

: Use cutting-edge tools, information and insight to run your sales campaigns and close deals faster and more efficiently. Workflow manager, custom objects, sales opportunities, SMS marketing, CRM activities, eCommerce and team calendaring are some of the standard features in this suite.

Marketing

: Omnichannel automation and reporting system that facilitates communication and gets more qualified leads. This product utilizes email marketing software, customer journey mapping, landing page builder, social network marketing, signup forms, email tracker and even a lightweight website builder.

Operations

: Featuring project, event and learning management as well as collaborative Wiki, command center, collaboration tools, shared access, live chat and mobile CRM, this suite effectively runs and manages the entire business while bringing in components from your sales and marketing.
List of integrations:
JuvoLeads
Zoom
PayPal
Authorize.net
BlueSnap
PieSync
Zapier
Olark
Magento
WordPress
GoToMeetings
PandaDoc
Gmail
SendForensics
Postalitics
FullContact
e-Hawk
QuickBooks
Evernote
Microsoft Outlook
Backoffice System Management Software
The platforms in this section help organizations adjust and fine-tune their internal processes.
8. GoCo All-In-One HR Software Adapts To Organization's Processes And Provides Flexibility And Automation
An all-in-one HR platform that employs benefits and payroll capabilities and that easily adjusts itself to any company's existing policies and workflows.
GoCo's standout features and capabilities are:
Hiring & onboarding:

Automating onboarding checklist and giving new hires excellent pre-boarding experiences.

Benefit administration:

Lets companies bring their own broker match them with a trusted certified partner.

Payroll sync

: An option of keeping existing payroll or opting for all-in-one existing payroll by syncing to any cloud-based platform.

Documents and eSignatures:

Paperless new hire onboarding and digitization of document workflows. GoCo streamlines the sending, eSigning and storing employee documents processes.

Time Tracking and PTO

: Employees can submit timesheets for approval, clock in or out. The feature includes policies for accruing, requesting and approving PTO.

Workflows

: The platform lets businesses use their own workflows and systems.
List of integrations:
Slack

QuickBooks

Gusto

QuickBooks Payroll

Lyft

GoodHire

Google Calendar

Uber

Paychex
9. iSmartRecruit Applicant Tracking System Finds The Best Matching Candidates And Conducts Social Recruiting
This applicant tracking system and recruitment CRM software helps organizations acquire high-value hires by publishing company jobs to most popular job boards, advertising them on social media and syncing available jobs on your website.
Vendor management and client tracker for following the progress of the client's job openings are also among this product's unique capabilities.
iSmartRecruit's key features include:
Recruitment marketing:

Builds a strong and consistent employer brand that attracts potential hires through social and mobile recruiting, efficient networking, job board integration and sourcing analytics.

Applicant tracking

: Enhances the recruiting process by managing jobs and interviews, forming a visual pipeline, knockout screening, candidate information, advanced search options, mass interviews, candidate scorecard and managing questionnaires.

Team collaboration

: Enhances teamwork efficiency by using task manager, calendar, activity stream, automated reminders and more.

Reporting and compliance

: Keeping track of all processes by achieving GDPR compliance, making team and other kinds of reports.

Recruiting CRM

: Creates a solid link with the external world by using candidate relationship management, client relationship, vendor relationship management and lead management.

AI & Automation

: Replaces manual work with AI-backed automation.
List of integrations:
Gmail

LinkedIn

Indeed

Facebook

Twitter

Microsoft Outlook
10. Recruit CRM Recruitment Software Provides End-To-End Hiring Solutions
All-in-one HR and CRM product for recruitment agencies is trusted by over 60+ global markets. Recruit CRM is an affordable recruitment software with ATM plus CRM that manages daily activities.
Some of Recruit CRM's stand-out features are:
Applicant Tracking System

: Save time for value added work, provide additional flexibility for employer and the agency, a better overview of applications and easier job posting, as well as improved quality of hire and reduced cost per hire.

Unlimited resume parser:

Enable bulk resume parsing, build candidate database, parse resumes in email and provide multiple-language support.

Boolean search

: Enable using operators without quotes and brackets and combines Boolean search with filters allowing deeper search queries.

Radius search for finding candidates and prospects:

Within any specific distance or any location, this feature searches for jobs, clients and candidates with great precision.

Customer relationship manager

: Engage with clients and nurture relationships by keeping clients informed about everything that matters to them, connect with customers easily and manage a sales pipeline by keeping track of customers and connections associated with them.

LinkedIn optimization

: Scan LinkedIn profiles and save candidates and clients and works on records instantly by creating tasks and appointments without ever leaving the website.
List of integrations:
G Suite

Microsoft Outlook

Zoho

LinkedIn

Slack

Twitter
11. BlueSky Medical Staffing Software Consolidates And Automates Staffing Processes
An applicant tracking system, vendor management system, staff scheduling system and invoice tool, BlueSky is a one-suite solution for healthcare industry and contingent labor management.
This full suite includes many features and products, most notable of which are:
Nurse Backpack

: This free mobile application enables professional credential management for end-users. It makes reminders, resume package building and alerts sending possible for free. Professionals aside nurses, such as students, lifeguards, substitute teachers and others can use this app for their license management.

RapidHire Tool

: A web-based application for recruiters in healthcare industry that is also mobile-friendly. It allows customizable and accurate pay package calculations that managers can control and recruiters can access anywhere. It expedites the offer process that increases speed in placements.
Aside from these products, BlueSky has these integrated features:
Job posting & outbound distribution

Automatic candidate matching

Current website integration

API & Software addon ready

Multi vendor management

Integrated margin calculators

Real-time reporting

Configurable dashboards

Semantic matching

Candidate tracking & placements

Caregiver scheduling

Time capture + payroll

Cloud-based mobile access
List of integrations:
JobRobotix

Prophecy

MailChimp

TextUs

Career Builder

HireAbility

Universal

QuickBooks

Paychex

Microsoft Outlook

Facebook

Twitter
12. Skubana eCommerce Operation Software Unifies Retailer's Sales Channels
Skubana is a cloud-based platform that unifies backend orders, purchasing and inventory data across the sales channels, warehouses and fulfillment partners network.
Its powerful automation tools handle order routing, accounting, shipping and inventory management to improve overall operational efficiency and lower overhead costs.
Some of Skubana's most notable features are:
Unifying pricing tracking minimum order quantities and production lead time across every supplier and seeing the entire multi-channel landscape with real-time inventory updates within one dashboard for all channels and products which reduces frictions and inefficiencies.

Automation of data flow across orders, inventory and purchasing and outsourcing to orderbots. The platform uses inventory replenishment patterns to make smart recommendations and keep sales flow consistent.

Maximizing growth by optimizing reordering based on live inventory count and sales velocity. It, keeps track of profits, consolidates analytics and focuses your efforts on channels that provide the best results and reevaluates channels that trail in revenue.



List of integrations:
Amazon

Shopify

eBay

BigCommerce

Walmart

Xero

Weebly

Magento

WooCommerce
Workflow Management Software
These tools and platforms streamline the daily tasks and workflows of the companies' teams.
13. Nifty Collaboration & Workflow Management Tool Facilitates Client Objectives Alignment
All-in-one business management platform that enables team project planning, tracking and delivery while making workload understandable and clear for companies and their clients.
Nifty's defining features are:
Discussions

: By facilitating sharing of ideas, taking actions and keeping teams connected, this feature enables focused collaboration among project members via sharing files, creating threads and turning the discussion into action.

Task overview

: Clarifying smaller steps that lead big goals, this feature uses Kanban-style task view for a flexible organization. This detailed view provides more context and clarity to tasks as well as a list view for tailored visualization of workflow.

Time tracking

: For driving smarter decision making and work efficiency, time tracking feature uses meaningful timelogs to improve productivity by tracking time on tasks, It uses insights on the entirety of projects' timelogs and balances team workloads.

Milestones

: Automates status reporting and progress tracking according to completion of tasks. The feature enables timeline view to visualize milestones, as well as swimlane view and master overview.

Docs & files

: Feature useful for maintaining an organized workflow and consolidating project documents. It uses collaborative docs, organizes file storage and finds all files uploaded across projects.

Overviews

: Providing a clear view of projects and workloads, this Nifty capability lets staff access milestone detail view to plan in advance and view tasks, activities and time logs for the entire organization.
List of integrations:
Trello

Google Drive

Dropbox

Basecamp

Asana

Jira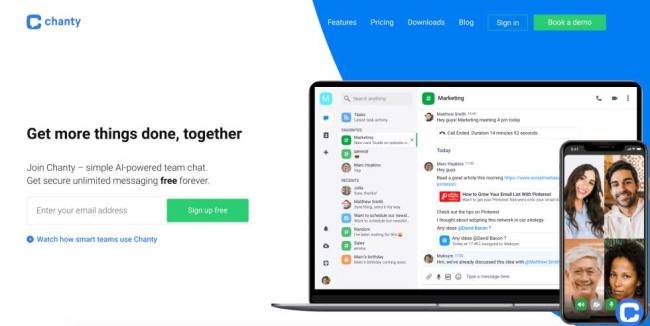 14. Chanty AI-Powered Team Chat App Boosts Team Synergy
A team chat app that facilitates communication and collaboration among team members by sending and receiving text and audio messages, making audio and video calls and screen-sharing.
Chanty's import feature transfers message history and team data from any third-party messenger to Chanty.
Other helpful features include:
Teambook

: A single hub for organizing tasks and conversations. It provides quick access to message history and activates Conversation actions to pin messages, rename or leave conversations.

Sharing multiple content:

View favorite media content in Chanty and share various types of content from different sources.

Highlighting members

: Ping colleagues and other team members with @mentions.

Creating and managing tasks

: Turns messages into tasks or creates new tasks from scratch for smarter collaboration.

Kanban board view

: Visual, simple and flexible way to utilize scrum methodology and manage tasks.

Controlling team space

: Sets user privileges, chooses who can post in conversations and keeps only relevant people in conversations.

Remote voice messages

: Instantly replying to threads via voice messages is possible thanks to this Chanty featurette that also allows making calls and reaching out to the whole team or individual members.
List of integrations:
Google Drive

Dropbox Business

Trello

Mailchimp

Asana

GitHub

Zapier

BitBucket

GitLab
15. Binfire Work Management App Allows Multiple Methodologies Of Managing Projects
All-in-one comprehensive work management application that combines effective team communication, document collaboration and project management.
Some of Binfire's defining capabilities are:
Workspace management for adding members, duplicating projects, project reports and more

Personal dashboard with five boards: Backlog, Open task, Working on, Waiting for approval and Done

Workspace calendar to set hours in each workday

Project dashboard that uses color schemes to let users know about the progress of each task

Interactive whiteboard with the options of creating new boards, renaming boards, downloading the board as the PNG file and printing the board.

Downloadable activity stream for seeing all activities taking place within a project

Burn-down chart to view the status of the project with

Task management with a dashboard that shows the tasks in a project on the left and details of each task on the right.

Activity stream for seeing all activities taking place in a project by all members
List of integrations:
Google Calendar

Google Drive

Dropbox Business
16. ClickUp Work Management App Customizes Workspaces To Enable Team Collaboration
An all-in-one app that enables all team members to work on any project. More than a task management software, ClickUp offers documents, reminders, goals, calendars, scheduling and inbox functionalities.
The features of note include:
Assigning and resolving comments

Creating customizable Spaces - simple, medium and advanced

Recurring tasks

Task Checklist

Filter and search

Customize Assignees

Use collaboration detection

Create image mockups

View progress percentage to establish how much work remains

Categorize tasks based on priorities

Use tasks mentions to associate them with team members
List of integrations:
Google Drive

Slack

Trello

DropBox Business

G Suite

Basecamp

Microsoft OneDrive

Asana

JIRA

GitHub

Monday

Clockify

BitBucket

TimeCamp

EverHour

Harvest

Time Doctor

Microsoft Outlook
17. COR Team & Project Management Tool Uses AI To Deliver Real-Time Profitability Estimates
AI-powered online software that helps creative and service industries manage projects, resources and finance in a single platform.
COR's features include:
Automatic estimating and time tracking

: Automate your team's time tracking, estimate the hours spent on each task and project the time it takes for each deliverable. This feature facilitates an accurate budget in terms of work's real value and avoiding losses due to miscalculated budgets.

Project management

: Automate the creation of tasks and projects, centralize communication and information for more work efficiency and gain real-time visibility of each project's status to make important decisions on time.

Resource management

: Avoid work overload and increase the team's work satisfaction, have real-time visibility of each team member on making most of your resources and avoid staff turnover due to work overload.

Profitability and metrics

: Feature's METRICS section shows clients with the highest turnover against those who are the most profitable. Get a better understanding of clients' true profitability and accurate information about your profits and losses in real-time.
List of integrations:
Kamul
Advertmind
Zappier
Google Drive
One Drive
Okta
DropBox
Google Login
Microsoft Azure Active Directive
18. LiquidPlanner Project Management Software Automates Work Scheduling And Prioritization
Online dynamic project management SaaS solution that improves any organization's work planning and execution. LiquidPlanner offers predictive, resource-based scheduling technology that accounts for priorities, resources and work uncertainties.
The defining qualities and features of LiquidPlanner are:
Project and task-level priorities

: For planning with purpose, build and manage a pipeline of pending approved and active projects. Stakeholders can easily view and adjust company priorities with drag-and-drop prioritization at the project and task level.

Automated resource workload report

: Shows how much each employee has on their plate, when they are working on their tasks and if they will miss a deadline. It automatically factors resource availability, vacations, events and dependencies into scheduling.

Smarter time tracking

: LiquidPlanner timesheets automatically update if your tasks change and are prepopulated with the work you have been assigned for the week. An integrated timer keeps track of actual time spent on tasks.

Card view

: The Kanban-style flow board lets users manage projects, move tasks and utilize columns like Pending, In Progress, Approved and Done. The Card View allows creating a customized board that works best for any specific organization and style or management.

Powerful dashboards

: Create detailed high-level views for visualization key data and sharing relevant project information with stakeholders and external collaborators.

Project Costing

: Managers can review, approve and export the timesheet for use with their billing system when team members submit a completed timesheet. This feature has custom activity fields for tracking, reporting and invoicing.
List of integrations:
GoogleDrive

DropBox Business

Box

Zapier

Hubstaff

Rippling

Okta

Insightly

Cyfe

Celigo

VisitorTrack

Lead Master

APIANT

Bitium
19. ProofHub Team Collaboration Software Facilitates Custom Workflows And Project Planning
Project management and team collaboration software that is used by companies such as Nasa, TripAdvisor and Netflix.
Some of ProofHub's most impactful features are:
Discussions

: Create discussion topics and bring client and team discussions to one place, avoiding long email threads. Also, mention people to loop them in discussions.

Tasks

: Assign tasks to as many team members as needed and they will be notified and prioritize tasks with deadlines and set recurring tasks to never miss them.

Kanban Boards

: Divide tasks and projects in stages according to your preferences and decide on team members working on each so they can get notifications on each stage.

Gantt Chart

s: Visualize and plan smaller bits of projects and establish how they fit together in this handy timeline view.

Calendar

: Keep track of your schedule with automatic reminders, recurring tasks and multiple calendar views. You can also integrate ProofHub's calendar with others your team is using.

Files and documents

: Keep files at a central storage system to stay organized and keep multiple versions of the same file.

Custom roles

: Define roles for each team member and control the access level they get.

Chat

: Send direct messages to your colleagues and utilize quick replies to quicken the team and client conversation with group and one-on-one chats.
List of integrations:
Google Drive

OneDrive

Box

DropBox
20. Week Plan Task Management Tool Keeps Track Of Unfinished Assignments And High Impact Tasks
This task management online tool arranges projects with respect to the assigned roles and ensures you and your team do not miss top priority tasks.

WeekPlan lets users take notes and write down all key project-related points that help resolve queries successfully.
Simple drag-and-drop task scheduling and goals setting area leverage breaking down the project's specific goals into smaller assignments and subtasks.
Week Plan, which also exists as Windows, iOS and Android mobile app, has these defining features:
The quadrant view: Effective for setting priority among the workload. It lets you mark all essential tasks and have an overview of them on your screen that makes it easy to remember them.
Time tracking: Uses a timer designed to keep you and your team intensely focused on your tasks and not diverting you concentration in order to finish tasks ahead of time.
High impact tasks (HITs): Always visible in Week Plan, HITs help users think in terms of higher perspective about your tasks.
Role assignment: According to the area of responsibility, users can break and delegate tasks while not losing their weekly schedule and greater picture out of sight for easier planning.
Automatic rollover of uncompleted tasks: Tools' versatile calendar automatically moves today's unfinished tasks for tomorrow.
List of integrations:
Google Calendar
iCal
Outlook
Google Chrome
Firefox
21. Troop Messenger Instant Messaging Platform Utilizes Real-Time Collaboration Functions
Keeping the communication needs of the corporate world in mind, the Troop Messenger's team has exclusively designed and developed this instant messaging platform that has the work collaboration features of screen sharing and controlling, audio-video calling, and video conferencing.
Unlike any other collaboration tool, its chat interface area has real-time collaboration functions that facilitate interpersonal communication with team members.
Troop Messenger's features include:
Types of messaging

: One-on-One Instant Messaging, Group Messaging, Fork Out Messaging, audio messaging and Burnout Messaging. Users can send quick replies, recall messages at both ends, forward multiple messages to multiple users at once, check the status of message info and more.

Conferencing and calling

: A high-definition audio-video calling capability that enables users to engage in clear and transparent video communication, conference meetings and voice calls.

Screen share and controlling

: In the recent version release, the remote desktop can be controlled during a screen share.

Advanced data filter

: These data filters separate images, videos, URLs, contacts, text files, flagged messages and more from a plethora of messages in the chat area.
List of integrations:
Google Drive

Drop box

Mailtrim

Active Directory

Contacts Management

Jira and Github (Coming soon)
22. Astera Centerprise Data Integrator Creates 360-Degree Customer And Product Dashboards
An award-winning end-to-end data integration platform that combines data extraction, transformation, cleansing, and automation capabilities in a unified platform to help businesses consolidate their enterprise assets.
The software has a code-free, drag-and-drop interface that empowers non-technical users to create integration flows easily.
Astera's centerprise's features include:
Self-service: Create customer and product dashboards using built-in connectors and transformations, without writing any code.
Data import: Extract data from a range of structured, unstructured, and semi-structured sources to create comprehensive customer and product dashboards.
Automation: Execute repeatable integration processes using job scheduler and workflow automation to streamline your customer operations.
Monitor jobs: Observe the progress of all your jobs in real-time through the job monitor window.
Data export: Export consolidated data to visualization platforms for reporting and analytics.
List of integrations:
Zendesk
SQL Server
Oracle SAP HANA
Salesforce
Marketo
Hubspot
PostgreSQL
JIRA
Quickbooks
Connect with any application via REST API
IT Management Software
The solutions listed in this section improve businesses' IT infrastructure, content, security, payments and other logistics.
23. CHEQ Cybersecurity Tool Blocks Fraudulent Traffic And Ensures Advertisers Pay Only For Authentic Views And Clicks
The award-winning digital media cybersecurity solution targets Click and Ad Fraud across all advertising channels, such as programmatic display, paid search, paid social, OTT and video.
Businesses benefit financially from CHEQ because it ensures advertisers pay only for ads that authentic human viewers viewed and clicked on.
CHEQ's offering is separated into two standalone solutions:
For display and video

: This ad-verification platform uses next-gen fraud prevention and viewability control. Bot mitigation technology blocks invalid users in real-time, while brand safety neural network blocks unsuitable brand content.

For PPC

: A feature that lowers brand's CPA across all paid search and paid social buying channels and saves ad expenditures. It excludes invalid audiences and protects remarketing. It blocks the bad traffic and distinguishes between it and good traffic that remains enabled.
List of integrations:
With any product via API or S2S connectivity
24. easyDITA Content Management System Provides Full Control Over Content Lifecycle And Real-Time Collaboration
A component content management system, easyDITA controls, reviews, manages and publishes structured content at a global scale and at a granular level.
Structured content enables businesses to deploy knowledge bases, chatbots, documentation sites and integrate it all with other systems.
easyDITA's standout capabilities and features are:
Structured content authoring: Speeds up content development and leverages structured content to enrich content semantically and enable collaboration. Fast load times, multilevel map editing and source XML editor are this feature's strong suits.
Fully collaborative review

: Authors can work at the same time on the same project, while document reviewers can conduct their work efficiently in real-time, as the entire team works within the same document. Assignment control tracks progress and keeps the project going.

Single source content management:

With file history and revisions, users can manage and restore previous versions of their documents. Dynamic content reuse and real-time validation eliminate duplication of work and analyze maps automatically while marking issues with indicators.

Multi-channel publishing

: Enables transforming content to various output formats such as PDF, ePUB, HTML5, Java Help and others and publish it on any channels through robust rest APIs.



List of integrations:
Microsoft Word

oXygen

StepShot

XTM International

MindTouch

Zoomin
25. PhotoShelter Digital Asset Management Platform Organizes And Shares Creative Content
Digital asset management platform that allows marketing and creative teams to easily store, organize and share content in order to engage audiences in real-time.

PhotoShelter for Brands is a centralized platform that moves creative files from point A to point B in an instant. It connects to tools organizations use every day through Adobe and API integrations and gives full control over creative content.

This system's most telling features and functionalities are:
Centralized assets for keeping creative files of all types in one place
High-speed drag-and-drop upload


Flexible file storage according to your team's preferences.

Fast tagging and search
Effortless sharing of photos with stakeholders
Advanced permissions for your team to access the content they need
Ability to scale and provide great security
Add and track license expiration dates through rights management
List of integrations:
Slack
WordPress
Dropbox
Box
Google Drive
Wrike
Greenfly
Adobe Creative Cloud
SIDEARM Sports
Neulion
Photo Mechanic
26. Bytemark Mobility Solutions Platform Simplifies Payments And Trip Planning
Bytemark provides mobility and Payments as a Service (PaaS) management system that services transit agencies and smart cities.
The core of its offering is the Bytemark Bridge - Plan, Book & Pay™ platform that upgrades the user experience and offers simplified payments, account management and trip planning.
Bytemark Bridge's six mobility suites include:
Bytemark Passage

: Visually validated and barcode tickets with administration, customer service and reporting.

Bytemark Connect

: An extension of the account-based ticketing suite with a transit card management system for virtual and physical cards.

Bytemark Transact:

Payment and related tools suite that includes gateway services, fraud detection and stored value wallets.

Bytemark Navigate

: Hacon's Trip Planner and Siemens' Traveler Relationship Manager anchor this suite that offers notifications, offers and targeted survey capabilities.

Bytemark Spaces

: A suite that lets riders purchase parking tickets and associate them with their license plate. The suite also offers Siemens products for parking lot management and capacity planning, SharePark.

Bytemark Envoy

: Demand-responsive transport suite that includes user applications, driver applications, a management interface and optimization algorithms.
List of integrations:
Able to integrate with multiple products via API connectivity
27. JungleWorks Is A Mobility Management Solution That Develops On-Demand App Solutions
A SaaS CRM, mobility, asset and delivery management software whose tech suite makes for a one-stop destination for the business needs of any organization.
A full stack of JungleWorks' software solutions and products includes:
Commerce Cloud

: Freelancer, Consultation, Hyperlocal and Rental marketplace software for connecting employees and employers, connecting experts with customers in real-time and building a peer-to-peer marketplace to buy, sell or rent goods.

Logistic Cloud

: Smart and fast delivery management, mapping infrastructure that provides precise location data and mapping solutions and drone delivery.

Communications Cloud

: Sales CRM for organizing, tracking and developing relationships with the leads, team communication system for collaborating with business stakeholders and a chat platform that empowers team collaboration.
Each of the above products uses a set of utility apps that can suit any business. As far as different industries go, JungleWorks is suited to the needs of
Pickup and delivery

Medical pharmacy

Insurance

Logistics

Food and grocery delivery

Home services

Movers and packers

Courier delivery

Vehicle telematics

Fleet management

And other services for which the company develops on-demand apps
List of integrations:
28. Competera Retail Pricing Software Helps Enterprise Retailers Increase Gross Margin by 4-8%
The award-winning SaaS pricing software uses the power of AI to help enterprise retailers set and maintain optimal prices across the entire product portfolio and make every product's price contribute to reaching the retailer's current business goals.
A retailer in every 8th country uses Competera's pricing software to boost revenue and gross margin.
Some of Competera's key features are:
Portfolio-based pricing

: It allows for factoring in millions of cross-product dependencies, make price recommendations much more accurate and build the right price perception. When using this AI-backed pricing approach, retailers know what products can be offered at much lower prices to increase traffic and what items should be priced higher to make up for the profit margin loss. Retail teams can reach a healthy balance between sales and profits.

Agile workflow

: In addition to the software itself, retailers get access to a tested and seamless, yet customizable workflow which makes them more efficient and helps reduce repricing time by 50%.

Testing environment

: Retailers can create and test any number of pricing strategies within a single interface while considering up to 60 pricing and non-pricing factors, any number of goals and constraints.
List of integrations:

Amazon EC2

Oracle CRM On Demand
Magento Commerce
SAP Analytics
Google Cloud Platform
29. Vispato Keeps Your Company Secure By Complying With The EU Whistleblowing Directives
Vispato is a whistleblower software solution that helps businesses of all sizes stay compliant with the law through a flexible, simply designed customizable system.

Vispato handles all forms of anonymous misconduct reporting, helps you create unlimited case categories and assign them to specific team members.

When it comes to the types of compliance, this tool helps you stay on top of regulations concerning:
Money laundering
GDPR violations
Environmental violations
Workplace discriminations
Employee fraud
Health and safety breaches
Market abuse
And many others
Some of Vispato's main features and capabilities include:
Adding a case status: Prioritize cases according to their statuses.
Keeping investigative records: Upload files, add comments and see what has been completed so far.
Receiving a deadline reminder: Software notifies case handlers deadlines for acknowledging reports and updating whistleblowers via email and in-app.
Complete anonymity for whistleblowers: No registration needed for whistleblowers and they can choose if they want to be available for anonymous follow-up inquiries.
Takeaways On Business Management Software
Business management tools improve work efficiency and productivity by:
Streamlining task management

Tracking workflow progress

Documenting business processes

Reducing company costs

Facilitating scalability

Encouraging team collaboration
Take a look at our list of the nine top-performing business management software platforms above and find one that suits your company's vertical, working procedure and management style.
Subscribe to Spotlight Newsletter
Subscribe to our newsletter to get the latest industry news