With the increasing demand for digital services and advanced technologies, hosting providers have more room to expand. The global web hosting services market is expected to reach $72.6 billion in 2023.
Getting lost in the sea of hosting options is easy, especially if you are starting an online business with little technical knowledge. Even as a seasoned system administrator, choosing the right fit for your business needs is difficult.
That's why we curated a list of the best hosting providers worldwide, used by even the best IT services providers, to help you compare the solutions and make the best decision.
Top 20 Hosting Providers and Domain Registrars
Whether you're building an online portfolio as a freelancer, designing a B2B website or rethinking a web strategy for your fast-growing organization, look through our list of the best hosts and domain registrars on the market to choose the right solution for your business.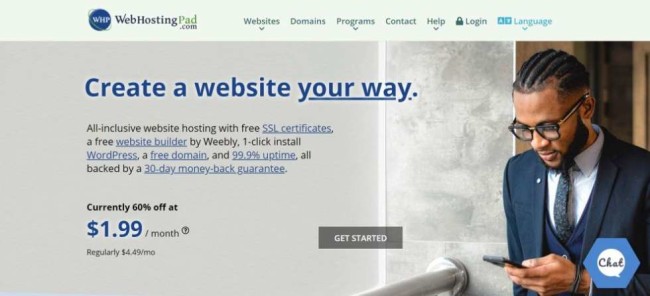 WebHostingPad is an all-in-one hosting solution for both individuals and businesses. It offers unlimited website hosting services, domain registration and management, email hosting, a website builder and various other tools to help you establish a strong online presence.
There are two hosting plans – Power Plan and Power Plan Plus – which include a free domain name, free SSL encryption, a free website builder powered by Weebly, a free one-click install of WordPress sites, unlimited websites, parked domains and emails, optimized high-power servers and automated backups.
Integrates with: WordPress, Softaculous Apps, Weebly, Joomla, and Drupal, with support of languages like Perl, Python, and Ruby on Rails.
Price: The Power Plan starts at $1.99/month; Power Plan Plus starts at $2.99/month.
Namecheap is a domain registrar with a domain name generator for new domains and a quick domain transfer for existing ones that owners want to move from another provider. It also offers shared hosting, dedicated servers, and premium DNS, as well as a website builder, email support, logo maker, business card maker, ID validation, SSL certificates, various migration tools, and 24/7 support via chat.
Apart from selling products and services, Namecheap is an organization that believes in privacy, security, freedom and equal treatment for all internet users. Since 2011, Namecheap has donated a total of more than $390,000 to the Electronic Frontier Foundation, in support of internet rights and freedom.
Based on the opinion of more than 1.8 million customers from Shopper Approved, Namecheap is one of the top-rated providers with an overall rate of 4.7/5.
Integrates with: WordPress
Price: Starts at $1/month and offers plans for online beginners, small businesses, and larger organizations
ServerMX is an email hosting service that uses data centers with high standards of reliability, located in the Netherlands, France, and Canada. It provides email hosting with POP/IMAP and SMTP server protocol, with highly efficient spam protection. The email packages with unlimited custom domain names enable customers to use multiple domain names.
For contacts and calendars, ServerMX uses CalDAV and CardDAV support. ServerMX is compliant with the EU's General Data Protection Regulation (GDPR), and it uses open-source software such as Debian and OpenCMS for content management, Exim and Dovecot for email systems, and Spamassassin and ClamAV for antispam and antivirus.
Integrates with: Dropbox
Price: The SMX Alpha 2 plan costs €1/month; SMX Alpha 5 costs €1.5/month; and SMX Alpha 50 costs €4/month
Eco Web Hosting is a UK-based hosting provider that offers reliable, customizable, and scalable eco-friendly hosting solutions, including shared, managed, VPS, and reseller hosting. It also offers domain names with a transparent pricing policy.
Eco Web Hosting plans include super-fast SSD, 10GB mailboxes, SSL encryption, unlimited bandwidth, global CDN, 1TB per second DDoS protection, autoscaling cloud platform, snapshot backups, 45-day money-back guarantee, one-click WordPress installs, and more.
Knowing the importance of reducing carbon emissions, Eco Web Hosting plants trees each month, all over the world, for every hosting package and server sold. So far, they've offset nearly 1,000 tons of carbon — the equivalent of more than 2.5 square kilometers of sea ice saved.
Integrates with: WordPress, Joomla, Drupal, and more
Price: Hosting plans start at £3.49/month; domains start at £7.49/year
A2 Hosting offers high-speed and high-performance shared hosting, VPS and WordPress hosting, as well as reseller hosting, which provides fully white-labeled individual hosting accounts.
A2 Hosting's turbo servers load websites up to 20 times faster than competing solutions. Some of the features include AMD EPYC servers that provide 40% faster CPU performance, NVMe Drives with three times faster read/write speeds, and LiteSpeed web servers 11 times faster than Apache.
Besides fast servers, A2 Hosting offers unlimited storage and bandwidth, built-in server-side caching, 24/7 support, staging areas and plugins for WordPress and Magento, as well as other CMS. You can also choose the location of your server between the East and West Coast in the US, Europe, and Asia.
Having faster websites can directly improve your website performance and, eventually, positively affect SEO, lower your bounce rates and improve conversion rates. Plus, you can also register top-level domains with A2 Hosting to complete your online presence.
Integrates with: WordPress, Drupal, Joomla, WooCommerce, OpenCart, Magento, PHP, and more
Price: Hosting plans start at $2.99/month
Interested in the difference between Laravel and WordPress?
Learn here!
EthicalHost is a Toronto-based hosting provider dedicated to providing green services with 100% of its operations powered by renewable energy and carbon offsets. This provider offers several web hosting plans, domain registration, website builder, SEO tools, and free SSL certificates. Plus, it provides a strict firewall for ModSecurity, automatic off-site backups, and WordPress website maintenance.
Whichever plan you choose, you'll get a 60-day guarantee, daily backups, robust cPanel features, email hosting with versatile features and Canada-based technical support.
Integrates with: WordPress, MySQL, MariaDB, MongoDB, PERL, Cron, and more
Price: Domains start at $18 CAD per year, and hosting plans start at $50 CAD per year
Rebel is a Canadian web hosting company and domain registrar. It's an all-in-one platform that provides web developers, entrepreneurs, and businesses with tools and resources to build their online presence.
Rebel offers web hosting and web design services, domain registration, website builders, free website migration, free SSL certification, a 99.9% uptime guarantee, pre-scheduled backups, 24/7 expert customer support, as well as email, SEO, and security tools.
You can choose between shared hosting, managed WordPress, and VPS hosting. With Rebel, you can also build your website using the Weebly-based site builder or get a dedicated team of managers, designers, and SEO specialists to build the website for you.
Plus, there's the Rebel ChangeMaker program that supports non-profits and social entrepreneurs with access to reduced rates and a range of free products.
Integrates with: WordPress, Drupal, Joomla, and more
Price: Domains start at $3.99/year; hosting plans start at $1.5/month
Bluehost is a renowned hosting provider that offers speed, reliability, automated security updates, backup data protection, cPanel-based area, 24/7 US-based technical support and versatile packages for WordPress, shared, cloud, and dedicated hosting.
As an all-in-one website platform, Bluehost also offers domains, a Weebly-based website builder, access to free and premium website templates in the Marketplace, custom design options, marketing services, built-in SEO tools, web analytics, and more.
All hosting plans include domain management, resource protection (on a shared server), SSL certificates, Google Ads credit, and a Google My Business listing.
Integrates with: WordPress, WooCommerce, PayPal, Elementor, Instagram, and more
Price: Plans start at $2.75/month
Hetzner is a Germany-based hosting provider that offers managed, dedicated, and cloud hosting with security management systems, data privacy, and state-of-the-art supporting technologies. Plus, Hetzner's technicians offer expert support 24/7 via email and phone.
Hetzner Cloud provides the best value for money since it doesn't require a minimum contract period. It's suitable for entrepreneurs, SaaS companies, and any other business whether it's an individual application, distributed system, or a dynamic cluster. You can also search for a domain name directly from Hetzner.
If you run a larger organization and need a dedicated server, Hetzner offers various server configurations for dedicated hosting with up to 10 integrated storage drives, scalable RAM, and high-capacity processors.
Integrates with: WordPress
Price: Plans start at €1.60/month
Squarespace is essentially a website builder with a built-in CMS, but this all-in-one platform also offers Squarespace Domains as a domain registrar and hosting service. You can buy a new domain name or migrate an existing one to the Squarespace platform.
Along with every domain you purchase comes a free SSL certificate, WHOIS privacy, domain renewal at the same price, a spam-free parking page, and easy DNS management.
Note: Squarespace is a domain provider, while the domain registrar is a Canadian company Tucows.
Integrates with: Google Workspace (formerly G Suite), FreshBooks, Xero, Printful, QuickBooks, AfterShip, Delighted, Shopping Feed, and more
Price: Domains start at $20/year and website plans start at $12/month, paid annually
With Google Domains, you get to choose between 300 domain extensions for your new domain or you can transfer an existing domain from a third-party provider. Google Domains offers speed and security using DNS servers that run on Google infrastructure, as well as email service, two-step verification, domain and subdomain forwarding, WHOIS privacy, and 24/7 customer support.
Advanced features include domain sharing, multi-domain registration, access to tools like Dynamic DNS, Google Synthetic Records, TTL configuration, one-click DNSSEC domain protection, and free privacy protection.
Integrates with: Google Workspace, Google Websites, Google Search Console, Google Ads, Google My Business, Weebly, Squarespace, Bluehost, and more
Price: Domains start at $9/year
DreamHost is one of the oldest hosting providers on the market. It offers shared hosting, VPS, cloud and dedicated hosting with in-house support, guaranteed server uptime, one-click installs, and an easy-to-use control panel.
There are also several WordPress hosting options, including WordPress Basic with essential options, DreamPress with staging, caching, and backups, as well as WooCommerce Hosting designed for a WordPress-powered online store.
DreamHost is a website builder, email hosting provider, and domain registrar as well, offering not only standard TLDs but also new domain extensions like .info, .media, .tech, .io, and more. With every domain you purchase, you get free privacy protection.
Integrates with: WordPress, WooCommerce, and more
Price: Plans start at $2.59/month
TrueName offers more than 240 new descriptive domain extensions that can help you clearly express what you do and what your business is about. For example:
If you own a marketing company, you can use .media or .agency extensions
If you work in the health industry, you can use .dentist or .healthcare domains
For live streaming, you can use .live or .video domains
Businesses focused on teaching or training can use .expert, .guru, or .coach extensions
These descriptive domains have an SEO benefit as well. They can send a strong signal to search engines and help you rank higher in the search results. TrueName domains are available at most registrars and specifically labeled at many, including Name.com.
Every TrueName domain comes with an added layer of security that can help protect you from phishing attacks. The technology blocks imposters by preventing registrations that spoof a domain name, so you can rest assured knowing your brand identity is secure.
Integrates with: Name.com integrates with WordPress and Google Workspace
Price: TrueName domains at Name.com start at $3.99
Gigas is a specialized cloud hosting group with offices in Spain, Portugal, Ireland, Colombia, Chile, Mexico, and Peru, serving more than 4,000 businesses of all sizes. It offers two main solutions – Cloud Datacenter and Cloud VPS. Additionally, there are virtual desktops, recovery solutions, managed cloud for SAP, and cloud servers for Oracle.
Cloud Datacenter is a flexible solution that replicates elements of a physical data center into the virtual world managed from a real-time web control panel. As add-ons to Datacenter, Gigas offers an advanced firewall as a perimeter security solution, load balancers to ensure speed, availability, and security for the apps and networks, as well as VPN encrypted connection.
With an advanced cloud hosting platform, enterprise-grade service available locally, 24/7 technical support in Spanish and English, cost transparency, and customizable solutions, Gigas has been recognized as one of the leading infrastructure-as-a-service (IaaS) companies on the Iberian Peninsula and in Latin America.
Integrates with: SAP, Oracle, and more
Price: Cloud VPS starts at 15.8€/month and Cloud Datacenter starts at 129€
Domain.com provides business owners and hobbyists with domain names, powerful and reliable hosting services, as well as a website builder. You can simply answer a few questions and wait for the AI-powered website builder to select the right layout for your web pages, including images and initial content. Or, you can engage their experts to build your business website and give you insightful marketing advice along the way.
Domain.com offers hosting plans that can suit anyone from beginners to WordPress admins to system admin professionals. All of the hosting plans boast 99.9% uptime, and they're scalable to match every need. WordPress hosting plans come with curated selections of mobile-friendly themes, pre-installed plugins for optimal functionality, a user-friendly control panel, and more.
Domain.com can also help you easily integrate your website with cloud-based tools like Microsoft 365 and Google Workspace, both of which offer custom email addresses to match your domain name and build your brand.
Integrates with: WordPress, Microsoft 365, Google Workspace, SiteLock, Comodo, Constant Contact
Price: Hosting plans start at $3.75/month; domains start at $9.99
Cloudways is a managed cloud hosting platform for agencies and digital businesses with distributed teams that emphasizes performance and speed. To choose a server that fits your needs, you can decide between five top-of-the-line IaaS providers – Amazon Web Services, Google Compute Engine, DigitalOcean, Linode, and Vultr.
Cloudways supports WordPress, WooCommerce, Magento, Laravel, Symfony, and other PHP-based applications. You can even deploy emerging PHP CMS and frameworks without worrying about compatibility or performance.
The Teams feature grants you precise control over server access and management privileges you can allocate to individual team members. Other features include automated backups, staging sites, ironclad security and resource monitoring from within the platform.
Besides that, Cloudways is about to launch its Agency Partnership Program with a set of benefits and additional support specifically designed for agencies.
Integrates with: WordPress, Magento, WooCommerce, Joomla, Drupal
Price: Hosting plans start at $10/month with a pay-as-you-go billing model
With over 25 years of experience and over 15,000 companies served, Atlantic.Net is one of the industry leaders. It offers an array of hosting services, including cloud, VPS, dedicated, colocation, private virtualization, and managed host.
Its highly developed infrastructure with seven international data-center facilities, a secure cloud platform, and services compliant with GDPR, PCI, HIIPA, and other regulations, has been recognized by the American Business Awards. Atlantic.Net has also been named as one of the Inc. 500 companies for three years.
This hosting provider offers customized solutions to fit your business goals, along with 24/7 security, support and monitoring to ensure the availability and safety of your data.
Integrates with: Windows, Linux, WordPress, and more
Price: VPS plans are available with a 1-year free cloud hosting, starting at $8/month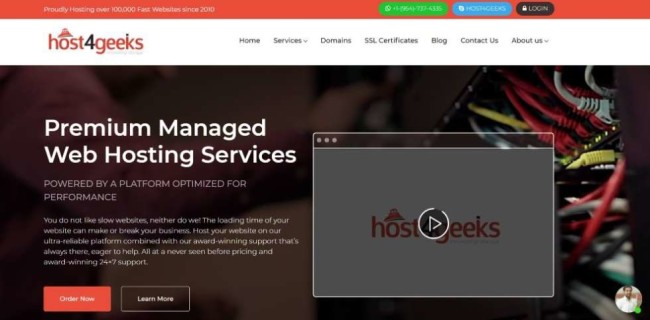 Host4Geeks is a hosting provider with a decade of experience serving more than 10,000 businesses in the US, UK, and India. It offers premium web hosting services, including shared, dedicated, semi-dedicated and managed hosting, as well as unmanaged Linux VPS, reseller hosting, application hosting, WordPress, and Odoo hosting.
With Host4Geeks, you'll get a fast high-performance cPanel, LiteSpeed web server, super-fast SSDs, free SSL certificate, free malware scans, free backups and restores, 24/7 monitoring and security, free DDoS protection, free migrations, and personalized onboarding.
Host4Geeks has four global data centers and offers a 99.9% uptime guarantee with its reliable platform. You'll also get live chat support and 24/7 expert support with an average 40-minute response time.
Integrates with: WordPress, Linux, Odoo
Price: Hosting plans start at $2.49/month
Dade2 is a specialized cloud hosting group with locations in Iceland, Spain, Miami, and Germany serving more than 5,000 businesses of all sizes. It stands out in the hosting industry by providing only premium ALL-FLASH systems (for the backup infrastructure, as well) at standard prices.
You can choose between unmanaged and fully managed clouds. Additionally, Dade2 provides virtual desktops, DRS solutions, managed cloud for Oracle, SAP, and free on-site assessments across Europe.
Along with an advanced cloud control panel, free migration, and enterprise-grade service, Dade2 offers 24/7 support in English and Spanish provided by a team of skilled engineers with decades of experience in web hosting and application architecture.
Dade2 has been recognized as one of the leading IaaS companies, having many of the LATAM Fortune 500 companies in their client's portfolio.
Integrates with: Oracle, SAP, and more
Price: Public Cloud starts at £12.5/month; Private Cloud starts at £500
InterNetX is an award-winning provider of professional domain products and hosting solutions based in Regensburg, Germany. The company specializes in delivering a wide array of clouds and servers, top-level domains and SSL certificates to their clients. InterNetX's domain library contains over 1,000 domain extensions while every purchased domain comes with an SSL certificate free of charge.
Secure and high-performance clouds and servers come with an intuitive server management suite, expert consulting service, and quick and reliable customer support. The sturdiness of their branded hardware, supplied by the likes of Dell, Intel, and Citrix, ensures seamless server functioning.
Likewise, leading providers deliver SSL certificates of various security levels and areas of application. The brand also supplies a professional SSL management tool for convenient implementation, exchange, and renewal of certificates.

Integrates with: AutoDNS, XML API, and more.

Price: Domains: on request; Servers: from €9.90/month; SSL certificates: on request
Interested in how to optimize your website for online conversions?
Find out here!
The Different Types of Hosting Services
Depending on your business size and the website purpose, you can choose between the following hosting types:
Shared hosting:

Shared hosting is when one server is shared between several businesses. This is the most popular hosting type that most companies need. Shared hosting might be a good choice if you don't expect to have a large amount of website traffic and don't need customized server setups.

Virtual Private Server (VPS):

This is when the hosting providers divide a server into sub-servers for individual use. If you choose this option, you'll have cloud-based storage and won't share the server with anyone, allowing you to configure it according to your needs.

Dedicated hosting:

When an entire server exclusively hosts your website, you use dedicated hosting. This is typically the most expensive package, and you should consider this option if you have hundreds of thousands of website visitors per month.

Managed hosting:

This is a service in which the hosting provider takes care of all technical aspects of managing and maintaining the server, including security, software updates, backups, and performance optimization. Customers can focus on their websites without worrying about the underlying infrastructure.

Cloud hosting:

This option includes a cloud-based network of interconnected servers. Instead of being hosted on one server, your website will be hosted on several servers simultaneously. If you're unsure about the amount of traffic to expect or think there might be occasional traffic peaks to your website,

cloud hosting providers

might be the best solution.

Email hosting:

A service that provides email accounts with a custom domain name, so businesses can have a professional and personalized email address instead of using a popular generic email such as Gmail or Yahoo.

Email hosting providers

typically manage the email server and security issues.

WordPress hosting:

This shared hosting option is designed to host websites built with WordPress. Besides the standard hosting service, this type of hosting usually includes additional features for WordPress sites.
When you choose a hosting provider for your website, remember that it can significantly impact your page loading speed. The faster your hosting server is, the better your chances are to rank higher in search engine results and provide a better user experience for customers.
The Difference Between Registrars and Web Hosts
In theory, there's a clear difference between registrars and web hosts. Domain registrars enable you to purchase and register a website domain name, while hosting services provide storage for your website on a server. In practice, there's a thin line between registrars and hosts simply because many registrars also offer hosting services and vice versa.
Choosing the right service for your business will depend on your website type, estimated traffic and opportunities for scaling. Think of it like choosing the right kind of IT service agency for your needs.
If you are an experienced web developer or a system administrator, you know exactly what you need for your project. But if you are not a web technology expert and don't know how to choose a service that will meet your requirements, our list of the best hosting providers will help you decide.
How To Choose a Hosting Provider for Your Website
Choosing a hosting provider is an important decision that can impact your website's performance, security, speed, and reliability.
Here are some factors to consider when deciding who will host your website:
The type of hosting you need.

Consider the type of hosting that best suits your website's needs. Shared hosting is a cost-effective option for small websites with low traffic, while dedicated hosting provides more resources and control for high-traffic websites.

Uptime and reliability.

Look for a hosting provider with a high uptime guarantee, preferably 99.9% or higher. You should also research the provider's track record for reliability, including any downtime or frequency of service interruptions in the past.

Security.

Choose a hosting provider with robust security features, including firewalls, malware detection, and data backups. SSL certificate, which can protect your website and visitors' data from security breaches, is a must-have in 2023.

Scalability.

If you're just starting, your requirements are modest, but if you aim to expand your business (and your website), consider whether the hosting provider can accommodate your website's future growth and scalability needs. Look for providers that offer flexible plans and upgrades to accommodate increased traffic and resources.

Price and value.

While the price shouldn't be a deciding factor when choosing a hosting provider, you should compare the pricing plans of different companies to find the best value for your budget. Be sure to factor in additional costs, such as domain registration and add-on services.

Reputation.

Research the hosting provider's reputation and customer reviews to gain insight into their service's overall quality and reliability. Look for providers with a positive track record and satisfied customers.

Technical support.

You never know when you will experience problems with your website. Make sure to look for providers that offer 24/7 tech support through multiple channels, such as phone, email, and live chat.
Considering all of these factors, you'll make a data-driven decision and choose a hosting provider that meets your website's needs and provides a reliable and secure solution for your business website.
If you are in the middle of a software development process or you already own a domain and want to migrate your website to another hosting provider, keep these tips in mind:
Choose a provider with reliable technical support

Look for a credible provider that offers versatile hosting plans

Match the hosting plan to your business goals and website needs

Make sure your chosen provider can level up your existing plan if needed
Signs You Need to Update Your Hosting Plan
Hosting plays a significant role in your site's performance, speed, and security. If you're experiencing issues with any of these areas, it may be time to upgrade your hosting plan.
Here are some of the most obvious signs you need to find a new hosting provider:
1. Slow Performance
A slow website can frustrate users and negatively impact your search engine rankings. Visitors tend to leave slow-loading websites and go for another more responsive site. If your website takes more than two seconds to load, it may be time to upgrade your hosting plan. A hosting plan with more resources, such as a VPS or dedicated server, can improve your site's performance and speed.
2. Frequent Downtime
A reliable hosting plan ensures your website is always available to visitors. When your website is unavailable to visitors, you're facing downtime. If your site experiences too much of it, that's a sign that your current hosting plan can't handle the traffic or resources you're using. Look for a hosting plan with a higher uptime guarantee, such as 99.9% or higher.
3. Security Issues
If you're worried about the security of your website, upgrading to a non-shared hosting plan can provide advanced security features. Hosting plans with additional security measures, such as dedicated firewalls and SSL certificates, that protect from malware and hacking attempts will increase your website's and its visitors' security and privacy.
4. Poor User Experience
Slow loading speed, frequent downtimes and security issues are tightly bonded to poor user experience (UX). If your site's performance negatively affects UX (you'll notice a high bounce rate and low time on site metrics), it's time to upgrade your hosting plan. Upgrading to a better hosting plan (or entirely changing one) can improve your site's speed, reliability, and security, providing a better UX for your visitors.
5. Limited Space and Resources
Good hosting service includes scalability. As your website grows, it may need more space and resources than your current hosting plan provides. If you're running out of space or your site is slowing down due to a lack of resources, it's time to upgrade your hosting plan. A more advanced plan can provide more storage, memory, and processing power to handle your website's growing demands.
Hosting Providers & Domain Registrars: Conclusion
Choosing a hosting provider and a hosting plan for your website takes work, but if you carefully think it through and check the available options, you should be able to find the best fit for your needs. Before making the final decision, evaluate available options and opt for a provider whose service is fast, secure, reliable and scalable. And don't forget to incorporate future growth into your hosting equation to choose the right solution.
Hosting Providers FAQs
1. Do I need a hosting provider?
In the same way, if you rent an apartment when you need a place to live, you'll need a hosting provider who rents out online space where your website can live. Choose the type of hosting server depending on your website's unique requirements; once you do, your website can go live and become visible to internet users.
2. How much should you pay for hosting?
The hosting price depends on the hosting provider and the type of service you opt for:
Shared hosting costs between $5 and $20 per month.

Virtual private server (VPS) hosting costs between $20 to $40 per month.

Cloud web hosting costs start at $50 per month.

Email hosting costs between $1 and $15 per month.
Another factor that affects hosting price is the monthly vs. annual pricing plans. Hosting providers often offer discounts for yearly payments.
We'll find qualified IT services agencies for your project, for free.
GET STARTED
Subscribe to Spotlight Newsletter
Subscribe to our newsletter to get the latest industry news