What Makes Web Development Agencies in Vancouver Unique? 
Web development in Vancouver is a part of the growing business market that supports significant industries and prioritizes help for local events and independent businesses. 
Vancouver's thriving economy is listed as one of the world's most livable cities. The business structure of Vancouver is equally enjoyable while practicing sustainability and ethical purchasing policies. 
They are also contributing to economic development that leads to: 
Inclusiveness 
Zero-carbon 
Resilient structure 
Position on the global market 
Developing a quality market and fertile ground for the future is done by continuous research and development of leading-edge industries. 
Strengthening the economic future is focused on several points, from the public sector and academic organizations to the climate emergency. 
As these industries are closely connected to digital fields of work, website development in Vancouver has a solid basis for a high-quality workforce.  
This is a business environment in which a web development agency in Vancouver can prosper and excel by being surrounded and supported by the knowledge and experience of others in the industry. 
According to the government data, there are more than 78,00 businesses in the city of Vancouver: 
54% of self-employed individuals 
46% are businesses with one or more employees 
98% of companies in Vancouver are small businesses (with less than 50 employees) 
This attracts targeted investments and grows business expansion inquiries. The tech industry in British Columbia employs over 100,000 professionals, and about 75,000 are working in the Greater Vancouver Area. 
About 10,000 tech companies in British Columbia are generating more than $15 billion in GDP and $23 billion in revenue. 
The local sector is growing at an average of 6% annually, and it includes: 
Software as a Service (SaaS) 
Social Media 
Business Intelligence 
Security 
Fintech 
E-commerce 
Web Technologies
British Columbia's economy is forecasted to expand by 4.0% in 2022 and 2.5% in 2023. 
Real business investment is projected to grow over the 2023 to 2026 period from 1.1% and 3.0% annually.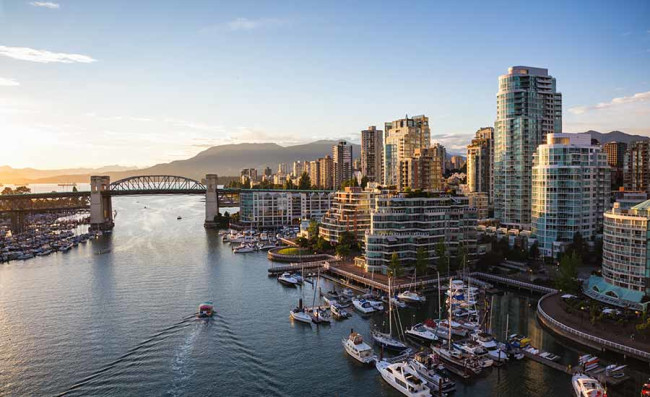 What Does a Vancouver Web Developer Specialize in? 
Vancouver is one of the fastest-growing low-carbon economies in North America, with recent economic growth in a few key sectors: 
Construction 
Technology 
Digital Entertainment 
Green Economy 
To become an expert, one should earn an associate's degree or a professional certificate demonstrating skills. Many have undergraduate degrees in computer science or programming. 
It is good to know that a web development agency in Vancouver that can utilize all the features for your project should have the following team members: 
Project Manager 
Backend Developer 
Frontend Developer 
Markup Developer 
QA Tester 
DevOps 
When it comes to specialization, Vancouver web developers can focus knowledge in several different fields. They have a wide talent pool for: 
HTML5 & CSS3 
Gulp 
PHP 
Git & GitHub 
In addition, they must have knowledge in the tech field and skills in several categories, such as: 
Website Hosting 
Domain 
SSL 
3rd Party Integrations 
Infrastructure Costs 
Cloud Maintenance 
Storage Costs 
Servers 
Why Hire a Website Development Company in Vancouver? 
Reason #1: Future-Proof Strategy  
Vancouver is a forward-looking and sustainable city with a Green Economy which is growing in a fast-paced way: 
Green Building Design 
Clean Technology, Alternative Energy 
Green Building Products and Infrastructure 
Sustainability Services 
Environmental Consulting 
Materials Management and Recycling 
The city's plan calls for doubling the number of businesses greening their operations.  
These goals are an excellent way to create a more stable environment for a web development agency in Vancouver because it provides clean solutions and sustainable management.  
Reason #2: Tech Job Growth 
Vancouver's tech sector is dynamic and multi-faceted, rapidly evolving while drawing global attention, such as increased investment and top talents from around the world.  
Companies of different sizes are choosing Vancouver as a place to develop technology businesses. Web development in Vancouver gets a kick-start by being surrounded by top-notch global companies. 
Some of those tech companies include: 
Microsoft 
Amazon 
Apple 
Facebook 
Cisco Systems 
Samsung 
SAP 
Intel 
Salesforce 
Eventbrite 
Absolute Software 
ACL Service 
TELUS 
Hootsuite 
Dwave 
1Qbit 
Slack 
Reason #3: Top-Notch Education 
The city has one of the world's most developed education systems, allowing Vancouver web developers to learn different skills in a highly motivational environment.  
Some of the institutions which prepare your future business partner for their field of expertise are: 
University of British Columbia (UBC) 
Simon Fraser University (SFU) 
Emily Carr University of Art + Design (ECU) 
Kwantlen Polytechnic University (KPU) 
British Columbia Institute of Technology (BCIT) 
Northeastern University (NU) 
Vancouver Community College (VCC) 
Langara College 
Furthermore, Vancouver has several developers' boot camps that offer specific technical and design skills essential for the demands of the fast-growing tech industry. Some of these boot camps are: 
Lighthouse Labs 
BrainStation 
CodeCore Bootcamp 
RED Academy  
In addition, a budget promised more than $67 million invested in skills development and job training. This includes a comprehensive workforce readiness plan to fill one million job openings by 2031. 
How Much Does a Web Development Agency in Vancouver Charge for Their Services?
Website development is often an individual project, and its cost depends on factors such as: 
Type of website 
Structure 
Size 
Design of your product 
Moreover, the cost of similar products can vary greatly depending on Vancouver's web development agency.  
The due process can range from$1000 to $300,000. 
Inside this price range, there are a couple of web development levels: 
Constructor-based web can cost up to $1000 
A basic site between $10,000 to $20,000 
An average site that has more features can be between $40,000 to $100,000 
A complex site with savvy technological elements can cost more than $150,000 
How to Find the Right Vancouver Web Developer for Your Business? 
Finding a perfect-fitting website development in Vancouver means collaborating with a firm that can understand your needs and communicate with you openly. 
So, follow these next steps to make the whole process easier for you: 
Step #1: Evaluate Your Needs 
Set clear and concise goals to help you understand what you need from a Vancouver web developer. You can request a proposal to determine what features you want for your website. This is useful for communicating your aims with potential business partners. 
Step #2: Determine the Compatibility 
When you hire a web development agency in Vancouver, you are picking a partner who will create a basis for the long-term development of your business practices. Quality and efficacy are important considerations, but also learn about their values, work ethics, and how they treat their team. 
Step #3: Define the Level of Support 
With website support, you will most likely need updates to your site regularly. It is common to realize before launching that a feature was left unconsidered. 
A firm that provides web development services in Vancouver also offers ongoing support. Ask about the level of support, turnaround time, and which members do this task. 
Step #4: Understand the Cost 
Development teams often price their skills according to the time frame and complexity of the project they are working on. Pricing can run from a fixed fee to an hourly rate. Beyond the initial cost, there are possible ongoing charges for support or additional fees for security setup, hosting, or similar. 
15 Questions to Ask When Interviewing a Web Development Agency in Vancouver 
What are your core values, and how do you express them? 
Why should our company collaborate with you rather than your competitors? 
Could you describe your latest project related to or close to our industry? 
How do you keep the security of projects and websites you work on? 
Could you name three important things in the website's design? 
Where do you host your websites? 
What steps are you planning to take before starting the development process? 
Is my website ADA (Americans with Disabilities Act) accessible? 
Do you offer any training or support when the site is launched? 
Have you had experience in building an eCommerce site? 
Do you implement SEO best practices when building the site? 
Are your web designs mobile-friendly? 
Do you build websites from scratch or use templates? 
What content management system are you using? 
Can you share your portfolio with us? 
Takeaways on Web Development Agencies in Vancouver 
Collaborating with a suitable partner who will develop your project's web properly is a long process where you should consider several steps: 
Read their case studies 
Ask about the budget 
Discuss the time frame and deadline 
Talk about task management 
When finding a firm that is skillful in web development in Vancouver, filter the agencies by their size, hourly rate, and verified reviews. 
Good luck!
…