To meet the huge online demand, US companies have spent $121 billion on internet advertising in 2021, which is approximately a 60% increase compared to 2016.
It is important to know how to choose a digital marketing agency because digital marketing as a strategy both boosts brand awareness and helps businesses acquire new customers.
It is effective because it has a global reach, measurable results, a high level of personalization and costs less than traditional marketing.

In this article, we will define a step-by-step process of how to choose an online digital marketing agency and learn how to:
Make a distinction between a digital agency and digital marketing agency

Identify what and channels are right for you

Consider the benefits of hiring an agency before doing the work in-house

How to shortlist digital marketing agency candidates

How to interview the agencies and asses which one is your ideal partner
What Is A Digital Agency?
Digital marketing agencies are often mistaken for digital agencies and vice versa, which is understandable because both offer services aimed at improving a business's digital presence and profitability.
In fact, almost all digital agencies have strong digital marketing departments and offer specialized online marketing services in addition to tech development.
The services these agencies provide include:
Development of brand identity

Graphic design

Advertising

Video production

Website design

Mobile optimization

App development
Digital agencies mainly focus on creating unique digital strategies that help brands compete with other businesses in their niche.
What Is A Digital Marketing Agency?
Digital marketing agencies are teams of specialists that use digital channels to promote their client's business, growing their brand awareness, generating more leads and revenue.

Digital marketing agencies usually offer some or all of these services:
Search Engine Optimization

PPC marketing

Content marketing

Social media marketing

Email marketing

Affiliate marketing

Online PR
They perform market and competitor, profile target audiences, general trends and changes in digital marketing.
The strategy a digital marketing agency in India develops may include establishing which marketing channels to invest in, what kind of voice and messaging to use on each, which keywords to use in content or what types of ads to run online.
The end goal of their efforts is to attract ideal customers and improve business' online presence.
How To Identify The Digital Marketing Services Your Business Requires?
Understanding exactly what digital marketing services your business needs is the first great step towards narrowing down your digital marketing agency options.

But how to identify the right digital marketing channels for your business?
The answer to this depends largely on the type of business you have and the kind of customers you have.
Assess your needs:

Identify what it is that you want to achieve with digital marketing. This will define the role a digital marketing agency you choose will play in helping you get there.

Know your audience: Make sure you know your target audience and buyer persona inside out. Digital marketing experts can help with this, but you yourself should strive to find out valuable info such as:

Which online channels do they use the most?

What kind of content do they like the most?

What activities do they engage in?

What are their interests?

What are their pain points?

Define your primary goals

: What does your business lack and what should a prospective digital marketing strategy help improve? Is it your website traffic? Do you need to generate more leads? Each of these goals has a corresponding digital marketing service that works in its favor:

Raising brand awareness and expert positioning within a niche: channels that work the best for this are social media marketing, influencer marketing and engaging content such as eBooks and whitepapers.
Generating sales:

display ads and PPC

Lead generation:

SEO, PPC, content-based lead funnel, email marketing

Getting more traffic:

SEO and content marketing

Educating prospective customers:

press releases, content marketing such as eBooks, webinars and blogging

Understand the cost involved:

Digital marketing agencies have their pricing plans defined in advance and can create a custom pricing if services you require demand a lot of personalization and mixing different tactics. Knowing the cost beforehand will help you budget your marketing expenses and establish what services you should require and can afford.
It is likely that not all digital marketing strategies will work for your business. You need to perform a carefully planned set of actions that will enable you to learn, test and measure the results and performance of the digital marketing tool or tools that you have in mind.

Once you understand your objective - redefining your brand, getting more leads, increasing the number of your website visitors or something else entirely - you are ready to proactively search for the right digital marketing agency for you.
Should You Hire A Digital Marketing Agency Or Handle The Work In-House?
Smaller and mid-sized businesses may feel compelled to conduct their digital marketing efforts in-house.
If you are a decision-maker unsure whether to go down this route or hire a digital marketing agency, there are some things you should consider.
How well do you understand your customers and their behavior?

Every target audience can be segmented into groups and subgroups according to their profiles. Creating a buyer persona - an archetypal image of your average customer - is very important to truly understand your customers and their problems. Only then will you be able to market your services and products in a voice that is not generic and uninformed.

Are you prepared to tackle all tasks and document processes yourself?

Digital marketing requires a great deal of project management: keeping track of documentation and workflows, following a structure of when to create and post blog articles and Facebook posts, when to run a PR campaign or paid ads and so on.

Do you have the necessary tools and know how to use them?

Digital marketing also requires specific marketing, metrics and communication tools, such as Google Analytics, Ahrefs, MailChimp, Drip and Slack which help accomplish goals more effectively.

Do you have the patience and consistency to do it alone?

In digital marketing, truly noticeable results may come only after months of continued efforts. It is not easy to maintain consistency over such a prolonged period and not fall into a trap of changing direction impulsively.

Can you provide top-quality work?

Content marketing experts write the best blog posts. Video marketers create videos that convert with the highest rate. Can your team write quality, relevant content that answers your audience's needs? Can you provide something of value to your customers or do you think it's best left in the hands of professionals?
Hiring an agency can help you avoid the cost of getting yourself and your team up to speed on all the digital strategies as well as avoid getting sidetracked from other important things you have to do in business (like closing deals or getting investors).
By hiring a full-service digital agency, you get a team of specialists who work on the campaigns and channels which are most effective for your business.
They'll do everything from strategy to implementation to optimization. Some agencies also provide consulting services where you get a 'marketing roadmap' which you can implement yourself.
Starting Your Digital Marketing Agency Research: Where To Look And How To Shortlist Candidates?
When beginning your search for a digital marketing agency partner, it is important to know where to look for prospective partners in the first place. Some of the go-to places for this are:
Agency directories

that contain specialists in this segment

Search engines such as Google, by typing in keywords that will list you websites of digital marketing agencies

Third-party review websites, with client reviews, testimonials, ratings and impressions of digital marketing agencies

Round-up articles by authority websites in which they rank and list the best digital marketing agencies

Advice and recommendation from business partners, friends and knowledgable industry figures
Whatever your source of finding full-service digital marketing agencies, you will feel overwhelmed by the options presented to you. There are ways to, first, shortlist the candidates before deciding on the one.

To do this, follow these steps.
Research And Perform A "Scan Check" Of Every Digital Marketing Agency
When performing this task, consider these topics of interest and ask yourself these questions about the agencies you are looking into:
Does this agency's expertise align with my needs and goals?

Do they have an engaging website with marketing blog, latest trends and advice that can be of help to me and my business?

Do they make claims that can be verified or do they make overly bold promises regarding their performances, such as taking me directly to the number one Google search result no matter how competitive my niche is?

Is their pricing suspiciously lower than the competition?

Are they fully transparent with info such as client list, address, phone number, pricing range?
Check The List Of Their Clients
Looking into the agency's portfolio of works and list of clients is a must, but don't stop there: look for client references and ask whether the agency would connect you with a client that was satisfied with their work that can vouch for their services.
Use this step to see if the digital marketing company has any experience in your industry or vertical. It is advisable to create a shortlist of agencies that have worked with clients within your industry, as they surely have a better understanding of your market and business, as well as your target audience.
Check Their Digital Marketing Acumen And Whether They Practice What They Preach
The surest way to form an idea about whether a digital marketing agency can truly deliver their claims is by looking at what they have done for themselves.

If they are content marketing specialists, how do they run their blog?

If SEO is their expertise, do they rank highly on Google?

If they create and improve websites - do they themselves have a good, fast-loading website?

If they claim to be experts on social media marketing, what is their presence on Facebook, LinkedIn and other social networks like and how many followers do they have?
Asking these questions and then verifying them is a test of any agency's credibility.
Interviewing Shortlisted Digital Marketing Agencies: 10 Questions To Ask
Having identified several top prospective digital marketing agencies, it is time to set up an interview meeting with each.
During these interviews, you should ask relevant questions to gain more perspective on how they operate and handle their work.
The questions that will help you get more clarity on your potential partnership are:
Which digital marketing tactics and channels would you use for my business and why?

Have you worked with clients in my industry before and, if so, what were your results?

Do you have an up-to-date portfolio?

Which tools do you use to make digital marketing campaigns a reality and how do you make sure the project is on track?

Who will be our main point of contact in charge of our projects and how many hours will they dedicate to our campaigns daily?

Will we have meetings to discuss digital marketing strategies?

How will you measure results and ROI, how do you determine KPIs and how will you report on these?

How do you form the prices of your services?

How do you stay up to date with trends in our industry?

How would you research our market and our target audience?

What can you do to help us stand out against our competition?
Assessing The Candidates: How To Choose THE Digital Marketing Agency For Your Business
Once you have interviewed the shortlisted candidate agencies, you will have a much clearer picture of which agency should be your best fit.

In order to make sure you decide on the very best, make sure your digital marketing agency partner checks these boxes.
Can They Add Value To Your Business?
The digital marketing company you opt for should provide value to your business with services they provide - and this means they should provide valuable content to your prospective customers and leads.

The results they provide should be consistent with your brand's image and reputation, messaging, voice and values. Partnering with an agency that shares your values will produce high-quality campaigns that strengthen your brand image.
Can They Deliver Results - And Show How They Do It?
True digital marketing experts have a well-defined process of carrying out their tasks that is streamlined from start to finish. This makes it possible for them to conceive elaborate marketing strategies and schedule meetings, create drafts, set deadlines, provide deliverables and reports and desired results.
Does Their Portfolio Contain Evidence Of High Expertise In Your Niche?
Not only should your partners' portfolio contain works and case studies that provide evidence of their success - but preferably, they should have enough experience in your vertical.

They should always be ready to tell you why certain projects were successful or not, whether it all went according to plan or not, what were their main takeaways from any project and what missteps have they made along the way and how they plan avoiding them in the future.
Do They Put In Effort To Understand You And Your Mission?
Ideally, your business should collaborate with a team that listens and ask questions - and the one that truly invests time and energy in comprehending what your brand is and what it stands for.

Only through this will they be able to pull off a truly unique, customized marketing strategy. Your business and its situation are unique and it should be treated with a unique solution.
Do They Have Processes And Task Management All Laid Out?
A partner with concise, well-defined working processes is a partner that will not give you any headaches. If you can quickly establish who your point of contact is, who you will collaborate with on their team most closely and how soon will you see ROI - you're halfway towards getting a reliable, respectable team of professionals for your side.
Do They Report And Communicate Efficiently?
In order to understand the detailed view of the client's business, it is highly imperative for the marketing agency to maintain healthy communication with the organization. The plan may have occasional changes and it is highly imperative that the agency's representatives are effectively kept in the loop through effective communication. Better communication means expectations are clear, a workflow is optimized, and results are authoritative.
Top 5 Digital Marketing Agencies
Location: Florida
Website: https://evestar.com/
Expertise:
Conversion Rate Optimization (CRO)
Digital marketing campaigns
Paid social creative
Email automation
Branding
SEO
Everstar is an innovative digital marketing agency committed to providing personalized services uniquely tailored to each one of their clients. Its diverse team has years of experience in working with eCommerce and tech-enabled consumer businesses.
They work with both small and large businesses from around the globe. Their rigorous tactics are backed up by data so they always focus on metrics that matter.
Location: Florida
Website: https://www.ph3.us/
Expertise:
Web design and development
Social media marketing
Content marketing
Paid advertising
Email marketing
Branding
Ph3 is a strategic digital marketing agency that partners with growth-minded clients, from private communities to non-profits. They provide solutions for businesses across multiple industries including hospitality, sport and entertainment.
PH3 is more than just an advertising or branding company. It is a creative agency + brewery that loves to help companies thrive. However, they are not driven by beer but by "thinking before creating".
Location: California
Website: https://www.mycreativemark.com/
Expertise:
Web and graphic design
Reputation management
Social media marketing
Content marketing
Email marketing
Paid media
SEO
My Creative Mark is a full-service digital marketing agency that focuses on helping brands grow. They partner with small businesses and big enterprises while crafting customized solutions for each of their clients.
Their mission is to attract visitors, engage leads, and delight the customers of their clients. They have extensive experience in various sectors like real estate, healthcare, eCommerce and hospitality.
Location: California

Website: https://www.modgirlmarketing.com/
Expertise:
Digital marketing consulting
Social media marketing
Relationship building
Business branding
Content marketing
Paid advertising
Public relations
SEO
Mod Girl Marketing helps brands unlock new opportunities for growth. The creative agency works with purpose-driven companies to support them grab attention, create authority, and drive revenue.
From mission-based brands to C-Suite thought leaders and entrepreneurs, they are committed to driving measurable results.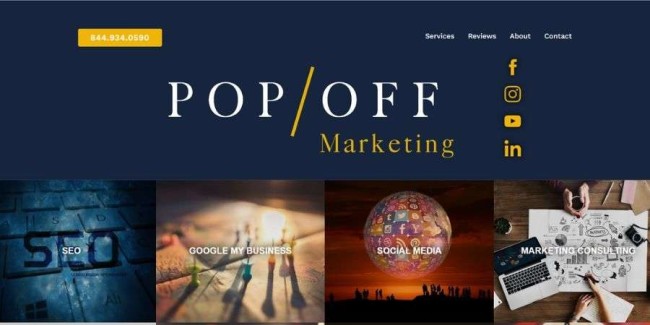 Location: Florida

Website: https://www.popoffmarketing.com/
Expertise:
Social media marketing
Marketing consulting
Paid advertising
Web design
SEO
PopOff Marketing specializes in delivering tailored solutions to grow their clients' businesses. From local startups to Fortune 500 companies, the innovative agency serves brands of different sizes. Their mission is to produce premium results on a consistent basis and drive higher ROI.
Takeaways
It's safe to conclude that, no matter the uniqueness of their expertise and levels of their experience, the very best digital marketing agencies exhibit these qualities:
Capacity to understand your business and adapt to your brand

A streamlined process carried out by qualified experts for each digital marketing channel

Industry experience and proven track record of bringing success to similar businesses

Collaborative nature of their team and top-notch communication abilities

A clear vision and roadmap for every campaign and the tendency to stay on course

Access to resources and tools that help them better manage and execute projects
Finally, it is most likely that, when a digital marketing agency you choose establishes a digital marketing campaign for your business, it will be a combination of several tactics and channels. You can hire market research companies to help with market analysis.

The digital marketing agency that is a right fit for you will be capable of identifying the weaknesses and strengths of every channel, based on your niche and business specifics.
Subscribe to Spotlight Newsletter
Subscribe to our newsletter to get the latest industry news