Magento is the most popular eCommerce platform in the world.
In fact, more than 25% of eCommerce stores around the world use Magento to power their digital destinations.
This makes sense considering Magento's plethora of features, such as customizable website functionalities, marketing campaign integration, and advertising tools.
At the epicenter of Magento's success is the newest version of its eCommerce platform: Magento 2.0.
Magento 1.0 vs. Magento 2.0
When Magento was first released in 2008, it quickly swept the market with its easy-to-use eCommerce stores and open-source framework.
Ten years later, the latest Magento upgrade is building upon their benefits with even better features.
Although Magento 1.0 is still very functional – and many businesses still utilize it! – the 2.0 version has several upgraded functions. These include:
Supporting new PHP versions for Apache, Varnish, Symfony and more.
Stronger cybersecurity measures.
Streamlined JavaScript that creates user-friendly operations.
Improved caching for evergreen web content.
Faster website speed and checkout process, which increases conversions.
Better integration and file structure for extensions and plugins.
Better testing for extensions and features.
An easy-to-use dashboard that is responsive.
Improved product management section for batch additions, configurable attributes, data, single-page interfaces and more.
Technical SEO optimization that is easier to achieve.
While the price of licensing Magento 2.0 is higher that Magento 1.0, the new features are proven to provide a strong return on investment. Plus, there are free versions available as well.
Top Ecommerce Companies
Do You Need To Upgrade Your Magento 1.0 Website?
The short answer is, yes.
"In 2015, Magento announced that support for Magento version 1.0 would end," says Mayank Agrawal, Chief Technology Officer at leading web design agency DotcomWeavers. "This was supposed to happen in 2018, but they pushed it back. They have not yet supplied a date for the official end of service but do plan to give 18 months' notice."
While the end of Magento 1.0 isn't near – it is coming. Therefore, the long-term professional support and maintenance that websites built on Magento 1.0 have will cease to exist very shortly.
Migrating over to the newest version of Magento is the best way to keep your website functional (and even add some new features in the process).
According to DotcomWeavers, migrating your existing website to Magento 2.0 can take quite a bit of time. You should expect:
At least 2 months for small websites
3 to 4 months for mid-size websites
6 months to 1 year for enterprise-level websites
This timeline doesn't even include the search for the right web development company to facilitate the transition, either.
Thus, we recommend you hunt for a reliable web development company – like DotcomWeavers – sooner rather than later. This will enable your business to plan for a Magento 2.0 migration without a pressing time crunch.
"You need to find the right developer for your business size, budget, technical needs, and schedule," says Amit Bhaiya, Co-Founder and CEO of DotcomWeavers. "Whether you're migrating from Magento 1 to 2 or launching a new Magento site, you want to work with a Magento enterprise developer. Magento has a strong community of developer-partners who are specially trained to provide latest and greatest Magento design and development services."
How To Hire The Best Magento eCommerce Web Development Company For Your Business
Although Magento is always improving – and its latest version is particularly user-friendly – it is still a complex and powerful platform.
Therefore, the most successful websites built with Magento utilize web design experts to ensure proper web development and strong front-end performance.
DotcomWeavers recommends looking for companies with:
Certified Magento developers.
Magento-specific web designers.
Dedicated project managers.
Professional badges, like the Magento Business Solution Partner.
Ready to create a high-converting website for your brand? Visit DotcomWeaver's Agency Profile to learn more about their work and how you can work with them.
The Technical Benefits Of The Magento 2.0 eCommerce Platform
Magento's latest eCommerce platform version has a multitude of technical improvements. These make the development process more effective, allow brands to customize their Magento eCommerce site to their specific needs, and ultimately empower businesses to achieve their goals.
Some of the top advantages of Magento 2.0 eCommerce Platform are:
Improved productivity for developers building the site and all employees who utilize the platform.
Better frameworks and a flexible architecture that results in a personalized web design.
A fully-vetted marketplace of extensions and features that can be integrated into your site.
Easier updates and maintenance for the system.
A streamlined backup process that can restore data and power the website when needed.
Top Magento Companies
Magento 2.0 eCommerce Features Leading Benefits For Users & Administrators Alike
The latest iteration of Magento's eCommerce platform creates a better user experience for brands and site administrators.
These improvements help businesses run at peak productivity, improve website content as-needed, manage inventory and eCommerce sales, and more without solely relying on the Magento support team.
After all, those Magento experts will be busy ensuring technical optimization, implementing new features, and maintaining overall website performance.
"What makes Magento 2 so powerful is that it is equally friendly for developers, businesses, and website managers," says Nicole Clauberg, Senior Project & Operations Manager. "The Magento 2 improved user experience extends to developers, managers, and customers – it's truly a holistic eCommerce solution."
Some of the best Magento 2.0 business benefits are:
Updated Admin Panel
Magento 2.0 websites come with a redesigned dashboard that makes updating content and managing small changes easy.
Notably, elements of this redesign include:
Streamlined backend navigation.
Responsive design.
Personalization options for each user.
Accessibility on tablet devices.
Better Cybersecurity Measures
The new Magento platform only allows a user to be logged into one device at a time. This helps individual users know when their access has been compromised and enables Magento experts to rectify the situation, protect sensitive information, and ensure the right security controls are in place to protect individuals against identity theft and similar threats.
The workaround? Many administrator accounts can be created, which will allow several people to work in the backend at the same time.
Enhanced Product Management
Businesses can quickly and easily manage their for-sale products with Magento 2.0.
This helps brands accurately track what is available for sale, place orders for inventory, and ensure that what customers see available for purchase on the website is accurate.
In Magento 2.0, admin users can:
Set up notifications.
Add product information in bulk.
Create product attributes that help manage different variations of the same product.
Configure product workflows.
Analyze sales through easy-to-read grids.
Utilize better filters to sort through orders and products.
Customizable product and backend views.
How Magento Fosters A Positive User Experience For Consumers
Overall, Magento 2.0's updates don't just improve a brand's user experience – they make shopping online better for your audience, increasing consumer spending, too.
"Things like more flexible payment gateways, faster load times, easier checkouts, better search, fully-responsive layouts, and extensive personalization options all contribute toward a fantastic UX when a business is partnered with the right developer," says Reed Patterson, Content Strategist at DotcomWeavers.
Those key features create a credible and trustworthy online environment for users. This increases the likelihood that they will complete a purchase and become loyal to your brand.
For more apps, plugins, and extensions for your Magento store, you can check out landofcoder.com.
Examples Of Successful Web Designs Built With Magento 2.0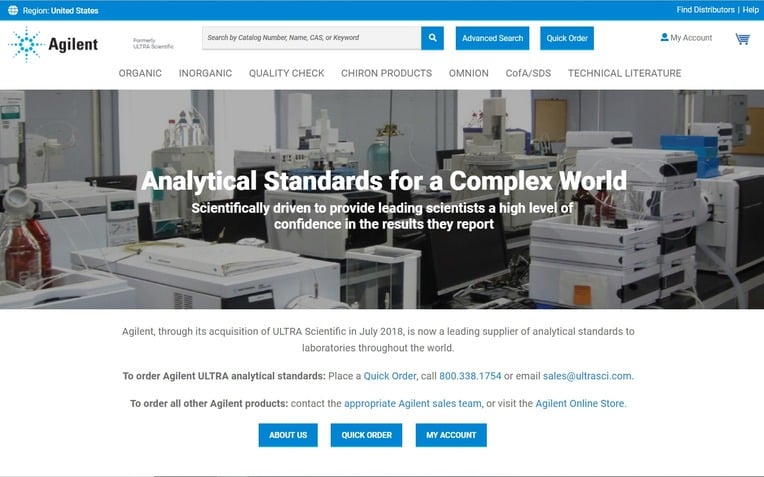 Agilent (formerly Ultra Scientific)
DotcomWeavers built a clean web design for scientific asset supplier Agilent through Magento.
The simple web design and clear calls to action help visitors find the products they are searching for and complete a purchase with ease. What's better? The Magento redesign increased Agilent sales quickly.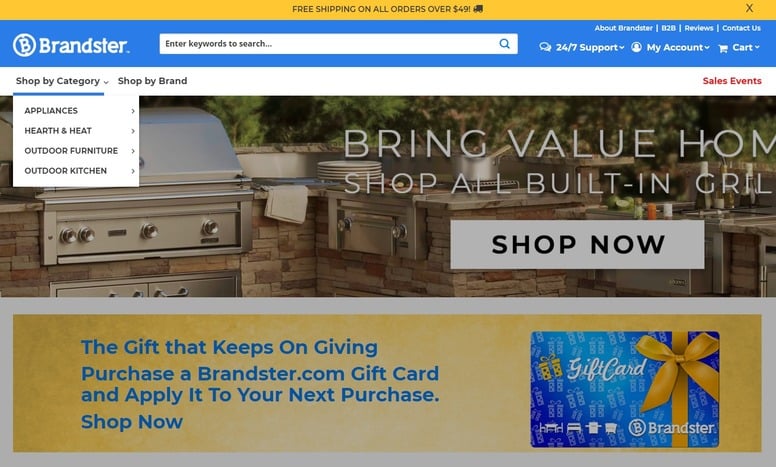 Outdoor furniture company Brandster migrated to Magento 2.0 with the help of DotcomWeavers.
The transition resulted in intuitive navigation, more detailed product data, customizable shipping options, a better checkout process, and more.
Medical Equipment Dynamics
DotcomWeavers launched an online marketplace for MED where they can sell equipment and give third-party B2B vendors a place to sell pre-owned models.
Due to the brand's custom needs, Magento 2 was the only choice. The site now has powerful integrations that deliver a scalable and automated sales environment.
Top Website Design & Development Companies
Magento 2.0 Is an eCommerce Platform Ready For Future Business Growth
"Magento 2 is 100% scalable, mobile-friendly and customizable. It allows businesses of any size to adapt quickly to new trends or changes in their market," says Mayank Agrawal. "In addition to the Magento team, it also has a dedicated community of third-party developers that work constantly to improve the platform, so businesses can be certain that they always have access to cutting-edge eCommerce software."
It's undeniable that Magento has the power to transform any business into a modern brand poised for long-term success.
But when companies partner with reliable Magento eCommerce web development agencies – such as DotcomWeavers – and utilize the latest technology, such as Magento 2.0, brands can create personalized functionalities, develop an enjoyable user experience, and create an online shopping destination that fosters strong conversion rates and higher revenue.
DotcomWeavers is a certified Magento Business Solution Partner. To start your next Magento eCommerce project, contact them today!
Subscribe to Spotlight Newsletter
Subscribe to our newsletter to get the latest industry news