Next year will mark the 25th anniversary of the first-ever online advertisement.
It's unlikely that many people, even the very first to advertise, realized what the online advertising world would become in such a short period of time. Then again, most of us didn't even know what emails were then, broadband wasn't even a thing, and Mark Zuckerberg was still a little kid… kind of makes advertising show its wrinkles a little doesn't it?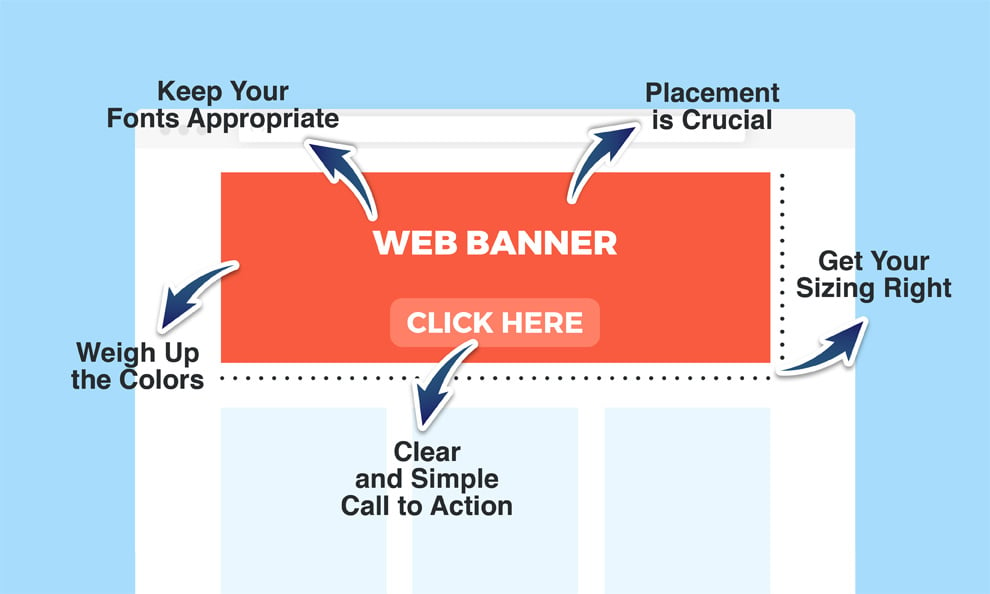 Along with online advertising came website banners. If you used the internet regularly in the 1990s and early 2000s you might associate the web banner with bright, flashy and obnoxious designs that invaded your browsing experience.
To this day you can still view the first ever banner ad, which was released by Wired on their first website, hotwired.com, on October 27, 1994. While we tried our best to avoid them, web banner ads just wouldn't go away, and it's safe to say that they developed quite the negative reputation in the online world.
To this day, there are still organizations not doing website banners justice. Some people just never learn.
Let's look at some display and banner ad statistics to see where ads went wrong, and what we can do going forward to bring them back in style.
When done poorly, 33 percent of people think that display ads are completely intolerable.
Even worse,64 percent of peoplesay that ads are annoying and intrusive.
10 Tips For Creating Website Banners With A High Click-Through-Rate
Regardless of what type of web banner you opt for, you need to make sure that you actually design something that encourages users to take time to view, acknowledge and ideally click on it. We've compiled our 10 top tips for how you can achieve a contextual, compelling web banner ad.
1. Get Your Banner Sizing Correct
It's important to get your sizes right and understand what dimensions mean for how you're going to design the graphics and copy. Check out Google AdSense for the full lowdown on sizing but for quick reference, the following are commonly used banner ad sizes:
728×90px — Leaderboard
300×600px — Half Page
300×250px — Medium Rectangle
336×280px — Large Rectangle
The website banner that Wired launched in 1994 took the form of an original leaderboard ad and that is what most people imagine when you say "website banner."
In fact, everythird adis a leaderboard ad.
Here's an example of a captivating leaderboard ad.
But leaderboard ads aren't the only stellar ads driving conversions.
Medium rectangle banner ads, even though they're not the most popular, are proven to have a higher CTR rate – 0.06 percent.
2. Placement Is Crucial!
Rather than guessing where your users are looking and placing ads sporadically throughout websites, you can use analytical data to take the guesswork out of your banner placement. Try using CrazyEgg or other user tracking software and you might be surprised at the trends you spot.
For example, although your banner might be "above the fold" that doesn't necessarily mean people will click on it if their attention is drawn towards a different section of the page. THAT is where you'd preferably want your banner ad.
Look for unsuspecting areas to place your banner ads that don't interrupt the UX but still manage to gain attention and drive higher engagement.
For example, a good test is to onto one or two of your favorite online news sites or publications. Here we can see an example of a banner ad from WordPress that's placed just at the bottom of the featured news section on the Entrepreneur.com homepage.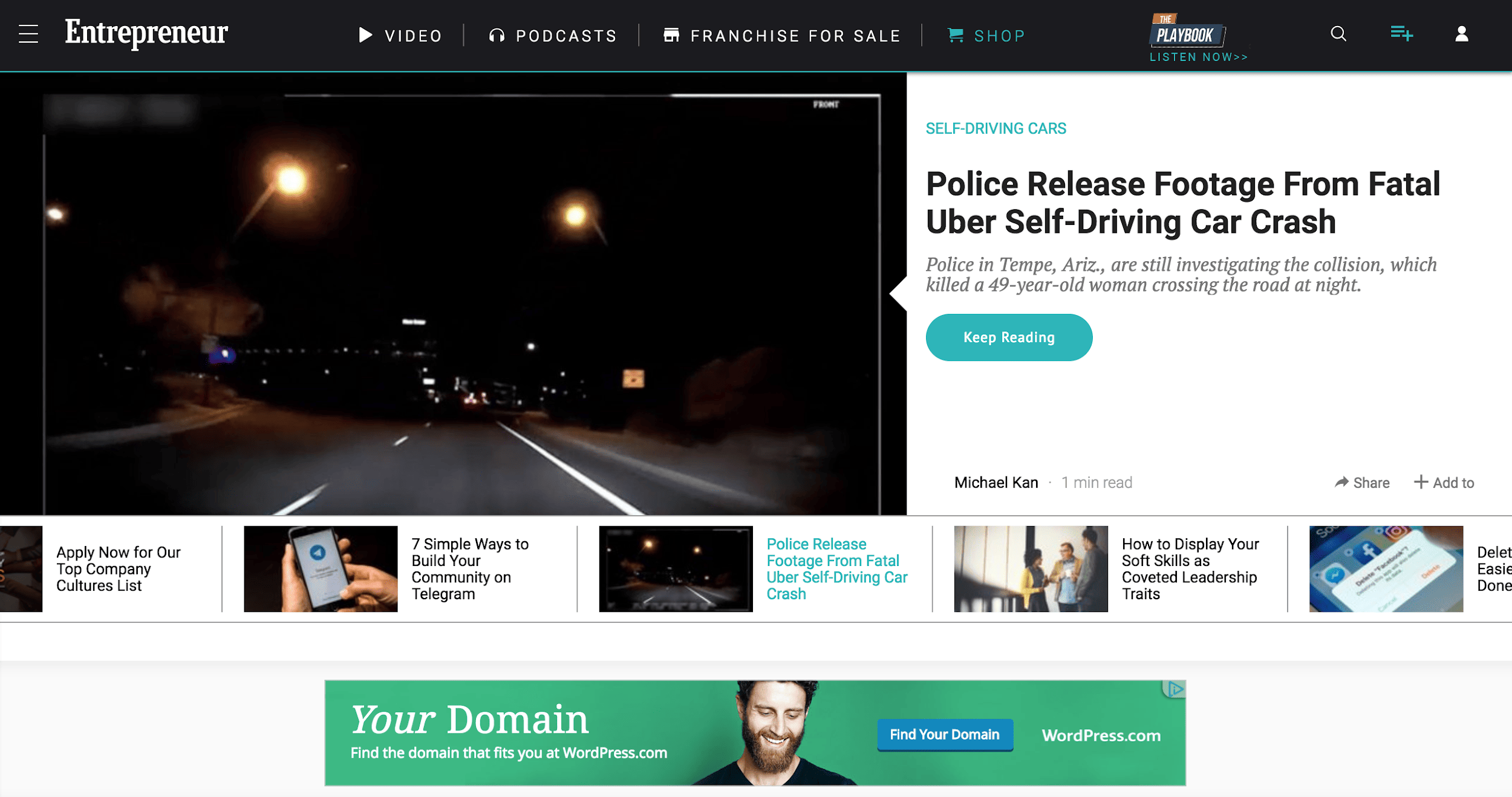 3. Understand The Importance Of Hierarchy
For a web banner to make sense you have to structure your hierarchy appropriately. The design relies heavily on achieving a balance, and the three basic components of any banner ad:
Company Logo: Should be visually dominant to build brand awareness.
Value Proposition: Showcasing the product/offer and typically takes up the bulk of the ad.
CTA (Call-to-action): A clear, simple action that you'd like the user to take, placed at the end of the ad so it's the next obvious step a user takes once they digest the visuals and copy.
Some great examples of web banners that make use of strong hierarchical structure are these from Adobe.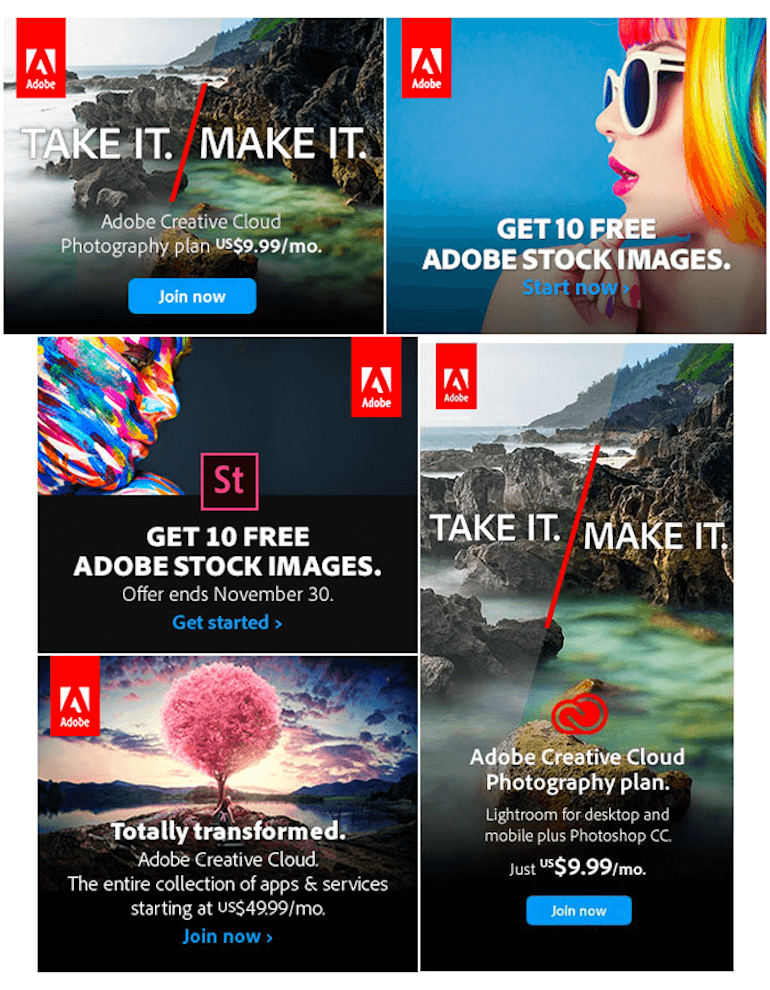 You'll immediately notice that the layout of each advertisement allows you to quickly point out the company logo and brand, the value proposition (the offer/discount) and the CTA (in a different color to the rest of the copy).
4. Keep Your Web Banner Consistent
Your web banner is going to be linking to a page on your website so you want to start telling your "story" from the moment the user sees the web banner. With that in mind, it's not wise to use completely different branding and design in your web banners from what you have on your website.
Why? Well, there's a chance that your customer will land on your website with different design features and a different logo and think "I must be on the wrong website, this isn't the same as the ad!"
When you see a web banner design that is consistent with the company's branding it can be incredibly powerful and compelling. Take a look at Microsoft's banner ads here.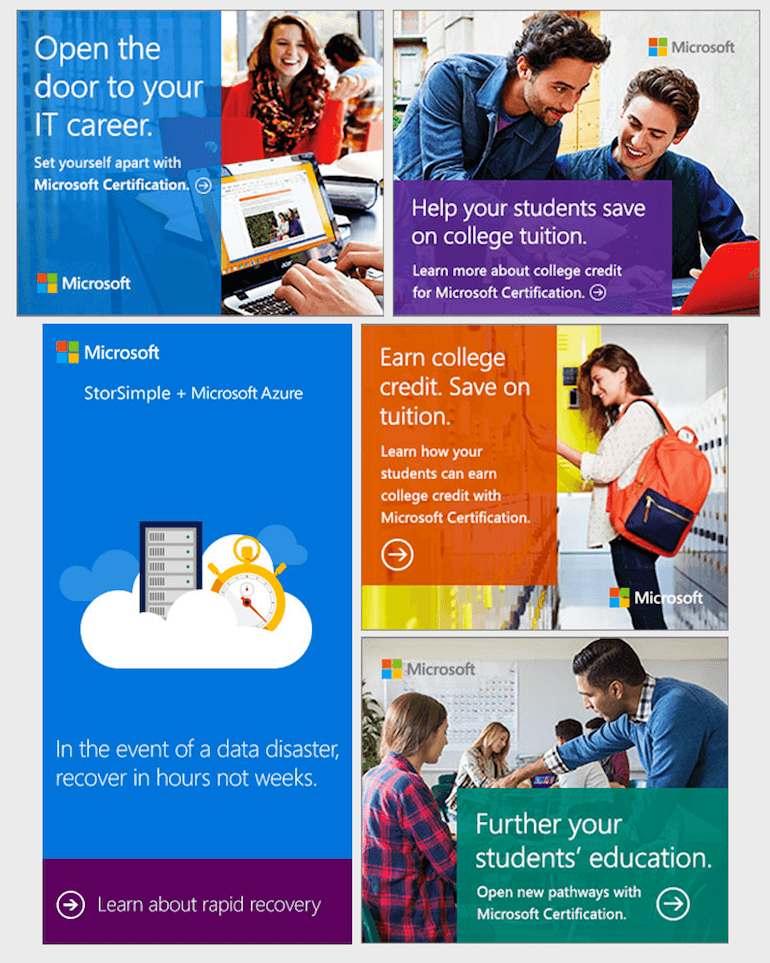 These do a great job of resonating with their audience based on the fact that the ads use a similar design to what the Microsoft's operating system had at the time. Similar icons, font and colors add a familiar feeling to the ads. Not only does this make people recognize the ad, but it also reduces any potential friction between the ad and the website.
5. Make Sure Your CTA Is Simple, Clear And Effective
We've already mentioned the importance of a clear and simple CTA in your web banner, but we can't help but reinforce that importance again. This is your chance to concisely tell the user what to do next.
Without this element in your ad, even if it's the best design ever, it will be difficult for users to figure out what to do next. Even if they do click on the banner ad they may very well land on a page they weren't expecting based on what your copy suggested on the banner.
However, here's a great example of how to use a CTA to its optimal capacity.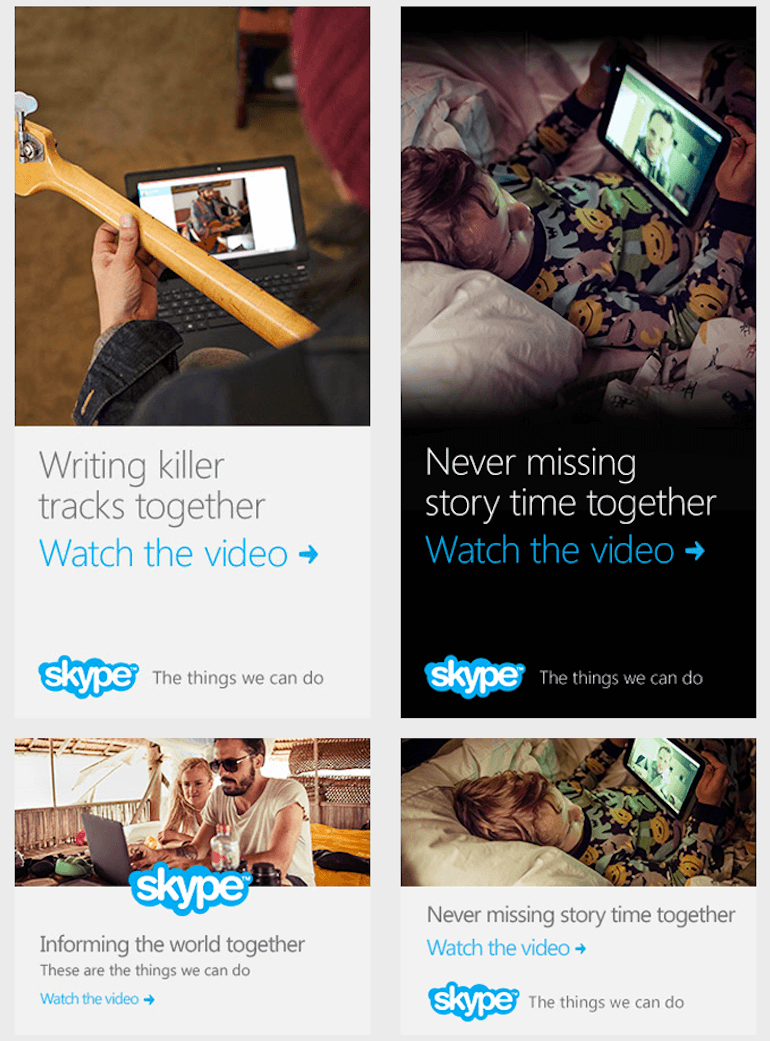 Skype used their own brand colors to ensure that the CTA on their banner ads stood out above all else. What's more, it's a clear, simple instruction. Just watch the video. That's all — no requests to buy now, or learn more, just a good old video.
6. Keep Your Fonts And Styles Appropriate
This also ties into point four in relation to keeping your web banners consistent with your brand, but it also takes into consideration the importance of using fonts that are appropriate based on the type of ad you're running.
For example, let's look at the font that Starbucks used here in this banner ad. The font alone literally does the talking.

Normally you might associate energy with colors or vibrant graphics, but Starbucks has carefully selected a font that allows them to align the banner with their brand colors and still evoke a sense of urgency, energy and power.
7. Consider Animating Your Graphics
You should always try and use any skills you have at your disposal to your advantage. In relation to banners, this includes animated graphics. If used in sequence with effective copy and clean imagery, the result can be an eye-catching, powerful web banner that the user will at least take a glance at.
A really useful tip is to use the animation to direct the user on what to do next, e.g., 'watch video now'.
Or you can even do what the 7 pm Project (now known as the Project) did and opt for a web banner that builds their brand awareness. Rather than asking a user to 'click' or 'watch' they simply let you play with the webpage using a colored pen.
Gamification works well on banners as well. For example, Volkswagen presented an amazing expandable banner that lets you build the road for their car in under 30 seconds.

8. Instill A Sense Of Urgency — Act Now, Not Later
There's no better way to encourage someone than to click on your banner ad right now than to suggest they won't ever have a chance to do so at another time. By using a sale or a promotion, you can drive more traffic to your website, for example, by saying "limited time only", or "24-hour sale." What's more, these short phrases don't take up much space but are still effective.
Presenting users with a short window of opportunity is exactly what you see in Cyber Monday or Black Friday banner ads. For example, this banner ad uses the "once a year" phrase - you'll only have one opportunity this year to cash in on whatever deals this might relate to.

9. Weigh Up The Colors And How They Impact The User
Colors have more of an impact on your web banner than you might suspect. Color is nonverbal communication, but it can also improve (or damage!) reading and understanding. As a visual element the brain can perceive and understand color a lot faster than text, so it's typically the first thing that people notice about your banner.
There's no right or wrong answer for what colors to use, but rather, it's helpful to think which colors suit the context you want to build and which colors ensure you create enough contrast so that the rest of the banner stands out.
In this example, DELL uses a bright, distinctive color to grab your attention and also to highlight the copy of the banner, while also separating it from the other visuals.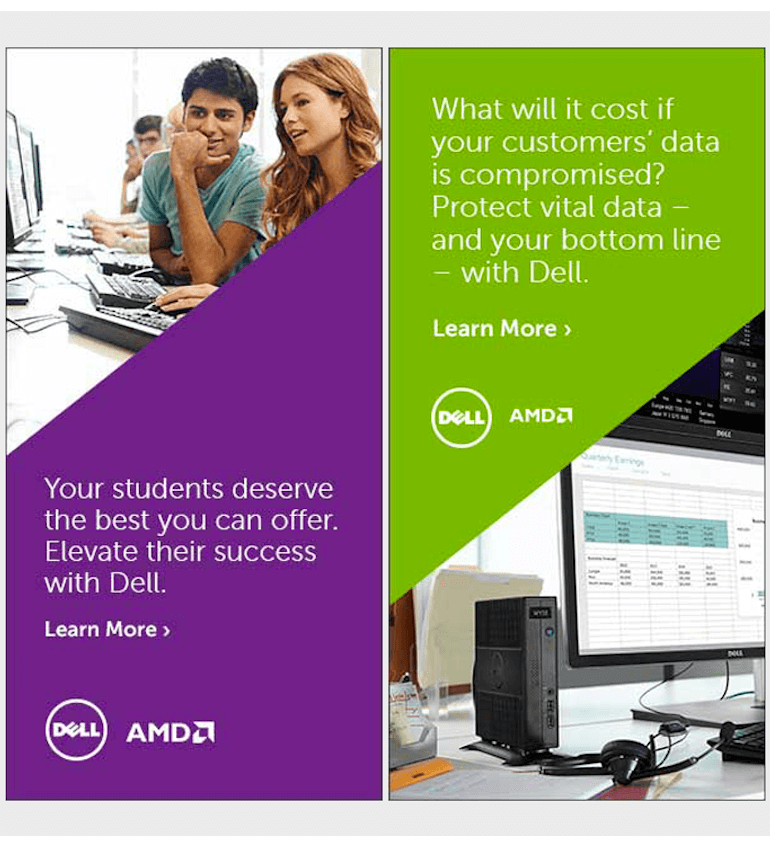 10. Test, Test, Test Your Banner Ads
Last, but certainly not least, make sure you test your web banner ads to make sure they actually work.
1. Are the colors displaying correctly?
Make sure you test your banner ad on several monitors.
2. Can you see all of the copy?
This is one of the most common mistakes made. People sometimes use too much copy on a small banner or design it in such a manner that the final banner version doesn't display the copy properly.
3. Is the font size right?
Play around with several font sizes and types. Choosing the right font can set the mood of the entire banner.
4. Are the visuals offensive/unappealing?
If the banner simply isn't working, maybe the visuals are wrong. Or maybe they're on topic but too boring to notice. Change up the visual and play around with imagery to see what works best.
5.Does the CTA make sense?
Maybe it would be better to use different words or phrasing if your CTAs aren't getting any clicks. The difference between "buy now," "learn more" and "claim offer" can all yield wildly different results.
6. Does the link to the website actually work? Does it track the user?
You can have the best web banner design in history but if the link is broken or it doesn't display correctly you're doomed. These elements make for a failed ad and no brand can afford that.
7. Are the headings bigger than normal copy?
Even banner copy has to follow the right hierarchy. Make sure to check whether the heading size corresponds to the heading and that it is, in fact, larger than the normal text.
Is Banner Blindness Real?
The short answer -- very much so.
The reason behind this is very simple – internet users are getting better at just that – using the internet. When they land on any page, their eyes and brains are already wired to go to the most logical places where they can find the information they need.
We've learned to use selective attention so that we can accomplish our goal and tune out the noise – in this case, website banners.
According to research conducted by Marketing Experiments, moving a banner ad from the right to the left results in a 74 percent engagement rate increase.
Of course, you should always bear in mind that what works in general, might not work for your brand.
That is why testing banner placement is a key to helping you increase your CTR.
Are Web Banners Doomed?
People fail to realize that if done the right way, web banner ads are, in reality, a great way to spread a message to your desired audience. They are far from being obsolete, and you shouldn't throw them out the window without careful consideration.
The revenue from banner ads is expected to grow 7 percent annually.
And it's estimated that in 2019, this revenue will reach $25.
Over time, and thanks to increasing expertise in the world of online design, web banner ads went from the arch-enemy of the internet user to an engaging and impressive way for brands to reach users who might be interested to learn more.
Even though the banner display on desktop computers is on the decline, mobile banner use is increasing. So at the end of the day, companies easily earn $39 per internet user.
That's huge considering this number used to be $29.
Banners are an acceptable medium for driving traffic and increasing click-through rates, which has quickly become a major marker for success.
So no, banners are still here to stay and they are only doomed if you don't do them right.
The Purpose Of A Website Banner And How To Use Them
When you create a web banner you typically have an overall intention of driving traffic to your website via a link that you've attached to the banner. However, that's not the only way that web banners can be used. We've split the roles that web banner ads can take into four helpful sections.
1. Increasing Website Traffic
As mentioned, this is the most obvious way that web banners are used — purely to get more targeted traffic to your website where users can browse through your content and learn about your product or service.
You need to focus on banner design if you want to capture the user's attention and intrigue them to click on it.
2. Selling A Product Or Service
Banner ads can be used to encourage users to show interest in, or buy, certain products or services. This is where the context and placement of web banners come into play. If you're selling a camping tent, you might want to place a banner ad on a camping holiday website next to their latest offers for the coming summer.
For a prime example of how effective web banner ads can be, you only need to check out Airbnb's case study.
Using targeted banner ads, Airbnb was able to reach an international audience, target new customers and change prevailing assumptions about budget travel. The results were increased awareness and more than 80,000 new home listings on their site.
3. Grabbing A User's Attention
With dwindling attention spans, and an increased exposure to ads (5,000 per day roughly), our poor little brains are put under immense strain and as a consequence, companies have to be very selective over what they place in their banner ads and why.
To grab a user's attention you don't just need to have a web banner that is contextual and placed effectively. It also has to be creative enough to trigger a user's mind like 4,999 of the other ads they'll see today don't.
4. Announcing Discounts Or Sales
Web banner ads are a great way to promote special offers or limited discount codes for your products. Think about Black Friday. If you were a retailer or had recently launched your first product you could create a web banner promoting an x% discount if the user clicks on the banner.
CTAs like "claim his offer," "get it now," "shop now" and more will only work if the offer (and the discount percentage) is attractive enough to the website visitor.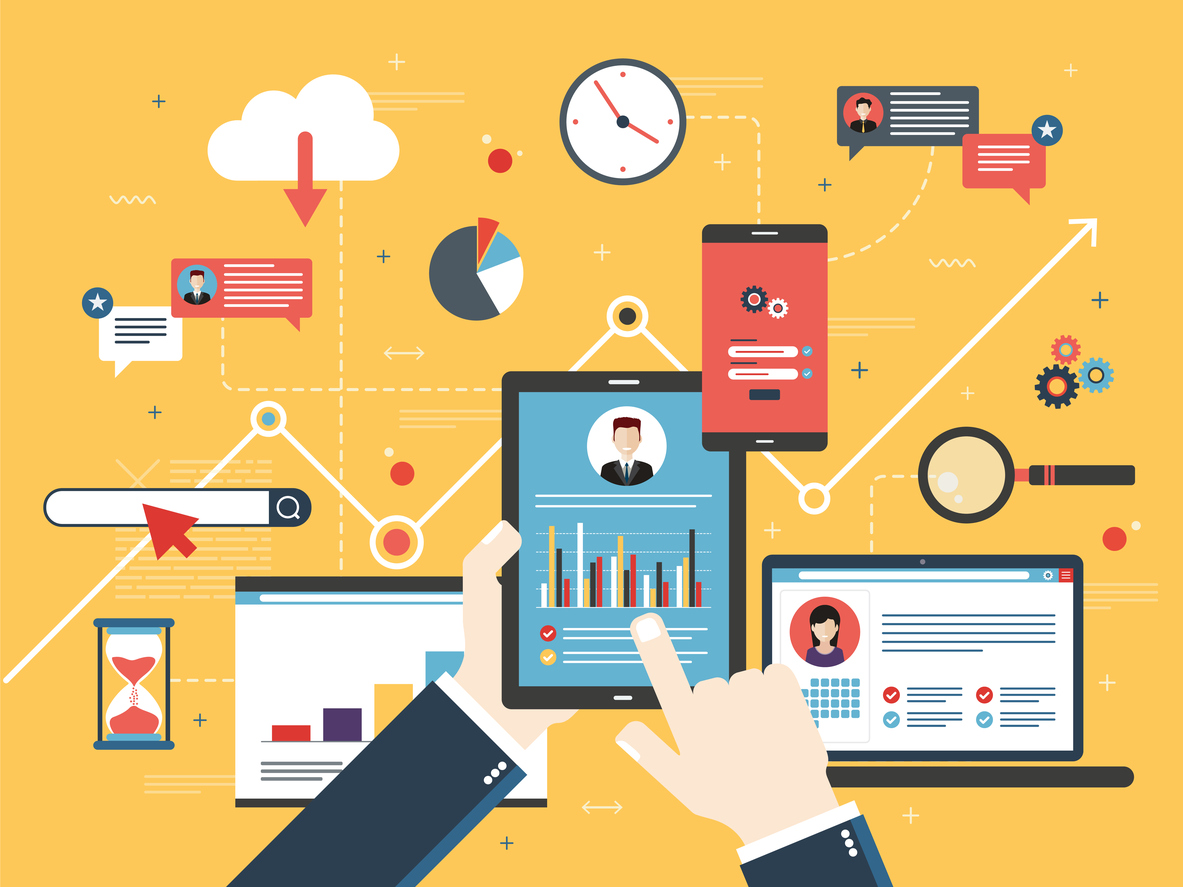 5. Retargeting
Banner ads play an important role in retargeting. The buyer's journey from recognizing a problem to the consideration phase where customers actively seek solutions is hectic, to say the least. Consumer attention spans are horrible, especially since we know that opinions are formed in less than a second.
Good CTR rates for banners are around 0.05 percent - 0.07 percent.
However, theaverage CTR for retargeted bannersis 0.7 percent which makes it 10 times larger!
And it's known that retargeted visitors are more likely to achieve conversion on your website – a staggering 70 percent of them.
Measuring The Success Of Your Web Banner Ads Using Click-Through Rates (CTR)
The widely accepted way to measure how successful a web banner has been to assess the click-through rate (CTR) that it achieved.
The CTR is the number of times a user clicks on the web banner against the number of times it's viewed.
For example, if your web banner was viewed 100 times and five users clicked on it you would have a CTR of 5 percent. That's a pretty good CTR by the way!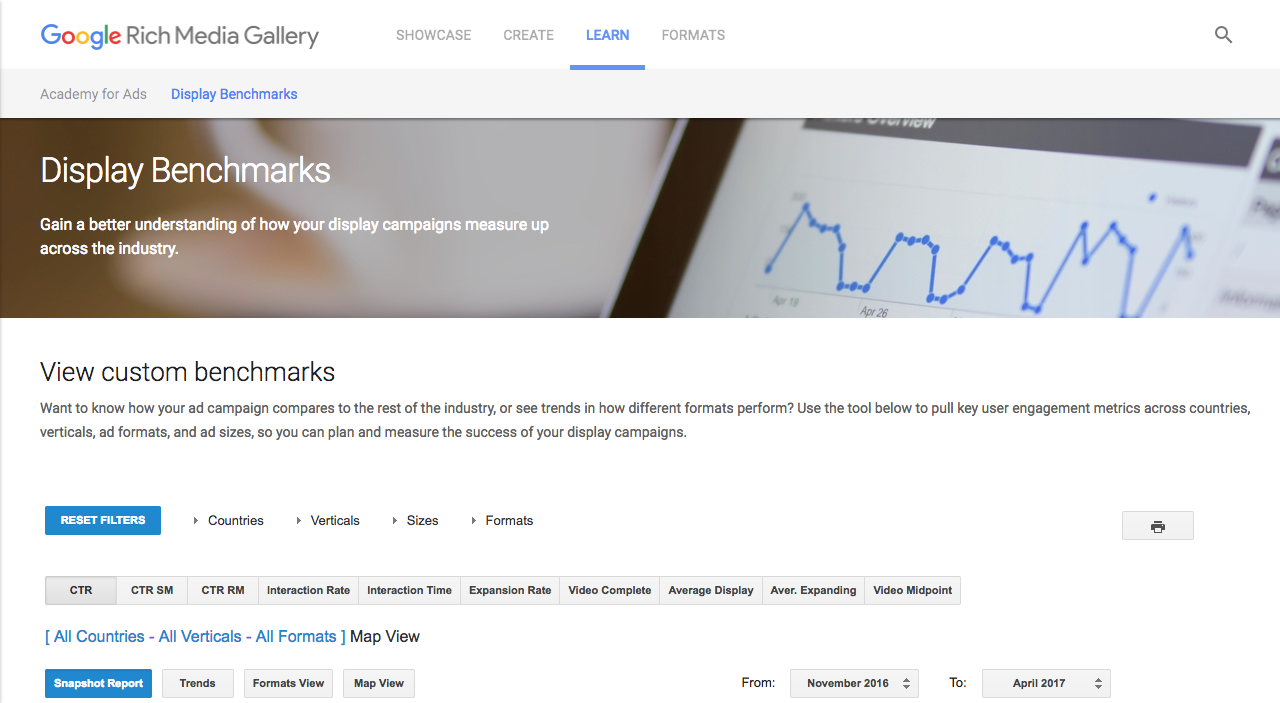 Google actually states that the average CTR of all display ads across their network is 0.05 percent. That's a pretty good starting point from which you can set your expectations when you're measuring web banners. You can actually refine the criteria to pinpoint ads and placements that match your intended ads using this free tool from Google.
What Are The Benefits Of Measuring Click-Through Rate (CTR)?
CTR isn't just helpful, it's important. It can tell you a lot about the crucial aspects of your web banner. In order to have a successful banner that will serve its purpose, which we described above, you need to have a measurement process in place that will tell you when you need to change certain features and elements.
A CTR is perfect for that -- and measuring it can help you uncover crucial things about your banner, like:
1. Does your messaging resonate with your targeted audience?
This one is fairly simple. Having a well-placed banner for an audience of poor choice can break your entire banner strategy. You might be serving your ad to the wrong people and a low CTR can indicate this. Check your buyer personas and use analytics to uncover who your real customers.
With this information, you can design a banner that appeals to the right people. And if you don't keep track, you'll put yourself on the path to misplaced and off-topic ads.
2. Is the design aesthetically appealing, or are people irritated by it?
You might have to face the fact that your banner just isn't appealing enough. The thing about banners is that designers have to walk a fine line between beautiful and noticeable. Just because a banner is aesthetically pleasing doesn't mean it'll get noticed. So you have to make sure you're understanding your audience and the design as a whole.
3. Which placement worked best?
This is a trial and error process, as many things in marketing and design are. You can't know what will 100 percent work for your brand until you test it. Sometimes even the smallest changes to your banner like the format, font, color, time of placement and more can affect the banner's CTR and overall success.
4. Is it better to have a banner before a particular piece of content?
The right question is whether to put the banner above or below the fold and where. It all depends on your brand, products, sales copy and how the conversation is going so far between you and your consumers.
Don't confuse people and bombard them with off-topic information. And make sure the ad flows with everything else on the page.
5. Does having the banner above the fold actually make that much difference?
Like we've said, the right banner placement is all about testing. You won't know the best spot until you find it.
6. Are people more likely to click on the web banner on some websites compared to others?
Yes, but again, this is where multiple factors come in. Banners have to be well designed, attractive and attention-grabbing, but they also have to stand out from the website's background. The same banner can perform better on certain sites compared to others, depending on the topic, placement and even the website's design.
But this is still up for testing. And the more you test, the better your banners will perform.
7. Is the timing right?
There's also a lot at stake when it comes to timing and banner placement. Some things can work all the time, and some can't. For example, offering a restaurant coupon makes sense to do before lunch, but when people get back from stuffing their faces, the last thing they will notice on a full stomach is that banner.
You might be thinking, but how can I tell all of this from just a few web banners? Well, you can't, that's why you run a series of web banners testing messaging, graphics, design, placement, CTA's and audience variables. You can read more about testing in the tips below.
How Much Do Website Banner Ads Cost?
If you're unsure about the cost of web banner ads don't worry, it's not as complicated as you might think. You've put all that work into designing these beautiful banners now you need to put some financial investment behind them to make sure they target the right people and in a significant enough quantity.
In general, there are two forms of payment for advertising online. Firstly, you can pay everytime someone clicks on your ad, known as Cost-per-click (CPC) or Pay-per-click (PPC). For example, you'll pay an agreed amount for every user who clicks on the web banner.
So, say you want to drive 100 users onto your website, you can agree to a set amount per click, say $5, and you'll then know that once the campaign is complete you'll have spent $500.
Secondly, you can opt for pay-per-impression (PPI), or cost-per-thousand impressions (CPM). This means that you're leaving it to chance how my clicks you get through to your website, but if successful you'll get more value for your investment if the ad performs well. For example, if you set a limit $500 for CPM, and your website is visited 150 times, then it's in theory cheaper than the above CPC example.
Of course, it might be the case that you don't get very many clicks per thousand visits, and your cost per click is actually higher through the CPM approach than it would have been via the initial CPC method. Again, like the web banner itself, it's often the case that you'll test out both to see which performs best and why.
How To Perform Split Tests For Website Banners
Basically, a split test is kind of like an A/B test. You test two banners keeping everything the same but changing one element. That one element is the crucial difference between the two banners so that you can monitor which one fares better.
Never make personal decisions based on a hunch – people will tell you through metrics what works best.
This is how Volvo does it.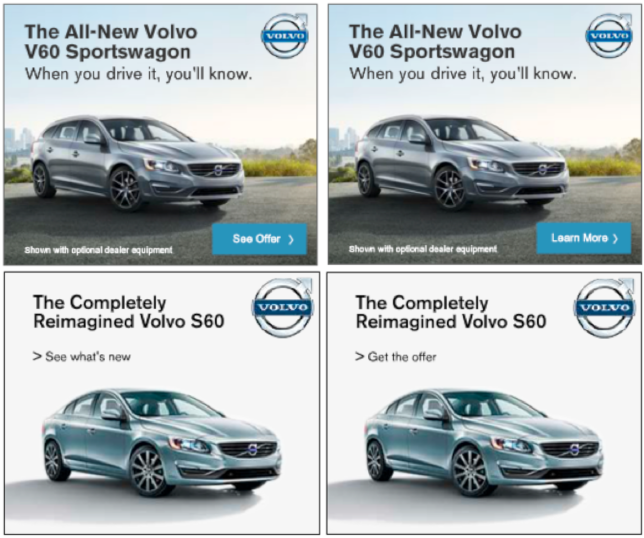 As you can see here, Volvo performs a number of split tests in its banner ads. And it only makes subtle changes to ad copy and CTA buttons in order to see what resonates more with consumers.
What It Takes To Create A Stunning Website Banner With A High CTR
Web banners, even despite ad-blocking software, aren't going anywhere so it's important that you understand how your design will impact the performance of the banner. Put into practice at least a few of these tips that will help you create compelling, effective web banners:
Get your sizing right for your type of banner.
Placement is crucial!
Understand the importance of hierarchy.
Is your web banner consistent with your wider brand?
Make sure your CTA is simple, clear and effective.
Keep your fonts and styles appropriate.
Consider animating your graphics.
Instill a sense of urgency — act now, not later.
Weigh up the colors and how they impact the user.
Test, test, and test your banner ads.
Once you've tested out these tips, you'll probably want to learn how to know if your web banner is successful. If your web banner is successful, you should notice a correlation through higher click-through rates. And these click-through rates should be able to help you better understand:
Your audience.
If your messaging is correct.
If this website banner design is visually appealing.
If the placement of the banner was effective.
If this was the right choice of website to advertise on.
Gaining these insights is vital for a successful banner. You don't want to waste all that time creating it for your results to flop. So let's get creating, and before you know it, you'll have so much website traffic you won't know what to do with it!
Subscribe to Spotlight Newsletter
Subscribe to our newsletter to get the latest industry news