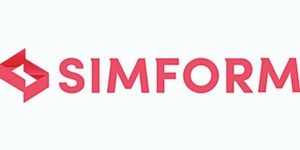 Pioneering the next digital frontier.
111 North Orange Avenue, Suite 800, Orlando, Florida 32801, United States
Simform Overview
Number of Employees
1000 & Up
Minimal Budget
$25,000 - $50,000
Average Hourly Rate
$30/hr
Simform is a dynamic digital product engineering and IT talent solutions company, specializing as a performance testing company, dedicated to unraveling intricate software engineering challenges. With an impressive track record spanning a diverse spectrum of organizations, from startups that have achieved public status to Fortune 500 companies and WHO-backed NGOs, we bring a wealth of experience to the table. Since our inception in 2010, our dedicated team of over 1000 experts has been instrumental in elevating the value of businesses through our comprehensive engineering services.

At Simform, our overarching mission is to empower companies to lead in innovation by delivering cutting-edge software solutions. We provide invaluable assistance in making informed decisions regarding technology investments, selecting the most fitting architectures and processes, and ensuring the successful delivery of your software projects.

Digital Product Engineering
Our prowess spans product engineering, performance engineering and testing, application modernization, software development services, digital experience design, and blockchain engineering.

Cloud Native Engineering
We excel in cloud-native development, DevOps Engineering, and Data Engineering to keep your business agile and competitive.

Technology Practices
Simform excels in crafting winning project strategies, optimizing process management, nurturing technology partnerships, and ensuring impeccable software testing.

As a partner committed to innovation and software excellence, Simform is your trusted ally on the journey to achieving digital transformation and sustainable success.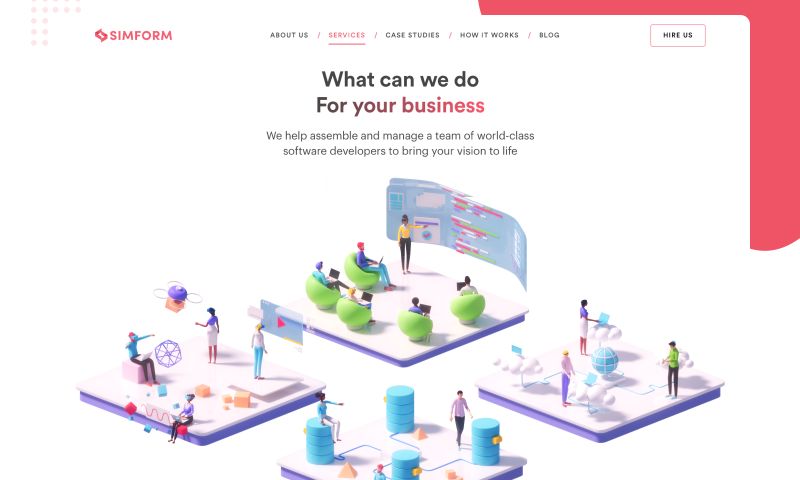 Headquarters
111 North Orange Avenue, Suite 800, Orlando, Florida 32801, United States
Areas of Expertise
Custom Frameworks

IT Services Expertise

Mobile App Expertise

Mobile App Technology

Outsourcing Expertise

Software Development Expertise
IT Services Expertise
AWS
IT outsourcing
Marketing Automation
Mobile App Expertise
Android
Cross-Platform
iPhone
Software Development Expertise
Software Development Expertise
AgTech
Foodtech
Performance Testing
Simform Portfolio
Software Development

Redbull Photobooth

Software Development

International Hockey Federation (FIH)

Mobile App Development

iHealth

eCommerce Development

Stubbs & Woottons

Mobile App Development

Swift Shopper

Mobile App Development

FreeWire

Software Development

Sales Enablement tool

Mobile App Development

Roundr
Mobile App Development for Application Company

Project Type:

App Development

Review Date: 6 June, 2022

I find it hard to believe there's another organization with as many talented, hardworking people as Simform. A reliable team, Simform consistently delivers high-quality products. We are pleased with their contributions, which have allowed the business to grow and excel.

Work Quality:
Timely Delivery:
Responsiveness:
Overall Costs:
Your Satisfaction:
Willing To Refer:

I find it hard to believe there's another organization with as many talented, hardworking people as Simform. A reliable team, Simform consistently delivers high-quality products. We are pleased with their contributions, which have allowed the business to grow and excel.

App Dev for Pool Industry Communication Platform

Project Type:

App Development

Review Date: 29 May, 2022

I can't say enough good about Simform. An efficient team, Simform delivered the app in just about three months. Their work was high-quality, and the team communicated well throughout the engagement. The quality of their services was top-notch, as was their communication.

Work Quality:
Timely Delivery:
Responsiveness:
Overall Costs:
Your Satisfaction:
Willing To Refer:

I can't say enough good about Simform. An efficient team, Simform delivered the app in just about three months. Their work was high-quality, and the team communicated well throughout the engagement. The quality of their services was top-notch, as was their communication.

Mobile App Dev for On-Demand Car Washing Service

Project Type:

App Development

Review Date: 25 May, 2022

Beyond their reasonable price structure and technical knowledge, Simform's team is reliable and productive. It's easy to communicate with them. Furthermore, they approach the project with a high level of integrity. It felt as if we had known their team for years because of how personable they were.

Work Quality:
Timely Delivery:
Responsiveness:
Overall Costs:
Your Satisfaction:
Willing To Refer:

Beyond their reasonable price structure and technical knowledge, Simform's team is reliable and productive. It's easy to communicate with them. Furthermore, they approach the project with a high level of integrity. It felt as if we had known their team for years because of how personable they were.

Application Revamp for Gardening Company

Project Type:

App Development

Review Date: 20 May, 2022

Simform's team is very professional and has good support. With an exceptional team, data storage costs and utilization has decreased by 15%, proving their reliability as a partner. The support they provide is exceptional.

Work Quality:
Timely Delivery:
Responsiveness:
Overall Costs:
Your Satisfaction:
Willing To Refer:

Simform's team is very professional and has good support. With an exceptional team, data storage costs and utilization has decreased by 15%, proving their reliability as a partner. The support they provide is exceptional.

UI/UX Design & Custom Software Development for HR Firm

Project Type:

Software Development

Review Date: 15 May, 2022

Simform has done a fantastic job with both design and development, exceeding expectations. The team is accommodating and responsive, and they excel at timeline estimates and deadlines. Their flexibility and willingness to face challenges while working on a constantly evolving project stand out.

Work Quality:
Timely Delivery:
Responsiveness:
Overall Costs:
Your Satisfaction:
Willing To Refer:

Simform has done a fantastic job with both design and development, exceeding expectations. The team is accommodating and responsive, and they excel at timeline estimates and deadlines. Their flexibility and willingness to face challenges while working on a constantly evolving project stand out.

Custom Software Dev for Software & AI Design Company

Project Type:

Software Development

Review Date: 10 May, 2022

Their lead time, flexibility, and personal touch is impressive. With Simform, our company has grown its footprint with every end client, indicating an excellent service. The team provides a dedicated delivery manager who is responsive to all issues and queries.

Work Quality:
Timely Delivery:
Responsiveness:
Overall Costs:
Your Satisfaction:
Willing To Refer:

Their lead time, flexibility, and personal touch is impressive. With Simform, our company has grown its footprint with every end client, indicating an excellent service. The team provides a dedicated delivery manager who is responsive to all issues and queries.

Web Development for Cookbook Design Company

Project Type:

Software Development

Review Date: 5 May, 2022

We hired Simform to build a custom website and develop a cookbook design company's software. They are always open to new projects and ideas. They work well with a team. The team is hardworking, efficient, and organized. They were also very professional and easy to work with.

Work Quality:
Timely Delivery:
Responsiveness:
Overall Costs:
Your Satisfaction:
Willing To Refer:

We hired Simform to build a custom website and develop a cookbook design company's software. They are always open to new projects and ideas. They work well with a team. The team is hardworking, efficient, and organized. They were also very professional and easy to work with.

Mobile App Dev for Android-Based Payment Company

Project Type:

App Development

Review Date: 29 April, 2022

I had a terrific relationship with Simform, and I'd continue to use them exclusively on all new projects. Simform provides excellent, high-quality team members who are flexible in subbing people in and out of projects. The way they've managed projects independently has been notable.

Work Quality:
Timely Delivery:
Responsiveness:
Overall Costs:
Your Satisfaction:
Willing To Refer:

I had a terrific relationship with Simform, and I'd continue to use them exclusively on all new projects. Simform provides excellent, high-quality team members who are flexible in subbing people in and out of projects. The way they've managed projects independently has been notable.

App Dev & Design for Entertainment Ratings Platform

Project Type:

App Development

Review Date: 25 April, 2022

I felt very comfortable with our relationship — they were really easy to work with. Simform built an app from scratch for a TV ratings and reviews platform. The final deliverable from Simform is a high-quality, well-functioning app.

Work Quality:
Timely Delivery:
Responsiveness:
Overall Costs:
Your Satisfaction:
Willing To Refer:

I felt very comfortable with our relationship — they were really easy to work with. Simform built an app from scratch for a TV ratings and reviews platform. The final deliverable from Simform is a high-quality, well-functioning app.

Mobile App Dev for Fitness Platform

Project Type:

App Development

Review Date: 20 April, 2022

With Simform's splendid performance, we were able to expand customer base. As a result, we also received massive positive feedback from customers. They are flexible, approachable, and dependable. Their ability to adapt, willingness to learn, and change stand out as one of their biggest strengths.

Work Quality:
Timely Delivery:
Responsiveness:
Overall Costs:
Your Satisfaction:
Willing To Refer:

With Simform's splendid performance, we were able to expand customer base. As a result, we also received massive positive feedback from customers. They are flexible, approachable, and dependable. Their ability to adapt, willingness to learn, and change stand out as one of their biggest strengths.

New Web Application Feature

Project Type:

Software Development

Review Date: 17 September, 2021

Great Communication, fair prices, team is friendly and truly seems to care about the success of your project and business. Assigned us a team with the specific technical abilities we needed (React, NestJS, Javascript).

Work Quality:
Timely Delivery:
Responsiveness:
Overall Costs:
Your Satisfaction:
Willing To Refer:

Great Communication, fair prices, team is friendly and truly seems to care about the success of your project and business. Assigned us a team with the specific technical abilities we needed (React, NestJS, Javascript).

Simform is a one-stop solution for all your development needs

Project Type:

App Development

Review Date: 7 October, 2020

Simform helped us to bring our idea to life. It's a social media platform for rating and reviewing TV series and see what your friends are watching and rating shows. Simform helped us from the initiation of the app to the development. They built it for iOS and Android. Their team worked completely from scratch, helping us with the design aspects, as well. We had some ideas in mind, but they worked with us on the designs, logos, and other aspects. They have their system down pat.

Work Quality:
Timely Delivery:
Responsiveness:
Overall Costs:
Your Satisfaction:
Willing To Refer:

Simform helped us to bring our idea to life. It's a social media platform for rating and reviewing TV series and see what your friends are watching and rating shows. Simform helped us from the initiation of the app to the development. They built it for iOS and Android. Their team worked completely from scratch, helping us with the design aspects, as well. We had some ideas in mind, but they worked with us on the designs, logos, and other aspects. They have their system down pat.

Mobile App Development

Project Type:

App Development

Review Date: 24 September, 2020

We hired Simform to build mobile apps for both iOS and Android platforms to book fitness classes across London, UK. Their ability to adapt and willingness to learn and change stands out as one of their biggest strengths. They keep up with technology, and their developers are quite skilled. They always find cutting-edge solutions, and they help bring our ideas to life.

Work Quality:
Timely Delivery:
Responsiveness:
Overall Costs:
Your Satisfaction:
Willing To Refer:

We hired Simform to build mobile apps for both iOS and Android platforms to book fitness classes across London, UK. Their ability to adapt and willingness to learn and change stands out as one of their biggest strengths. They keep up with technology, and their developers are quite skilled. They always find cutting-edge solutions, and they help bring our ideas to life.

Sports website

Project Type:

Website Development

Review Date: 17 September, 2020

We hired Simform to Improve the online web experience for the International Federation of one of the field sports. Our goal was to launch a new website to improve the web presence before the World Cup 2018 gets started. They showed an impressive commitment to our project. They are good at making excellent technical choices to deliver high-quality products. To have achieved the goal in such a condensed amount of time, with so many moving parts is remarkable.

Work Quality:
Timely Delivery:
Responsiveness:
Overall Costs:
Your Satisfaction:
Willing To Refer:

We hired Simform to Improve the online web experience for the International Federation of one of the field sports. Our goal was to launch a new website to improve the web presence before the World Cup 2018 gets started. They showed an impressive commitment to our project. They are good at making excellent technical choices to deliver high-quality products. To have achieved the goal in such a condensed amount of time, with so many moving parts is remarkable.
Simform Team Bios
Prayaag Kasundra

CEO

Prayaag is a serial entrepreneur and CEO at Simform. At the business level, Prayaag excels at assessing the market opportunity, building, and inspiring extended teams, understanding the value of a customer and driving consistently exceptional results.

Tejas Kaneriya

Senior Tech Consultant

I have enjoyed success creating mobile-first apps and and Internet of Things components. I am a big believer in agile development methodologies -- including test-driven, behavior-driven, and continuous integration practices.