SaaS powered workplaces use about 34 apps, and compared to an average organization they are:
52% more likely to attract better talent
31% more likely to improve employee satisfaction
7% to cut more costs
In this article, we'll take you through the different types of SaaS solutions, outline the top SaaS companies and products and dive into their advantages and disadvantages.
A SaaS company hosts applications on the web to provide businesses and individual customers with specific services. They create, host, maintain and update their products from a single data location that businesses can access remotely at any time and from anywhere.
What Are The Different Types Of SaaS Solutions?
The best SaaS companies can digitalize almost every business process.
From management to enterprise resource planning, these are the most popular types of SaaS applications:
Business Management
SaaS solutions actually support all facets of a business, including human resources and recruitment. Businesses can post jobs, filter through resumes and even contact potential hires directly through the software.
With their cutting-edge products, top SaaS companies allow businesses to increase internal productivity and empower brands to expand their reach to top talent.
By streamlining the recruitment, hiring, onboarding and annual review processes, companies can spend less time planning company culture logistics without sacrificing quality.
Customer Relations Management
Customer relations management (CRM) is a popular SaaS software task. Many CRM platforms have desktop versions that are complemented by web-based software.
This enables employees to make changes and adjust information about professional partners and clients on-the-go.
CRM SaaS applications are typically the newest versions at all times, and many vendors don't lock clients into a specific contract, which means businesses can switch to a new provider at any time.
In addition, the top SaaS companies manage the network stability and security of the cloud platform.
Accounting
The best SaaS companies offer easy to use accounting and invoicing systems that allow brands to track expenses and manage vendors easily.
Instead of needing to download a hefty program that takes up space on a server and needs additional cybersecurity, users can just access the system through a PC or mobile application.
These types of accounting and financial systems are also called "cloud computing." They are particularly beneficial to modern companies with remote employees because they can be accessed and used from anywhere, as opposed to outdated systems that required employees to be in the office to work.
Collaboration
Today, more and more employees are working remotely or in different offices than their team members, but SaaS solutions make team projects easy to complete.
Collaborative software includes everything from chat systems to web-hosted programs and group calendars.
This idea of collaborative software has even expanded to social software. This includes social media sites like Twitter and Facebook, as well as online dating websites and apps such as Hinge, Bumble, and Tinder.
Enterprise Resource Planning
Enterprise resource planning (ERP) is a comprehensive system that manages all major tasks and departments within a business.
Most ERP services host information regarding eCommerce sales, distribution, general accounting, human resources, employee performance, customer services and more.
By streamlining ERP within a SaaS system, businesses can better plan for future growth.
Top SaaS solutions can show high-level executives how certain initiatives and information line up, allowing them to create multi-departmental initiatives and plan for internal changes like raises and expansions easily.
The Top 11 SaaS Companies And Applications Of 2022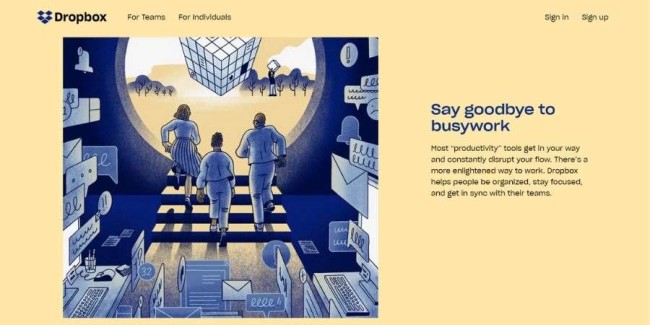 1. Dropbox
Headquarters: San Francisco, California
Type of company: B2B & B2C
Dropbox is a cloud storage software where businesses and individuals can store and share their files and content - all in one place.
This SaaS company allows its clients to stay organized and tackle their work efficiently.
2. HubSpot
Headquarters: Cambridge, Massachusetts
Type of company: B2B & B2C
HubSpot is an inbound marketing tool on which many marketers and businesses rely to organize the communication with their clients.
From CRM to social media marketing and content management, its features attract companies of all shapes and sizes to grow their businesses.
3. Mailchimp
Headquarters: Atlanta, Georgia
Type of company: B2B & B2C
Mailchimp is among the top SaaS companies that help businesses reach their customers online. The email marketing platform allows creating targeted campaigns and sending emails automatically.
It is well known for its integration capabilities with other SaaS applications, its easy to use interface and continuous rollout of new features.
4. Adobe
Headquarters: San Jose, California
Type of company: B2B & B2C
Adobe is the father SaaS company of many software products like Photoshop, Illustrator and Flash Player.
With their help, users opened 250 billion PDFs and processed more than 8 billion transactions.
5. Slack
Headquarters: San Francisco, California
Type of company: B2B
Slack messenger is a user-friendly collaboration platform and one of the best SaaS solutions in the market for its highly customizable features.
It allows video conferencing, internal messaging, file sharing and integrating with third-party services.
6. Shopify
Headquarters: Ottawa, Canada
Type of company: B2C
Shopify is an eCommerce platform for building online stores. The SaaS company allows businesses to reach their audiences and sell their products or services online effectively.
The platform is backed by powerful tools including store management, shopping carts, marketing and SEO.
7. Microsoft
Headquarters: Redmond, Washington
Type of company

: B2B & B2C
Microsoft is one of the top SaaS companies on the market that owns over 100 cloud products including Office 365 and Azure.
Many businesses rely on their SaaS tools to improve productivity, manage collaboration and more.
8. Google
Headquarters: Mountain View, California
Type of company: B2B & B2C
Google's impact on the SaaS world is enormous. The company has developed 137 internet-related solutions including its search engine, Google Analytics and G Suite.
9. SurveyMonkey
Headquarters: San Francisco, California
Type of company: B2B & B2C
SurveyMonkey is a SaaS company and a cloud-based survey tool that allows users to analyze data using pre-made templates and expert-written sample questions.
The software makes research easy and even enables scoring to estimate the success rate of surveys.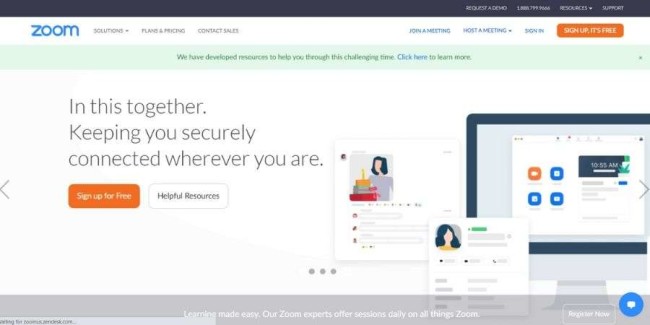 10. Zoom
Headquarters: San Jose, California
Type of company: B2B
Zoom is a SaaS company and video conferencing tool allowing companies to connect with their employees and clients efficiently online.
Its capabilities go beyond video chats, so it supports team chat, information sharing, recording and more.
11. Hypercontext
Headquarters: Toronto, Canada
Type of company: B2B
Hypercontext (formerly Soapbox) is an app built for people managers looking to have more productive one-on-ones and team meetings. Teams are able to create shared agendas, take meeting notes, collect feedback,  set and track goals, and assign next steps, all in one place.
The platform seamlessly integrates with common team SaaS tools, including Slack, Microsoft Teams, Google, and more.
Top SaaS companies develop and maintain servers, databases and software that businesses can access from almost any internet-connected device.
They most often pay monthly or yearly subscription fees to get a license to access these tools. SaaS providers usually offer several billing options that can fit different needs and budgets.
They are based on:
The number of users who will access the software
The amount of data that businesses need to store
The level of technical support that they seek
5 Benefits Of SaaS Tools
The top five benefits of using SaaS applications include:
1. Flexibility
Businesses are always changing, evolving strategies and pivoting campaigns -- and they need programs that can keep up with those quick changes.
SaaS tools allow the flexibility needed to quickly add new functions or find new business solutions to attain overall growth.
In addition to quickly and seamlessly adding new features as needed, SaaS allows subscribers to share this information with many employees or teams.
This fast communication lessens the learning curve often associated with updates and ensures all team members are in the loop and at the same level of productivity.
2. Scalability
Many times, when businesses want to add additional functions, improve features or handle robust consumer requests, they need to completely build and integrate new functionality.
But with SaaS applications, brands can simply adjust their subscription to garner these results.
Top SaaS companies offer many tiers of services and features and help brands adapt their company's work up or down in relation to their needs. This assistance makes minute adjustments relatively inexpensive while also providing fast outcomes.
3. Customizability
Due to emerging technologies, it is fairly easy to customize many SaaS solutions to your business. Some customizable features include modified data fields, altered user journeys and UI interfaces, among others.
These personalizations don't just improve productivity and workflow -- they also strengthen brand identity.
After all, brands that focus on consistent brand presentation are three to four times more likely to experience brand visibility and increase revenue by 33%.
4. Latest Features
The top SaaS companies give subscribers access to the latest and greatest versions of their programs. Much like a cell phone automatically updates its operating system, SaaS solutions automatically install new program updates.
This gives business access to the latest tech, new features and even solves any glitches or troubleshooting problems that may arise.
Giving businesses new features ensures they stay productive and ahead of the latest trends without wasting time searching for new programs or downloading additional programs manually.
5. Cost-Effectiveness
All in all, top SaaS companies provide quality platforms and reliable assistance at a reasonable price point.
By utilizing SaaS, businesses no longer need in-house experts to handle those platforms and services -- they are all automated by the company, which has a team of experts who are responsible for its performance.
Because of that, brands can allocate that time and money to other departments, which ultimately makes the business more productive.
In addition, the tiered subscription model often encourages clients to add additional functions at a higher level for a discount, adding more value to SaaS applications.
The Major Disadvantages Of SaaS Applications
SaaS tools carry many benefits for businesses. However, they aren't perfect and have their own drawbacks.
Here are the major disadvantages of using these programs:
1. Security
18.1% of all files uploaded to the cloud include sensitive data. (Skyhigh)
Businesses store sensitive information on their SaaS applications and entrust their files and processes to third-party service providers.
However, certain platforms may have holes that enable access to identity and management which may lead to malicious actions and data breaches.
This is why security is one of the top concerns for businesses when considering SaaS applications.
So, you as a customer should take steps to ensure that the vendor of SaaS services has the appropriate processes and systems in place for data protection.
2. Regulations Compliance
When your business' files reside in the datacenters of top SaaS companies' solutions, it can be difficult to comply with the relevant governmental data protection regulations.
In this case, you as a client will need to find out which laws apply to your business. You should discuss this issue with your vendor, ask the right questions and point out any inconsistencies in the process.
3. Performance
Since SaaS solutions run on remote data centers and are accessed via internet-connected devices, you may experience connectivity issues.
This can cause performance worries and failure to access the software or data when compared to solutions running locally on desktop.
Businesses, therefore, need to invest in fast and reliable internet services to avoid this issue.
4. Data Mobility
Deloitte survey shows that for 58% of businesses data migration is the biggest challenge they encounter when implementing a cloud solution.
Sometimes companies may not be satisfied with the current solution and may decide to switch to another SaaS provider.
However, the process of transferring data can be challenging especially for startups and small businesses that don't have enough experience in the highly competitive landscape.
So, this takes careful planning and executing a well-developed exit strategy.
5. Integration
When businesses seek to host multiple SaaS applications they may face integration issues with the existing in-house software.
The APIs and data structures might not combine with the external solution properly. As a result, businesses should always do compatibility checkups with all SaaS tools for better results.
How to outline software development requirements in 5 easy steps?
LEARN HERE
How To Choose The Best SaaS Solution For Your Business?
Here are a few best practices that can help you decide on the best SaaS product and company for your business:
1. Features
You should search for the SaaS applications that include all the features you need.
Consider these questions to make sure they can solve your business problems and are equipped to help your company grow:
What features and functions do these SaaS tools include?
Can they solve your business problems and how?
Which of them can fit your needs the best?
Pro tip: Understand if the top SaaS companies that created these solutions have backup processes in place since no software can run flawlessly.
2. Cost
Top SaaS applications' pricing structures are directly related to the services and account support you will receive -- especially because they are quite literally built around a subscription model.
So, before you choose the right solution, address these questions to ensure you're receiving the functions you need at a price that fits your budget:
How much do the solutions cost?
How often will you be billed?
Exactly what features and support are you receiving at that cost?
Can you expect any additional fees?
How much will it cost for you to add or remove features while you own the license?
Which of these tools offers the best features for the price? 
3. Safety
Due to its remote cloud storage model, ensuring cybersecurity is imperative when choosing the right SaaS application for your business needs.
Take the time to understand where your information is stored, how the owner company plans to protect it and who is responsible should a data breach occur.
In terms of this, make sure you consider the following questions:
How will your data be protected?
How many data breaches has the software had in the past?
Why did they occur and how were they rectified?
What is the protocol in the event of a security breach?
Who is responsible in the event of a data breach?
What does the company recommend to minimize the risk of a data breach?
4. Support
The top SaaS companies have teams of experts in place to implement your new program and provide support throughout your time using it.
Make sure you understand exactly how much assistance you will receive for your services licensed and cost by considering these questions:
Is anyone available to help guide your strategy, if needed?
Do different subscription tiers receive different support?
What level of training will you get?
5. Flexibility
One of the biggest benefits of SaaS applications is that they are flexible and can be adapted for a business's needs.
However, not every software is created equally. The following questions will help you learn if a SaaS tool can be integrated with your existing programs, platforms, services and business growth needs easily:
Are you committed to the program for a specific period of time?
How long will it take for you to add or remove services during the time of your contract?
What is the process for scaling your current subscription up or down?
Can these programs be customized or personalized? How so?
Finally, discover what happens if you decide to stop using the software. Learn whether you can get your files and data in some format that is easy to use and transfer.
Takeaways On Top SaaS Companies
Top SaaS companies build cloud-based solutions that help organizations run their processes better.
There are several types of SaaS tools they create among which the most popular are:
Customer Relationship Management (CRM)
Accounting
Collaboration
Enterprise Resource Planning (ERP)
The best SaaS companies and applications on the market are:
Dropbox
HubSpot
Mailchimp
Adobe
Slack
Shopify
Microsoft
Google
SurveyMonkey
Zoom
The biggest benefits of SaaS include:
Flexibility
Scalability
Customizability
Latest features
Cost-effectiveness
However, these solutions are not flawless and have some drawbacks like:
Security
Regulations compliance
Performance
Data mobility
Integration
To select the best solution for your business needs make sure you compare products in terms of:
Features
Cost
Safety
Support
Flexibility
The best SaaS companies can help you manage your business, team members and clients easily without needing any in-house experts.
Subscribe to Spotlight Newsletter
Subscribe to our newsletter to get the latest industry news