When thinking about your future job, a lot of factors come in to play. Will I like my coworkers? Will I feel welcomed and safe from the company culture? Will my manager and I get along? Will I like what I'm doing a year down the line?
But, most importantly, we think, "How much money will I make?"
This isn't a wrong thought to have — whether it's your main concern or just one of many. We live in a world where money is important. We have to be able to survive, after all, and part of being a responsible individual is understanding how to live well within your means.
But that doesn't mean we all don't low-key want to make the big bucks so we can live the lap of luxury.
Of course, money isn't everything, but there's no denying that compensation is a crucial element for any designer's job satisfaction and overall well-being. Having an understanding of the salary ranges for different design positions is key to being able to plan effectively for the future and feeling confident in salary negotiations.
Everyone wants to score high-paying jobs from top-paying companies — whether in the field of design, project management, film, education and beyond. Everyone has expectations and hopes for how much their total compensation should be. And if you're smart, you already have an idea of what your base salary should be — and if you need some help finding out, it should be based on two things: The median base salary for your position across companies and across markets, and how much you can realistically live off of.
This means that right off the bat, you've got to do a lot of research and digging. You've got to research your company and other companies in your industry. You have to ask around about how much they pay. You have to check out salary reports and get as much inside information as possible.
But getting that information isn't always easy. You essentially have to be your own private investigator, sleuthing about trying to get the "dirt" on these super secretive companies and organizations.
But whether you buy a trench coat, bowler hat and magnifying glass to help you on this quest is entirely up to you.
How Can Designers Find The Highest-Paying Companies?
Check salary calculators like Glassdoor, Payscale and Salary Expert.
Connect with peers and colleagues in your field for insights and advice.
Get company salary reports.
Most companies keep the details of employee compensation closely guarded, making it difficult for designers to accurately assess how their earning potential may be impacted by accepting a job offer from one company versus another. The purpose of this report is to shed some light on which U.S. companies are currently offering the most competitive compensation for designers, with the goal of helping designers make informed decisions about job opportunities and optimal career trajectories.
The information presented here is aggregated from Glassdoor and Payscale. It's important to note that because companies rarely share compensation information, the data that's available is survey data, which is self-reported by nature. Because the data is self-reported, there are cases where it may be exaggerated or skewed, and sample sizes are generally small.
Salary is also impacted by location, so designers working for companies based in Silicon Valley or New York City may command higher salaries on average than those working for companies based in other markets. It is also important to note that there are many factors in determining a potential employee salary — what level of education have they received, do they have an associates degree, a bachelor's degree or a master's degree? How much past practical experience do they have? Do they seem fit to grow in a position, or stay stagnant?
Hiring managers have a lot to consider when hiring an employee and doling out salaries. It's honestly hard to say which side has it worse sometimes.
But for the sake of this piece, we're talking about you, the job seeker, so hiring managers be damned.
Below, you'll find a roundup of popular design jobs and the salaries that the highest paying companies award their employees.The salary ranges presented should be regarded as median salary estimates, not absolutes, but taken in aggregate they can help illuminate trends and identify patterns.
A final note on the data: In order to give the complete view of compensation, the ranges include bonus and profit sharing where available. Salary ranges vary widely depending on job description and skill-level, so the data is presented according to job title.
Highest-Paying Companies for Website Designers
Highest-paying companies for website designers: Oracle, Microsoft, Salesforce, Amazon and Google.
The role of the website designer is to determine the look and feel of a website or digital product. Web designers deliver mockups that visually represent how the website will look. They give consumers a first look at a brand, its personality and its capabilities.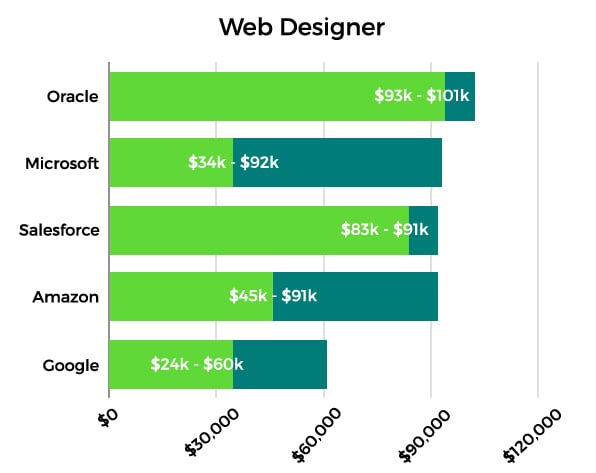 Sometimes the role of web designer also includes web development responsibilities, but at the bare minimum, it requires a solid understanding of current digital technologies as they pertain to and influence the design process.
In smaller companies, and in non-tech industries, the web designer may be required to be a digital generalist responsible for many of the tasks related to the design, development, and maintenance of a web property. There's a lot of responsibility on web designers' shoulders, so it makes sense they are compensated accordingly.
Highest-Paying Companies for Product Designers
Highest-paying companies for product designers: Facebook, Dropbox, Google, Salesforce, Uber and Microsoft.
Product designers are responsible for conceiving and strategizing digital products and experiences. The product designer seeks to understand the user — their needs, desires and impulses — and create solutions to answer the challenges the user faces. Product designers work closely with engineers and need to have a strong understanding of and fluency with underlying technologies.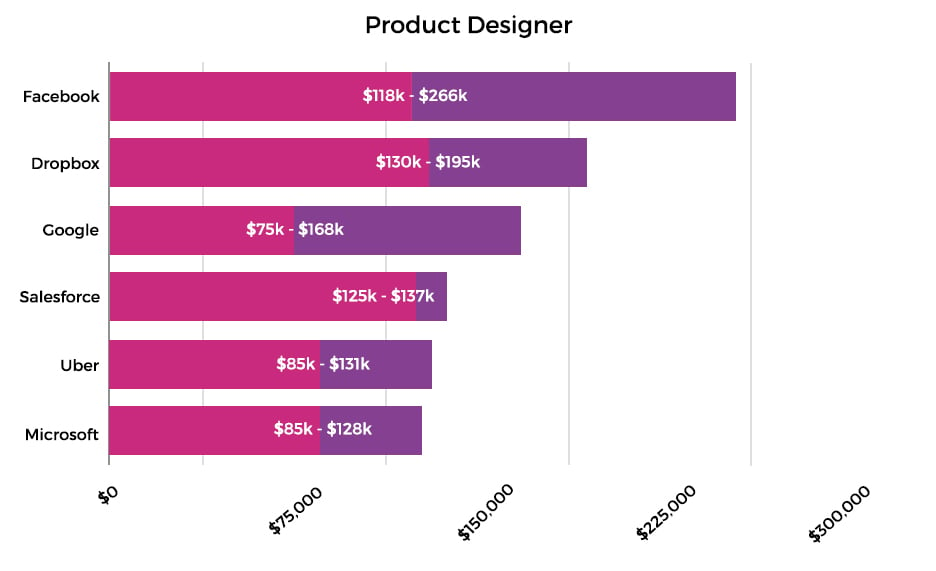 The job requires a high level of proficiency in a variety of design disciplines, and because it's a strategic role, the people who hold this position usually already have years of experience under their belt. They need to understand everything and be experts at almost all of it. Due to the higher level of expertise necessary for the role, salary ranges for product designers are some of the highest within the broader design field.
Highest Paying Companies for UX Designers
Highest-paying companies for UX designers: Amazon, Microsoft, Google, eBay, Cisco Systems and IBM.
The UX designer's role is to strategize and determine how a product or experience will operate. They seek to understand the user's needs and map the user's journey and interaction with a product. Their chief objective is to create the most enjoyable, intuitive user experience possible. They're responsible for producing wireframes and sitemaps. They make users feel good about interacting with a design.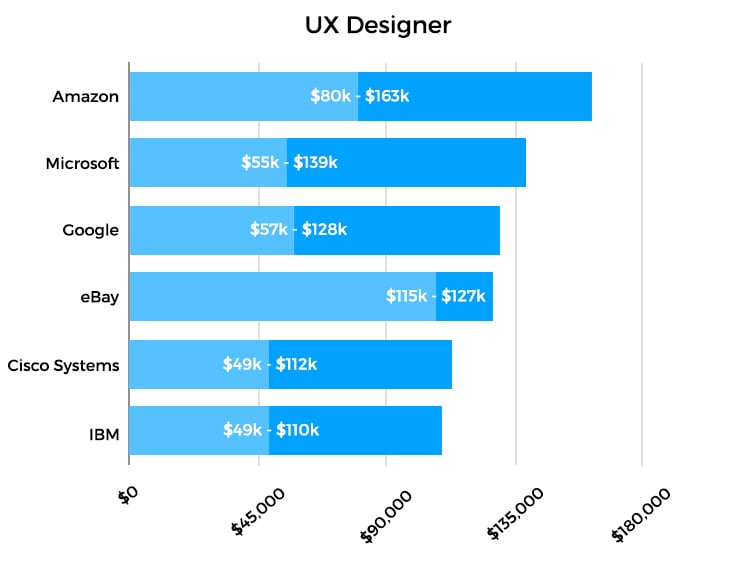 Salaries for designers in this role are generally on the higher end, and top employers include many major tech companies. This is due to the fact that UX design has become so integral that companies can't afford designers that don't make users feel something.
Highest-Paying Companies for Graphic Designers
Highest-paying companies for graphic designers: Airbnb, Saatchi, Apple, Microsoft and Amazon.
The graphic designer (sometimes also known as a visual designer) is responsible for the details of how a product or site looks. Responsibilities are often similar to that of someone in a web designer role. With the help of a style guide, graphic designers create visual designs for web, mobile and marketing purposes.
Graphic designers can find work at many high-paying tech companies, but they're also in demand at digital agencies and in-house for companies outside of the tech sector. Because of this, there is a giant pool of companies for graphic designers to choose from where they can see their designs shine.
Highest-Paying Companies for Interaction Designers
Highest-paying companies for interaction designers: Cisco, Apple, Amazon, Intel and Microsoft.
Interaction designers — or motion designers, as they're sometimes called — are responsible for determining the details of how an app will behave when the user interacts with it. Motion is critical to the user's experience of a product. It can help direct the user to take an action, confirm that an action has been successfully completed, and reduce user anxiety during brief moments of transition. It's the interaction designer's job to account for and design the animation within a product.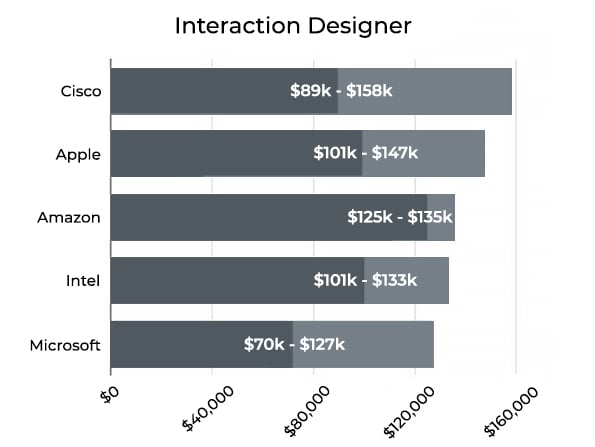 With mobile apps and mobile experiences becoming an increasingly important part of daily life for more people, it's no wonder that interaction designers are in such high demand — and are getting paid well for it. They need to ensure that the motion seen in these designs is pristine, flawless and engaging. Designers in this field can easily make money that they can thrive on. And if you take a look at the expertise of any of these ​interactive designer job listings​, you'll immediately notice the pattern of their desired skills.
From Amazon To Salesforce — The 5 Highest-Paying Companies In Your Design Field
Best companies for web designers: Oracle, Microsoft, Salesforce, Amazon and Google.
Best companies for product designers: Facebook, Dropbox, Google, Salesforce development company, Uber and Microsoft.
Best companies for UX designers: Amazon, Microsoft, Google, eBay, Cisco Systems and IBM.
Best companies for graphic designers: Airbnb, Saatchi, Apple, Microsoft and Amazon.
Best companies for interaction designers: Cisco, Apple, Amazon, Intel and Microsoft.
After all of this research, it seems to be quite clear that the top-paying companies for designers include Microsoft, Amazon, Oracle, Salesforce and Google just to name a few. They are long-time bigwigs in the world of tech and design and therefore have been employing and scouting design talent for decades. They are dedicated to staying ahead of the curve with state-of-the-art technologies and forward-thinking employees that drive innovation and success.
With salaries that span tens of thousands of dollars from their lowest to highest numbers, these five companies are passionate about creating impactful design and sourcing impeccable talent that earns them the acclaim that they are famously known for.
If you're a designer that specializes in any of the above fields and you're looking for the companies that will pay you best, these five should be at the top of your list. But this research also shows that there are a number of companies ready and willing to pay well for design talent.
And there's something most of these companies have in common.
It should come as no surprise that many of the top-paying U.S. design jobs are at tech companies based in Silicon Valley. These companies know that their products live and die by their designs, and competition among tech giants for the best design talent can drive up compensation in major design centers.
If you're a designer trying to make the big bucks, moving to the west coast is likely a good investment. This market offers some of the highest paying companies with the highest paying jobs available. That being said, competition in these markets is extremely tough. You have to know what you want and be able to take it if you are a designer in Silicon Valley.
And of course, what you might be offered as a salary, either in Silicon Valley, Seattle, or New York City, will most likely differ slightly from the numbers presented above. With growing economic markets and exciting technical innovations happening every day, the demand may be higher and you might be offered an even higher salary. You could also be offered something a bit lower if you're not working in a geographical location that demands this expertise.
Your past experience also has a heavy impact on salary determination and your ability to negotiate pay. You just have to make sure you understand and are confident enough in yourself to demand the salary you think you deserve.
Overall, salary ranges for design jobs vary widely based on skillset, experience, and location. Designers earning the highest salaries have the most diverse sets of skills, putting them in position to take on strategic roles with greater levels of responsibility.
And just because you make a good salary in some of these places, doesn't mean those dollars will get you very far.
But don't let this deter you! You can definitely score a high-paying job at a company you love, and you know will love you. And this small sample can definitely shed some light on the salary process when it comes to the design industry, and the companies that are putting the most investment in their designers.
If your job search has gone stale and you need some motivation to keep on applying, give these companies a look. They're almost always trying to cultivate new talent and ideas — and they certainly pay a pretty penny.
Your next high-paying design job is just around the corner. What are you waiting for?
Share your best designs for a chance to be featured on DesignRush!
GET STARTED
Subscribe to Spotlight Newsletter
Subscribe to our newsletter to get the latest industry news