It's hard to imagine a world without e-commerce. Nowadays when you need something, you can have it delivered to your doorstep hassle-free — sometimes in a matter of hours. If you're in need of some retail therapy, there's a certain charm to browsing for items and trying on clothes. But e-commerce is there when you need something fast and at a great price, without the need to leave your house.
There are a lot of reasons why e-commerce is booming – the availability is one of them. Whatever tickles your fancy, you can have it delivered to you. Do you remember the times you had to rummage through stores for days to find what you needed? Those days are surely long gone with the growth of e-commerce.
According to the US Department of Commerce,53 percentof global internet users shopped online.
Let that sink in.
More than half the world's population that uses the internet has purchased something online. And there are around 3.2 billion people with that access.
The most tech-savvy generation — the millennials — prefer online shopping to regular brick and mortar visits — a whopping 67 percent of them.
Since almost everyone shops online these days, we're all familiar with the pitfalls of bad e-commerce design. Poor quality product photography, disorganized product categorization and filtering and clunky checkout experiences are some of the mistakes we see time and time again. These usability and design flaws can ruin the shopping experience and repel potential customers.

More than 28 percent of online shoppers abandon carts because unexpected shipping costs turn up at checkout.
Some e-commerce sites, however, make it their mission to constantly improve their e-commerce experience. These sites are innovators in the industry, and they're great examples to follow for inspiration on truly exceptional e-commerce design.
What Are The Best E-Commerce Sites?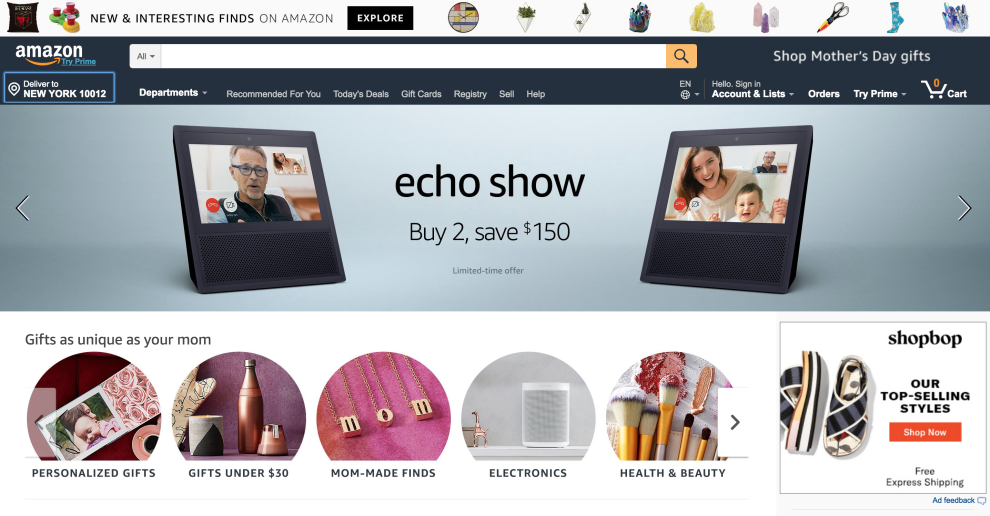 1. Amazon
Amazon is the undisputed king of e-commerce and number one on our list for a reason. The site receives an estimated 197 million visits per month and sales are reported to be upwards of $60 billion. Amazon is projected to reach 1 trillion dollars' worth of market valuation in the upcoming year.
Amazon is a retail innovator, consistently pushing boundaries and ultimately reshaping the industry as we know it. Amazon Prime, the site's annual subscription which gives users free 2-day shipping on many items as well as access to Prime Video and Prime Day sales, has helped make Amazon the go-to shopping destination online.
In 2018,Amazonaccounted for 44 percent of ALL e-commerce sales in the US. And they're already on track to reach their goal of 50 percent by 2019.
Amazon's acquisition of Whole Foods signals the company's growing influence in every area of consumers' lives. The recent launch of Prime Wardrobe, which allows customers to order clothing and try it on before paying, indicates a willingness to reduce friction in the customer journey and resolve pain points (like the hassle of the return process when ordering clothes online.)
Amazon does an exceptional job of cross-selling by showing users other similar products, and products that other customers frequently buy together with whichever item the user is currently looking at.
Amazon has even patented most of their e-commerce shopping architecture, including Content Personalization based on actions performed during a current browsing session.
Amazon's checkout and order management are seamless and designed to answer every possible user question or concern before the user even has time to wonder. Updating quantities, adding gift options and updating shipping preferences are all easy to do and from the checkout process, it's crystal clear what the user will pay and when they can expect to receive their order.
Another reason why Amazon is achieving such growth is that they're constantly working on enhancing their logistics. The first step is making online ordering a breeze, which is exactly what they did, and they keep refining it. The next step is delivering the packages. Amazon created a whole new level of added service and created new jobs in the process. We're talking about Amazon Flex.
It's like Uber, but you pick up and deliver packages instead of people. The flexibility is the same, drivers choose their work hours and earn an hourly wage.
But that's not all that Amazon does right with their custom e-commerce website design. Amazon is famous for its personalization and tracking. If you accept cookies from Amazon, they'll learn about the things you shop for and will recommend interesting stuff the more you keep buying on their site.
The end result is a perfectly personalized shopping experience with Amazon being your expert, smart shopping assistant.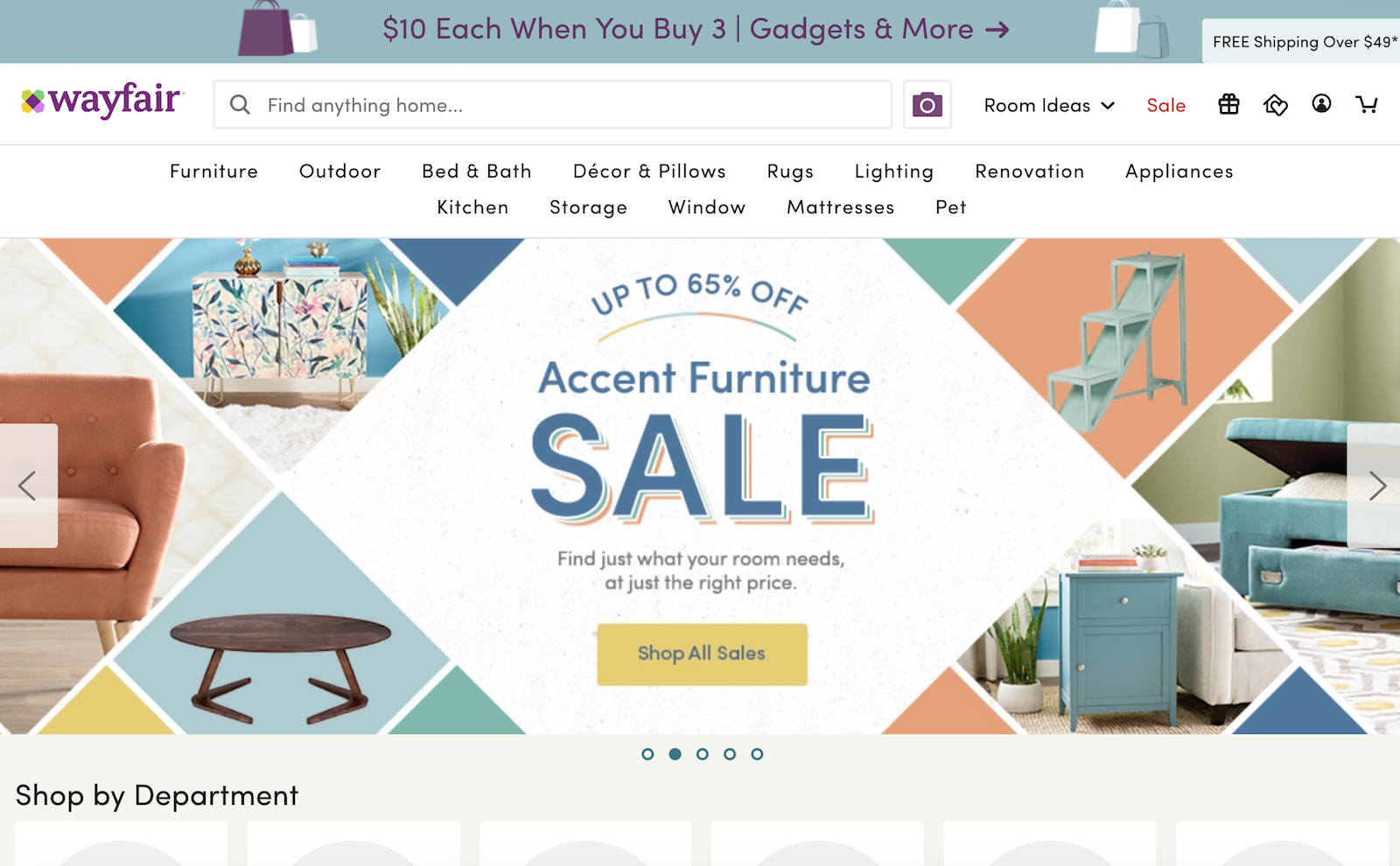 2. Wayfair
Wayfair.com is the biggest online-only seller of home goods and furnishings. Launched in 2011 as a consolidation of multiple smaller, niche websites, Wayfair.com has seen their revenues grow to over $2 billion.
Wayfair.com is a genius at e-commerce. The site puts a major emphasis on visual shopping, which is increasing the way users identify and engage with products.
According to survey data, most online shoppers indicate they prefer to see 3-4 images of a product before buying it. Wayfair definitely accounts for this user desire by placing a heavy emphasis on website product photography, offering multiple large, high-quality images of each product on the site.
What's more, product pages are bulked up with tons of useful content like product info, specifications, reviews, recommended accessories, and stock availability.
The site's navigation is also extremely visual, with images in drop-down menus and category browsing modules.
74 percent of online shoppers rate the product selection process as very important.
Also, Wayfair has a great mobile-friendly layout that begs for conversions. And probably has them. After all, small retailers have 30 percent higher mobile conversion rates than large retailers.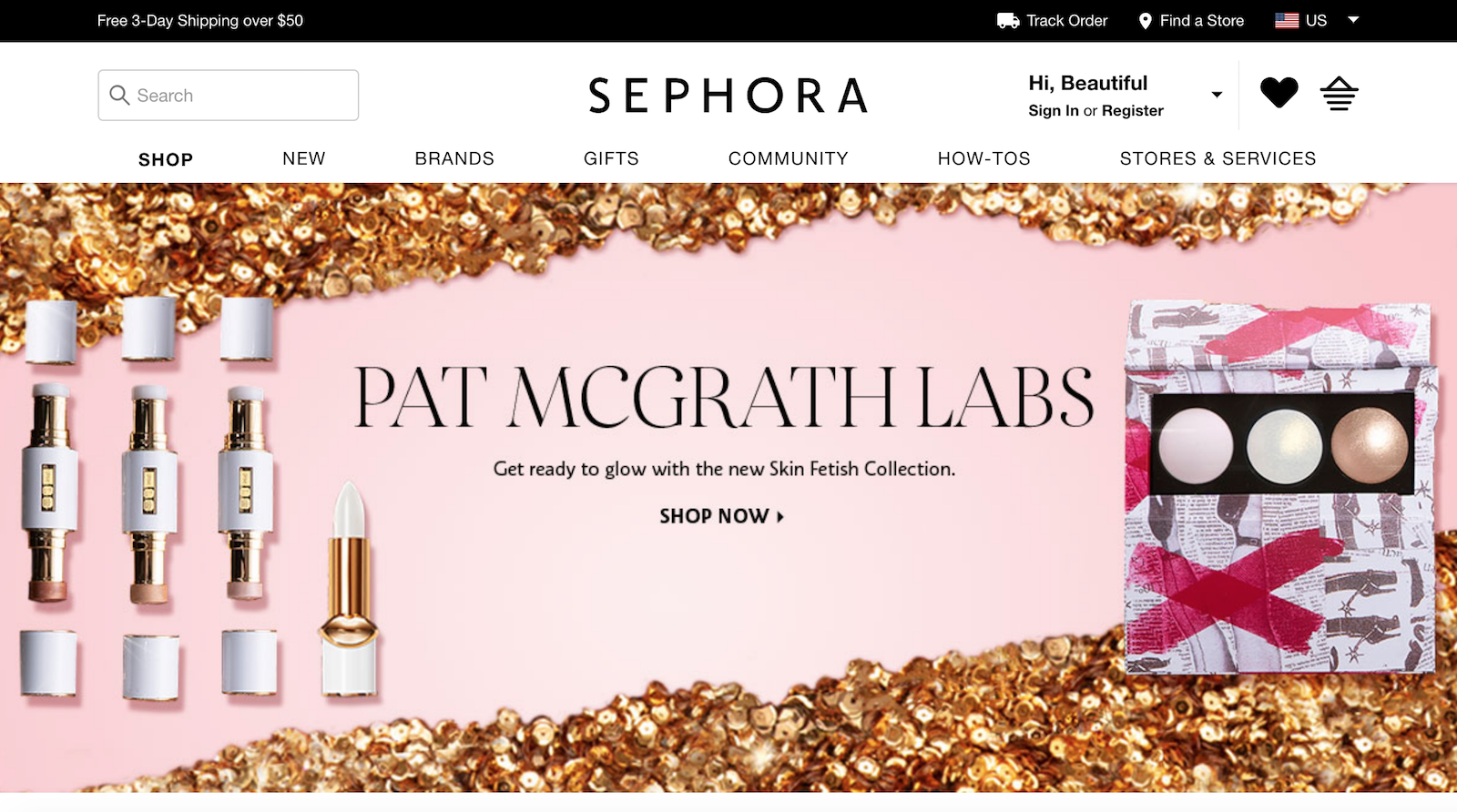 3. Sephora
When it comes to beauty, there's nobody quite like Sephora. The company has managed to develop an impressive cult following of beauty obsessives and has reached the top 3 e-commerce beauty sites on the web according to eMarketer. Amazon is still number one, Wal-Mart invested a lot and reached second place, so that puts Sephora as the third.
One thing Sephora does exceptionally well from an e-commerce standpoint is their consistent emphasis on community, loyalty and engaging content. The site has an entire dedicated Beauty Insider "community" section which features beauty tips, Q&As with beauty experts and tons of inspirational content. The community features of Sephora.com give the site a powerful stickiness and a reason to engage with the brand beyond the in-store experience.
Sephora also incentivizes the omnichannel consumer to shop online via a Prime-like program whereby customers can pay $10 a year to receive free 2-day shipping on all their orders.
The online beauty industry will always have a lower penetration rate because people still need to test the beauty products in person. We still can't feel the fragrance of a perfume online, after all. But people are starting to use stores as showrooms and then still order products online.
Sephora offers a 60-day return policy and a money-back guarantee for products returned in new or slightly used condition. That is a great tip to incentivize online shopping.
Furthermore, the Sephora brand understands the power of brand advocates and affiliate marketers. When talking about the success of affiliate marketers, around 10 percent of affiliates drive 90 percent of traffic to the website and achieve conversions. And Sephora already belongs in the industry where affiliate marketing works best - studies show that 50 percent of the best affiliate programs are those belonging to the fashion, travel, sports, and health and beauty categories.
To learn more about affiliate marketing and what it can do for your e-commerce business, check out DesignRush's in-depth guide to get started.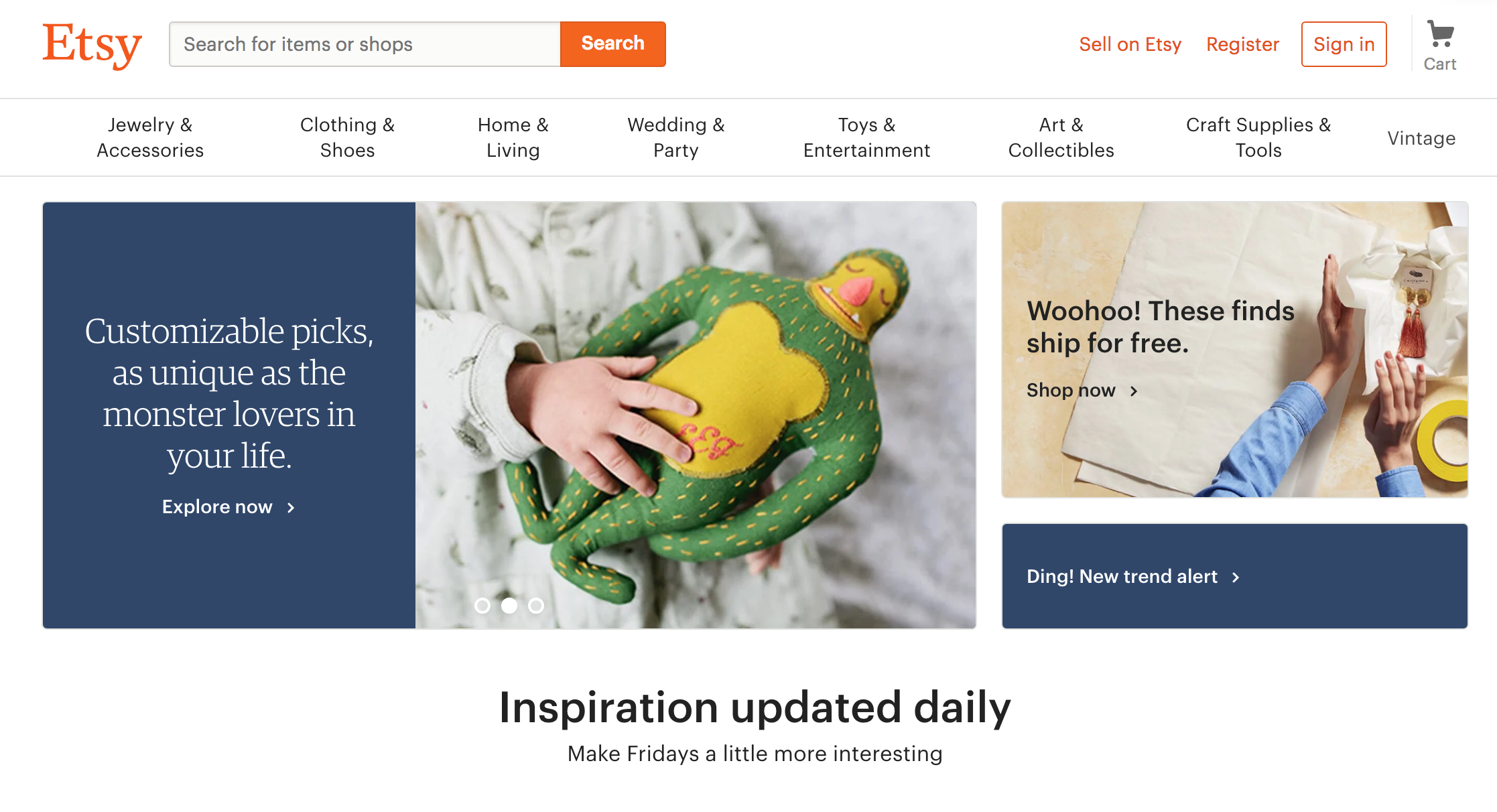 4. Etsy
Etsy is one of the top shopping sites on the web. It's a peer-to-peer site where sellers can list handmade and vintage items for sale.
As of 2018, Etsy has more than 54 million members who've bought products worth 1.93 billion in sales — and the site itself has seen more than 31.7 million buyers. A staggering 65 percent of those buyers come from a mobile e-commerce platform. Etsy understands the importance of having a mobile-friendly website and being always available for customers.
Similar to other e-commerce giants on this list, Etsy puts particular emphasis on visual selling. Categorization of products in the main menu is organized, thoroughly considered and ever-changing based on seasonality and popularity of specific sub-categories.
Etsy does a great job of harvesting reviews which are then shown on product pages and store pages. It's an important element of the shopping experience for a site where users are essentially asked to gamble on the purchase of a product, sight unseen, from a seller they may never have shopped with before. Etsy's reviews are a smart way to build confidence for the user.
They also tailor their email marketing to the user's browsing behavior, adding a personal touch that increases relevance and utility. If you can take away one thing from Etsy's example, let it be the importance of email marketing.
Email marketing drives sales, increases ROI, increases website traffic, is very cost-effective and accounts for 20 percent ofoverall leads.
If that isn't enough, here's another great statistic.
According to Campaign Monitor, email marketing can bring in around $40 for every dollar spent on email marketing. That is a return on investment in the ballpark of 4000 percent!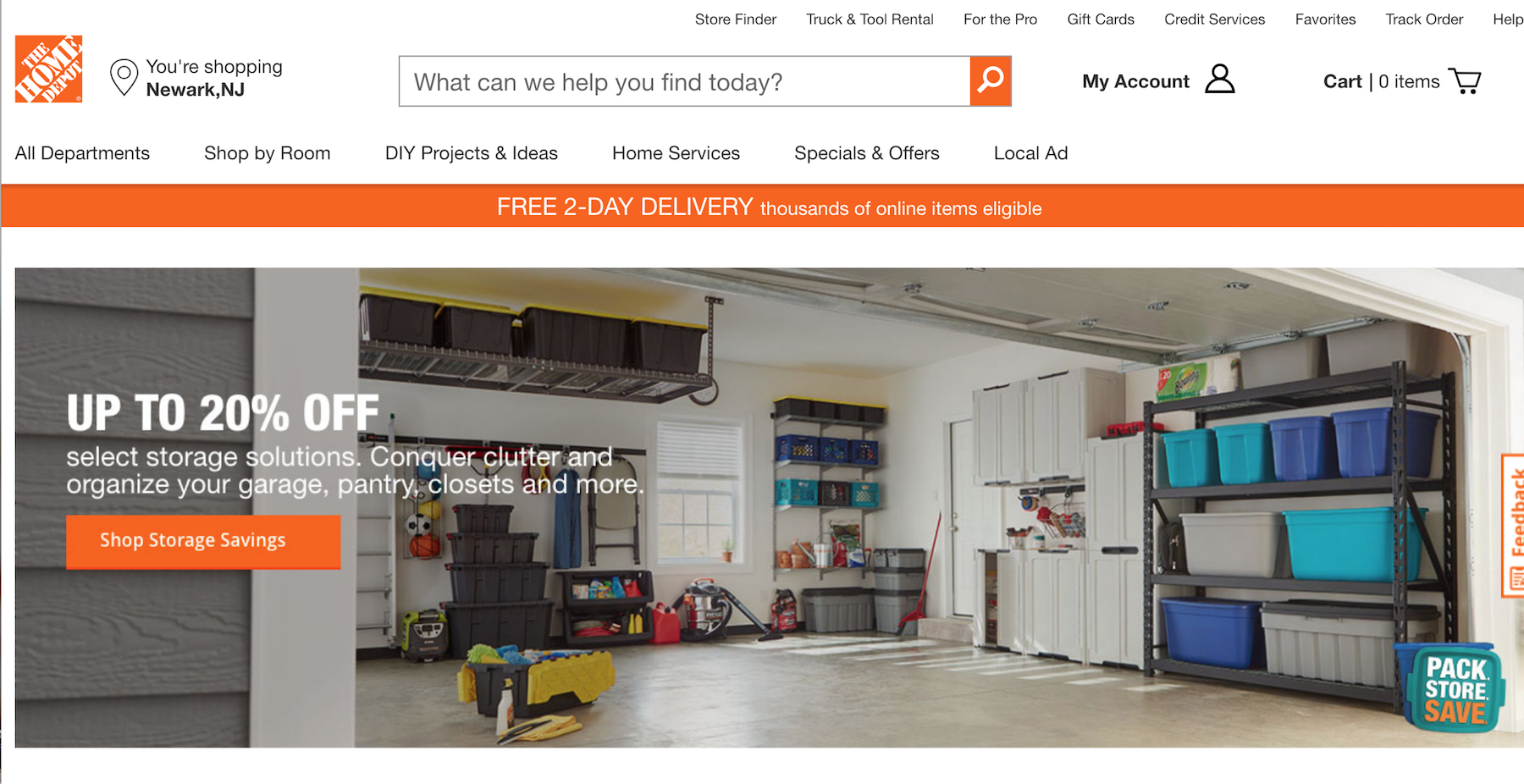 5. Home Depot
Home Depot is one of the most trafficked e-commerce sites on the web for the home and garden niche, with an estimated 150 million monthly site visits. It also has hundreds of retail locations across the country.
The browsing experience on homedepot.com is solid. Home Depot faces the same challenge that all large e-commerce sites must contend with — categorization and navigability of large and diverse product catalogs. And 93 percent of people think visual appearance is a major deciding factor when it comes to completing a purchase.
Home Depot allows users to shop by store department (electrical, hardware, home & garden, for example), but also by room. The main navigation covers the most common ways users would want to shop and menus include large images which help visually reinforce what's contained in each category.
Home Depot has found a few ways to both make the online shopping experience unique, and to tie the offline and online experiences together. The site offers daily online-only deals, which are an effective way to encourage online shopping and get users coming to the site on a regular basis.
They also offer users the ability to order online and pick up in store within two hours. This ends up being a great feature for users who want the convenience of shopping online but aren't willing to wait for home delivery.
Promotions, online deals and time counters create a sense of disparity and urgency. This is a tactic that works because it plays with your subconsciousness. But Home Depot also keeps customers engaged in this way.
Engaged customersare 7 times more likely to respond to a brand's promotional offers.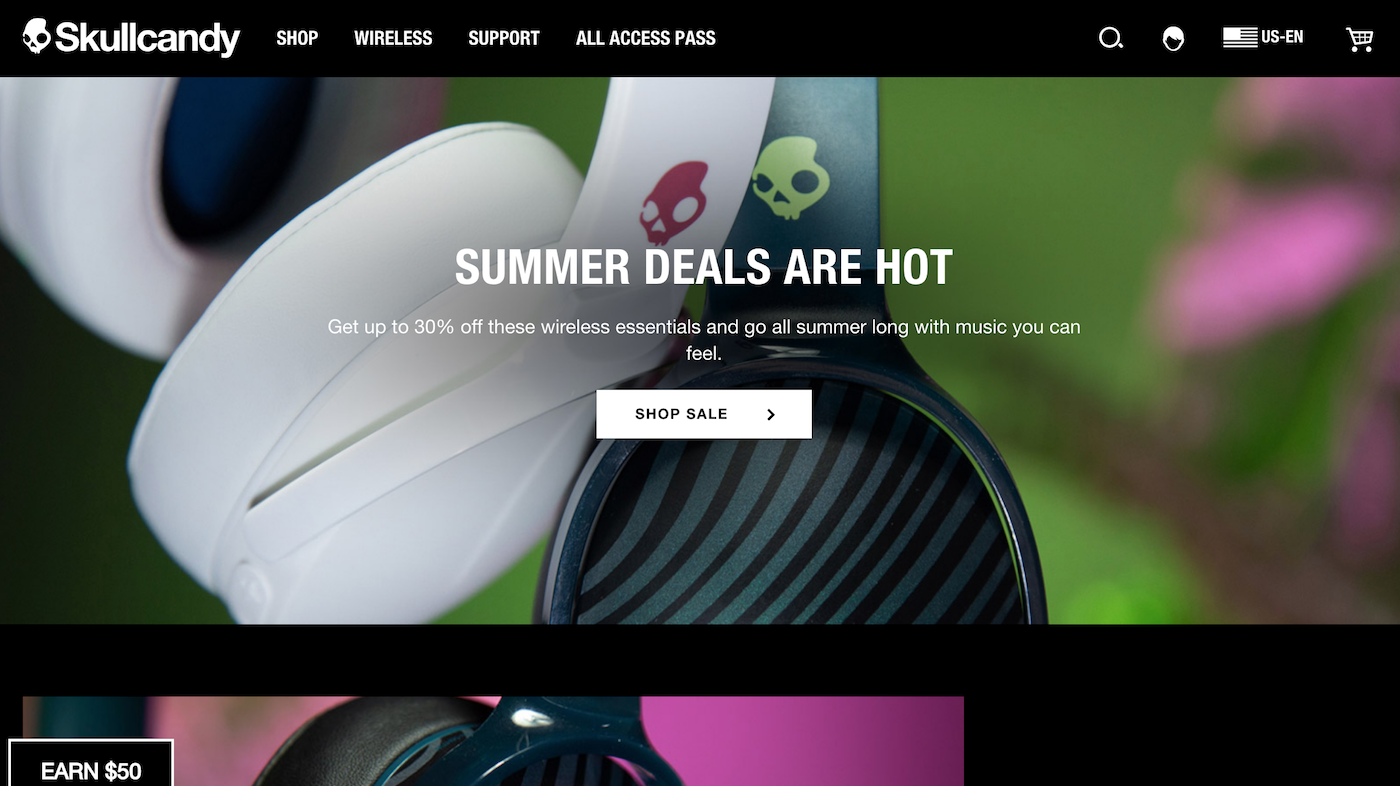 6. Skull Candy
Skull Candy sells premium headphones that come with a buzz — buzz around the brand, not the quality of sound. When it comes to e-commerce statistics, Skull Candy has a net sales value of 266 million dollars, and trends are on the constant rise.
It's hard to maintain this level of high-quality visuals when you have big e-commerce aggregators and huge websites, but smaller businesses with limited product lists can really make them pop. The quality and effort Skull Candy invested in product presentation is reflected in their sales.
Every product has its own page with high-class imagery and parallax effects. The goal is clear from the start – captivate users with a great user experience and intuitive interface. If you're looking for an inspiration for your e-commerce website, Skull Candy is the best one. And from a technical point of view, these pictures and animations are very simple to achieve — yet so effective.
Skull Candy also uses value-added services to increase their brand awareness and create a brand identity that will connect with generation Z and Millennials. They offer music passes, use giveaways, connect communities and even promote musicians.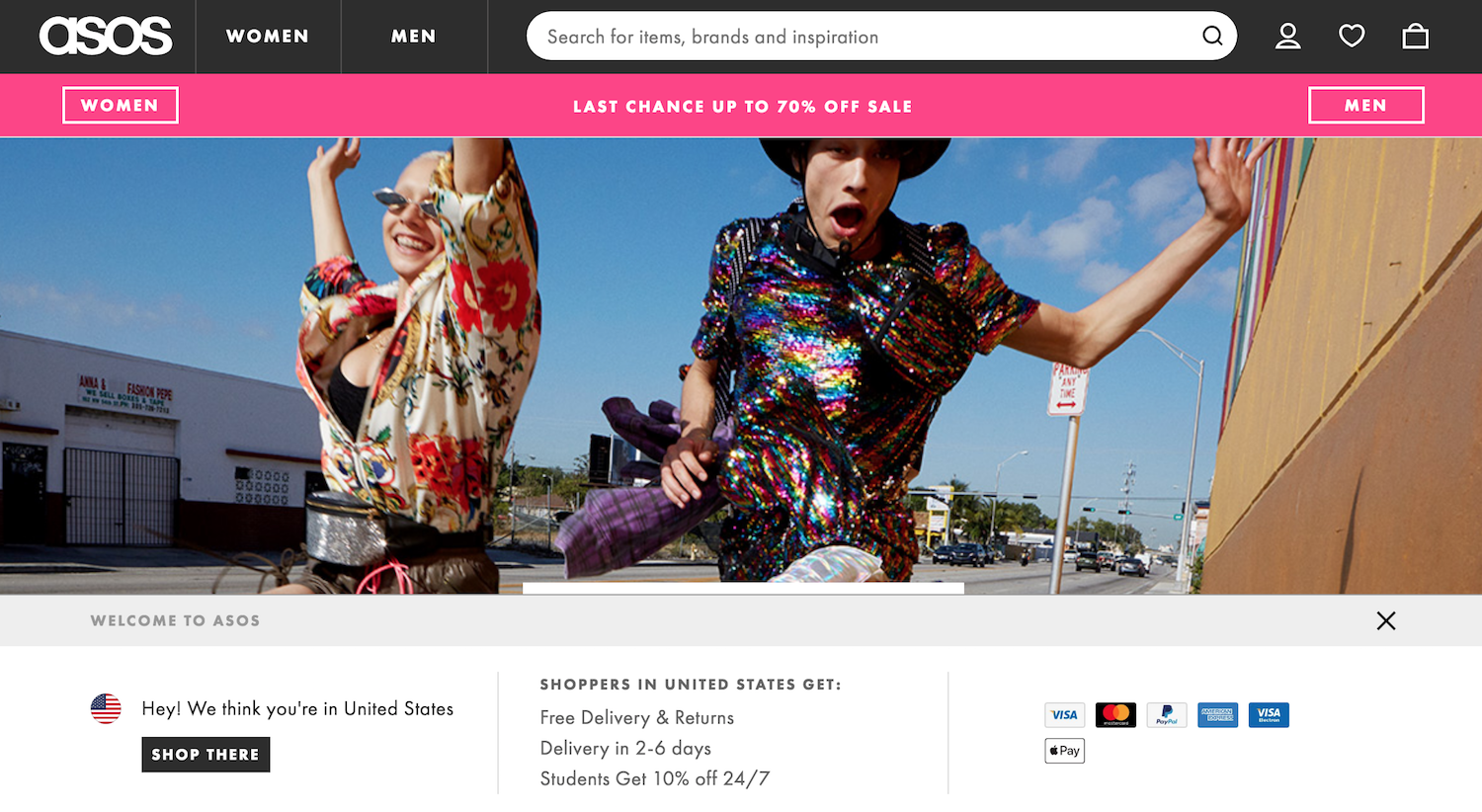 7. Asos
Asos is a British fashion retailer that is really popular among teenagers and Millennials. They probably owe the majority of that popularity to their carefully executed marketing campaigns and online presentation. The statistics for Asos show that their sales jumped by 27 percent and rose to 1.8 billion British pounds — roughly 2.4 billion dollars in October 2017.
And 2018 brings even more favorable results. As of the end of June 2018, retail sales were up by 22 percent, international sales (owing to e-commerce) were up by 21 percent, and Asos now boasts a 20 percent increase in active customers.
There is no doubt that these results are enhanced by online sales. Asos uses high-quality product images that display different angles – a feature that many online visitors are grateful for. Buttons are prominent and include CTAs, while copy is simple and to the point. They let the clothes do the talking.
There are small animations and moving elements all over the website that bring it to life. Simple, static websites without transitions, moving elements and animations are dull to look at, and for an e-commerce website that means many lost customers. This is backed by the facts, too.
More than 38 percent of people abandon websites if they find the layout unattractive.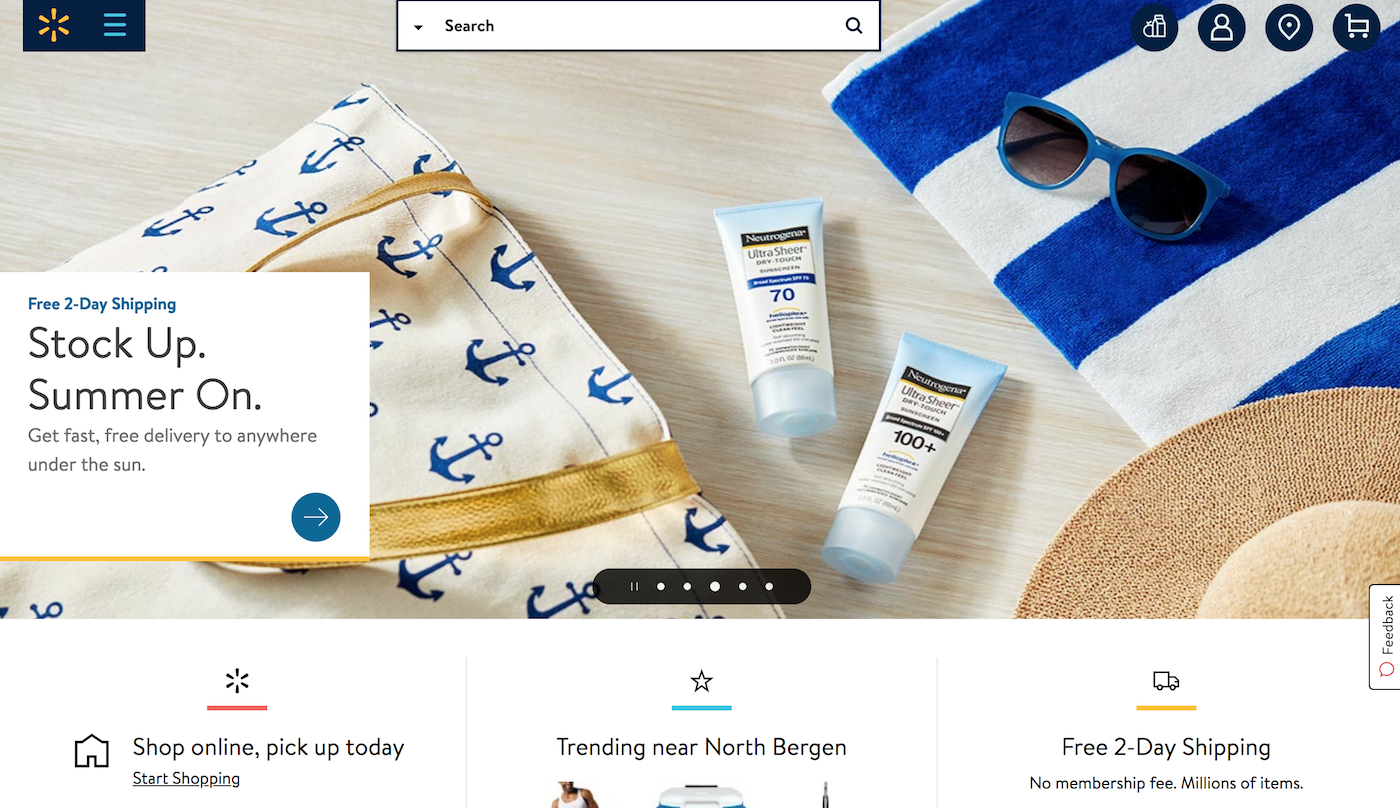 8. Walmart
Walmart is very new to the e-commerce game, starting their online business journey in 2017, but they're doing everything right. If they didn't, they wouldn't have a 63 percent increase in online sales. User experience is very important to Walmart, and if you look at their website design, it's clear that their e-commerce site is user-centric.
They paid a lot of attention to their checkout and cart, and that's reflected in their sales. Product search results are displayed in a unified grid view and all information is right there where users can easily access it. Filtering, sorting and product search features add to the whole online shopping experience.
Walmart truly shines in product descriptions and high-quality images. Whenever a customer adds a product, an overlay bubble appears and displays additional information. Walmart works heavily with transparency, showing all the costs, prices, taxes, shipping and more.
It's evident that Walmart wants to copy Amazon and with the statistics we've shown above, who wouldn't? They also advertise frequently bought products, upping their cross-sales in the process.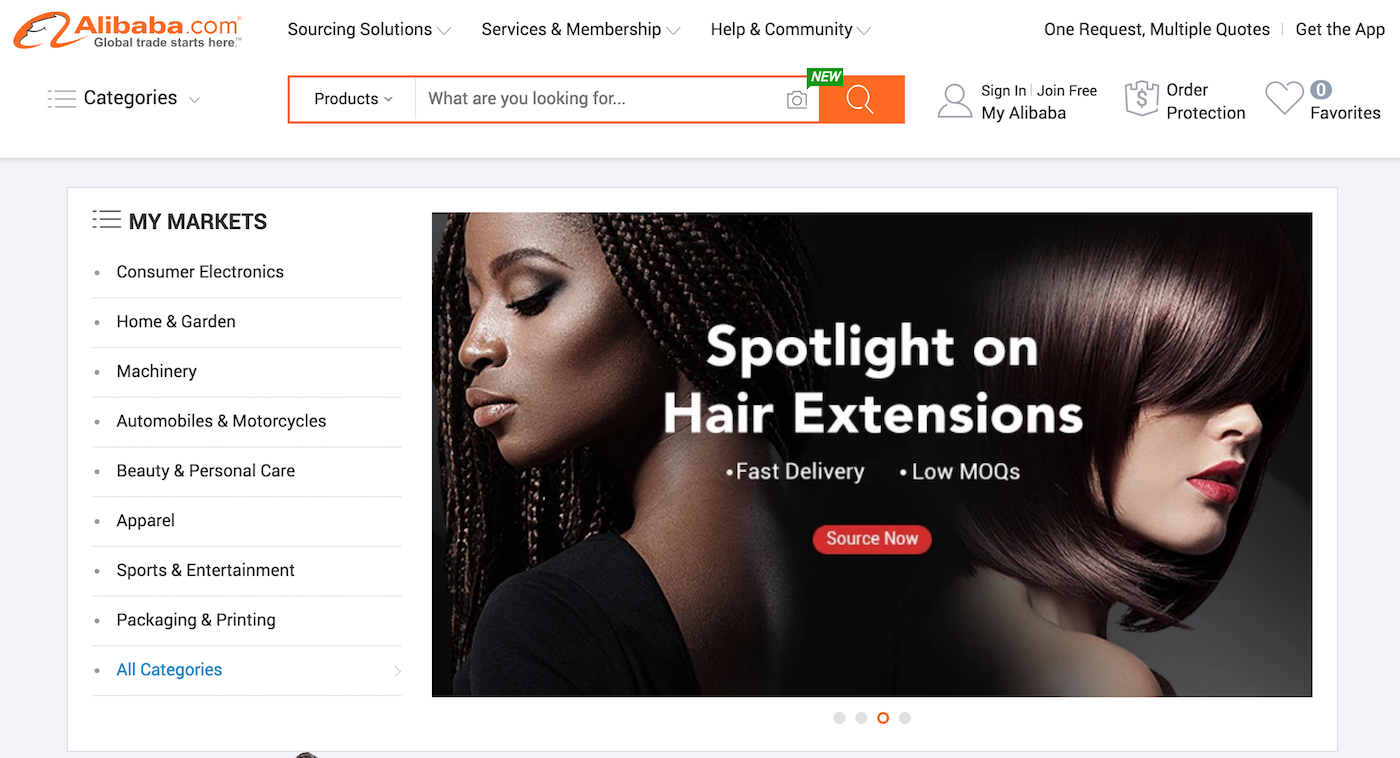 Need to spice up your professional web design? DesignRush has a list of top website design and development companies who can save the day!
9. Ali Express/Alibaba
Two platforms under the same group are reaching unimaginable heights – people consider it to be the Chinese Amazon — delivering goods across the world.
In 2018, Alibaba Group's revenues exceeded 39.9 billion dollars. Alibaba Group is comprised of two platforms – B2B platform Alibaba, and B2C platform AliExpress.
Alibaba Group and AliExpress both have the same website design. In some manners, Ali sites are even better than Amazon – at least aesthetically. Ali websites boost e-commerce through great design and website elements. Account options resemble Google's design, the colors are bright and there is plenty of white, negative space so that the pages don't look cluttered.
Ali websites have an intuitive interface. For example, they offer the same or similar products as various sellers. And there's a whole new level of social proof – not only can people leave product reviews, but stores have ratings too. This allows Alibaba to set up their own virtual shops on their e-commerce platform.
Checkout is simple, especially if you're a repeat customer. If you sign in, you have access to a one-click checkout. Since you can shop for various items from many different shops, you can simply use the checkboxes and click and pay for the items you want with ease. The layout is done beautifully, and everything is very transparent and simple.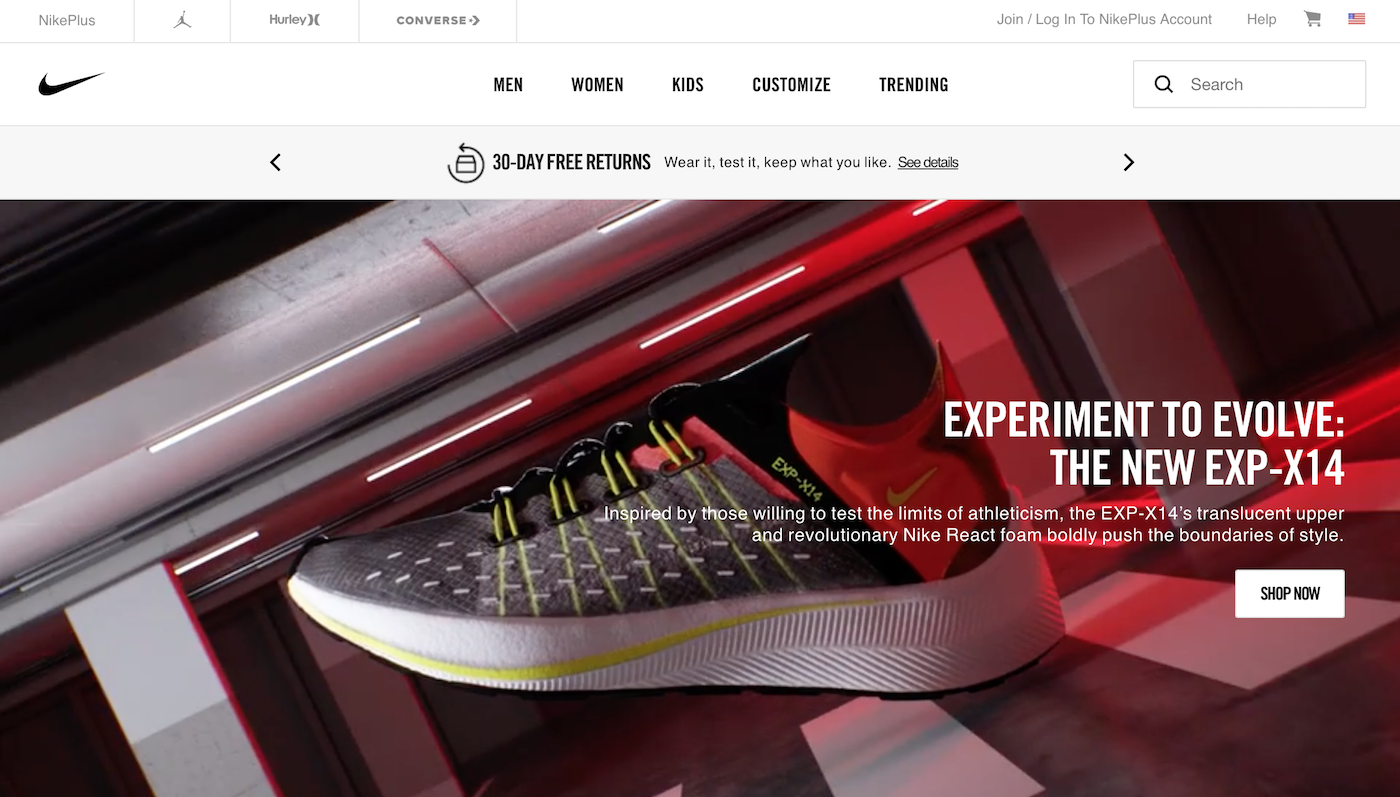 10. Nike
Nike is a wonderful example of an e-commerce website that uses the power of its brand image to its fullest potential. There's no need for a lot of words when products, shapes and icons tell a story.
There is something brash about this approach, but brands like Nike can afford it. In 2017, their global revenue exceeded 34 billion dollars. In June 2017, they grew their annual e-commerce sales by 30 percent, and they reached 2 billion dollars. The brand is on a mission to grow their e-commerce sales to 7 billion dollars in 5 years.
Since Nike has so many products, it's great to see how they maneuvered their layout around to display them nicely. Intricate product filters help you choose the perfect product for your needs.
But where Nike truly excels? Nike got onboard with the personalization approach and they're driving their e-commerce sales with it. You have to visit their website if you want to customize and buy your design. And they're building brand loyalty through added values like mobile app loyalty programs.
Why does personalization work? Apart from the fact that you have the power to choose elements that will be on your product, you can be sure that you're buying something unique.
People often say that Nike is a marketing company that sells shoes and we couldn't agree more.
The Best Tips To Improve Your E-Commerce Business And Website Design
1. Get Personal
Personalization obviously works for e-commerce. From Amazon to Nike, all brands should focus on bringing a personal touch to the web experience. After all, it's proven that personalization increases lead conversion rate.
2. Create An Easy Checkout
Make checkout as easy as possible — you want to make purchasing quick and simple. Shopping cart abandonment is the number one problem in e-commerce and the main culprit is a complicated checkout process.
3. Use Testimonials
Social proof -- or support from real people -- is really important to other consumers. It adds legitimacy to your business, meaning people will trust your brand even more. People believe other people, it's a simple fact. Testimonials and reviews are a great way to instill that trust.
4. Incorporate Product Images, Videos & Descriptions
The more information you add, the better. Search engines love content so if you're selling the same things as your competitors, you can rank better just because you have more content.
5. Upsell And Cross-Sell
Don't miss a chance to add more similar products or items that are frequently bought together.
6. Strengthen Your User interface
Make sure that product filtering, website navigation and search function are done properly. Make it convenient for people to find what they are looking for.
7. Use User Generated Content
Use user-generated content to boost your e-commerce sales. Let your customers show how much they value your brand and let them create content for you.
Explore THESE Florida web design companies that can send people on memorable e-shopping sprees.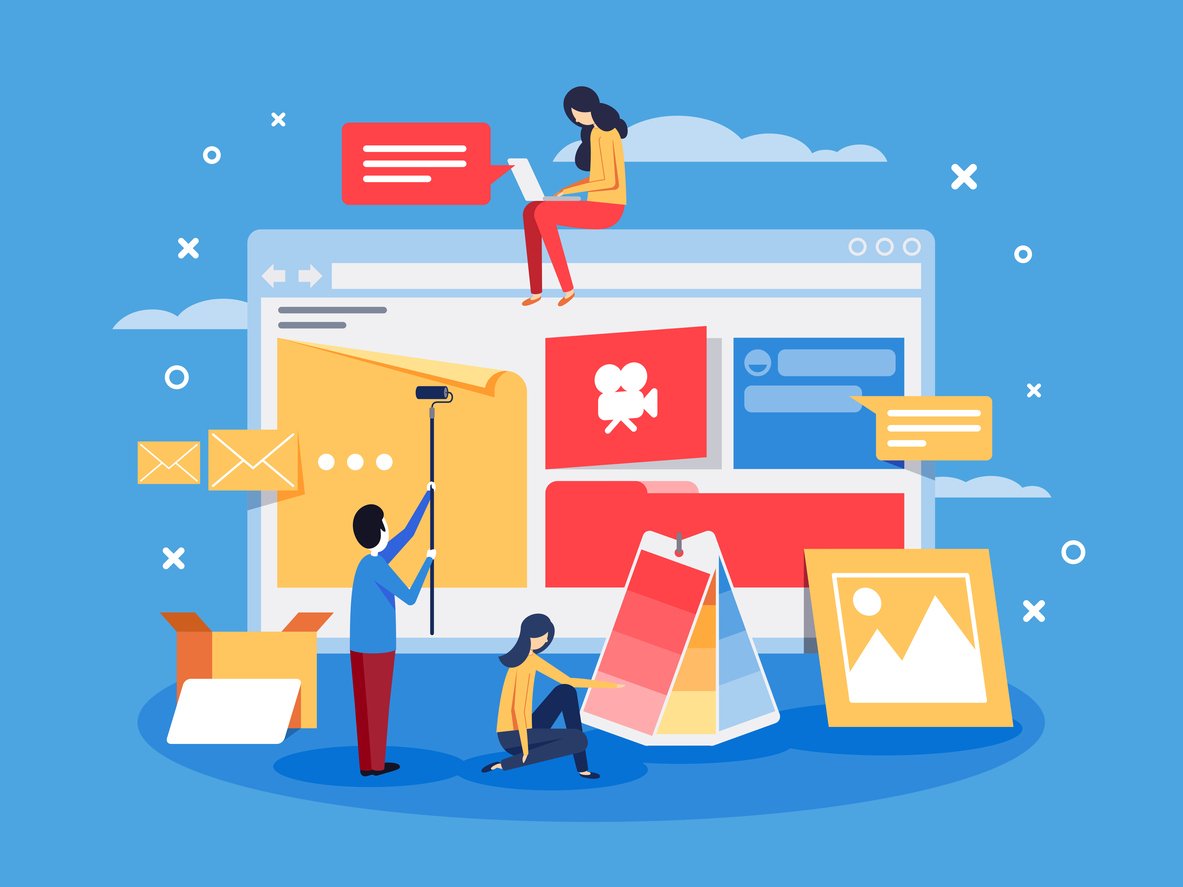 How Can You Solve Shopping Cart Abandonment?
Fix The Checkout Process
This is the biggest issue in e-commerce — people don't complete their purchases and abandon their carts. There is a staggering statistic that shows that shopping cart abandonment could be up to 80 percent.
The average cart abandonment rate is 68.9 percent.
That means that for every 100 people who put an item in a shopping cart, only 68 will complete a purchase. Imagine how many potential customers you're losing this way.
If we want to solve, or at least reduce shopping cart abandonment, we should first look at the reasons why people abandon their carts and never finish their purchase, to begin with.
At least 56 percent of people abandon the cart because there are unexpected costs at checkout.
Additionally, 25 percent thought that website navigation was too complicated and 21 percent thought that the process was taking too long.
When it comes to payment, there is a conundrum. People will leave if payment is complicated and takes too long to complete, requiring with many verifications and security checks. That's 18 percent of customers. However, if the payment seems unsafe, 17 percent of people will easily abandon the cart.
Here are tips to improve your checkout process and reduce shopping cart abandonment:
Make sure that your e-commerce business is mobile friendly. But for real. Test the shopping process yourself and see if it can be fixed. You don't want to lose 30 percent of customers who never return to the website again when they experience a negative shopping experience.
Use large and high-quality product images – 46 percent of people leave a website if product images aren't good enough.
Don't force people to sign in, create an account or force them to do anything. It leaves a negative impression. Make this optional by letting people sign in or continue the shopping as a guest.
Make paying as easy as possible.
Include many different ways to pay. You do want people to give you money, right? Then let them pay you in whatever way is easiest.
Add security measures and display the certificates so that everyone can see them. It adds credibility to your website.
Tell the customers where they are in the shopping process. Let them know if they are on the delivery step, or payment, or checkout, or whatever. When they know where they are, it will be easy to complete all the steps.
Don't ask for too much information, especially if you don't need it. Sure, delivery address is mandatory but anything that isn't necessary for the purchase fulfillment should be optional.
Transactions have 70 percent higher checkout conversion.
Fix loading speed. For each second that a customer waits, their satisfaction drops by 7 percent.
Use videos – 73 percent are more likely to buy a product after watching a video
Overall statistics show that brands can improve their sales and reduce shopping cart abandonment by 10-30 percent if they enhance their checkout process.
When designing your own e-commerce experiences, it's useful to look to the best in the industry for inspiration. Each of the e-commerce sites on this list offers a best-in-class e-commerce experience that's designed to provide both utility and enjoyment to users.
By constantly innovating and improving user experiences, these companies are able to turn users into loyal, lifetime customers. Since it's seven times cheaper to keep an old customer than to acquire a new one, you should really look into the ways of keeping your regulars.
What Can You Take Away From These E-Commerce Website Insights?
E-commerce is worth investing in. The market is huge. More than 96 percent of Americans have made an online purchase at least once in their life. And 80 percent of Americans have made an online purchase in the past month. Latest surveys in 2018 show that 51 percent of Americans prefer online shopping — meaning literally half of the United States are ready to make a purchase online.
Is it time to beef up your e-commerce experience? Definitely. The gains outweigh the costs. The market is ripe, and even though there is competition, there is also room to grow and expand. With 23 percent of year-over-year growth, e-commerce is not slowing down. But despite these facts, 46 percent of small businesses in America still don't have a website provided to them by a good web design agency!
You don't want to make that mistake — and using these e-commerce sites as your guide will help you see increased sales in no time.
Subscribe to Spotlight Newsletter
Subscribe to our newsletter to get the latest industry news