What Makes Milwaukee Web Design Companies Unique?
Unlike similar firms in the USA, Milwaukee web design companies have built deep expertise in the locally dominant industries:
Energy
Manufacturing
IT
Medical technology
Food and beverage manufacturing
Finance and insurance
Water technologies
This makes web design companies in Milwaukee well-poised to deliver successful digital platforms for clients operating in these leading sectors.
They are familiar with the local business environment, the competitors and the challenges businesses in these industries face.
So, they have an accurate view of the local market which positions them to provide insights that can help your business gain an edge over competitors.
Most of all, the local web design companies know the local audience well, their lifestyle and cultural background, which enables these professionals to craft designs that appeal to the market. They can certainly help you reach and engage the local customers easily and effectively.
In addition, Milwaukee's tech talent pool is expanding. According to CompTIA's 2021 Cyberstates report, the city had a total of 53,132 tech occupations jobs in 2020, including:
9,625 web and software developers, programmers and QA specialists
5,617 cybersecurity analysts and systems engineers
4,328 network administrators, architects and support
This means that Milwaukee web design agencies employ top-notch tech talent that can offer nationally competitive and quality services.
In fact, Wisconsin is the fourth state with the highest concentration of jobs in web design and development. Considering that Milwaukee is the largest city in Wisconsin, we can presume that a large portion of web designers is based here.
Moreover, the cost of living in Milwaukee is 3% below the national average. So, local web design companies are able to provide quality services at much more accessible rates than other cities in the United States.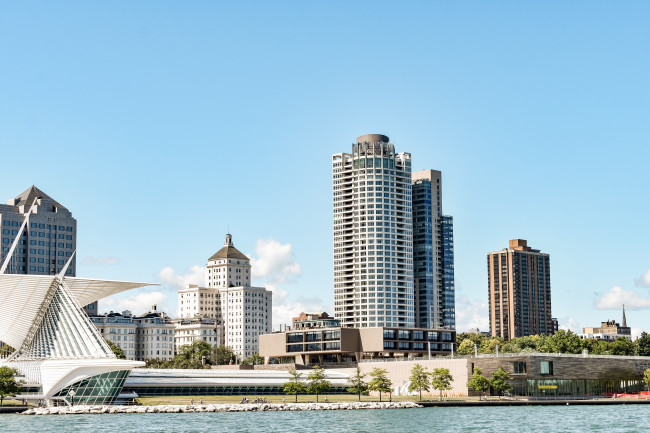 What Does A Milwaukee Web Design Company Specialize In?
Web design companies in Milwaukee specialize in building intuitive and attractive UX to help businesses entice and convert visitors.
Web designers work closely with web developers to deliver a site that is both visually appealing and fully functional. Their main objective is to provide a positive and smooth user experience.
Web design companies in Milwaukee typically provide the following services:
Web design
Website development
UX design
eCommerce design and development
Content writing
Market research
Website Analytics
Web hosting
Website quality assurance (QA)
Post-launch support
And more 
What Are The Different Types Of Milwaukee Web Design Firms?
Milwaukee-based web design firms fall into a few different categories, based on:
The services they provide: Some web design companies in Milwaukee can offer services beyond web design such as SEO, web hosting, content creation and even digital marketing, among others.
The platforms they use: Local companies are able to develop websites, eCommerce shops and mobile applications using a wide variety of platforms such as Magento, Shopify, Drupal, WordPress and more.
The type of businesses they work with: Some web design agencies focus on building websites for small businesses, whereas others have expertise in serving large businesses or corporations.
The industries they serve: Some local web design companies have chosen a few particular verticals to focus on like manufacturing, IT, medical technology, energy, finance and more. So, they have built experience in developing websites or mobile apps specifically for these sectors.
How Much Do Web Design Companies In Milwaukee Charge For Their Services?
For the most part, local companies price their services by the hour.
Depending on an agency's reputation and team size, the hourly rate for Milwaukee web design services ranges between $75 and $150 per hour.
When it comes to per-project rates, most web design companies in Milwaukee charge anywhere between $1,000 to $50,000. The overall cost of your project depends on a few factors:
The complexity of your website
The number of specialists involved
The additional services needed
Why Hire A Milwaukee Web Design Company?
Most businesses that outsource web design services to Milwaukee take advantage of their local expertise as well as their skilled tech talent pool.
The local web design companies are highly qualified to build websites that drive tangible results for businesses in the area's predominant industries.
They are well-familiar with the local audiences, competitors, challenges as well as opportunities. Not only can they develop websites that engage local consumers, but they can also provide a positive return on investment (ROI) and accelerate project delivery.
Therefore, you should consider hiring a Milwaukee web design company to leverage their local market insights, top-notch tech talent, as well as affordable hourly rates.
How To Choose The Right Milwaukee Web Design Agency
To ensure you're choosing the right web design agency in Milwaukee for your business, you need to consider a few factors. Here are some steps to make the hiring process easier:
Step #1: Decide What Type Of Services You Need
First, you need to clearly define your business goals and the type of services you wish to outsource.
Do you require web design alone or do you also need help with developing content and promoting your website? In this case, you must find an agency that provides content creation and digital marketing on top of web design services.
Identifying the kind of services you need will help you narrow down your search to only a few candidates that provide them.
Step #2: Study Their Previous Projects
Take the time to analyze their previous projects in detail. Check if the platforms they built are easy-to-use, optimized for conversions or rank high in search.
See if they can deliver creative graphics and enticing messaging. Be sure to verify all these elements to figure out if a potential Milwaukee web design company is able to deliver outputs based on your liking.
Moreover, their portfolio will also reveal the clients and industries they have worked on. If they prove experience in your niche, they are more fitted to deliver a winning web design.
Step #3: Identify Their Strategic Approach
Some web design companies choose to execute a one-size-fits-all strategy for all their clients, while others take a personalized approach based on your unique business needs and requirements.
Make sure to choose a web design agency in Milwaukee that employs a tailored approach to your business in order to implement a strategy that specifically targets your main audience and drives the best results.
Step #4: Learn About Their Team
Since Milwaukee hosts a solid tech talent pool, local companies are likely to be well-supplied with qualified web designers.
However, we still advise that you check who exactly from their team will work on your website and what is their industry experience. This will ensure that only experts are at the helm of your project and leading it towards success.
Step #5: Read Their Reviews
Client feedback is valuable information you can use for your own benefit. It speaks volumes about an agency's reliability, flexibility, transparency and management style.
It can also say a lot about their quality of work and ability to meet deadlines, which can help you envision your possible collaboration with them.
10 Questions To Ask Web Design Companies In Milwaukee
Before choosing a web design company in Milwaukee, consider asking them these questions:
Have you designed platforms that solved similar business problems like ours?
What are your top-of-mind recommendations for our website?
How will you develop a strategy based on our business goals?
Will you conduct research into our target market and audience?
Will you apply SEO best practices to our websites?
Who from your team will lead the project?
What metrics will you track to measure the performance of our website?
How much will the project cost?
How often will you update us on your progress?
How do you stay up to date with emerging web design trends?
Takeaways On Milwaukee Web Design Companies
Milwaukee web design agencies employ skilled talent that offer quality design at competitive rates.
These web designers are highly experienced in providing services for the locally predominant sectors: manufacturing, energy, finance, insurance, IT, medical technology, food and beverage and water technologies.
They are different from other similar companies in the U.S. by these two elements:
Local market expertise
Affordable hourly rates
Web designers in Milwaukee charge anywhere between $75 and $150 per hour.
To pick the best partner for your upcoming web design project, follow these easy few steps:
Identify your business needs
Explore the agency's past projects
Ask about their approach
Learn about their team
Read their client reviews
Best of luck with your research!
…