10+ Best Open Source And Free App Builders Of 2021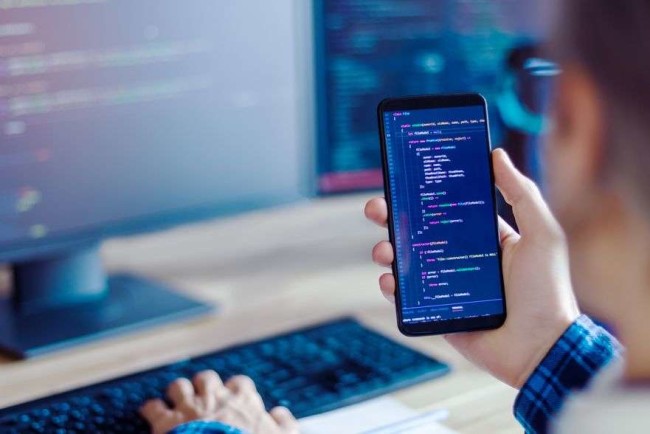 In the Q1 of 2020, there were 33.6 billion mobile app downloads worldwide.
The mobile app market is ever-expanding as the users' appetite for apps grows – in fact, studies predict Google Play Store app installs to reach 139 billion alone by 2024.
However, not many businesses have access to the opportunity this market growth brings – or, at least, they are not aware of the paths to it.
With prices exceeding $10,000 for development alone, getting into the app business seems to require a large financial commitment.
The operative word here being "seems to". Namely, there is a new way to app building and that are the open source and free app builders.
Using open source app building software:
Makes coding and app development quicker
Is free to download
Minimizes licensing and maintenance expenses
Comes with abundant support channels
Makes scaling and consolidating easier
In this article, we will review the best free app builders that can help you build a competitive mobile app cost-effectively and quickly.
But before we dive into it, let's check which types of mobile apps exist in the first place – so you know which software to use.
An open source app builder is publicly accessible software that developers can access and modify in order to create mobile apps.
Open source app builder's capabilities to add or remove features or change its functions according to the project requirements allow programmers to create versatile apps for all mobile devices and operating systems.
What Types Of Apps And App Design Software Platforms Are There?
The choice of your free app builders or open source software will depend on the operating system, the features and platform you wish to build an app for.
These are the most popular types of apps:
Native Apps
Native apps use specific programming languages and are designed for particular mobile operating systems and platforms. They are specialized apps that can take advantage of all features on their designated platform.
Web apps act similarly to native apps and are client-server computer programs that require a browser. CSS, JavaScript and HTML5 are the programs that developers use most frequently to create these apps.
Some examples of these web apps are:
Online retail sales
Online auctions
Webmails
Online forms
Spreadsheets
File conversion
Word processors
These apps can operate on multiple operating systems and platforms and combine the elements of native and web apps. They can contain operating system features and use cross-compatible web technologies.
Cross-platform apps are usually faster to develop than native apps and they need less maintenance.
While they are not as fast as native apps and tend to have more issues and lower quality compared to them, they can gain new functionalities on multiple versions of the app because developers can build them on a single base.
Hybrid apps use software like React Native, Sencha Touch, Ionic and Xamarin.
10+ Best Open Source And Free App Builders To Use In 2021
Whether you intend to build a native, hybrid or web mobile app, these open-source and free app builders contain the widest array of functionalities and have the best user interface for you to quickly turn your app into reality.
1. Buildfire Is An App Building Tool With A Free 30 Day Trial
A customizable app design tool, Buildfire is good for developing Android, iOS and web mobile applications.
This app builder supports over 10,000 apps. It is lauded among users for first-class custom development capacities. Its flexibility lets it scale and follow your business growth.
It has an intuitive, drag-and-drop interface that makes it convenient for rookie developers as well as seasoned experts. Combining it with third-party software is easy thanks to API and pre-built integrations.
Standout qualities:
App building software with no coding needed
Plenty of advanced development features
Social networking capabilities
Third-party integrations and building of custom functionalities
2. NativeScript Is A Native iOS And Android App Builder
NativeScript uses TypeScript, Vue.js and JavaScript for the creation of native Android and iOS mobile apps.
Regarded one of the best open source frameworks, it's a suite of professional products and services such as in-person training, performance analysis, troubleshooting reports, performance analysis and coding assistance.
This open source app builder is very handy for building apps for both iOS and Android swiftly because it comes with a set of cross-platform tools.
Standout qualities:
Built-in themes
Theme builder for visual customizations
A huge SCC styling system
Platform APIs accessible directly from the code
3. Flutter Is An Open Source App Development Framework
As a Google product, a single codebase Flutter develops striking desktop, web and native mobile Android apps.
This open source app development framework is fully free and uses Skia Graphics Engine, Dart, C and C++. It is usable on Linux, MacOS and Windows and applicable to iOS, Android and Google Fuchsia.
Flutter's intuitive interface and great user experience rely on fully-customizable widgets which make fast development of native apps very easy and quick.
Standout qualities:
Very fast rendering and flexible design process
Major app items such as fonts, navigation and icons contained in the widgets
Foundation library is a major part of this app builder platform
4. Appy Pie Offers Attractive Templates For Business-Oriented Apps
Wildly popular among developers of simple, business-oriented mobile apps, cloud-hosted Appy Pie requires no programming skills at all.
In fact, this tool's process of creating appealing and functional apps is the result of the producers' survey which they used to understand their users' needs.
As a result of that input, Appy Pie has tons of pre-defined templates and features that provide an enviable level of customization.
Users can integrate photo galleries from image-oriented channels such as Instagram and Flickr to add pizzaz to mobile-friendly website versions in a matter of minutes.
Built-in templates cover a range of different industries, such as dating apps, restaurant apps, church management apps and so on.
Standout qualities:
Social media integration
Push notifications and event calendar
Drag and drop feature for building highly customized apps
No-code and no technical knowledge required
Google Analytics integration for real-time metrics
5. Felgo Is An Open Source Cross-Platform App Builder
A free open source app design software that creates cross-platform apps for mobile platforms as well as Windows and Linux desktop systems.
A single codebase powers this software which is hailed by users as one of the easiest to master. Its time-saving framework and a high-end customer support service rank Felgo highly among app developers of diverse experience.
As it supports 3D modeling, it's a very useful platform to create games app with. User interface rendering reduces the interaction between the native layer and runtime environment.
Standout qualities:
Easy to use
Bug-free performance
Great for business and gaming apps
6. Ionic Is An Open Source Hybrid App Builder
As a Java Script open source SDK for the development of hybrid mobile apps, Ionic has MIT license to vouch for it. It requires Node.js for installation and creates apps that operate on web code and native code.
The user interface of the app provides full access to native functionalities that allow building applications for Android, iOS and web with a single codebase.
A big community of developers using this tool acts as a support go-to for anyone needing assistance with the tool.
Ionic benefits from a very intuitive interface that makes the development process faster, as well as more than 100 native device features and preset elements
Standout qualities:
Easy to learn and use
Great integration capacities
Has MIT license
Allows Cordova-based app building
7. Shoutem Provides A No-Coding Open Source App Development Software
Shoutem uses React Native framework for the creation of cross-platform applications. This no-coding software boasts a very favorable user experience, excellent design and a big library of templates.
The drag and drop interface, local testing and native app preview are all part and parcel of this Java Script open source product.
In its toolkit, developers will find over 200 layouts, more than 40 extensions and features that are ready-made, such as APIs, content management system and user authentication.
Standout qualities:
Analytics and 3rd party integrations available
A library of extensions ready to use
Easy and cost-effective maintenance
Plenty of helpful documentation and resources
8. Xcode Is An iOS-Focused App Builder With Open Source Components
Apple's Xcode uses Swift, a programming language that introduced inventive ways to design and create mobile apps by using as little code as possible.
Xcode creates apps for a wide array of Apple products: Mac, iPhone, iPd, Apple TV and even Apple Watch. It has a unified workflow for UI design, coding and testing.
Lively discussion forums, session videos, documentation and step-by-step instructions provide the knowledge-base for developers.
This app builder uses tools such as Inteface Builder whose live rendering displays UI code within the design canvas. This reflects the changes you type in code immediately.
Standout qualities:
Live mode with multiple previews to observe changes in design
Applicable to all Apple platforms
Uses simple code with declarative syntax
Total control over a coding area and split-screen abilities
9. Android Studio Is A Free App Builder For Android
Google's Android Studio is an app development software whose implementation editor is fit for Android developers. It provides coding and design shortcuts while the layout editor reduces coding time thanks to its easy to use editor.
Project layouts are using drag and drop functionalities during the design process while the intelligent code editor provides code completion for Java, C, C++ and Kotlin languages.
Android Studio is highly customizable and allows for bespoke coding to generate various build versions for different devices.
Standout qualities:
Visual layout editor with complex layouts
APK Analyzer that reduces the final app size
Fast emulator for testing different configurations and features
Build-in profiling tools for real-time stats on CPU, memory and network.
10. Adobe PhoneGap Is A Cross-Platform Open Source App Builder
This Cordova-based open source, cross-platform app builder lets developers use one code base and multiple set of tech add-ons.
PhoneGap uses HTML5, JavaScript and CSS for the creation of mobile apps. It relies heavily on the former because it makes apps that are a collection of HTML5 pages in a native app wrapper.
Thanks to a native API, they can be published on native platforms.
The process of creating an app using this software is remarkably similar to creating a website. Developers can store their working files either locally or in the cloud and plugins activate these files when a device runs them.
Standout qualities:
Quick debug and build cycles
Easy sharing of app prototype with colleagues and clients
Enables team collaboration through PhoneGap Build Projects
11. AppMySite Is A Platform For Building Apps Without Coding
AppMySite converts existing websites into mobile apps in a user-friendly environment that doesn't require any development and coding knowledge.
Understanding the importance of apps for businesses, this platform creates native apps for Android and iOS platforms that can be customized according to your brand's identity and visuals.
AppMySite's online app maker promises free app creation in a matter of minutes (plus an upgrade to one of the pricing plans to publish it) and a simple three-step launch.
Standout qualities:
No coding needed
Premium features
Fast app delivery
Flexible subscription plans
Multi-platform support
Social media integration
How To Find The Right Open Source And Free App Building Software For You
As we've seen, each of the open source and free app builders comes with its own set of unique functions and advantages. So, how do you decide on just one and be certain you won't regret the decision?
Consider software architecture: Define core functionalities your app should have and which of these are easy and which are hard to implement. Then check if the open source app builder lets you build the architecture you want.
Make sure support and maintenance are sufficient: You should be able to support your product adequately and fix code defects when it launches.
Look for developer experience: Find testimonials on software use by other developers. Was it hard for them to get used to it? How easy it is to build new features or import foreign code?
Learn about the tool's software integration capabilities: Can the platform integrate with external and 3rd party products? Does it come with built-in tools?
Think about business-level compatibilities: Consider the prospective app development software in the bigger picture that is your business. Can other programs you use integrate with this software?
Think about security: Does the app design software you're considering have a certificate of safety or any other compliance standards? Does it use authentication and authorization?
Consider your audience: The target geography of the app and other demographic factors such as age play a role in the selection process whether you should make an iOS or Android app. This, again, narrows down the selection of app development software.
Regard the features: Every mobile app development platform has features that are proprietary to that platform. Think in terms of how this will limit or enhance the final app product that you built using that software.
Think about ROI: What is the cost of the platform and does the platform vendor have long term viability?
Takeaways On Open Source & Free App Builders
Which of these open source and free app builders you will choose depends on the level of development expertise you have, platforms you're building them for and features you wish to implement.
All of them have user-friendly interfaces, pre-build templates and libraries of features that save time. A good deal of these app development programs even come with no coding required.
If you are unsure of developing the app yourself, you can always turn to specialized mobile app development agencies that can deliver a top-notch product for your business.