The best marketing campaigns have exciting, enticing and persuasive design and messaging. In this article, we will take a look at best campaigns of 2023 and break down what we love about them.
If you're looking for a great marketing campaign for your brand, make sure to check out the best digital marketing companies in our directory
The Best Marketing Campaigns Of 2023
1. MMB's Toaster Swatches
The best marketing campaign of 2023 is MMB's Toaster Swatches. MMB's creative print ad campaign for Revolution Cooking's line of smart toasters uses color swatches as an inspiration for this product's key trait: the ability to make the toast exactly how a user likes it.

The ad features an array of differently burned toasts, arranged according to how well-done they are, pointing out the fact that there can be as many different ways to make toast as there are shades of a single color.

This creative advertisement underlines the selling point: Have your toast exactly as you like it.
The print nature of the ad drives purchase intent in stores and magazines, directing people to producer's web store or retail places.
Campaign author: MMB
2. McDelivery's "Skip The Dishes"
DDB Prague took McDonald's signature meals and a pile of dirty dishes and combined them in a series of visually striking ads to "show the benefit of McDelivery service together with the insight that people just don't like dirty dishes", according to Creative Director Gert Laubscher.

The three ads depict a lump of kitchenware stacked and arranged so that they resemble a Big Mac, french fries and McSunday - three instantly recognizable McDonald's products.

These print ads create a sense of intrigue and get the word out about delivery service in a very striking fashion by making familiar objects appear new and different.
Campaign author: DDB Prague
3. Nissan's "Fans" Marketing Campaign
Nissan designed its innovative high-beam assistant technology to save lives on roads.
Japan is a country fueled by tradition - also famous for its hand-painted depictions of everyday life on women's fans. Agency TBWA put these two together for a series of memorable print ads.

There is a modern twist to these Japanese fan illustrations: although done in ancient ukiyoe paintingstyle, they show decidedly contemporary scenes: a man on a Segway, a woman with a traveling suitcase, a boy with a soccer ball, another one on a skateboard and a woman pushing a stroller.
The agency took the car manufacturer's origins into consideration, creating a link between their nation's tradition and life-saving technology in a series of visually engaging ads.
Campaign author: TBWA
4. Chanel No. 5's Mother's Day Poster
Chanel's ad for their iconic perfume No. 5 is just as instantly recognizable as the product itself.
Certain variations of this advertisement exist in various forms, but this year's Mother's Day ad is both emotionally impactful as it is humorous.

The ad depicts the legendary Chanel No. 5 bottle - as drawn by a child's hand. The simple drawing is accompanied by a message of "Happy Mother's Day".
The clever design of this ad suggests - to mothers of the world - that they should treat themselves for all the hard work they've done parenting.
And what better way to convince them than through a delightfully messy child's drawing?

Campaign author: Chanel's in-house team
5. LEGO City - An Epic Story Written By Kids
Another instance of infant intervention is an ad for a product that's more in line with this youngest demographic: Lego. This video ad campaign was designed by The LEGO Agency and BETC Paris for vertical formats such as Instagram TV.

"The Robbers Try to Steal the Bank But Do They?" is an odd-ball suggestion for the name of the blockbuster movie produced by kids and is also campaign's tagline. The said action movie is actually a figment of children's imagination as they are playing with their Lego sets.

The added elements of humor in "actors'" overly banal and childish lines make the ad playful and focused on the product's main target audience.
Campaign author: Lego agency
6. "Create Your World" by Pantone
The Instagram and print ad campaign "Create Your World" invites the audience to explore this and various other hues through surreal, otherworldly settings.

The professional color standards authority that is Pantone wishes to unleash people's creative forces by presenting to them alien worlds and introducing out-of-the-box kind of thinking.

The visually compelling ad campaign is inspired by fantasy worlds and people's desire to build said worlds that resemble them and answer to their inner needs.

Campaign author: TBWA/Paris
7. "Opposites Attract" by Roladin
Created by M&C Saatchi, Opposites Attract is an outdoor ad campaign by Israel's leading cafe and bakery chain, Roladin.

Donuts are one of the traditional foods during Hanukkah and Roladin comes up with a premium donut collection for this holiday each year. The theme they have been going for in recent years is empowerment and diversity.

This year's campaign focuses on the "less likely choices", as every person on a separate ad holds a donut that only seemingly represents something entirely different from what they are. The campaign, which relies on tension and emotional involvement, combines fashion, art and individuality to portray the brand, its products and their target audience as unique, important and up-to-date.

Campaign author: M&C Saatchi
8. Amnesty International's "Pain-Tings"
In a stand against domestic violence and against violence towards women in general, Miami Ad School has created a print ad campaign for Amnesty International by using famous artwork.

On International Women's Day, March 8th 2020, Amnesty International has replaced some of the most iconic works of art in the world's most famous museums with the versions of these same paintings - but with bruises and wounds on women's faces and bodies.
The paintings come with cards that inform women how to ask for help if they find themselves in these tragic situations.

Using shock factor and art's educational value to make an important point, the organization engages in a global conversation about the burning issue of violence against women by putting memorable images in a new, disturbing context.
Campaign author: Miami Ad School
9. SF's Department For Disability and Aging Services' "End Ageism" Campaign
Agency Most Likely To is behind San Francisco Department for Disability and Aging Service's street ad campaign End Ageism.

It contains photo portraits of five young faces with older eyes superimposed and personifying traits that never get old: passion, creativity, leadership, courage and intelligence.
The ads were appearing as wallscapes, as hanging street banners and as digital display on bus stops and train stations.

Campaign author: Most Likely To
10. Vittoria School For Language Mediators' Flags Campaign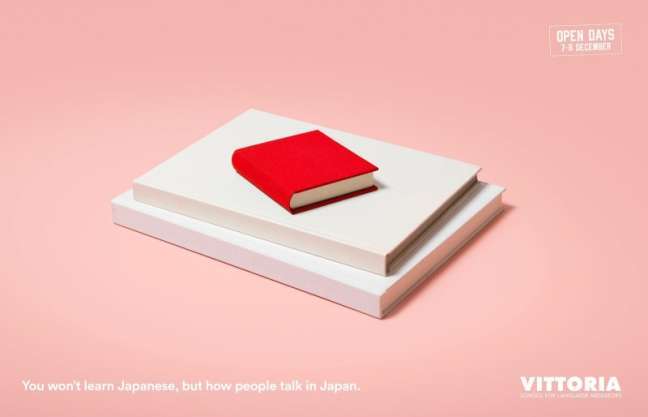 Fab/La Fabricca Creativa is the creative force behind The Vittoria Institute's print ad campaign "Flags".
This Italian institute does more than teach languages - it helps mediators prepare for the linguistic challenges that negotiations between parties of various educational levels have.
Their approach is in teaching the culture of a country - besides the language itself - which allows students to understand the customs, contexts and backgrounds in which to use the language.

This is the gist of campaign's tagline "You won't learn English, but how people talk in England." which emphasizes the difference between knowing the language and how indigenous speakers actually use it.

Campaign author: La Fabrica Creativa
11. Foodpanda Introduces Contactless Delivery
The anxiety about the spread of the Coronavirus is incentivizing people to avoid shopping in physical markets and turn to eCommerce instead.
Foodpanda, a restaurant and a mobile food delivery marketplace, counted on the help of Midas PR Group to generate a 20x higher volume of food delivery orders.
As part of their continued commitment to support the wellbeing of employees, service partners and vendors, the company has launched a Contactless Delivery project.
This allows both customers and carriers to feel comfortable during the delivery process since it requires minimal contact.
Once the clients place an order, they'd be able to pick it up at an agreed place which would assure safe interaction (i.e. lack of).
This campaign resulted in increased brand awareness and reputation, as Foodpanda was able to quickly adapt their offering to the crisis, communicating to the public that they care about the wellbeing of both their customers and their staff.
It serves as a compelling example of where the creative strategies of PR and marketing agencies meet the technological capabilities of IT companies. Together, it can successfully adapt a business model to meet unprecedented challenges!
Campaign author: Midas PR Group
12. Schulte Roofing's Marketing Campaign
Foundry512's brand repositioning campaigns for Schulte Roofing targeted commercial companies in architecture, engineering and construction (AEC) industries.
They supported the brand's operations in the commercial world by allowing its highly-trained workforce to take part in the promotion.
The creative agency started running campaigns with the fundamentals of the brand where they developed a story that was filled with tangible proof and was solidified by the brand's promise.
Foundry512 used the power of TV commercials, online ads, printed editorials, press mentions and social media campaigns to allow the audience to ask questions, voice concerns, and even recommend friends and family to their heavily active business profile.
This advertising agency made a smart move by positioning Schulte Roofing to express expertise through workmanship across all of its channels. And it helped the brand establish new relationships and double its social followers.
Most importantly, the business repositioning resulted in an increase of commercial followers in new markets and service areas by over 250% and brought them a record-breaking $23M in revenue and another Top 100 Roofer ranking.
Campaign author: Foundry512
13. Eloq Communications "Holiday Inn & Suite Saigon Airport"
EloQ Communications run a series of social media campaigns to help Holiday Inn & Suite Saigon Airport, the renowned hospitality chain in Vietnam, to penetrate the local market.
The IMC campaign targeted business travelers who seek accommodation near the airport for the convenience of travel, and Saigonese who seek a leisure get-a-way within the city.
The creative company focused on pre-opening teasers, opening announcements and sustaining updates. And it mixed high-quality images of the hotel itself with eye-catching messages to increase user engagement.
This social marketing strategy accumulated more than 500 posts on Facebook, Instagram, and LinkedIn; combined with a series of editorials.
EloQ campaigns were effective and they helped Holiday Inn build its reputation in the local community and turn into "Saigon best-connected hotel."
Campaign author: EloQ Communications
14. Wirefox Design Agency Birmingham Rebuilt Their Brand
Wirefox Design Agency Birmingham wanted to rank #1 on SERPs for a competitive keyword "SEO Company Birmingham".
To achieve their goal, they combined various strategies. They incorporated social media campaigns, optimized their pages for SEO, created targeted content as well as invested in cutting edge web design.
The combination of these tools with their inhouse knowledge created a synergy that helped them achieve the desired results.
They rebuilt the Wirefox brand and reached their goal in three months.
Campaign author: Wirefox Digital Agency Birmingham
15. Routes 4 Media Creates Compelling Influencer Videos That Maximize Sales
Early-stage oral healthcare brand Haring B approached Routes 4 Media to help them increase their sales.
The creative agency created a strong strategy that resulted in a series of compelling videos that went viral. They included influencer content that focused on the 'Satisfyingly gross' angle.
Routes 4 Media designed the content for Facebook and Instagram advertising objectives and their primary goal was to introduce Haring B's products. So, the videos were optimized for 3-second and 5-second views.
The aim of these marketing campaigns was to maximize the desired results and the brand enjoyed higher social interactions as well as generated more than $600,000 in 3 months.
Campaign author: Routes 4 Media
16. Attonycs Systems' Video Campaigns Introduce Their Revolutionary App
Attonics Systems created an extremely high-performance spectroscope at a highly competitive price.
This device was unlike all other traditional spectroscopes and they needed to run a campaign that would showcase their Atto3 as a breakthrough innovation in the spectroscope industry.
To help them achieve their goal, 2Stallions Digital Marketing Agency created short videos to educate the audience on the infinite uses of their product, as well as how spectroscopy can be applied to various industries.
They also demonstrated Atto3's one-of-a-kind size in order to compare it to traditional spectroscopes.
They took a creative approach and played around with muted colors to match its function. Abstract images, heavy fonts and music matched animations were also added to give the Atto3 a modern and upbeat feel that attracts different industries.
Campaign author: 2Stallions Digital Marketing Agency
What Makes These Marketing Campaigns So Successful?
Examples from the history of marketing campaigns by the most successful brands teach us what made these campaigns so successful.

The factors leading to them becoming memorable, influential and, above all, effective, boil down to these points:
They connect on an emotional level:

Nike has come up with its iconic tagline "Just Do It" in the late 1980s, at the time of fitness craze emergence, when they were looking for ways to surpass Rebook's sales. The short and sweet slogan is still the foundation of all of their campaigns because it encapsulated people's feelings when they are exercising and the drive to push beyond limits.

They foster a sense of individual involvement:

Coca-Cola's "Share a Coke" campaign with personalized cans and bottles began in 2011 and quickly became viral. The brand appealed to the masses by appealing to the individual and made a temporary item personal.

They are honest - and honesty sells:

A gold standard in advertising was Volkswagen's 1960 "Think Small" campaign by DDB. It changed the people's perception about a product and it got Americans buying small German car, the Beetle, for the first time ever. They succeeded because they didn't try to sell a product as something that it's not.
Tips For Designing Creative Ad Campaigns That Pop
Based on these examples of the best marketing campaigns in 2023 so far, we can conclude that there are certain common denominators to these campaigns.
Contrasting colors:

This makes the text easy to read against the rest of the ad's design, but it also makes some other elements on the illustration or photo or video stand out. Also, the number of colors should be restricted to only several and they should all be complementing each other.

Only 1 or 2 fonts:

No serious design - in marketing or otherwise - has ever used more than two fonts. Excessive typography stylization makes the work look amateurish and chaotic. A pair of fonts ties all visual assets together and provides branding consistency.

Different font sizes:

What good marketing design can experiment with, however, are different font sizes. Using lettering in various sizes can create a distinct effect and give advantage to certain messaging parts you'd wish to highlight.

Simple photos:

Although some of the marketing campaigns we've looked into seem quite visually complex, look again - they are essentially very simple, high-quality photos, with not an awful lot going on. Photo edits should be kept to a minimum, as too many effects and filters can make photos look tasteless.

White or solid-color space:

This element acts as structural support for the central elements of the advertisement image. It can reduce or enhance the strength of the headline, photo and other elements. Depending on the juxtaposition of these, white and soild-color spaces add dynamism to the whole package.
5 Trends The Best Ad Campaigns Of 2023 Are Spearheading
Every branch of design has certain trends that will rise to prominence during a certain time - and the below elements we will see much more of during the course of 2023.
1. Abstract Design
According to Venngage, 2023 will see a shift away from photography towards illustrations. And just as 2022 was an era of simple graphics, this year we will see a lot more of abstract, complex illustrations.

Engaging and off-beat interpretative design in marketing will be all the rage, as will be isometry and asymmetry in design - the latter will be especially big online, in website and blog design.

The challenge of this design trend will be maintaining brand consistency and keeping message focused. This can be offset by creating full marketing campaigns with this new style to unravel a new identity, instead of just embedding a logo on abstract illustration.
2. Animation
The movement of images will be present in all facets of design in 2023 - and marketing is no exception.

Animation attracts the viewer's gaze and holds it for longer periods. Marketers' content will be using a lot more animations and GIFs to show products or services in use, for how-to guides or to just add some fun to the ad.

Animations and GIF complement the abstract illustrations well, which can spring into life with the added moving elements.
3. Shoppability
Instagram's Shoppable posts have been making waves and will continue to do so in the coming year.

This functionality will be a big part of marketing design on websites in 2023, with user-friendliness and speed playing a huge role in the design of Shoppable elements.
The buyer journey will become increasingly important to understand, as Shoppable made it possible to buy directly from a single platform - and that will impact the way marketers design omnichannel marketing campaigns.

Marketing design tied with eCommerce and AI will be a big challenge ahead - but it's the one challenge that can make a huge difference for marketers.
4. Heavy Fonts
2023 will see the continuation of the use of text across visual content - except the handwritten content, which was so prominent lately, will make way for weighty and bold serif fonts. We see this in the way that the top-rated logo design firms opt for large and striking typefaces to capture attention and make a lasting impression.

Such typography, akin to headings, will better stand out against abstract backgrounds and will make powerful statements. These will be especially used in digital marketing, more specifically social media marketing.
The challenge with this trend in marketing design will be making these fonts readable on all devices, not just making the typography attractive.
5. Muted Colors
The heavy, serif fonts will look even more striking combined with muted color backgrounds.

Vibrant colors and gradients were starting to go big in 2019 and will have their prominent place this year as well - but when the moment of saturation with these shades comes, the users will be more affected by toned-down hues.

The marketing design of 2023 and, very likely, 2024 will be using muted, less garish colors in social media imagery, print and outdoor ads, as well as web and app design.
Takeaways On The Best Marketing Campaigns
The very best marketing campaigns are a concoction of compelling visuals, relevant messaging and other put-together factors, such as timing and knowing the right audience to talk to.
When creating visually engaging marketing campaigns that entice the audience to act or react, it's worth remembering that these campaigns should always feel authentic to the masses and singular people and that they should speak with consistency and purpose. Their success is in being both universally understandable and evoking unique feelings with every individual.
Subscribe to Spotlight Newsletter
Subscribe to our newsletter to get the latest industry news