For companies and businesses that never attempted to measure a sales funnel, 79% of marketing leads do not convert into sales - a massive waste of potential customer base and revenue.

This article will cover the basics of conversion marketing, starting with a conversion funnel and customer journey.
We will explore the best strategies to keep your conversion levels high and make the most of your online business.
We will also discuss some of the most effective conversion marketing strategies for 2022, as well as the tools that can optimize your website for user experience.

Top 10 Conversion Marketing Strategies & Tactics For 2022
These conversion marketing strategies will help your business convert new and returning visitors to your website in 2022:
1. Focus On Designing Killer Calls To Action (CTAs)
These are some of the most important on-site conversion marketing elements as they lead directly to the bottom of the conversion funnel, providing a great "shortcut" to increase conversion rates.
An eye-catching CTA with a compelling copy can motive the users to take this shortcut.
Some of the trends we will see in 2022 are:
Double call to action: Two strategically placed CTAs reinforcing the user's desire to click through
Creative copy: A compelling CTA copy that both amuses the user and echoes your brand voice
Creative design: User-friendly, eye-catching CTAs difficult to ignore
2. Utilize Smart Pop-Ups
Pop-ups with good context have conversion rates of over 40%. (Sumo)
One of the most commonly used conversion marketing methods, smart pop-ups are generally divided into several categories:
Pushdown and pushup pop-ups:

The pop-ups that slide from above or below, pushing the content away

Delayed pop-ups:

These appear after a user has spent a certain period on site

Exit-intent pop-ups:

These pop-ups appear when a user moves their mouse cursor over their X button to leave the site. They are designed to pull the user back in by letting them know about the discounts, last-minute offers and other strong incentives to keep them on site.

Sign-up pop-up forms:

These pop-ups incentivize a user to sign up for free content such as eBooks
Pop-ups, in general, contribute to the significant increase of email lists and improve eCommerce conversion rates. They do this by offering attractive deals, discounts and special offers.

Research shows that pop-ups with more context get better engagement, as will the pop-ups with a more playful CTA copy. (Source: Privy)

A clear headline and CTA copy remain extremely important for pop-ups in 2022.
3. Create A Convincing, Attention-Grabbing, Authority-Building Content
Content marketing is the thing of the present AND the future.

Having quality, relevant content that is helpful to your visitors generates useful leads and good traffic that contains people who are actually interested in what you have to say and offer. Apart from increasing your conversion rates, quality content will also:
Drive user engagement

Increase site dwell time

Decrease bounce rate

Boost search rankings
Content that is both unique in its value and commands authority increases the level of trust in your business, products or services. Building this trust is the best way to make sure your users will, eventually, convert.

In 2022, as ever, content that is well-researched and well-written will rank better on Google and other search engines. These rankings directly impact your organic traffic and, with it, your lead pool for conversion.
4. Focus Your Social Media Strategy On Engagement And Long-Form Content
On their first visit, only 2% of users make a purchase. Retargeting ads can be used on Facebook to target the other 98% and turn them into customers. (LyfeMarketing)
Social network presence in this day and age is compulsory. However, your social media success will depend on the strategic choice of channels and organic as well as paid tactics.
For example, 71% of US-based 18-24 year olds use Instagram, making it perfect platform for brands targeting younger demographics.
On the other hand, 78% of 30-49 year olds use Facebook, along with 65% of 50-64 years olds as well as the younger demographics, making the platform more varied in terms of interest and demographic makeup, and a great marketing resource for a variety of brands. (Pew Research Center)
The best performing social media profiles are those that are integrated seamlessly into your brand's business strategy, communication and voice.
In 2022:
There will be new social media platforms on the rise such as

TikTok

,

Houseparty, Steemit and Caffeine

Instagram stories ads will continue to rise

Facebook will continue pushing for more long-form informative video content

B2B content marketing will be

dominated by social media

A communication, personal approach to social media will make its return
Other vital things of note when using social media for the purpose of conversion marketing are:
Communicate and engage with your audience:

Comments section on Facebook, Instagram, Twitter and elsewhere is where the conversion CAN happen. Engagement will become

even more important

, as algorithms will qualify content that has a lot of comments for better ranking.

Utilize groups and communities:

Facebook Groups can help the organic reach in a great way should you post content there. Facebook will put the community

in the center of it all

.

Use social media advertising and marketing:

Social media ads give you a great level of control over who you're targeting and displaying your ads to. L

ocal targeting will become bigger. Plus, there will be a lot of

AI implementation

and segmentation in marketing.
5. Video's Popularity Will Continue To Skyrocket
Video marketers get 66% of their leads via video and in 2019, video marketing became a $135 billion industry in the US. (SocialMediaToday)
Video is has proven to be a useful tool for more than one stage in the marketing funnel, as it can help optimize:
the awareness stage by inspiring a desire

the consideration stage by providing useful information that builds trust and authority
the conversion stage by showcasing the product or service, reinforcing the prospective customer's purchase intent
If you are thinking of adding video to your digital marketing strategy in 2022, these are the upcoming trends to bear in mind:
360-degree video experiences provide a more immersive experience

Shoppable and live videos for more authentic interactions

Interactive videos for increased engagements

Educational videos as a better alternative to dry sales pitches
Adding to the last point, 66% of users prefer watching videos as a way of learning about a product or a service - making it at least four times more popular than articles and infographics.
6. Don't Neglect The Power Of Email

Email marketing influences purchasing decisions for 59% of users.(HubSpot)
Email marketing keeps your leads aware of your brand, builds stronger connections to it and pulls them in with attractive offers, reinforcing their purchase intent.
To make most of this potential bevy of conversions, your business needs to have emails that stand out.
So how do you do this?
Use interactive content:

add quizzes, polls, surveys, CTAs and more to your emails. I

nteractivity will keep driving engagement

more than ever. This could be the year when more emails are opened on a mobile device than on a desktop. Thanks to the rise of 5G, animated buttons and image carousels are some of the elements that will gain popularity even on mobile.

Make them personal:

emails are easy to personalize thanks to numerous customizable newsletter services. When a user feels as if you are talking to them directly, purchase intents are increased with

78%

of them. More

personalized emails

will still be a thing in 2022, with a smarter use of location and reformatting emails depending on where they're read.

Leverage incentives:

Offer rewards, discounts, free samples, redeemable codes and freebies in your emails, for every purchase on your site. Gamification will become big in email marketing - inviting recipients to play games to get a discount or a freebie.
7. Use A Sense Of Urgency And Fear-Of-Missing-Out (FOMO)
Ticketmaster was able to achieve 7.46% uplift in conversion rates through FOMO campaigns.(Insider)
Fear of missing out is a very effective motivator when presented with the right, carefully worded options. Rooted in our psyche, this is a timeless technique.
Using terms such as "available for a limited amount of time" and "last chance" (sparingly and non-aggressively) will accelerate your users' action and is a great conversion marketing trick to create a sense of urgency.
Some of the other FOMO techniques that can be used are:
Showing stock levels (for eCommerce businesses):

highlight scarcity or an exact number of items left in stock - this way, you signal to your audience that they may miss out on buying the product.

Use countdowns and the concern of running out of time:

having a clock that counts down to the end of a sale or some other occasion psychologically instills a sense of urgency into the minds of visitors.

Highlight opportunities already missed:

use sentences like "Sorry, this item is sold out" next to products that are no longer available on the site.

Make free shipping limited:

90% of shoppers see free shipping as the primary motive for buying a product online. Knowing that it's limited will speed up their buying decision and conversion process.

Make exclusive offers (or exclusive products):

exclusivity is the best FOMO technique as people love being in a position to own something other people don't.
8. Reward Your Loyal Customers To Turn Them Into Brand Ambassadors
A recommendation from a friend or family member makes 83% of Americans more likely to purchase that product or service.(Chatter Matters)
Essentially, this conversion marketing tip is using the already converted customers to create even more conversions for you by rewarding your brand advocates.
Focus on these channels for ambassador marketing in 2022:
Social media

Online reviews

Affiliate software
Brand ambassadors can share the good word about your company through social media, word-of-mouth and virtually any technique imaginable.

A most effective step-by-step process for creating a pool of brand ambassadors is by starting a program devoted to just them and:
Present them with exclusive high-quality products

Offer freebies and service upgrades (to make them feel they are more than customers and part of your brand)

Require their feedback on special offers and products

Reply to their comments on social media
Speaking of ambassador marketing, here are the last few trends to be aware of in 2022:
Also, be aware of these trends:
Micro influencers will be on the rise

New platforms for influencer/ambassador marketing will be in use, such as Upfluence, CreatorIQ, SocialBakers, Linquia and more

Communicating values, not just products and services
9. Optimize Your Website - Especially Its Speed
Your site's loading speed will affect 70% of your visitors' purchase decisions. (Search Engine Journal)
Although the prospect of packing your website with tons of content is enticing one should proceed carefully with that, as plenty of graphics, videos and plugins will slow down the website.

Low loading speeds are a bad ranking signal and Google might punish your website for being slow by placing it lower in search results.

Your visitors' patience and attention span should be taken into consideration here, as well - 47% of people expect pages to load in 2 seconds or less and the same amount of people will leave the website if it doesn't load within 3 seconds!

In 2022, site load speed will be even more important than ever, because the stats show that a single second delay can cost $2.5 million in lost sales every year (for big eCommerce sites that make $100,000 daily).

10. Work On Users Revisiting Abandoned Carts
The total value of abandoned eCommerce shopping carts amounts to $4.6 trillion per year. (OptinMonster)
Shoppers quite frequently abandon their shopping carts, making this one of the leading causes of lost conversions.

A conversion marketing-savvy way to increase your conversions is to reach out to these shoppers and motivate them to complete the sale.

You can achieve this by:
Targeted marketing and remarketing:

this reminds visitors of items they have been looking and may lure them back to your website to complete the purchase.

Cart abandonment recovery: Using tools that remind shoppers that they have products in their carts

Recommendation and personalization engines:

These can be incorporated to provide AI-infused deal-making
What Is A Conversion Rate In Marketing?
A conversion rate in digital marketing is the percentage of users who have completed the desired action on your website, social media page, email campaign or other digital platforms.

This action, i.e. actions, can be:
Product purchase

Service or newsletter subscription

Resource download

eForm submission

And more
The formula for determining the conversion rate is:
number of visitors that converted / number of people who visit the page x 100
Digital marketing campaign conversion rates provide an insight into the campaign performance and provide measurable results for your business.
Conversion rates can also point to the issues in your user's online experience. Low or abnormal conversion rates are sometimes the result of a poorly designed customer journey (more on this later!) or untransparent information.
For example, 25% of shoppers abandon their carts because the final cost turns out to be much higher than initially stated.
In a sense, conversion rates are a measure of your business' online pulse. They:
Indicate how well your marketing strategy is performing
Point to potential issues in your customer journey
And, as such, save the money businesses would otherwise sink on boosting poorly designed strategies or customer journeys
Decision-makers can use this knowledge to refine consumers' user journey through the marketing funnel with the aim of boosting conversion rates even further.
What Is A Digital Marketing Conversion Funnel?
A conversion marketing funnel is a step-by-step strategy of guiding the users from the first point of contact with your business, whether it is your landing page, email campaign, social media or other, to the point of conversion.
The core stages of a conversion funnel are:

Discovery (top of the funnel)

: a stage that contains the total pool of people who have just discovered your business and its services.

Consideration (middle of the funnel):

A stage at which lead turns into a prospect and wants to learn more about the brand before making a decision to convert or not. These visitors begin to associate the brand with the services it offers.

Conversion (bottom of the funnel):

At this stage, leads decide to convert into customers. They know the brand and have the potential to become its loyal customers and advocates even.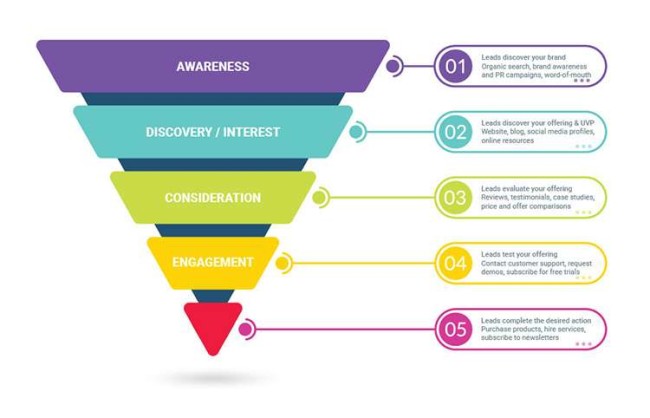 What Is A Customer Journey?

A customer journey is an integral part of a conversion funnel. It is a roadmap of every visitor's journey that begins with users learning about your business, continues with raising their interest in it and ends with actively engaging with your content.

The ideal end result for any user or customer journey would be a conversion, usually defined as a purchase of products or services.
Customer journey mapping consists of these elements:

Setting objectives for the journey

Defining the goals for every user persona

Mapping the touchpoints

Determining the elements on the customer journey map

Testing the map by taking the journey yourself
Here's an example:
Imagine a user coming across your brand in a LinkedIn ad. They click, land on your LinkedIn page and browse through your high-value content, developing an interest in learning more about your brand. That would be the discovery stage.

They then visit your website and browse through the carefully laid out content. They learn about your offering and unique selling points, building stronger subconscious connections between your brand and your products or services, as well as comparing it with your competitors. That would be the consideration stage.

They may leave your site for a few days, but your well-designed conversion marketing strategy will reinforce their brand memory via retargeting and email marketing campaigns.
When the need for your services, products or information arises, they will return to your site, follow the optimized route to conversion and hit the final CTA button, be it Check-Out, Subscribe or Contact, completing the conversion stage.
Of course, most customer journeys are not as simple and as linear.
According to Lucidworks, before making a purchase, consumers make:
One to two visits (24%)
Three to four visits (36%)
Five visits (22%)
More than five visits (18%)
To optimize your leads' path to conversion, map and ease their customer journey continuously.
Discover how to optimize your eCommerce website for lead generation, engagement and conversions.
LEARN HERE
Best Conversion Marketing Tools To Grow Your Business
These are the tools (marketing analytics tools and other kinds) that can help you troubleshoot and improve your online customer journeys, as well as optimize other elements of your conversion marketing in 2022:
1. Crazyegg
Over 120,000 companies have used this tool to boost their conversions and improve the customer journey.
Crazyegg is a handy tool whose biggest asset is telling you what your site's weakest spots are - for instance, certain "leaks" in conversion funnel, insufficient leads and underused content - to name a few.
You can establish what parts of a conversion marketing funnel to work on, thanks to the analysis of user behavior that answers the questions like:
Where are your users clicking?

Why are users leaving the site?

Where are they spending most of their time?

What keeps them most engaged?
Crazyegg:
Provides eye-tracking tools like heatmaps

Tracks website operations and helps understand user's interest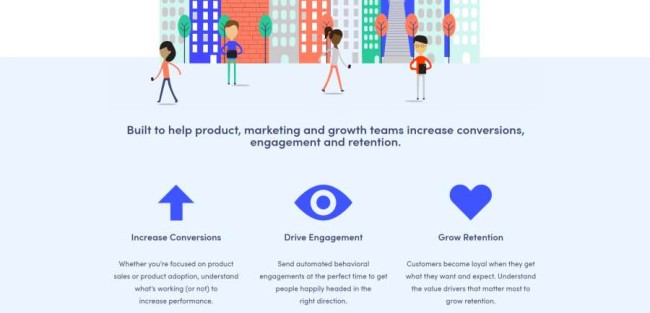 2. Kissmetrics
Kissmetric analyzes your website and the way it's optimized to convert users. It also provides very specific hints and tips regarding engagement levels on your website, helping you improve this important segment that leads to conversions.
What do visitors who convert all have in common?

How long are they staying on-page?

Who are the most active visitors?

Which digital marketing activities and campaigns are bringing them to the site?

What website content has proven more effective in retaining users and converting them?
The data this tool provides is very useful for measuring the performance of a particular campaign, a service or a product - and is a good stepping stone to optimize the effectiveness of the entire conversion marketing plan.
Kissmetric
Tracks customer's conversion process

Discovers areas where you're losing customers

Determine which adjustments are making the biggest impact

Identify trends that contribute to your objectives

Understands where your most valuable customers are coming from

Calculates how long it takes a user to convert on average
3. Unbounce
Landing pages are one of the pillars of good digital marketing companies' services that aims to convert users.

Unbounce helps build and test responsive landing pages that are designed to convert.

Their pre-built templates, SEO features and simple drag-and-drop interface makes it extremely user-friendly to make most of knowing the best practices to convert thanks to feedback this tool provides.

Although it is suitable for all sorts of conversion marketing methods and practices, Unbounce shows most potential when creating lead flows for blogs, eBooks, etc. all through dynamic landing pages that can be optimized in minutes.
It is best suited for the middle of the conversion funnel stage, when a user increases interest for the product.
This landing pages service enables users to
Create, edit and test landing pages before publishing them

Get real-time data on page loading, campaign grouping and more

Make most of hundreds of templates and features
4. Clicktale
A tool dedicated to analyzing your users' experience on your site.

It generates heatmaps that provide a visualization of elements that capture the attention of your users the most - in terms of what they are looking at, where their mouse hovers, where they are clicking etc. It also suggests what to optimize for higher conversions.

Also, it can detect issues with website speed, quality of images, navigation problems, reasons behind rising bounce rate and more.

One of the benefits of using this tool is that you can reduce the rate of abandoned carts, increase conversions and revenue.
It does so by capturing the sessions of mouse interactions on the page. When it does so, it takes all the pages with captured data and gathers them to form a good idea of general user experience on the website.

Bonus: Ranking & Review Platforms
Establish your brand's presence on rating platforms like DesignRush and review platforms like Capterra, TrustPilot or Yelp to increase your traffic, consumer trust and, consequently, conversions.
Quick Bonus Tips For Generating Even More Conversions

As a final touch when working on improving your business's conversion rates, you should consider the following few points.
Think Mobile-First
A good conversion marketing strategy's important aspects are:

Business's online authority

Marketing funnel

Conversion funnel
Desktop and mobile marketing strategies are at the very core of it. As much as 70% of web traffic happens on mobile devices now.
However, ease of use dictates conversions - and as evidence suggests, desktop conversion rates are 3.82% compared to mobile's 1.32% on average.

As bigger and better screens improve the mobile's ease of use, conversion rates are expected to boom on mobile as well.

There are certain differences when optimizing digital marketing for conversions on desktop and mobile devices.

For mobile phones, the keyword is: efficiency. That means that your website, apart from being mobile-friendly and responsive, should also be extremely quick on mobile and easy to use. It should use big images and product videos as elements that are known to contribute to better conversions.

This brings us to the next point - that of user experience.
Make Simplicity Of User Experience Your Priority
When setting up a customer journey, bear in mind one thing only: do not overcomplicate things! The journey should consist of the three aforementioned stages:
Awareness

Consideration

Conversion
While these particular stages are complex enough on their own, the very success of a sales journey depends on the minimization of any friction that may be encountered along the way.
This friction can be removed and reasonably controlled by having:
Appropriate content that is concise as it is compelling and providing value to the user

Specific and easy calls to action.

Intuitive navigation without distractions
Here, user experience comes into play in terms of how a customer journey is optimized. It needs to be intuitive, well optimized for mobile devices and visually compelling (good readability, a tidy layout, good use of multimedia etc.)
Users are more likely to convert if the interface of a conversion funnel is simple to journey through. In fact, Forbes reports that intentional and strategic user experience has the potential to raise conversion rates by 400%!
The said figure, along with everything said prior, should be enough to persuade you that working on optimizing your conversion funnel and investing in conversion marketing does pay off.

The matter of converting users should not be left at chance. The above are the steps to be taken to make it happen, and there are also some top-notch professionals listed on our website that can help you optimize conversions for your website.
Subscribe to Spotlight Newsletter
Subscribe to our newsletter to get the latest industry news