In this article, we will discuss ten effective conversion marketing strategies that businesses can use to turn their website visitors into loyal customers.
In today's digital landscape, converting visitors into paying customers is crucial for business growth, and these strategies will help you optimize your website for sales.
Whether you're a small business owner or a seasoned marketer, these tactics can help increase your conversions and ultimately drive revenue.
What Is Conversion Marketing?
Conversion marketing is a powerful digital strategy that transforms website visitors into leads or paying customers.
Whether it's making a purchase, filling out a form, or signing up for a webinar, the end goal is to encourage specific activities that lead to conversion.
This approach focuses on optimizing existing traffic rather than attracting new visitors. Effective tactics include creating persuasive landing pages, improving website navigation and usability, testing different CTAs, and using analytics to measure and refine results.
By implementing these strategies, businesses can boost their conversion rates and ultimately drive revenue growth.
Ten Conversion Marketing Strategies & Tactics For 2023
These conversion marketing strategies will help your business convert new and returning visitors to your website:
1. Focus On Designing Killer Calls To Action (CTAs)
Designing killer calls to action (CTAs) is crucial for on-site conversion marketing.
They provide a shortcut to increase conversion rates and lead directly to the bottom of the conversion funnel. An eye-catching CTA with compelling copy can motivate users to take action.
Here are some trends for 2023:
Double CTAs: Strategically placing two CTAs reinforces the user's desire to click through.
Creative Copy: Compelling CTA copy that amuses the user and echos your brand voice.
Creative Design: User-friendly, eye-catching CTAs that are hard to ignore.
2. Utilize Smart Pop-Ups
One of the most commonly used conversion marketing methods, smart pop-ups are generally divided into several categories:
Pushdown and pushup pop-ups:

The pop-ups that slide from above or below, push the content away.

Delayed pop-ups:

These appear after a user has spent a certain period on site.

Exit-intent pop-ups:

These pop-ups appear when a user moves their mouse cursor over their X button to leave the site. They are designed to pull the user back in by letting them know about the discounts, last-minute offers and other strong incentives to keep them on site.

Sign-up pop-up forms:

These pop-ups incentivize a user to sign up for free content such as eBooks. 
A 2023 OptiMonk survey found that the average pop-up has an 11.09% conversion rate, meaning pop-ups increase in email lists and improve eCommerce conversion rates. They do this by offering attractive deals, discounts and special offers.
A clear headline and CTA copy remain extremely important for pop-ups in 2023.
3. Create A Convincing, Attention-Grabbing, Authority-Building Content
Content marketing is a game-changer for businesses today and in the future.
Outsourcing a content marketing agency to create quality, relevant content can generate leads, increase site engagement, decrease bounce rates, and boost search rankings.
Here are some other benefits of quality content:
Drives user engagement
Increases site dwell time
Builds trust with your audience
Improves conversion rates
As we look ahead to 2023, well-researched and well-written content will continue to rank higher on search engines, directly impacting your organic traffic and lead pool for conversion.
4. Focus Your Social Media Strategy On Engagement And Long-Form Content
Social media presence is crucial for brands today. However, success depends on strategic channel choices and tactics.
Here are some key stats and trends to keep in mind for 2023:
Only 2% of social media users make purchases, but targeting ads on Facebook can convert to 98%. (Source: LyfeMarketing)
Over 60% of Instagram's user base is aged between 18 and 34, making it the perfect platform to target young adults and Millennials. (Source: Statista)
Facebook's largest user demographic is men aged 25-34, accounting for 17.6% of global users. The second largest audience is men aged 18-24. (Source: Statista)
We can expect engagement to rise on TikTok in 2023, with experts predicting the platform will amass 840 million users globally. (Source: Insider Intelligence)
Social media channels like TikTok and Pinterest will be expanding their offerings to include clean rooms and other targeting solutions, making them more accessible to B2B marketers. And with TikTok surpassing Google and Bing for Gen Z searches, B2B brands will also be exploring using TikTok for search strategies. (Source: Search Engine Journal)
Don't miss out on the power of social media — consider outsourcing to a professional Instagram marketing company today.
Other vital things of note when using social media for the purpose of conversion marketing are:
Communicate and engage with your audience:

Comments section on Facebook, Instagram, Twitter and elsewhere is where the conversion CAN happen. Engagement will become

even more important

, as algorithms will qualify content that has a lot of comments for better ranking. 

Utilize groups and communities:

Facebook Groups can help the organic reach in a great way should you post content there. Facebook will put the community

at the center of it all

.

Use social media advertising and marketing: To make the most of social media advertising in 2023, consider partnering with an advertising agency that can help you navigate these trends and effectively reach your target audience. Local targeting and AI segmentation will be particularly important.
5. Video's Popularity Will Continue To Skyrocket
According to Wyzowl, videos are shared twice as much as other types of content, with people being 52% more likely to share them than social posts, product pages, and blog posts.
Video marketing has proven to be a useful tool for more than one stage in the marketing funnel, as it can help optimize:
The awareness stage by inspiring a desire

The consideration stage by providing useful information that builds trust and authority
The conversion stage is by showcasing the product or service, reinforcing the prospective customer's purchase intent
If you are thinking of adding video to your digital marketing strategy in 2023, these are the upcoming trends to bear in mind:
360-degree video experiences provide a more immersive experience

Shoppable and live videos for more authentic interactions

Interactive videos for increased engagement

Educational videos as a better alternative to dry sales pitches
6. Don't Neglect The Power Of Email

Email marketing delivers exceptional return on investment (ROI), with up to $45 for every dollar spent, particularly in the retail, eCommerce, and consumer goods sectors. In 2020, email marketing revenue amounted to US $7.5 billion, and it's expected to surpass $10 billion by 2023, according to Statista.
Your business needs standout emails to maximize conversions.
This is how you achieve powerful email marketing strategies in 2023:
Boost engagement with interactive content like quizzes, polls and CTAs. Boost your email engagement and collect valuable feedback by adding sentiment polls or selectors to your emails. This trend has been named one of the biggest for the year by experts at Litmus Talks.
Personalize your emails using customizable newsletter services. In 2023, 347.3 billion emails will be sent worldwide daily. By 2025, 4.6 billion people will use email. Personalization leads to 34% more spending according to 80% of business leaders. (Source: The Loop Marketing)

Increase conversions by offering incentives like rewards, discounts and free samples. 90% of customers are willing to share their email addresses for a small incentive, according to a Google and Boston Consulting Group study on data sharing. 
7. Use A Sense Of Urgency and Fear-Of-Missing-Out (FOMO)
FOMO is a timeless marketing technique that can be used to accelerate user action. Terms like "limited time" and "last chance" create a sense of urgency, driving conversions.
Other FOMO techniques include highlighting stock levels, using countdowns, showing missed opportunities, offering limited free shipping, and exclusive products/offers.
Exclusivity is the best FOMO technique, as people love owning something others don't. Here are some FOMO email marketing examples to get you started:
Limited-time offers: To stay top of mind in the crowded online world, use limited-time offers (LTOs) in your marketing campaigns. LTOs, such as sales and freebies, generate buzz around your products and services.
Back-in-stock emails: Back in Stock emails notify customers immediately when a product is available again, creating a sense of urgency as it may sell out quickly. This example also highlights limited stock to further encourage purchases.
Reviews and testimonials: Testimonials are powerful marketing tools that can help increase sales and add personality to your business.
Showcasing best-selling and top-rated products: Showcase your best-selling or top-rated products in your email to entice customers into purchasing them, as successful companies like Starbucks and Apple do. Customers may feel like they are missing out on the best products if they don't buy them.
8. Reward Your Loyal Customers To Turn Them Into Brand Ambassadors
Reward brand advocates to increase conversions from existing customers by focussing on these channels for ambassador marketing in 2023:
Social media

Online reviews

Affiliate software
Brand ambassadors can promote your company through various techniques, including social media and word-of-mouth. The most effective step-by-step process for creating a pool of brand ambassadors is by starting a program devoted to just them and:
Present them with exclusive high-quality products

Offer freebies and service upgrades (to make them feel they are more than customers and part of your brand)

Require their feedback on special offers and products

Reply to their comments on social media
Here are some 2023 ambassador marketing trends to know:
Micro-influencers will be on the rise

New platforms for influencer/ambassador marketing will be in use, such as to get you started, CreatorIQ, SocialBakers, Linquia, etc.

Communicating values, not just products and services
9. Optimize Your Website — Especially Its Speed
The speed of your website can make or break your online business.
A BrowserStack study found that 70% of consumers consider page speed when making purchasing decisions. Additionally, for every second it takes for your website to load, conversion rates can decrease by an average of 4.42% within the first five seconds.
This means that optimizing your website's speed is crucial for a better user experience and higher conversions.
Filling your site with too many graphics, videos, and plugins can actually hinder its performance. Not only does Google penalize slow sites in search results, but 47% of people expect pages to load in just 2 seconds or less, according to Neil Patel.
In fact, the same amount of people will leave a site if it takes more than 3 seconds to load. In 2023, site speed will be more important than ever. One second of delay can cost big eCommerce sites $2.5 million in lost sales annually, for those making $100,000 per day.

10. Work On Users Revisiting Abandoned Carts
Popupsmart found that cart abandonment rates vary depending on the device being used. On average, mobile users have the highest abandonment rate at 77.08%, followed by tablet users at 64.65%, and desktop users at 62.04%. to $4.6 trillion per year. 
Cart abandonment is a top cause of lost conversions. To improve your conversion rates, reach out to these shoppers and motivate them to complete the sale.
Here's how:
Targeted marketing and remarketing:

 This reminds visitors of items they have been looking and may lure them back to your website to complete the purchase.

Cart abandonment recovery: Using tools that remind shoppers that they have products in their carts
Recommendation and personalization engines:

These can be incorporated to provide AI-infused deal-making
What Is A Conversion Rate In Marketing?
Conversion rates are a key metric in digital marketing. They show the percentage of users who have completed a desired action on your website, social media page, or email campaign. This can be anything from a product purchase to a form submission.
To calculate your conversion rate, use this formula:
The number of visitors who converted / total number of visitors x 100.
Low conversion rates can signal issues in your customer journey or lack of transparency. Nearly half of the online shoppers (48%) abandoned their shopping carts in 2022 because of unexpected costs, such as high-priced shipping, additional fees, and taxes, according to a study by Baymard.
By tracking conversion rates, you can refine your marketing strategy and improve the user experience. This can lead to increased conversions and ultimately, more revenue for your business.
Nine Conversion Rate Metrics You Should Track
Track these nine vital conversion rate metrics to understand how your marketing campaigns are performing, identify areas of improvement, and determine if your strategy needs adjusting:
1. Conversion Rate
The conversion rate is the percentage of website visitors who perform desired actions, such as making a purchase, filling out a form or subscribing to a newsletter.
The average conversion rate is 2%, but it can be as low as 1% or as high as 10% depending on the industry.
A high conversion rate means successful persuasion of visitors to take the desired action, while a low conversion rate suggests the need to adjust the conversion marketing strategy.
2. Click-through Rate (CTR)
CTR measures the number of clicks on links that lead to your website from email or paid ads. It indicates the effectiveness of your ads and targeting.
A high CTR shows relevance to your audience, while a low CTR suggests the need for revision.
3. Cost per Conversion (CPC)
The price you pay for every conversion is called cost-per-conversion (CPC). 
To calculate CPC, you need to know how much money you spent on a paid search ad in the given timeframe and the number of conversions it generated in a month. Divide the ad cost by the number of conversions to get the CPC.  
Knowing your CPC helps you determine the effectiveness of marketing materials by comparing the cost of ads that drive the same number of conversions. 
4. Cost per Aquisition (CPA)
The price or the cost of acquiring a new customer is called cost-per-acquisition (CPA). You can calculate CPA by dividing the total marketing cost by the number of customers you received. 
CPA is a valuable metric for understanding your marketing and business's profitability. If the cost of gaining new customers exceeds the revenue they bring you, your business may be at a loss.
Conversely, if the income from new customers exceeds the CPA, your business is profitable. 
5. Return on Investment (ROI)
You'll need to calculate the return on investment (ROI) to determine how much revenue your marketing efforts bring. Simply take the revenue you generated and subtract the money you spent on the marketing campaign. 
Positive ROI indicates that you're earning more money than you're investing in conversion marketing, while negative ROI means your tactic is not paying off. 
6. New Visitor Conversion Rate
The new visitor conversion rate is a metric that focuses on people visiting your website for the first time. Usually, first-time visitors don't purchase because they need to know your brand.  
However, conversion doesn't need to be a purchase; this metric is still helpful to measure how many people are subscribing to your email list or clicking your links. 
7. Returning Visitor Conversion Rate
The metric that measures the conversion rate of people who have already visited your website before is called returning visitor conversion rate.  
Typically, this metric will show a higher purchase conversion rate than the new visitor conversion rate. If it's low, it might indicate an issue with your website.
Separating these two types of conversion rates is essential because combining them could give you a distorted view of your overall conversion rate.  
8. Average Time on Site
The metric that shows how long the average user stays on your website from the moment they arrive is called average time on site. It gives you an idea about how fast visitors are converting.  
For best results, compare the average time on site with the conversion rate: 
A high conversion rate and low average time on site indicate that you give users enough information to convert quickly. 

 

A high conversion rate and a long average time on site indicate that users are researching your product or service before deciding to buy.

 

Low average time on site and low conversion rate indicate users are leaving without converting. If so, you need to adjust your conversion marketing strategy.

 
9. Bounce Rate
In many cases, people click on one of the Google search results, scan it and conclude it's not something they want to read and leave.
Abandoning a website after visiting it for only a few seconds is known as a bounce rate. 
A high bounce rate shows visitors quickly leave your site, probably because of unsatisfying or irrelevant content. A low bounce rate shows that visitors are engaged with the content they find on your website and decide to stay. 
What Is A Digital Marketing Conversion Funnel?
A conversion marketing funnel is a step-by-step strategy of guiding the users from the first point of contact with your business, whether it is your landing page, email campaign, social media or other, to the point of conversion.
The core stages of a conversion funnel are:

Discovery (top of the funnel)

: A stage that contains the total pool of people who have just discovered your business and its services.

Consideration (middle of the funnel):

A stage at which the lead turns into a prospect and wants to learn more about the brand before making a decision to convert or not. These visitors begin to associate the brand with the services it offers.

Conversion (bottom of the funnel):

At this stage, leads decide to convert into customers. They know the brand and have the potential to become its loyal customers and advocates even.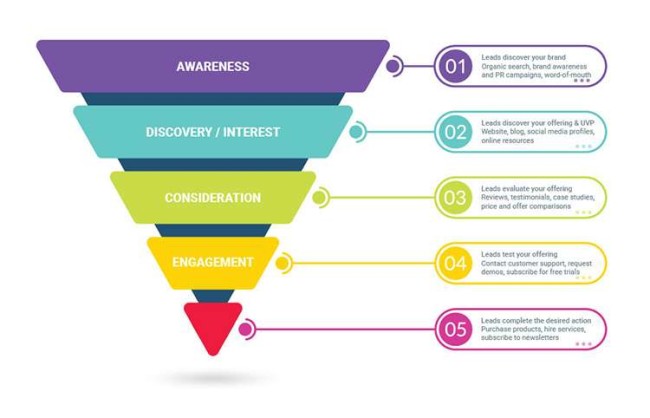 Discover how to optimize your eCommerce website for lead generation, engagement and conversions.
LEARN HERE
Conversion Marketing Tools To Grow Your Business
Marketing analytics tools can help you troubleshoot and improve your online customer journeys, as well as optimize other elements of your conversion marketing in 2023:
Over 120,000 companies have used this tool to boost their conversions and improve the customer journey. 
Crazyegg is a handy tool whose biggest asset is telling you what your site's weakest spots are — for instance, certain "leaks" in the conversion funnel, insufficient leads and underused content to name a few.
You can establish what parts of a conversion marketing funnel to work on, thanks to the analysis of user behavior that answers the questions like:
Where are your users clicking?

Why are users leaving the site?

Where are they spending most of their time?

What keeps them most engaged?
Crazyegg:
Provides eye-tracking tools like heatmaps

Tracks website operations and helps understand user's interest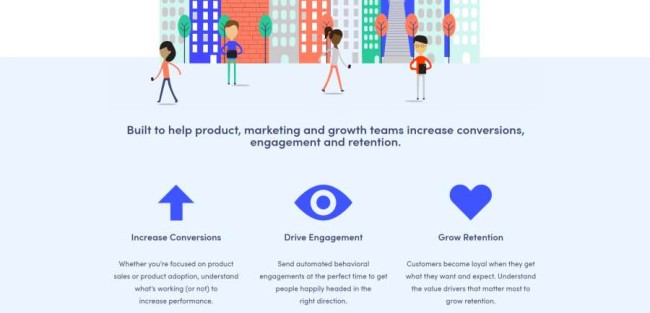 Kissmetric analyzes your website and the way it's optimized to convert users. It also provides very specific hints and tips regarding engagement levels on your website, helping you improve this important segment that leads to conversions. 
What do visitors who convert all have in common?

How long are they staying on the page?

Who are the most active visitors?

Which digital marketing activities and campaigns are bringing them to the site?

What website content has proven more effective in retaining users and converting them?
The data this tool provides is very useful for measuring the performance of a particular campaign, a service or a product — and is a good stepping stone to optimize the effectiveness of the entire conversion marketing plan.
Kissmetric:
Tracks customer's conversion process

Discovers areas where you're losing customers

Determine which adjustments are making the biggest impact

Identify trends that contribute to your objectives

Understands where your most valuable customers are coming from

Calculates how long it takes a user to convert on average
Landing pages are one of the pillars of good digital marketing companies' services that aims to convert users.

Unbounce helps build and test responsive landing pages that are designed to convert.

Their pre-built templates, SEO features and simple drag-and-drop interface make it extremely user-friendly to make the most of knowing the best practices to convert thanks to the feedback this tool provides.

Although it is suitable for all sorts of conversion marketing methods and practices, Unbounce shows the most potential when creating lead flows for blogs, eBooks, etc. all through dynamic landing pages that can be optimized in minutes.
It is best suited for the middle of the conversion funnel stage when a user increases interest in the product. 
This landing pages service enables users to
Create, edit and test landing pages before publishing them

Get real-time data on page loading, campaign grouping and more

Make the most of the hundreds of templates and features
Clicktale is a tool dedicated to analyzing your users' experience on your site.

It generates heatmaps that provide a visualization of elements that capture the attention of your users the most — in terms of what they are looking at, where their mouse hovers, where they are clicking etc. It also suggests what to optimize for higher conversions.

Also, it can detect issues with the website speed, quality of images, navigation problems, reasons behind rising bounce rates and more.

One of the benefits of using this tool is that you can reduce the rate of abandoned carts, and increase conversions and revenue. 
It does so by capturing the sessions of mouse interactions on the page. When it does so, it takes all the pages with captured data and gathers them to form a good idea of the general user experience on the website.
Optimizely is a popular conversion marketing tool that enables businesses to conduct A/B tests and experiment with different variations of their website in real-time. This tool allows you to test various website elements, such as headlines, images and CTA buttons, to see which versions bring the best results - the highest conversion rates. 
Optimizely also provides a visual editor that makes it easy to change your website without any coding knowledge. This tool integrates with other marketing tools, including Google Analytics, to comprehensively view your website performance. 
By using Optimizely, you can determine which changes to your website lead to the highest conversion rates, allowing you to make data-driven decisions about optimizing your website for conversions. 
Optimizely: 
Conducts A/B tests and experiments in real-time

 

Provides a visual editor to make changes to your website

 

Integrates with many other marketing tools for a comprehensive view of website performance

 

Allows you to make data-driven decisions about website optimization
Bonus: Ranking & Review Platforms
Establish your brand's presence on rating platforms like DesignRush and review platforms like Capterra, TrustPilot or Yelp to increase your traffic, consumer trust and, consequently, conversions.
Tips for Generating More Conversions

As a final touch when working on improving your business's conversion rates, you should consider the following few points:
1. Think Mobile-First
A good conversion marketing strategy's important aspects are:

Business's online authority

Marketing funnel

Conversion funnel
Global mobile web traffic has surged over the past decade, with mobile phones accounting for 60.67% of all web traffic in February 2023, up from a mere 10.88% in 2012, according to Oberlo.
While Statcounter found that desktop devices contribute 46.51% and tablets account for only 3% of traffic.
For mobile phones, the keyword is efficiency. That means that your website, apart from being mobile-friendly and responsive, should also be extremely quick on mobile and easy to use.
It should use big images and product videos as elements that are known to contribute to better conversions.

This brings us to the next point — that of user experience.
2. Make Simplicity Of User Experience Your Priority
Simplicity is key when it comes to creating a successful customer journey. The three stages of awareness, consideration, and conversion provide a solid foundation, but minimizing friction is crucial for success.
To do this, consider including appropriate content that is:
Concise yet compelling
Specific and easy-to-use calls to action
Intuitive navigation without distractions
User experience plays a significant role in optimizing the customer journey, so ensure your website is well-optimized for mobile devices, visually appealing, and easy to navigate. A simple interface is more likely to convert users.
3. Add a clear Call-to-Action (CTA)
A CTA, or call-to-action, is a powerful tool that prompts your users to take a specific action, such as signing up for your newsletter or making a purchase. To be truly effective, they need to be simple, direct, and impossible to ignore.
So how can you make your CTAs stand out and get results? Here are some quick tips:
Use a contrasting color that catches the user's attention and makes your CTA button pop
Place your CTA in a strategic location that's easy to find and hard to miss, such as above the fold or at the end of a product description
Use clear, action-oriented language that tells users exactly what they're getting when they click your button
By following these tips, you'll be well on your way to creating compelling CTAs that drive conversions and help you reach your business goals. 
Conversion Marketing FAQs
What is an example of conversion marketing?
Let's take a look at conversion marketing in action.
A fitness center wants more monthly subscribers, so they create a landing page with a clear sign-up button and an irresistible limited-time free trial offer.
Using social media and targeted ads, they reach out to fitness enthusiasts who have previously visited their website. The result? A surge in sign-ups, boosting their subscription numbers and achieving their marketing goals.
What is an example of a conversion goal?
Depending on a business's goals and objectives, conversion marketing might aim to encourage visitors to become leads or customers. The conversion they submit might be a purchase but also a subscription or downloading an e-book or a brochure. 
What is a good conversion rate?
The definition of a "good" website conversion rate varies by industry, but generally speaking, a "good" website conversion rate is between 2% and 5%. 
Conversion Marketing Takeaways
To boost your business's conversions and success, conversion marketing should be a crucial part of requesting the services of a digital marketing company.
Incorporating tactics such as social proof, clear CTAs, mobile-first design, and prioritizing user experience can help optimize your conversion funnel. To achieve even better results, consider outsourcing to a digital marketing company or partnering with a conversion rate optimization agency.
The goal of conversion marketing is to turn visitors into customers, and continuous testing and refinement are key to achieving this. With the help of a conversion rate optimization agency, your business can drive growth and reach its full potential.
Subscribe to Spotlight Newsletter
Subscribe to our newsletter to get the latest industry news