When it comes to the MacBook Pro vs. Surface Pro 4 conversation, everyone has an opinion.
But even if you're an avid lover of one over the other, it's important to take the time and do the research. Technology is constantly evolving. Devices are constantly pushing the boundaries of what we think is possible.
Designers always need to be sure their tech is at the top of its game. Otherwise, how can you be sure that you're at the top of your own game?
Doing the research for a shiny new piece of hardware is always a wonderful combination of excitement and torment. Unless you're a staunch advocate of a particular brand or company, the initial anticipation of actually getting the laptop, desktop, tablet or device is often overshadowed by the impending thought of having to research and then make that huge decision of which one to go for!
That said, it can be quite interesting to look through the differing technical aspects of different devices and figure out which one is best for you. As a designer, there will probably be a number of things that you're looking out for in particular.
And the MacBook Pro vs. Surface Pro debate is definitely real.
What Laptop Features Do Designers Need? 
Top-of-the-line specs
A portable workstation
Large screen space
Easy-to-navigate mouse
Substantial power
There are a vast array of factors and features that you need to consider when making your next big laptop purchase.
For example, you're going to be running a number of programs at once that require a huge amount of processing power, so taking some time to examine the available computing power, GPU, RAM and any other similar variable in regards to processing data is often a good place to start. Additionally, you'll want to think about internal memory versus cloud storage — and are you going to backup your work externally, or not?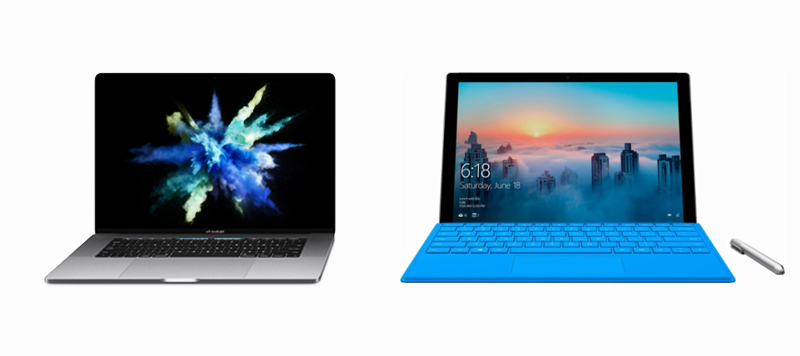 Of course, let's not forget the actual display power of the computer, which is crucial for designers working on high-quality projects. Checking the resolution is one way, but reading forums or reviews on what other designers think of a certain unit's display quality is probably the most reliable.
Once you've figured out the hardware specifications, other things you might want to research are the additional features such as connectivity, usability and keyboard/mouse design. Ultimately, advice and tips you receive from elsewhere can only get you so far — it's your personal preferences that weigh the most.
Do you want special features like a front-facing camera or retina display? Are you looking for high-end laptops with advanced features like a smart keyboard or on-screen keyboard? Are you more interested in processors — finding yourself debating which has the upper hand, core i processors, skylake processors or kaby lake processors?
The options really are endless.
With all of that in mind, we've decided to compare two of the most popular laptop choices for designers: The Apple MacBook Pro and the Microsoft Surface Pro 4. They're the big dogs of the creative world when it comes to processing power, and they give designers the tools to get more hands-on than ever with their work.
But which one should you choose?
The MacBook Pro vs. The Surface Pro*
*Updated for 2017 versions 
Maybe you're a staunch Apple product user. You've been using the MacBook Pro or the MacBook Air religiously for as long as you can remember. Or maybe you're all about surface books. You've been using surface laptops your entire life and don't plan on changing. Maybe your parents gave you your first surface laptop one Christmas and you've been hooked ever since. Maybe your first Apple product was an iPhone and now you're sold.
For example, there's definitely a debate when it comes to Apple vs. Android and everyone just picks a side.
Maybe you love the Apple operating system. Maybe you've been a Windows person since Windows was first a thing. Maybe you don't even know why you love or hate Apple or Android product, you just know you do.
And I mean, you obviously have some doubts and reservations if you're reading this. So let's start comparing.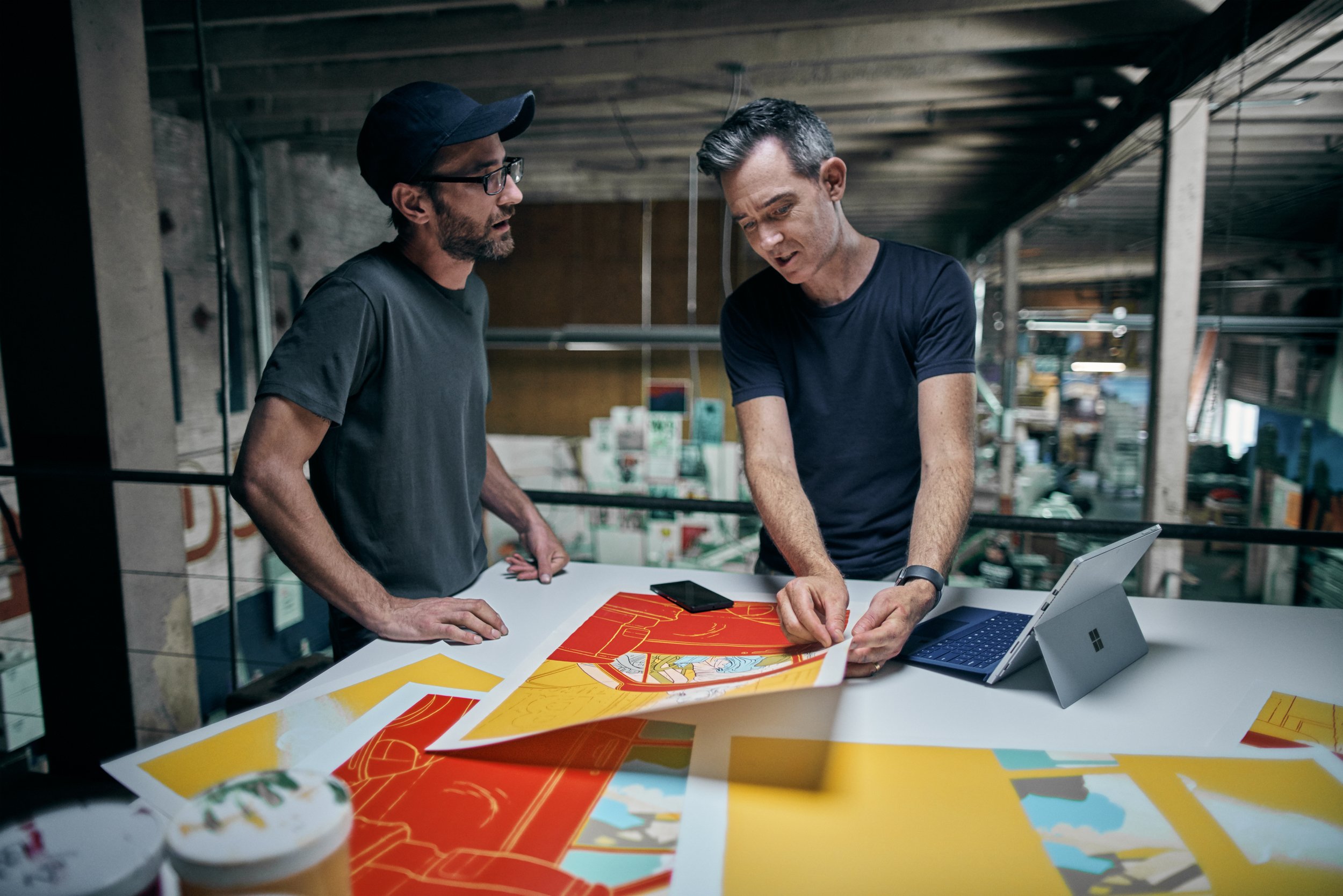 Special Features
MacBook Pro: OLED touchscreen Touch Bar and access to easy shortcuts.
Surface Pro 4: Detachable tablet, touchscreen and stylus support.
Let's start with the MacBook Pro. On the newer MacBook Pro models, you'll notice there's an optional Touch Bar. This shows different function keys depending on the app you're using. For example, in Photoshop, you'll get relevant shortcut keys via the OLED touchscreen bar.
With the Surface Pro 4, you don't get a fancy Touch Bar with a large variety of app shortcuts, but you do get other features. The biggest special feature of surface books is their detachable design quality. This can transform your laptop into an even lighter-weight tablet that you can create beautiful designs with even easier. This, paired with its touchscreen makes design projects a breeze.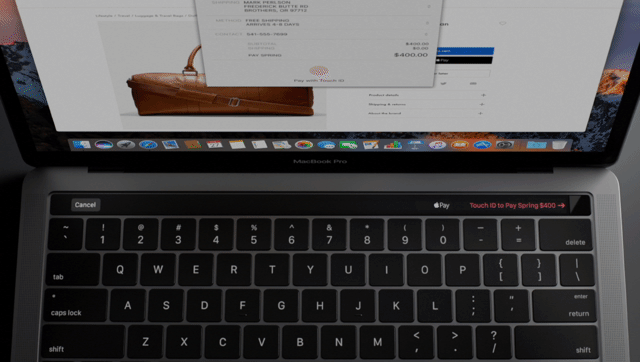 Form & Size
MacBook Pro: Weight: 1,370 grams. Dimensions: 149 x 304.1 x 212.4mm.
Surface Pro 4: Weight: 768 grams / 784 grams. Dimensions: 292 x 201 x 8.5mm.
Now, let's talk size. You don't want to be carrying around a heavy, clunky laptop in your bag as you jump from co-working space to coworking space. You need something slim. You need something sleek. You need something compact.
The MacBook Pro is a fairly conventional laptop, with a slim and stylish metal chassis and an accurate trackpad. The keyboard ensures that typing is about as easy as it can be, and it is incredibly light (only 1.37kg).
Overall, the Surface Pro 4 is a slick piece of technology that features the popular laptop/tablet hybrid design that has made the Surface line so useful to date. The portability and flexibility with the Surface Pro 4 comes in handy when you're commuting or out in the field and need to quickly take notes, sketches or process data.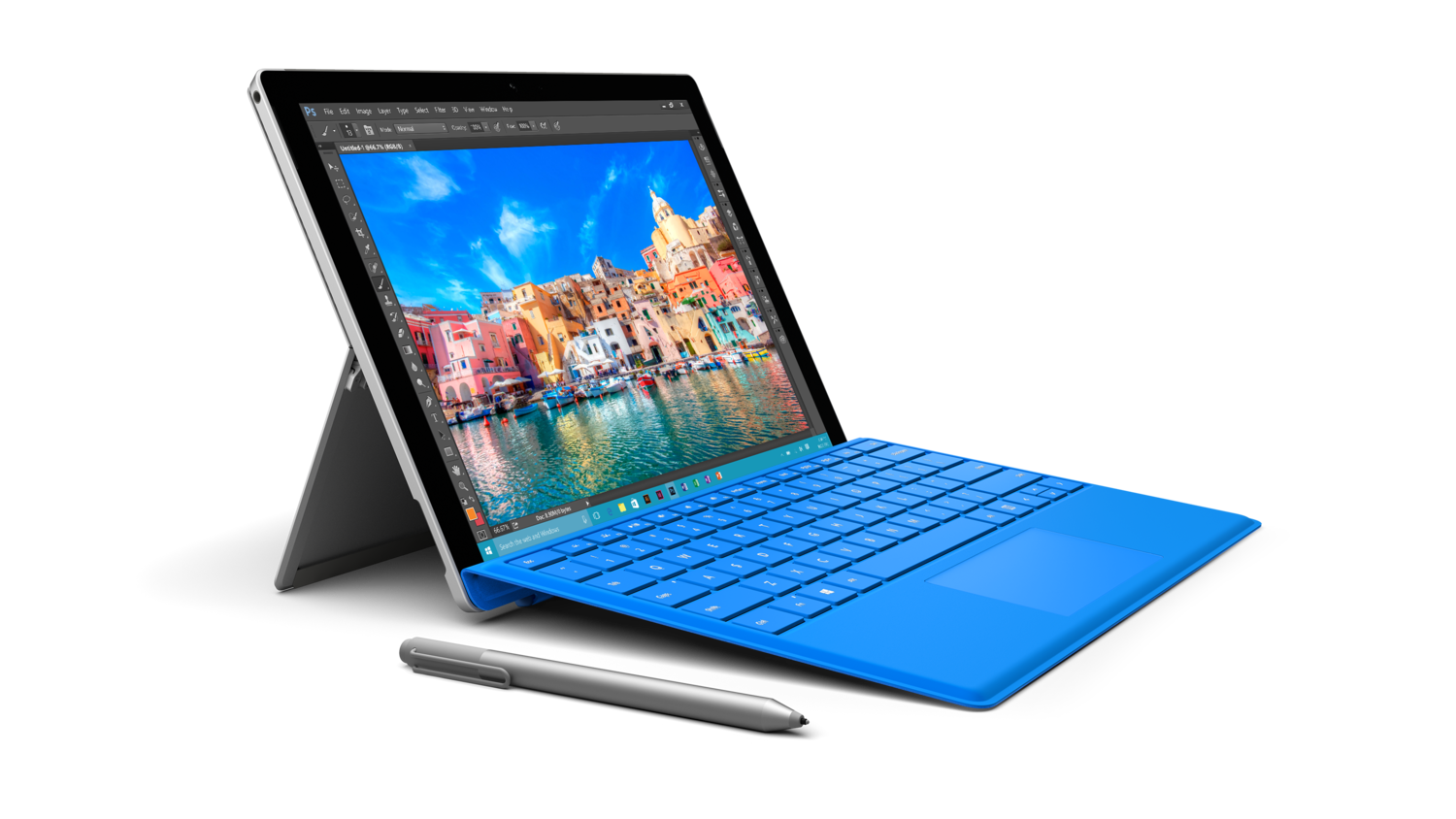 Stylus Support
MacBook Pro: No.
Surface Pro 4: Yes.
For designers, being able to get extremely hands-on with your designs is vital. You need to get up close and personal with your work to ensure that it's the best it can be. You want to see your personality in your designs. You want to show your expertise. You want to show your creativity. You want every line, swirl and color to have a purpose. 
This requires extreme control. So you need a device that can give you that control.
A great tool for designers is the use of a stylus. If you can interact with your designs with your hands, you have a better chance of creating a design that amazes. This means that your tech needs to have a touchscreen and a tool with which to interact with it — like a stylus.
Apple doesn't offer these features with the MacBook Pro, but Microsoft does in their surface book. In this category, the Surface Pro 4 is the clear winner, giving designers full control and flexibility when it comes to creating and playing with their designs. 
Display
MacBook Pro: Screen size: 13 and 15 inches.
Surface Pro 4: Screen size: 12.3 inches.
Display matters — you're creating designs after all. So you need to have the right amount of space to see your work in its entirety. But you also don't want to sacrifice resolution for size. Which laptop offers the perfect medium?
With the Surface Pro 4 being a tablet/laptop hybrid comes a drawback, and that relates to screen size. Keep in mind that the 12.9 inch iPad Pro is one of the largest tablets available and is regarded as too big for some common tasks. As a consequence, the Surface Pro 4 is only available in a single screen size of 12.3 inches, compared to the 13 inch and 15-inch options available with the MacBook Pro models. While some users will be happy with the smaller model, most will lean towards 13-15 inch for day-to-day work.
Resolution Quality
MacBook Pro: Resolution: 2560 x 1600. 227 PPI.
Surface Pro 4: Resolution: 2736 x 1824. 276 PPI.
Both options offer high-resolution displays, but it's the Surface Pro 4 that slightly edges the higher resolution at 2736 x 1824, compared to the MacBook Pro's 2560 x 1600. Due to the lower resolution and larger display size of the MacBook Pro, which has a 227 PPI, the Surface Pro 4 offers a higher pixel density of 276 PPI. However, despite the higher pixel density, the difference isn't overly noticeable across the two laptops on a daily basis, so it's not that significant a decision maker.
Performance
MacBook Pro: Both offer 8-16GB 1866MHz.
Surface Pro 4: Both offer 8-16GB 1866MHz.
Again, in a similar fashion to the resolution quality, both the Surface and the MacBook are evenly matched when it comes to memory and performance in general. They both offer 8 and 16GB 1866MHz LPDDR3 RAM configurations. However, the lower cost of the budget-friendly 4GB RAM configuration available on the Surface Pro 4 might make it more appealing to some users. Both models offer 128GB, 256GB, 512GB and 1TB storage configurations. At the end of the day, it all comes down to preference.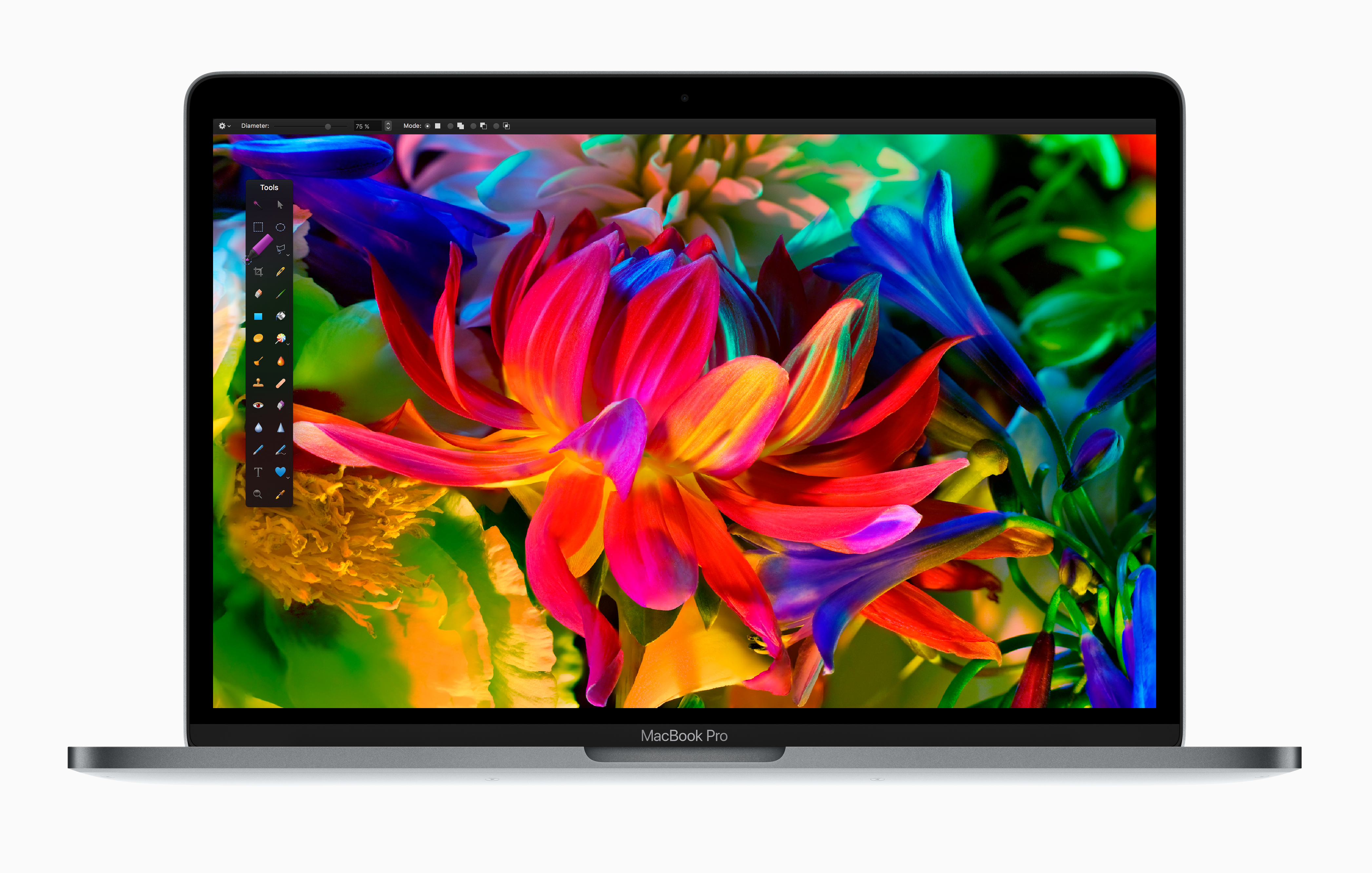 Graphics
MacBook Pro: Graphics: Radeon Pro GPU.
Surface Pro 4: Graphics: Intel HD Graphics.
There is one technical specification where Apple has the slight upper hand: Graphics. While the Surface Pro 4 features integrated graphics, Apple's 15 inch MacBook Pro offers a Radeon Pro GPU with either 2 or 4GB of RAM — pretty impressive!
Camera
MacBook Pro: Camera: Single camera. 720p HD.
Surface Pro 4: Camera: Two cameras. 8Mp on the back, 5Mp on the front. 1080p HD.
But, it wouldn't be fair to dismiss the camera of the Surface Pro 4, which might come in handy for designers who are recording themselves for educational content, recording their screen on Mac or even just conference calls. The Surface Pro 4 features two cameras (8Mp on the back, 5Mp on the front) capable of capturing video at 1080p HD. The MacBook Pro only features a single camera that is capped at 720p HD.
Operating System
MacBook Pro: MacOS High Sierra.
Surface Pro 4: Windows.
Another important thing to mention is the difference between Windows 10 and MacOS High Sierra. There is obviously a clear difference between the two options and one that often dictates which designers go for. While Apple has Siri, Windows 10 was a big jump from its previous systems, offering touchscreen capabilities and Cortana — their answer to a digital assistant. 
Battery Life
MacBook Pro: 10 hours.
Surface Pro 4: 13.5 hours.
When it comes to sitting down and banging out a new design project, you don't have time to waste. And you certainly don't have time to run around like a chicken with its head cut off because your laptop battery life has fallen to 10 percent and you can't seem to remember where you left your charger.
That's why, especially for designers, it's important that you have a piece of tech that can last for hours. If your device can't withstand an all-nighter full of intense design work and way too many coffees, then what's the point?
When comparing the MacBook Pro and the Surface Pro 4, there's a clear winner in the battery life department. Microsoft boasts an impressive 13.5 hours of battery life. And while the MacBook promises a hearty 10 hours, those few extra hours really do matter. 
Which laptop has better value for the cost? 
MacBook Pro: Starts at $1,449.
Surface Pro 4: Starts at $799.
With technical specifications, design differences, and any personal preferences set aside, it's always worthwhile to consider the monetary aspect of any new purchase you're making. The main difference is that the MacBook Pro starts at $1,449, but Microsoft decided to undercut Apple with a cheaper option at $799.
While both devices eventually work their way up to a similar $2,699 amount, the lower entry price of the Surface Pro 4 is particularly appealing for some younger designers who may not quite have the budget for a full-blown MacBook Pro just yet.
MacBook Pro vs. Surface Pro — Who Wins?
Let's look at a side by side comparison of the two laptops.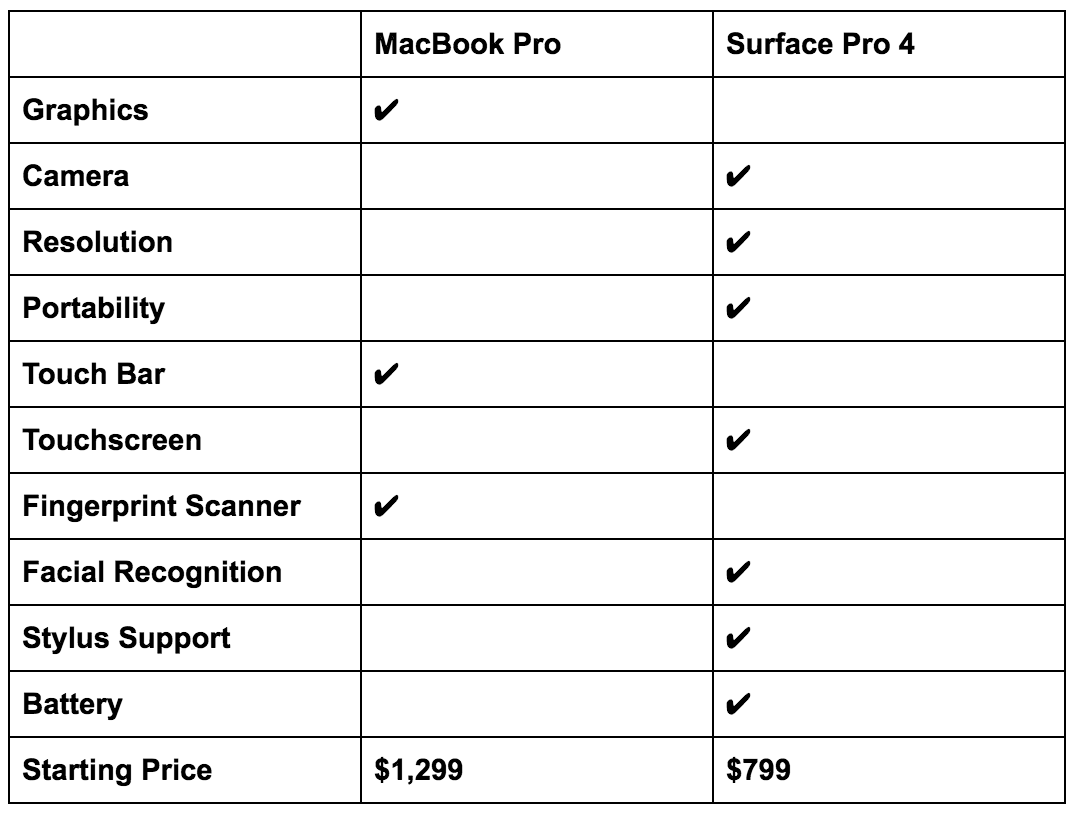 In summary, there's not much to choose from between the MacBook Pro and the Surface Pro 4. They are remarkably similar in terms of both hardware and software, and from a designer's perspective, you could certainly make a profound pitch for both to earn a spot on your office desk.
As with any new electronic device purchase, it's probably wise to actually go and use each one first before making a final decision, and you might also be able to find some juicy deals around the New Year!
Share your best design(s) for a chance to be promoted on our social media pages, among others!
GET STARTED
Subscribe to Spotlight Newsletter
Subscribe to our newsletter to get the latest industry news