Mobile-First Design: Why It Matters, Key Elements And 5 Best Examples
Research suggests there will be more than 3.8 billion mobile device users worldwide by 2021.
Also, 61% of mobile searchers are more likely to contact a local business if they have a mobile-friendly site.
Both figures show that a growing number of people are using mobile devices to find the content and research products/services, which points to the growing need for mobile-friendly and mobile-first websites.
In this article, we will learn what are the key elements of a mobile-first design.
We will also touch upon:
Why mobile-first design matters to businesses
The difference between mobile-first and responsive design
Five most striking examples of successful mobile-first web design
Let's get to it!
What Is Mobile-First Design And Why It Matters?
Mobile-first web design is a process that starts from the smallest, mobile screens with the aim to create the best user experience for people visiting websites via smartphones.
Mobile-first web design is, in its core, all about simplicity and minimalism.
By building a website with smartphones and tablets in mind, web designers and developers can help achieve a seamless experience for visitors.
The reasoning behind going for mobile-first design is that website designers, owners and other decision-makers should choose only the most important elements to present to users.
They do this by first sketching how a website layout should look on mobile screens, before adapting this to larger, desktop screens.
It is easier to progress from a more straightforward outline and functionality to more complex, desktop solutions.
Google's algorithm favors mobile-friendly websites and, by providing a good user experience on mobile, your business increases its discoverability.
Also, web pages optimized for smartphones have been proven to boost conversion rates and generate more leads.
But these are not the only advantages of having a mobile-first website.
Mobile-first sites can also:
Provide better user experience on portable devices
Use phone's built-in features
Save the money you would spend building more expensive solutions such as apps
Help users focus on core content
Increase reach and visibility
Provide easy navigation
Interested in how to create a unified user experience across every device?
Learn here!
What Is The Difference Between Mobile-First And Responsive Web Design?
In a nutshell, responsive web design is adapting desktop websites to mobile screens - which is a direct opposite to the mobile-first design process.
The responsive design begins on the desktop and scales down to smaller screens. The content, navigation and layout decrease to fit the mobile screens but remain geared for "classic" desktop websites.
Mobile-first design is more similar to designing a mobile app and adjusting the layout for desktop devices, whilst retaining the traits of a great user-experience such as fast download speeds and streamlined content to engage the audience.
Responsive web design helps website content fit the screens of different devices automatically and in a way that makes it comfortable for users to read it.
The mobile-first method considers mobile users' needs first, arises from the more restrictive mobile end and works toward expanding features for the desktop.
Responsive websites have their own advantages, such as:
Development and maintenance are quite cost-effective
Their design a good SEO factor
It's great for websites that are content and info-heavy
It's easier to accomplish for complex call-to-actions
5 Key Elements Of Mobile-First Web Design
57% of internet users say they won't recommend a business with a poorly designed website on mobile.
To avoid this scenario, your business should follow these evergreen steps that make sure your mobile-first website is top-notch.
1. Place Your Users At The Forefront Of Your Design
The first thing to do even before the process of designing a website for mobile begins is to research and identify your visitors' pain points.
A mobile-first website should help your visitors complete a task or solve a problem quickly and efficiently, in a way that is most convenient for them.
The second important step is determining what user flows and user journeys to implement on your mobile-first website.
Try considering different user behavior scenarios on each site page and adjust your user's journey accordingly.
To make your website more user-friendly and intuitive, think about the possible interactions between a user and a website interface and identify your users' pain points by:
Examining the mobile-first websites that already exist and learning about how they improved
Analyzing your competition and finding out what mobile-friendly solutions they don't offer
Asking your visitors directly about the issues they are experiencing with your mobile website through surveys
2. Establish The Visual Hierarchy Of Your Content
When creating content for a mobile-first website, you should make that content concise and to-the-point as much as possible.
Give your users the content they are looking for and lose the fluff, clutter and anything else that may distract or overwhelm the user or make the gist of content hard to read.
Because mobile websites come with certain screen size constraints, you should present content to your audience in a way that respects the visual hierarchy according to the importance of content.
This makes it easier to discern which elements are most important and deserve to be placed first.
Optimization of content improves website performance and facilitates user experience. Regarding mobile-first content and its hierarchy, always think in these terms:
Keep your titles on top and article preview above the fold so that readers can see and understand the content right away
Optimize sizes of images and videos for flawless performance on mobile devices
Focus on presenting relevant content only, that your users can quickly scan
Keep the content concise and succinct and delivering as much info as possible in as few words as possible
Divide long copy into numerous skimmable one-sentence paragraphs
3. Keep Your Website Simple
Simple and minimal design is trendy in web design for a reason: it improves the clarity of the content and focuses users' attention on what matters the most.
In practice, this means that, when building a mobile-first website, you should keep the elements that you feel you really need and lose the rest.
Try not to burden your users with superfluous elements they may find annoying and distracting, like pop-ups and ads. Include only the elements they came to your website for.
When looking to simplify your mobile-first website, consider taking these measures:
Reduce the number of links in your navigation menu
Use simple typography and don't make it too small for mobile screens
Use wide borders and clean lines
Use as few pages on your website as possible
Integrate a helpful search engine feature
Make use of white space to make the layout less cluttered and more readable
Use two columns of content at most
4. Make CTAs And Other Mobile-First Elements Consistent And Bold
Clean lines, bright colors and typographical elements all work wonders for websites designed with smartphones in mind.
Combining them all into an effective, punchy call-to-action button is a mobile-first imperative.
Not having such bold CTAs may result in losing valuable leads and conversions. Whenever possible, use these visually impactful CTAs rather than links that can be very hard to tap on mobile screens.
90% of people will bounce from a website if the content or layout are unattractive and companies who are design-focused even outperform others in the S&P Index by 219%.
This implies that it's not only your CTAs that need to be striking. Other graphic mobile-first elements that enhance user experience and lead your users down the sales funnel should also be eye-catching. These include:
Easy-to-read navigation buttons that store additional content in the hamburger menu at the top
Contrasting color schemes and vivid hues
Geometric shapes and abstract patterns
Parallax scrollers and image or video backgrounds
A dash of personalization with hand-drawn illustrations
Strong typography
5. Work On Your Site's Loading Speed
Research shows that visitors will leave a website if it takes more than three seconds to fully load.
Also, if they experience poor website performance, 79% of shoppers are less likely to buy from a website again.
Website loading speed is important for a website's success - both as a search engine ranking factor and a user experience element.
On mobile devices, loading speed is just as important, if not even more important. This is why stripping mobile-first websites of unnecessary elements works in this favor.
Some other speed protocols that you should follow include:
Compress your images so they "lose weight" but none of their quality by saving them for web and reducing their size
Use "lazy load" which loads website elements separately and in sequence so that at least some parts of your website are visible to users immediately
Switch to safe HTTPS protocol which, apart from being secure, is faster and contributes to better SEO
Use a CDN which loads the site's content from a cache that is closest to the user
5 Best Mobile-First Website Examples
We will now take a look into some mobile-first websites that fulfill the criteria of a great mobile design and even go above and beyond in this regard by setting standards for everyone else.
This event industry website promotes content updates and implements notification techniques. It uses HTTPS protocol (it redirects HTTP traffic to it) which greatly enhances its speed.
It also minifies CSS, HTML and JavaScript and uses file compression for optimal mobile performance.
In terms of user experience, the use of legible font sizes, color contrasts and prioritization of visible content make this website cater to the needs of portable device users.
Key mobile-first elements:
Geometrical design
A very simple menu
Fast loading times
Custom animation
The web design agency La Teva Web has a mobile-first website that checks most boxes with the PWA best practices, as it avoids application cache and requesting the geolocation permission on page load.
Very user-friendly, this website has content that is sized correctly for the viewport and size tap targets appropriately. To improve performance, the website uses progressive JPEGs.
Key mobile-first elements:
Intuitive navigation
Short Contact Us form
Scrollable content
Mobile-friendly typography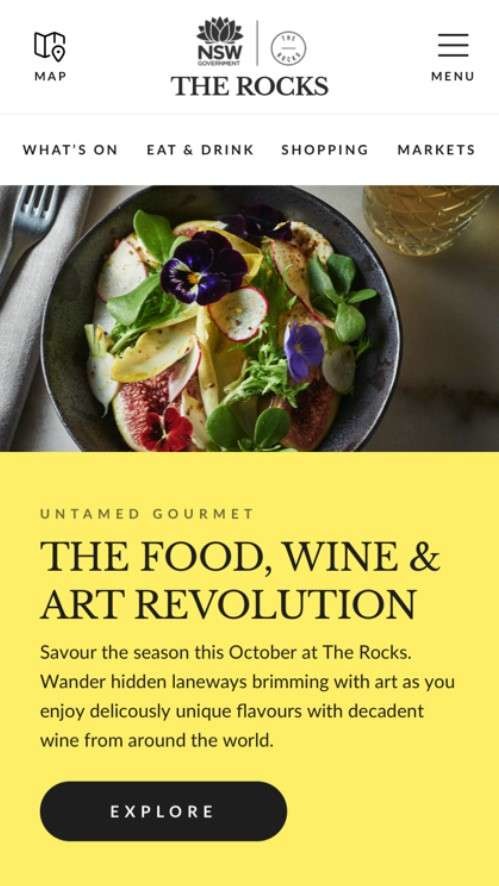 Eat & Drink website The Rocks is a content-rich portal whose informative nature translates to a mobile-first environment with quality imagery and essential blocks of text that introduce blog articles.
Big CTAs complement these bits of content as smaller links would be too inconvenient to use.
For even better usability, the brand logo is linking to a homepage, the active section is highlighted in navigation menus and all mistakes users may make in forms are highlighted immediately, along with given instructions for correct completion.
Key mobile-first elements:
Streamlined menu with just a few items
Big images
Short content intro
Bold CTAs
Futuristic-looking website is a 100% mobile-friendly experience, with excellent CTAs, legible font sizes, satisfactory color contrast and content sized just right for mobile screens.
Safe and fast-loading, the website uses HTTPS protocol that also boosts reachability and visibility on search engines.
The unique design uses background animations and parallax scrolling that don't affect the loading times of the website.
Key mobile-first elements:
Page load speed
Compressed images
Parallax scroller
The bare minimum of written content
On this mobile-first website, elements such as user profile, search and menu are neatly tucked away at the top along with the brand's logo, opening and presenting their abilities at the single tap.
Since this website has plenty of blog articles, the useability is improved with a single column layout that invites users to scroll down for more content.
Visitors are presented with a big headline against high-quality photography and a CTA link that opens the piece of content.
Key mobile-first elements:
Hamburger menu with additional content that is easy to reach
High-quality images that are well-compressed for site speed
Large headlines with one-sentence intros
One-column layout
Takeaways On Mobile First Design
85% of adults think that a company's mobile website should be as good or better than their desktop website.
Mobile-first web design's aim is to deliver a complete mobile user experience through
Less copy
App-like user interface
Large fonts
Visible CTAs
Faster download speeds
Optimized video and image material
With the advancement of mobile technology, smartphone devices and their browsers will begin to use features like camera, voice detection and haptic feedback more prominently.
This will put the mobile-first approach in the driving seat for providing optimal user experience and, businesses who use it, ahead of their competition in driving valuable traffic and generating leads.
Interested in the difference between mobile app design and mobile-friendly web design?
Learn here!