The web can be as weird as it is magnificent.
While most websites have a clear purpose to them, be it to promote a business, sell products, educate or inspire, there appears an oddball from time to time that seems to have no purpose at all.
Read on to see some of these seemingly pointless websites, as well as to see what we can learn from them.
What Makes A Website Useless
Pointless websites won't help you find an answer, a solution or meaningful info on any topic. Most of them consist of a single page and have minor or zero interactive components.
Imagine landing on a page where you can see a guy that falls, a ninja that stays still and does absolutely nothing, or a horse that has endless legs.
What's the point of visiting these websites when they have no purpose at all?
Well, while most of these useless web designs are bizarre and don't help you get anything done, they might have been created with a reason.
They serve as a small entertainment and can cause a feeling of joy as well as kill the boredom.
Instead of visiting YouTube and watching some funny cats videos or scrolling down on Facebook feeds, many people who are bored actually visit some of the most useless websites to refresh their minds.
7 Of The Most Pointless Websites (Or Are They?)
There are different websites out there and each of them has its own purpose. Some of them exist for the sake to sell products or services while others serve to educate users about something.
But how about pointless websites? Are they absolutely meaningless?
Go through these seven examples of the most useless websites and decide for yourself:
1. Cat Bounce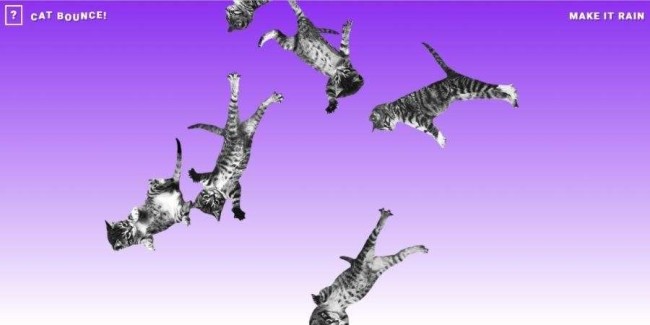 Cat Bounce shows cats jumping up and down, and that is all it does.
Visitors can make the cats bounce lower or higher - a simple engagement that can feel oddly satisfying.
If you click the "Make it rain" button in the top right corner, you will see dozens of cats falling from the sky.
And each time you resize or refresh the site, its background color changes.
As of mid-2020, this pointless website has:
Monthly Traffic Volume: 6,600
Keyword Rankings: 2,200
Linking Domains: 73,400
These metrics are significantly higher than what most small business' websites receive.
Lesson: Interactivity. Interactive content is highly engaging. As such, it increases time on site and click-through rates, both of which drive high SEO value and could help your site rank higher, reaping more organic traffic.
2. Ffffidget
Ffffidget is an online fidget spinner - that's all there is to it.
Users can move the fidget spinner around the web page, spin it slower or faster and observe the color change in the meanwhile.
There is a single call to action button - "Buy a spinner- that takes users to Amazon where they can choose from a range of fidget spinners and buy one.
We've analyzed this useless website and discovered its:
Monthly Traffic Volume: 3,900
Keyword Rankings: 1,100
Linking Domains: 1,550
Again, their metrics are better than most local businesses' in the US.
Lesson: Use interactive content to both showcase a product, as well as generate interest, warming your leads up before sending them to a checkout page.
3. Staggering Beauty
Staggering Beauty is a website where users can wiggle a white-eyed worm.
Users can control the wiggle speed and once it accelerates past a certain point, the background bursts into flashing lights and loud music. This is why the website sends a warning to flash-sensitive audiences.
Staggering Beauty's web performance is incredible, given its simplicity:
Monthly Traffic Volume: 39,400
Keyword Rankings: 2,000
Linking Domains: 75,500
The website has attracted the likes of Mashable, gaining high-value links.
Lesson: Feature a surprise element - such content tends to increase shareability and virality.
4. Eel Slap
Eel Slap prompts visitors to slap a man with a fish. That's the one and only goal that users need to fulfill.
No matter how purposeless this website looks and feels, it has:
Monthly Traffic Volume: 21,900
Keyword Rankings: 1,600
Linking Domains: 94
While identifying the goal of some websites can be challenging, Eel Slap is a symbol of simplicity and simpler equal focus.
Lesson: Singular focus is powerful as it prompts users to take a very specific action.
5. Pointer Pointer
Pointer Pointer prompts users to move their pointers across the black surface. It then issues a few notes saying: "Please move your pointer" and "Finding pointer...please hold still".
When the website locates the visitor's pointer, they will see random funny images of people who point to someone or something using their index finger.
No matter how purposeless this useless web design may look, the following numbers talk about its effectiveness:
Monthly Traffic Volume: 178,000
Keyword Rankings: 2,900
Linking Domains: 63,200
Pointer Pointer makes users stick around longer and explore some more images to stay entertained.
Lesson: Use highly engaging images to increase dwell time.
6. Bored Button
Bored Button entices users to press the bored button. Then, once they take the desired action, the site gives them a specific task to perform.
Each time they go back and click the button again, they receive a new task that may include holding the button to set a new high score, doing crazy card tricks or even playing little games.
For a useless website, Bored Button has an excellent number of:
Monthly Traffic Volume: 179,000
Keyword Rankings: 10,200
Linking Domains: 109,000
In fact, this is also one of the most useless websites that rank quite well in the SERPs, and they hold the first position for the following keywords:
I'm bored
Bored button
Bored games
Useless button
I'm bored games
Lesson: Interactive content with elements of surprise provokes curiosity and keeps users engaged longer.
7. Patience Is A Virtue
Patience Is A Virtue is designed to test your patience.
With a loading animation and a few notes that say "Loading, please wait", "This is taking longer than planned, please wait" and "Thank you for your patience", the website seems sarcastic at first, but very quickly starts losing its charm - to say the least.
The funny thing is that no matter how long you wait nothing appears.
This website has:
Monthly Traffic Volume: 4,700
Keyword Rankings: 477
Linking Domains: 2,220
Lesson: Shared experiences, especially the frustrating ones, are great conversation starters - something brands can "bond over" with their audiences while building highly shareable content.
There's More To Pointless Websites Than Meets The Eye: 5 Ways These Sites Make Business Sense
With high monthly traffic, media buzz and keyword ranking, these seemingly ridiculous websites can make money via:
Running paid ads: Pointless websites can display various relevant advertisements that will get paid each time a user clicks on them. They can earn between $0.50 to $5 per click and the more traffic they get, the more money they can make.
Selling sponsored posts: Those websites find brands that might be interested in their audience and then feature sponsored posts that can include visual and written content. They most often use no-follow tags and when done the right way with included relevant posts, they can generate a lot of money.
Generating leads: Most of the businesses are trying to find new and creative ways to generate new leads. This is where the most useless websites come quite handy. They connect brands with potential customers and earn money no matter whether these prospects convert or not.
Being an Amazon affiliate: There are plenty of pointless websites that promote relevant Amazon products in exchange for a certain commission. Such an example is the above-mentioned site Ffffidget, that includes a button leading to an Amazon page where users can buy fidget spinners.
Selling ad space: The most useless websites also make money by selling a space where brands can advertise their blogs. In this case, they usually get paid depending on the number of visitors they get and the metric that plays a key role is impressions.
Key Lessons To Learn From These Useless Websites
While the most useless websites may seem to not have any real purpose and exist only for the sake of entertaining people, some of them can be very powerful marketing machines.
Here are the top three lessons that they teach us:
1. Backlinks Are Precious
Unlike Bored Button that has 82 words on its homepage, Staggering Beauty has zero. However, the website has a total number of 75,500 backlinks that make it successful.
Being unique and unusual, these sites drag attention. And if there is anything we can learn from this useless web design is that authenticity wins the internet.
This is why Staggering Beauty has a good amount of incoming hyperlinks which allow it to receive monthly organic traffic of 39,400 visitors.
2. Clear And Singular Goals Enhance User Experience
What makes these pointless websites effective is the fact that they focus on one single goal. When visitors arrive on these sites, they can easily and quickly engage with them.
They are able to take action without being distracted by too many elements or cluttered design.
All these little factors enhance the experience visitors have with the websites and boost the time spent on site. For Google, user experience is a key ranking factor.
This is why the fact that these websites have one particular goal ultimately results in higher rankings and a boost in traffic.
3. Word Count Doesn't Always Matter
According to Ahrefs, Bored Button has 179,000 organic monthly search visitors. However, the page has only 82 words.
While a study by Backlinko shows that long-form content generates more backlinks and ranks better in the search engines, this example illustrates exactly the opposite.
But how Bored Button succeeds to rank well for so many phrases and has so little content?
Well, on the one hand, it is the high number of referring domains that dominate on its homepage and random pages.
On the other hand, a great number of the useless website's anchor text is branded.
Moreover, because the aim of this website is to keep users entertained and it does a great job by providing them with another task every time they press the button, we can assume that people stick longer on the site.
This contributes to higher dwell time and lower bounce rates which signals Google that it is useful for its users and results in higher rankings, as well as organic traffic.
Takeaways On Pointless Websites
Pointless websites may seem to be created with the aim to only entertain users. However, they are a powerful marketing tool that can generate businesses a great deal of money.
These websites easily rank higher in the SERPs and receive a great amount of traffic. This is mainly because the users that visit them stick around longer which results in higher dwell times and lower bounce rates.
If there's something we can learn from the most useless websites that is word count doesn't always matter.
They also teach us that backlinks are one of the key factors for higher SERP rankings as well as that having a singular goal improves user experience.
Subscribe to Spotlight Newsletter
Subscribe to our newsletter to get the latest industry news