What Makes San Antonio Logo Design Companies Unique
There are three major reasons that separate San Antonio logo design companies from other U.S.-based competitors:
Reason #1: San Antonio Attracts Skilled Talent From Across The Nation
There are a few factors responsible for drawing top-notch talent to San Antonio.
The city is an attractive place for U.S. residents primarily for its affordability. With a cost of living that is 14% lower than the national average, San Antonians can save more money on a monthly basis while having lower expenses in terms of:
Housing (-24%)
Groceries (-17%)
Utilities (-12%)
Transportation (-11%)
San Antonio is 50.6% less expensive than New York City and 41% less expensive than Boston.
Also called The Alamo City, San Antonio is a welcoming place for highly qualified professionals who enjoy a no-income-tax benefit as part of the state of Texas.
The city's affordability contributes to a better quality of life, putting San Antonio among the top 25 fastest-growing metro areas where most people move into.
Reason #2: San Antonio Boasts Business-Friendly Environment
According to San Antonio's Economic Development Department:
The low cost of living combined with the lack of income tax, educated workforce and the influx of skilled talent make San Antonio a welcoming place for many business investments.
Therefore, the city is home to many reputable companies, including:
Dell
Siemens
KPMG
NBC Universal
PepsiCo
Being exposed to this kind of business landscape, San Antonio logo design companies are bound to:
Stay on top of design trends
Use cutting-edge tools and technologies
Offer high-end services
Reason #3: San Antonio Is Home To A Bilingual Workforce
San Antonio is the second-largest city in Texas and one of the most diverse cities in the U.S.
It is home to several ethnic groups, including:
Hispanic (63.1%)
White (25.5%)
Black (7.1%)
Asian (2.7%)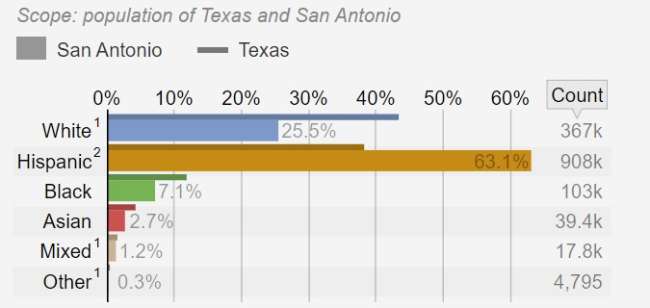 Considering San Antonio's proximity to Mexico, it comes as no surprise that the largest ethnic group in the city are Hispanics.
This indicates that San Antonio logo design companies employ talent who:
Has specific knowledge of the multicultural markets
Understands the diverse audiences
Is bilingual
In fact, as much as 38.81% of the city's population speaks Spanish.
What Services Can You outsource To Logo Designers In San Antonio, TX
You can most likely outsource any graphic design projects to logo designers in San Antonio, TX. However, unlike other logo designers, they are more likely to deliver effective projects for local clients and businesses.
This is because they have gained profound experience in the major industries in the area they operate in: aerospace, new energy economy, healthcare and bioscience, information technology and cybersecurity, according to the City of San Antonio.
In addition to creating unique brand marks, some San Antonio logo design companies also provide services like:
By performing market research and collecting valuable data on your sector, target audience and key competitors, these experts will be able to identify major industry trends and opportunities.
This allows them to create a brand logo that aligns with your branding and business goals.
A San Antonio logo design company can take the time to study your brand and understand the unique value it offers to consumers as well as how it stands compared to the competition.
Branding and marketing support
This service includes other branding assistance such as naming, package design, product design, brand book and more.
How Much Does Logo Design In San Antonio Cost?
The most common pricing structure among San Antonio logo design companies is to charge per hour.
On average, you can expect to pay between $50 and $150 per hour.
This type of pricing will depend on several elements like:
Logo design complexity
Additional services like branding or marketing
Company reputation and size
Some agencies may also offer per project pricing. For this type of billing, logo designers in San Antonio, TX may charge you about $2,500-$10,000+ depending on the design complexity.
Bear in mind that additional branding and marketing services will come at an extra cost.
Why Should You Hire A San Antonio Logo Design Company?
A recent branding survey conducted by Renderforest shows that people recognize a brand by its:
Logo (75%)
Visual style (60%)
Brand color (45%)
Unique voice (25%)
This highlights the fact that the logo is the #1 brand identifier and differentiating factor.
However, for consumers to recognize your logo it needs to be memorable and must leave a good first impression.
Investing in professional design can make all the difference as logo designers have the experience and best practices to deliver brand marks that stand out in the crowd.
While investing in professional design matters, these are other reasons why you should partner with a San Antonio logo design company:
Get access to highly skilled talent
The Alamo City is a welcoming place for some of the finest logo designers in the nation.
Thanks to its affordability and tax-friendly conditions, many logo designers move to work and live here.
This indicates that local creative agencies employ skilled talent that produces high-quality work.
Enjoy high-quality services:
San Antonio has a business-friendly environment that attracts many corporate investments.
This is the reason why many notable brands like Siemens and Dell have offices here.
Being familiar with how big businesses work, we can assume that logo designers in San Antonio, TX offer the highest level of services.
Work with a bilingual workforce:
The Alamo City is one of the most diverse hubs in America.
Being a place where a huge number of its population are Hispanics and Spanish speakers, it is safe to assume that local logo design firms employ bilingual talent.
Thanks to their knowledge of the multicultural markets and diverse audiences, they can offer different perspectives, spot new opportunities and increase your competitiveness in the market.
How To Choose The Best San Antonio Logo Design Company
There are two important steps to take before you start your search for the best San Antonio logo design company.
Think about how much you are willing to spend for the project: This will help your partner understand how they can allocate their time and resources while operating within your budget.
Determine your business goals: Think about what you want to achieve by investing in professional logo design and whether you need additional assistance. Once you identify your needs, it will be easier for you to search for an agency that has the relevant expertise and experience to work on your project.
Then, consider these following factors:
Their portfolios: These will help you evaluate the companies' creativity and quality of work.
Client reviews: These will show how credible and reliable each agency is.
By now, you should have an idea of which companies fit you the best. However, to further narrow down the list of prospective partners:
Ask about their strategic processes and make sure they take a custom approach for each unique client.
Find out if they can protect your logo to avoid it being stolen or used inappropriately.
10 Questions To Ask Logo Designers In San Antonio, TX Before Hiring One
Who are some of your previous clients? Have you ever worked with any of my competitors?
How much experience does your team have with my industry?
What materials do I need to provide?
How long will the project take to finish?
How do you plan to keep me updated on the project status?
How will you measure the impact the new logo has on my branding efforts? What metrics do you use?
What's the total price and how many revisions does it include?
What happens if I am not happy with the final work?
How will you protect my logo?
Will I own the design?
Takeaways On San Antonio Logo Design Companies
San Antonio logo design companies create compelling brand marks that help businesses stand out in the crowd and drive loyalty among audiences.
These professional agencies can also assist you with branding and marketing services.
An hour of their time will approximately cost you $50-$150.
To choose the best logo designers in San Antonio, TX, take these following steps:
Identify your budget
Determine your business goals
Browse through their portfolios
Read their reviews
Ask about their strategic processes
Find out if they can copyright your logo
Best of luck!
…