Nearshore software development is the process of outsourcing software development projects to neighboring countries or locations that are in close proximity.
Interesting fact: 57% of international organizations with more than 2500 full-time employees outsource projects to nearshore development companies.
Ukraine, Romania, Poland and Belarus are the top nearshoring destinations for businesses located in Western and Northern Europe.
The United States, on the other hand, would be a great choice of nearshore software country for Mexico-based organizations.
How Much Do Nearshore Software Development Companies Charge For Their Services?
Most nearshore development companies price their projects on hourly rates. The cost varies from agency to agency and usually, it depends on:
The company's location
Its seniority
The project's complexity
For nearshore services, you can approximately pay between $25 - $50 to companies based in Eastern Europe.
Indian nearshore software developers may seek rates starting as low as $15 per hour whereas the cost of US-based agencies ranges between $50 and $100.
Why Should You Hire A Nearshore Software Development Outsourcing Company?
The business process outsourcing services in the US market are projected to generate $135.5 billion in 2021.
This practice of nearshore outsourcing is becoming increasingly popular among businesses that seek software development services.
Its advantages go beyond time-zone compatibility and include:
1. Easier Communication
While successful software development partnerships are primarily based on effective communication, a huge difference in time can cause various problems.
Unlike offshore teams, nearshore teams operate in the same or similar time zone which permits seamless interaction between internal and external teams.
This allows companies to be more frequently available for their clients, enables face-to-face meetings and solving issues in a timely manner.
Countries located on a shorter distance may also understand the language of their neighbors.
For instance, there are many bilingual software developers in the US that speak Spanish fluently. This allows them to serve clients from Mexico successfully.
2. Lower Cost
Research shows that the biggest reason why companies outsource their business activities is cost saving.
On the one hand, working with a nearshore development company requires traveling on a shorter distance which allows the business to reduce travel costs.
On the other hand, similarly to offshoring, nearshoring can be often more cost-effective than hiring an in-house team or outsourcing a project to a home-based company.
However, the lower cost is not a result of decreased quality of products, but rather the lower cost of living that lets nearshore software companies seek cheaper prices.
3. Higher Cultural Similarities
Countries located in the same region often share different similarities in organizational culture, work ethics and values.
As a result, businesses can collaborate with a nearshore software development outsourcing partner more easily.
Fewer cultural differences empower internal and external teams to bond, develop emotional partnerships and facilitate better interaction.
For example, nearshore software firms operating in North America have a deep understanding of the culture, the politics and laws of South America which allows them to simplify and speed up the software development process.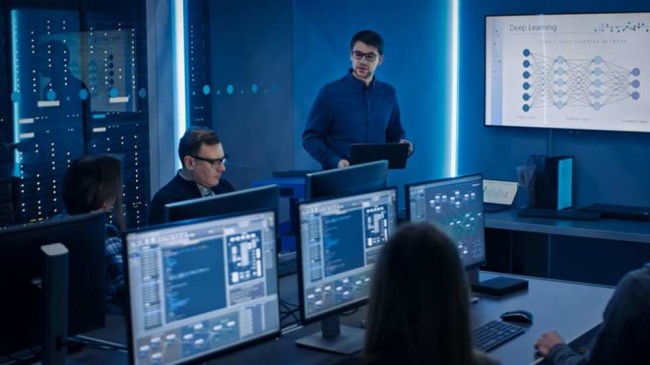 How To Choose The Best Nearshore Software Development Outsourcing Firm For Your Business
To make sure you are investing your time and money in a partnership that works, consider the following factors:
Define your requirements: Think about your business needs and how the nearshore services you consider can be of help. Work with your team closely and identify your requirements clearly. This will allow you to select a partner that has the ability to meet your objectives.
Consider industry experience: Ask whether the potential agencies on our list have experience in working on similar projects to yours. Those developers that are familiar with your industry, target market and competition can better understand your needs and accelerate project delivery.
Ask about their core area of expertise: See which of the best nearshore software development outsourcing companies has relevant expertise to meet your goals. Demand to see their portfolio as proof of past work.
Read their reviews: Find the companies' reviews and rankings so that you understand how easy it is to collaborate with them, what is their company culture, how they deliver their projects and how reliable they are.
Look for developers in stable countries: Make sure you consider the political, economic and judicial stability of the countries you examine. These factors can play a key role in delivering a successful project.
Set a budget: Think about how much money you can allocate for nearshore services. Then ask the potential nearshore development companies for a cost estimate to see which of them can fit you.
10 Questions To Ask Nearshore Development Companies Before You Hire One
What services do you offer?
What technologies do you specialize in?
Have you worked on similar projects to ours?
Where can I see your portfolio and reviews?
What is your approach to development? Can you explain the process briefly?
Will I be involved in the project and how?
How often will we communicate?
What development methodologies do you use?
How do you price your services and how much will my project cost?
Are there any additional fees that I should know about?
Takeaways On Nearshore Software Development Companies
Nearshore software development outsourcing is becoming increasingly popular among businesses and organizations because of:
The easy communication
The lower cost of services
The cultural similarities
Most of these companies charge per hour starting at $25 and going as high as $100, depending on the agency's location, seniority and project complexity.
The suggested steps to selecting the best partner for your business are:
Define your requirements
Consider industry experience
Ask about their core area of expertise
Read their reviews
Look for developers in stable countries
Think about how much money you can invest