by Andrija Savic, DesignRush' Director of Tech Client Relationships
A couple of months ago, my team was researching the impact of the crisis on the demand for agency services.
With so many businesses rushing to digitalize amid the pandemic, one of our hypotheses was that the demand for website builders would grow at the expense of custom development.
Why?
The logic was simple: Businesses needed quick and affordable access to the world of web.
We talked to software and web development agencies, scoured online resources and even looked up keyword trends.
For instance, here's an interesting observation that factored into our research: Google searches for keywords like "What is Wix" have spiked during the pandemic.
Our research confirmed our assumptions and pointed to some important industry changes that are shaping the future of web development.
Lo and behold, a month after launching this research, we partnered with Wix on a new project for Velo by Wix.
It created the perfect opportunity for me to share some insights with our web development community.
I hope these help you identify new, long-term opportunities for your web development business:
What is Velo by Wix?
Previously known as Corvid, Velo by Wix is a full-stack development platform that allows brands and development agencies to create advanced websites and web apps.
The platform is described as "serverless" which means that you don't have to worry about hosting – Wix handles that.
It opens the Wix environment, whether it is an existing website or a new one, for the use of JavaScript code to create custom functionalities as well as use external APIs for third-party integrations.
Velo & The Future of Web Development
One of our focal areas in the research I mentioned were web and custom software development companies.
When asked if they'd noticed a drop in demand for any of their services, most of our respondents said "custom software," including website development services – something they believed to be a temporary dip due to smaller budgets and shorter timeframes during the crisis.
However, this change may not be as temporary as they think.
Observing the market behavior and the evolution of brands such as Wix, it becomes evident that
The future of web development is not custom, but it is highly customizable.
Here are the key drivers and contributors to this change:
Trend 1: Web presence is no longer optional.
From mom-and-pop stores to restaurant chains and global retailers, businesses have awakened to the power of connecting with digital audiences, particularly via websites.
Whether existing or new to the market, they now realize that web presence is key to survival and the ability to thrive during and post the pandemic.
They are looking for a fast, budget-friendly access to the web, and a solution that allows them to scale over time.
Thanks to its accessibility, Wix's user base hit 180 million in 2020.
Wix's market share of web builders is unchallenged. The platform nearly doubled its user base since 2017 — that's only three years!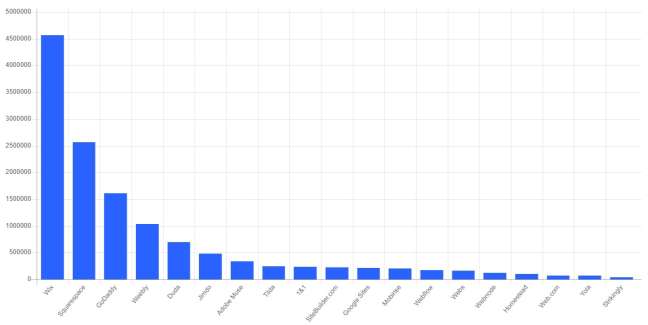 A few years ago, it was a low-budget crowd favorite. Today, some of that crowd has grown into recognizable brands while the website builder has established itself among bigger businesses.
Velo opens this market to custom development agencies.
Trend 2: Custom web development is expensive. COVID-hit businesses cannot afford it.
Developing an average corporate site in the US can set you back by well over $20 grand – and that's just for a simple informational site.
eCommerce solutions and dynamic content can easily go over $50k.
Offshoring could save you a few $ thousands, but sometimes at the expense of quality.
Plus, we haven't even touched on maintenance and scaling the website.
This is out of reach for most businesses, particularly as budgets shrank during the COVID crisis. McKinsey estimates that the hard-hit industries will not recover from the COVID crisis impact before 2022 at the earliest, with most projected to restore revenues after 2025.
In other words: The market for custom web development will remain reduced for a few more years.
Velo by Wix allows businesses to develop advanced sites for a fraction of the cost.
Wix rates are extremely affordable, even more affordable than Wordpress, and the platform has been rolling out generous discount campaigns lately to help small businesses get online during the crisis.
Velo by Wix is an open development platform, so there's zero cost involved.
It'll come down to your hourly rates and the client's monthly Wix subscription rate – a win-win for all.
Trend 3: The web/software development talent pool constantly struggles to match the demand.
Last year, CNBC reported that the US had nearly 1 million open job ads for software talent, claiming that even with 80,000 yearly computer science graduates (including non-degree programs) and international hires, the country still runs a deficit of qualified talent.
Additionally, software talent is expensive. According to Glassdoor, an average developer earns over $76,000 per year, while bigger companies cash out well over $100,000 per year for their average developer Joe.
This is, obviously, one of the main reasons why custom web development is so expensive.
A single developer can do wonders with Velo by Wix.
Velo requires basic JavaScript skills. That's it.
It's easy to learn, and a single developer can accomplish a lot more with it than building from scratch. This can make your agency much more efficient, and you won't have to scramble to hire more talent when the leads come in.
On the downside, you (or your developer, rather) still cannot touch the HTML and CSS which does pose some limitations, but considering how versatile Wix's design studio is, I wouldn't worry about it.
Mind you, the fact that you don't have to worry about HTMLing and CSSing your pages means that you can get an advanced website up relying on a single developer. No backend and frontend armies – just one person working their magic.
Trend 4: Custom development takes time. Clients don't have the patience for it.
Even if the market were to be miraculously flooded with software developers and the cost of this talent went down, this still wouldn't make much of a difference to the custom web development project lead time.
How many times have you provided an optimistic development timeframe only to double it, whatever the causes may be – employee turnover or similar operational issues, client involvement (too much or lack of), endless bugs, and so on.
An average web development project can easily span over two months for a simple corporate website.
Lowering the cost of development will not offset the time investment.
Development Velocity
This is, arguably, the key benefit of Velo and the inspiration for its new moniker: Velo-city.
You don't need to set up environments, worry about styling the site, or about hosting.
Everything happens within the Wix environment which allows developers to go into build mode immediately and produce the site or web app significantly faster than building from scratch.
The ability to add Wix Apps like Stores and Bookings and use their APIs is a major draw for agencies. These also let them work much faster.
Another popular feature is the Content Manager, which allows users to manage content separately from design and quickly make sites dynamic with little-to-no code necessary.
Trend 5: Web builders are becoming incredibly sophisticated.
As I was doing my background research for this piece, I hopped onto Wix to test out its features. Last I visited the platform, I was building a site for personal use back in 2017.
The difference in user experience alone is huge and I haven't even gone into details such as e-store functionality, SEO, marketing integrations and similar.
Out of curiosity, I then browsed through the platform's features update center and noticed that they've released 12 updates in the past six weeks alone!
It is evident that these solutions have already evolved into robust, incredibly sophisticated and intuitive platforms that will soon match the benefits of custom development for a fraction of the cost and time investment.
Velo is the sign of what's to come.
With the launch of Velo, Wix has changed the game for users as well as web developers worldwide.
Though still in its infancy, this tool is powerful and capable of elevating Wix sites both in terms of user experience and functionality.
It is important to note that in the past month alone, Velo has undergone five updates.
Between its rapid evolution and users' growing preference for Wix, there is no doubt that the demand for web builders will continue to grow and open new opportunities for agencies nimble enough to recognize and seize them.
Client satisfaction is the long-term strategy.
Most agencies depend on retainer accounts. Long-term clients generate a stable source of revenue, as well as act as important sources of new business through referrals.
I work with hundreds of software companies and, besides communication, there are three elements that tend to make or break their client relationships:
Project ownership: Agencies that fail to guide the client with their expertise and insights, and act in the client's best interest, eventually lose trust.
Project management (timelines): As I mentioned earlier, evaluating project timeframes is tricky; it is usually the company's optimistic estimate that sets the client's expectations. Long projects tend to feel slow and the client doesn't see the progress which usually ends up aggravating them.
Project management (budget): Most agencies price their services based on hourly rates. When projects break the initial time estimates or additional requirements go well beyond the scope, budgets can double. In custom web development terms, this could mean thousands of extra dollars and bitter clients.
In short: Client satisfaction is usually contingent on your ability to meet their needs within the available budget and timeframes.
Not everyone needs a Magento superstore, so selling the client on extremely expensive custom services which a platform like Wix, fortified by Velo, can accommodate for a fraction of the cost is a short-sighted strategy.
Besides, by lowering their dependency on scarce talent and allowing them to build faster and build more, agencies stand to gain a lot from the industry's shift from custom development to web builders.
Recapping Velo by Wix & the future of web development
My goal for this article was to open a conversation within the web development community and share insights that could affect their business in just a few short years.
We all know that we need to be extremely agile and learn continuously – such is the nature of this industry. But sudden change is always difficult; the agencies that start to evolve their offering today will be able to adapt and thrive tomorrow.
There is room for custom development in the future, but it will shrink as the web builders' market share grows.
Though this sounds like a threat, for agencies that recognize the potential today, it will be an immense opportunity.
I took Wix as an example. The platform holds the biggest market share among the web builders, and it has become the entry point to the web for millions of businesses during the COVID crisis.
Velo by Wix is how web development agencies can tap into this fast-growing market.
The functionality is already powerful, capable of cutting the development time in half, and with the rate of Wix's evolution, I am confident that we've seen nothing yet.
Over to you: How do you plan to futureproof your web development offering?
Subscribe to Spotlight Newsletter
Subscribe to our newsletter to get the latest industry news