Did you know that 93% of website interactions originate from a search engine?
That staggering statistic proves the need for proper search engine optimization marketing.
This helps your brand rank higher for relevant keywords and, thus, increase organic traffic among valuable potential consumers.
But attracting customers to your website organically isn't the only hurdle modern brands face when attempting to improve brand awareness and increase online revenue.
47% of site visitors expect a site to load in less than 2 seconds.
Plus, 1-second delays in website loading time result in 7% fewer conversions.
Therefore, in order to truly maximize your professional website's performance, you need to build a website with proper SEO optimization and ensure your site can quickly foster conversions with customers.
Lucky for you, DesignRush sat down with some web development and search engine optimization experts at MAXBURST to learn how brands can optimize their website designs for fast loading times, SEO and high conversion rates. We also vetted hundreds of agencies and made a list of the best SEO firms.
SEO Improves Website Traffic & Revenue
Studies show that search engine optimization generates more leads than all other marketing strategies.
What's more? 75% of Internet users don't pass the first page of search listings.
Luckily, there are several simple SEO tactics that will improve your website's performance and help you rank higher.
1. Focus On Google
Google sees over 63,000 online searches per second each day, far and away surpassing the traffic driven by other search engines such as Yahoo! and Bing.
Therefore, brands should focus on optimizing their websites for Google's standards in order to see the best return on investment. A good example of this is UK-based train service Split My Fare. They've generated over 40,000 monthly visitors to their cheap rail tickets page. This helps bring in consistent organic traffic and sales into their business.
2. Include H-Tags On Each Page
H1, H2, H3 (and so on!) tags are small items in HTML code that signal to Google "this content is important."
Both the importance and number of each H-Tags can be described as a pyramid. H1 is the most important – like the headline of a web page – and there should only be one.
H2s are next in line for importance. There can be several of these. The importance decreases and number increases for H3s and beyond.
By including H-Tags and frontloading your keywords within them, you help Google better understand the content your web page offers and, thus, give you a more accurate (aka higher) ranking.

3. Include Optimized Titles
A "Title" is a unique description of your website or web page. It is the single most important line of copy when it comes to informing Google about your site's content.
In addition, Titles also appear in search listing results, signifying your value to potential customers as well.
You can see an example above – the first line that reads "DesignRush: A B2B Marketplace Connecting Brands with Agencies" is our homepage's Title.
Titles may or may not appear on your actual website – it's up to you.
Regardless, you need to have a properly labeled and written Title to rank well on Google. They should:
Frontload keywords or important phrases.
Stay under 50-60 characters.
Employ proper grammar.
Mention your brand, if possible.
Although there are several SEO best practices that will help your website capture more customers, ultimately, effective search engine optimization can be broken down into two unanticipated factors.
These are the key elements Google's SEO algorithm is searching for when ranking websites.
2 Unexpected (And Major!) SEO Factors That Increase Organic Traffic
Andrew Ruditser, Lead Technology Coordinator at MAXBURST, Inc.
There are two major elements that stand above the crowd when discussing which SEO ranking factors Google looks at first and foremost. Those two elements always have been – and more than likely always will be – relevancy and authority.
Relevancy is a very broad SEO topic and is important on so many levels.
Obviously, your website needs to be relevant to whatever search phrases users are typing into Google to find information, products or services similar to the offerings on your website.
A proper SEO campaign can control relevancy in numerous ways. Your:
Meta titles.
Descriptions
URL structure
can all be made keyword-friendly for increased relevancy.
Keywords help direct search focus by highlighting keywords that are picked up by the algorithm. If you have content surrounding the best financial advice for students. You'd want to include keywords like student debit card, student financial struggles, or student spending habits. The use of metadata will make your content easier to find for your target audience.
Content and image optimization are at the top of the list as well.
For local rankings, geographic relevancy is of the utmost importance if you have designs on reaching a locally targeted audience.
Relevancy does not stop at on-page optimization. A relevant backlink profile and anchor text ratios are tremendously important SEO signals as well. Trusted link-building services also play a huge role in the optimization of your website. Also, don't forget to get business listing links, which shouldn't be ignored at all.
Relevancy is step one – it puts you on the map, so to speak.
The second factor that Google looks at is what will determine where your website slots into the Google search results. That factor is authority.
The more authoritative that your website is, compared to your competitor's sites, the better off you will be.
Authoritative websites do tend to rank higher, provided the relevancy requirement is met as well.
Brand awareness.
Social signals
A relevant or authoritative backlink profile
All provide increased domain authority in the eyes of Google. This ultimately improves search listing rankings.
Explore MAXBURST's agency profile to learn about their pricing structure, portfolio, experience and more!
The Number 1 SEO Best Practice Every Brand Needs To Follow
Donny Escolastico, Co-Founder & Lead Art Director at MAXBURST, Inc.
First and foremost in the list of non-negotiable SEO best practices is a mobile responsive website.
We now live in the mobile-first era and Google has dragged us kicking and screaming into the age of mobile-first indexing.
Mobile responsiveness is no longer an innovative user experience design element, it is a necessity as consumer search habits have tilted drastically towards the mobile spectrum.
Consumer feedback and Google algorithm updates have made mobile responsive websites an absolute requirement for successful organic SEO companies.
There are numerous benefits to mobile responsive design that make it a foundational element in SEO nowadays.
Improved UI/UX leads to increased user-friendliness which is Google's ultimate goal.
A positive online experience for your customer can lead to better reviews, more traffic and increased brand awareness all of which are positive SEO ranking signals.
Throw in:
Decreased bounce rates
Faster loading times
Increased social sharing metrics
And more!
and it's easy to see why a mobile responsive website needs to be the foundation upon which you build your next successful SEO campaign.
Website Development Companies
Why Fast Website Speed Is Imperative For Strong SEO Rankings & Business Growth
Amanda Vigilante, Lead Project Manager at MAXBURST, Inc.
There is a strong relationship between effective marketing and website speed optimization.
Most digital marketing agencies are great at experimenting to find the best combination for conversions but many don't yet consider speed a priority.
Or, if they do, it's at the bottom of their list due to their lack of knowledge in technical programming and development.
A well-performing site is actually crucial to improving website metrics across the board.
Plus, it saves marketers the time it takes to research and test what will resonate with users most because all site visitors are looking for an appropriately fast site that meets their expectations.
Website speed truly does impact traffic and overall success.
Brands can optimize for better conversion rates and increased revenue by working closely with their website development agency. This will increase usability and page speed load time on their website. Plus, this especially applies to mobile as well.
How To Optimize Site Speed
79% of consumers who are unhappy with a site's performance are less likely to ever purchase from that site in the future – and website speed is a major user experience factor that contributes to overall consumer satisfaction.
That's why many business owners decide to optimize their WordPress site as much as possible.
However, research shows that improving site speed by 1 second can increase daily revenue by 7%.
Some key components proven to increase page loading speed include:
Compress files CSS, HTML and JavaScript to improve loading time.
Optimize CSS, JavaScript and HTML code, and ensure it is simple and easy to read.
Ensure all 301 page redirects are updated to direct to the latest, most updated URL.
Cut down your usage of render-blocking JavaScript.
Employ browser caching. This enables visitors to load your website quicker.
Utilize better website servers, which can better response time.
Use a content distribution network (CDN).
Compress image file size without compromising quality.
Use high-quality, reliable, and professional web hosting provider
1
DesignRush Recommends: Managed Web Hosting Provider
How Jennifer Furniture Improved SEO Rankings & Online Conversions
MAXBURST partnered with Jennifer Furniture, a multi-location furniture store, to improve their search engine optimization rankings.
After a third-party vendor updated their site, Jennifer Furniture was left with worse SEO rankings and poor ad spend.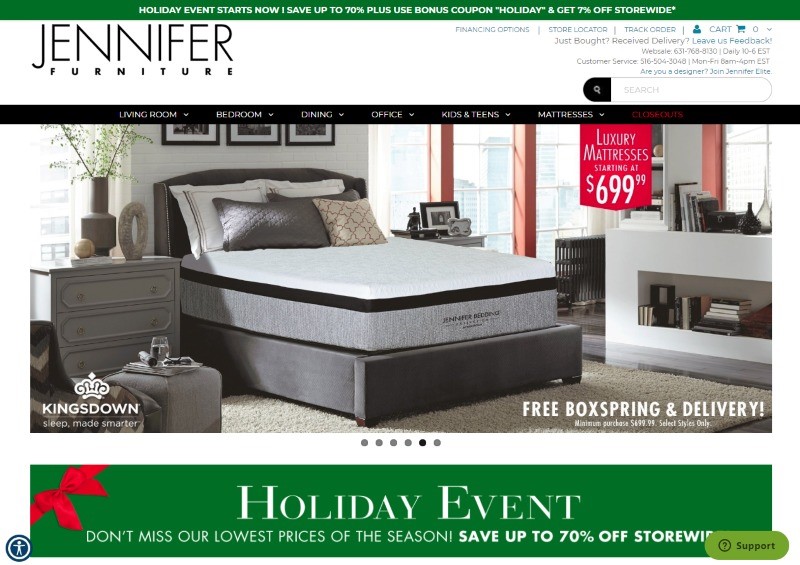 MAXBURST improved:
User experience.
Site speed.
Calls to action.
On-page SEO.
Mobile optimization.
And more!
The changes MAXBURST made to Jennifer Furniture's online presence produced:
An 11.62% return on investment increase on digital ad spend.
A 129.56% increase in targeted site traffic.
An effective consumer review campaign.
Increased revenue and record Black Friday website sales.
Ultimately, MAXBURST's work with Jennifer Furniture demonstrates how investing in a user-friendly website and proper search engine optimization directly influences sales and customer retention.
Subscribe to Spotlight Newsletter
Subscribe to our newsletter to get the latest industry news