eLend Solutions Corporate Video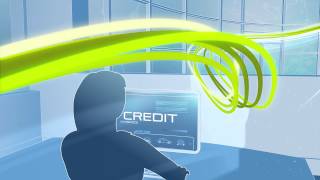 The way consumers shop for products has completely changed in the last few decades, thanks to the Internet. However, the car buying process hasn't changed much in that time, and eLend Solutions wants to change that with their revolutionary software for automotive dealers.
The animated video begins with a consumer viewing a car dealership online, and the camera zooms into the computer to show what the customer deals with online or in a store, and its inefficiencies of it. The film is mostly a monochromatic blue, with a few greens added in here and there. As the eLend logo is green, the green additions are meant to show how eLend itself can change the drab process of buying a car.
We'll find qualified video production agencies for your project, for free.
GET STARTED
While viewing the dealership inside the computer, a green line travels around the screen, highlighting the negative aspects, and then swirls upward and out of the computer to surround the customer, eventually leading to the eLend Solutions logo—a green, lowercase letter e that's been stylized to have a spiraled effect.
This green line, which represents eLend, moves across the screen and travels through the dealership again, smashing the inefficiencies (depicted as panes of glass) into pieces, depicting how the software can help dealers improve their business practices. New glass panes are replaced, these ones green, again showing the improved statistics offered by eLend.
The video is narrated by a male with a deep voice, which resembles many auto dealer commercials from television. There are few sound effects used—only that of breaking glass when the green line smashes the glass information panes. Smooth electronic music fills the background.
The video closes with the green line moving across the screen, recapping everything that's been featured thus far. The screen fades to white, and the eLend Solutions logo appears on the center screen. This time, instead of just the letter "e" that we've seen before, the whole name is spelled out, the words stacked on top of each other.
Auto dealers who are frustrated with their lending processes will certainly want to pay attention to this video and see how it can help their bottom line.
eLend Solutions Corporate Video is a beautiful animated video.
Submit your best designs for a chance to be featured on DesignRush!
GET STARTED