REI Presents: Paul's Boots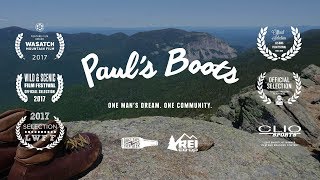 Recreational Equipment, Inc. (REI) is a brand of award-winning quality outdoor gear. What began as a group of 23 mountain climbing buddies is now the United States' largest consumer cooperative. REI's video Paul's Boots is about Paul, whose dream it was to hike the Appalachian Trail. However, he passed away before he could step foot on the trail. The film is about a group of hikers who helped to complete his dream, carrying his size 13 boots.
The heartfelt video begins with an audio clip of Paul's wife saying that Paul had passionately and painstakingly maintained his boots, with the dream of hiking the trail. She said that whoever was willing to wear the boots and hike the Appalachian Trail could keep the boots. This immediately connects on an emotional level with the audience, but the video proceeds to elaborate on the story by showing clips of interviews with the volunteers who set out to complete Paul's dream. The volunteers are all introduced in a friendly manner, portraying their distinct personalities but also showing their vulnerabilities. The storytelling technique makes it immediately relatable to the audience, while the writing is approachable, conversational, and friendly. It doesn't seem forced at all, which enhances the viewing experience of the video.
Great attention has been paid to detail, with crystal-clear visuals of the gorgeous mountains, showing the entire process of hiking. Care has been taken to show the entire magnitude of the Appalachian Trail, including the strength required to hike, and the struggles of each volunteer. The technique used makes the video personable, as each volunteer tackles with personal concerns of their own, while actually completing Paul's dream.
The video follows a clear strategy, and REI, as an outdoor company, is a great brand for the film. The content is engaging and relatable, and the video has great audience appeal.
'Paul's Boots' is a heartfelt commercial video.