Chipotle's Enchanting Video Captures The Brand's Dedication To Transparency And Quality Ingredients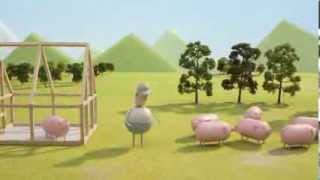 Chipotle's Video Design Uses Claymation Motion Graphics To Tell A Compelling Story
Chipotle is a popular, tex-mex fast food restaurant that has locations across the globe. It's been around for 25 years but gained in popularity in the new millennium. This is due, in part, to its new style of fast food offering. But it is also because of the ethos that holds this brand together.
And you can see that morality in this short film entitled, "Back To The Start."
In this video, you're shown a farmer going through his life and providing meat to large industries. But as the video continues, you can see him start to realize how bad that truly is for him and others. And by the end, he is putting more care and compassion into his work, working with brands directly to provide quality, sustainably sourced meat and produce.
And at the end of the video, that brand this farmer is working with is Chipotle.
This video definitely tells a story and it resonates. People want to eat food that is good for them. They want to eat meat that doesn't come from a factory. They don't want meat from brands that treat animals poorly. And in this design, Chipotle says that it doesn't stand for such practices either.
And to do it, they use motion graphics with characters that take on the form of soft and smooth claymations.
These characters look like the cartoon animations that people would create out of clay. But it adds a more organic and all-natural vibe to the video that makes it even more compelling.
It also gives off a transparency that shows that Chipotle does care and wants you to know that they are open and honest at every stage of the game.
Motion graphics simplify, enlighten and inspire. And this video does all three beautifully.
Check out more inspiring videos in the Best Videography Design section of the DesignRush website!
A Heartfelt Tone Throughout The Video Resonates With Consumers On An Emotional Level
This video is full of energy — but it's a somber, compelling and melancholic mashup of music and visuals that really tugs at your heartstrings and impacts consumers on a highly emotional level.
Right off the bat, you can feel a sense of drama and sophistication in the song that plays as the story plays out. It's Coldplay's "The Scientist" sung by Willie Nelson. The notes are haunting and the lyrics are impactful.
You can't look away. You have to pay attention and absorb the scene happening in front of you.
And the fact that there are no other words really makes you stop and watch. There is nothing else providing context other than the images, and you have to listen to this story because the music is so enchanting.
This immediately heightens the emotions of the visitor. Even if you have no opinions on sustainability and ethically sourced agriculture, you have to admit that this video makes you feel something.
There's also something in the soft, subtle but deep emotions that dance across these characters and their faces. They are wearing their emotions — their exhaustion, their disappointment and their hard work on their sleeves.
And it is also because of the story that is created — stories make you feel. They make you emotional and they make you invested. Chipotle is subconsciously making you invested not only in this video but in the brand itself. And once you watch it, it will be hard to think about the brand without a twinge in your chest.
Simple, Linear Motion Adds Depth And Guides Users On Their Journey
As we've said, this video tells a story. You are taken on this farmer's journey from mass production to sustainability. But there is also a literal journey that you're taken on which comes from the dynamic, linear movement of the video.
These characters tell their story and act out scenarios. But at the same time, the field of view is constantly moving to the right. In one swift, fluid line you are taken on a journey that has an end — you can feel it.
This movement immerses people more organically into the video because the movement itself actually calls to them and makes them subconsciously take a step closer.
Movement is an exciting aspect of design. You often see it in animation and in elegant rollover effects on websites. But here, you're seeing it in a continuous flow.
These farmers aren't stopping, and neither is the world. But you can count on Chipotle to be there at the end of the day to provide the ending you're happy about.
It's a subtle effect — one you barely even notice at first. But once you notice it, you know you're in for a treat. This movement actually takes you on a journey. It transforms your thoughts and your mind. And you enjoy it while it happens.
Minimum Chipotle Messaging Creates A Sense Of Drama And Storytelling Within The Video Design
There is an intriguing aspect to this video outside of its emotional storytelling and smooth motion graphics. And that comes from the minimal usage of Chipotle imagery or branding.
Most brands try to infuse their branding and identity in some way into their videos — this could be a similar color pattern, typography or illustrative design. But here, you only know that this video is for Chipotle at the end when the Chipotle truck shows up with the iconic sigil on the side.
Other than that, this video could be for any brand, company or cause that is promoting sustainability and ethics in farming.
And that's powerful. It makes this video play like a film that is instantly steeped in authenticity, curiosity and depth.
And the lack of branding and any other marketing ploys really makes it easy to immerse yourself immediately into this content. You're not coming in with any bias or inherent dislike. You're coming in open-minded and ready to absorb the content in front of you. That makes this video design even more powerful and influential.
Because on the surface, it's not just a marketing tool, but an educational resource that can help persuade people to look at the agriculture industry and big business a little bit differently. And Chipotle uses that to its advantage.
Why Chipotle Released This Informative Video
Chipotle is a fast-casual restaurant that specializes in tex-mex specialties like tacos, burritos and burrito bowls. It was founded in 1993 in Newport Beach, California but got its real business boost in 1998 when McDonald's became a major investor.
Today, Chipotle has more than 2,000 locations worldwide. And it's a brand that prides itself on being in the business of good food:
When Chipotle opened its first restaurant in 1993, the idea was simple: show that food served fast didn't have to be a "fast-food" experience. Using high-quality raw ingredients, classic cooking techniques, and distinctive interior design, we brought features from the realm of fine dining to the world of quick-service restaurants. Over 23 years later, our devotion to seeking out the very best ingredients we can--raised with respect for animals, farmers, and the environment--remains at the core of our commitment to Food With Integrity. And as we've grown, our mission has expanded to ensuring that better food is accessible to everyone.
Chipotle has had a few hiccups over the years — the most recent being E. coli and other virus outbreaks being linked back to its stores. The brand has definitely taken a hit from the bad press, but it has held on strong to its integrity and its heritage.
As part of its mission, Chipotle aims to provide consumers with quality, sustainably sourced food. And that's exactly what they're "Back To The Start" video aims to promote.
In the video, you watch a farmer work day in and day out to provide for his family using the means he has on his farm. He goes from mass production to ethically and humanely run operations. And in the end, his goods get carted onto a Chipotle truck.
The video quickly became a hit, and sales continued to rise for Chipotle through the early 2010s as a result of this transparency and moral compass.
Other brands can learn a lot from this ethical stance, and infuse these beliefs into its own designs to capture the attention of their audience.
What Makes This Dynamic Transparency In Video Design Effective
This is an extremely compelling video design by Chipotle. It's a marketing video that doesn't feel like a marketing video — but a film that aims to enlighten and educate.
It's transparent in how it shows Chipotle and its views. And it gives the brand a more approachable and personal edge.
Clever motion graphics and claymation imagery bring softness and sophistication that make it easier for consumers to embark on their journey. And once they do, they won't be disappointed. These visuals make an impact, and the story they tell really shows consumers Chipotle and its heart.
This video is storytelling genius. It tugs at the heartstrings and makes an impact. And it helped lock in Chipotle's place as a fast-food powerhouse.
Create powerful branded videos like this when you enlist the help of these video production agencies!
Plus, for full-service marketing assistance, look to these influential digital agencies to craft a presence that stuns!