LateRooms.com TV Advert 2015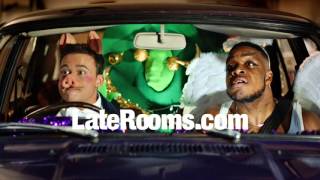 LateRooms.com is a hotel reservations website providing discounted accommodation throughout the UK, Europe and the rest of the world. "It's Going To Be A Great Night (The Whole Hog)" in an ad for the company from November 2015. It is the first in a mini-series of great nights about to happen. The ad shows two boys in a car getting ready for their Christmas party road trip.
The video opens to a scene where two boys are in a car, with loud music playing from the car's stereo system. As they dance to the rhythm of the music, it seems as though they are driving somewhere for a holiday. Dressed in costumes -- one as a pig and the second as an angel -- the scene represents a fun, young, holiday vibe, with two people ready to party during the Christmas holidays.
The screen then pauses and a narratorial voice cuts in, asking the viewers and the boys about where they're going to stay. The text "laterooms.com" is then displayed on the screen, accurately representing the brand identity of the company as a portal where last-minute hotel bookings are possible. The video then resumes, and the boys continue dancing.
The video has a fun, comic element to it, engaging the audience and promising a unique experience. The soundtrack chosen for the advert is also completely in sync with the party theme of the film, and matches the action on screen. As opposed to the characterization of the boys in the video, the voice of the narrator seems more grown-up and responsible, so when he advocates for using laterooms.com, it seems legitimate. The video uses a great storytelling technique, and manages to convey the message in just thirty seconds. The writing is crisp and to-the-point, ensuring that the viewers remain engaged. In all, the video uses elements like editing, storytelling, writing, and audience appeal to present a great advertisement.
It's Going To Be A Great Night is a fun commercial video.